This family friendly Smothered Cheesy Sour Cream Chicken dish is quick, easy, and delicious! There's only ten minutes of prep time and then the oven takes care of the rest!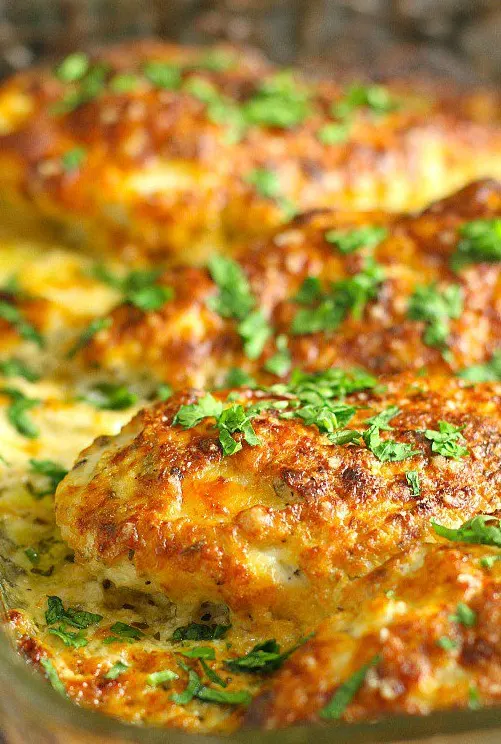 When it comes to feeding my family, I'm all about easy.
These days between running the gym, and the sports schedules, I barely have time to breathe, let alone spend hours in the kitchen.
But I still want to put a good meal on the table…one that everyone will like.
We try to eat together as a family when everyone is home, but sometimes it just doesn't work out with schedules.
Right now I have two kids home for the summer and one living in an apartment up at her school who is in and out occasionally on weekends.
The night I served this Smothered Cheesy Sour Cream Chicken, everyone ate at separate times.
My teenage son had it right out of the oven, and he proclaimed it very good.
He's not a picky eater, but my kids, having grown up next door to my in-laws, who are amazing cooks, have turned out to be foodies.
So when I get a comment like that, it actually means something.
My daughter had it for leftovers, and asked her father the next day who made the chicken because she really liked it.
And my husband enjoyed it as well! SCORE one for Mom in the kitchen.
I love it when a meal is a win all around. It's so hard to please everyone in a family of five.
Sour cream is the star of this recipe, and it's a staple in my house, so let's talk a little about why you might want to cook with it.
WHAT IS SOUR CREAM? IS IT HEALTHY?
Sour cream is made by adding lactic-acid producing bacteria to cream, which sours and thickens the cream.
I personally love the tangy taste, but it's also a good addition to a healthy diet.
Not only is it a source of healthy fats, but it contains protein and a number of important nutrients as well.
Living with a family of athletes, sour cream is a regular part of our diet.
For one, the calcium and phosphorus in sour cream promote healthy bones.
Sour cream is also a good source of riboflavin, which not only is a powerful antioxidant, but also helps convert your food into energy, which is important for a healthy metabolism.
Plus, when you work out, you're breaking down your muscle fibers. Protein helps rebuild and repair them.
When I cook with sour cream, I cook with the full fat version. I'll tell you why.
Most of the dairy products I buy are full fat, and they have been since my children were small.
For years, we've been told to stick to low fat in our diets. My children even came home from school with the recommendations from their health class that we switch to skim milk and low fat dairy products.
We never did. While I never had a scientific reason back then, I would always tell them that they needed the fat in their diets, and left it at that.
Now, recent studies are actually showing that people who eat full fat dairy are less likely to suffer from obesity.
One reason for that may be that full fat dairy products tend to fill us up quicker, which means we are less likely to overeat.
But another consideration for me is that low fat dairy products often contain sugar and other additives that we don't really need in our diets.
SMOTHERED CHEESY SOUR CREAM CHICKEN
This recipe is about as easy as they come.
Get started by preheating your oven to 375 degrees.
Coat a rectangular baking dish with a little olive oil so the chicken doesn't stick.
Then mix your sour cream with a half cup of Parmesan, salt and pepper, oregano and basil, garlic powder and corn starch (to thicken it up a little bit) together.
Lay your chicken breasts in the baking dish, top each with a slice of mozzarella and smother the chicken with the sour cream mixture.
Then top with a little more Parmesan, and pop it in the oven for about an hour.
Sprinkle chopped parsley over the top as garnish.
The sour cream mixture keeps the chicken really moist, and the finished sauce is quite delicious. I like to serve it over rice.
You really can't get too much simpler than this for dinner prep.
It literally takes minutes to get this Cheesy Sour Cream Chicken ready for the oven!
Doesn't it look delicious?!
Dinner is served!
MORE SOUR CREAM RECIPES YOU MAY ENJOY
For even more sour cream inspired recipes, visit Hood.com.
OTHER CHICKEN DINNER RECIPES YOU MAY ENJOY
Ready to start cooking? This Sour Cream Chicken recipe is going to become a new family favorite!
Yield: 4 Servings
Smothered Cheesy Sour Cream Chicken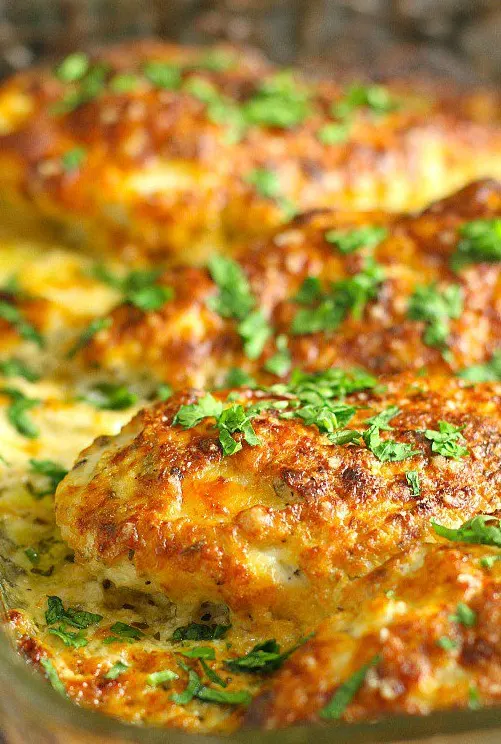 Fast, easy, delicious, this Smothered Cheesy Sour Cream Chicken is one dish that the whole family will LOVE! 10 min prep time!
Ingredients
4 boneless, skinless, chicken breasts
4 slices mozzarella cheese
1 cup sour cream
1/2 cup Parmesan cheese, grated, not powdered
1 tablespoon corn starch
1 teaspoon dried oregano
1 teaspoon dried basil
1 teaspoon garlic powder
1/2 teaspoon salt, freshly ground
1/2 teaspoon pepper, freshly ground
Parsley, chopped, for garnish
1/4 cup Parmesan Cheese, grated (not powdered)
Instructions
Preheat oven to 375*F
Coat a 9x13 rectangular baking dish with cooking spray.
Mix sour cream with a half cup of Parmesan, salt, pepper, oregano, basil, garlic powder and corn starch together.
Lay your chicken breasts in baking dish
Top each with a slice of mozzarella.
Smother the chicken with the sour cream mixture.
Top with 1/4 cup remaining Parmesan.
Bake uncovered for 1 hour.
Serve chicken over rice. Top with chopped parsley for garnish.
Nutrition Information:
Yield:
4
Amount Per Serving:
Calories:

584
Total Fat:

39g
Saturated Fat:

18g
Cholesterol:

178mg
Sodium:

662mg
Fiber:

0g
Sugar:

2g
Protein:

52g