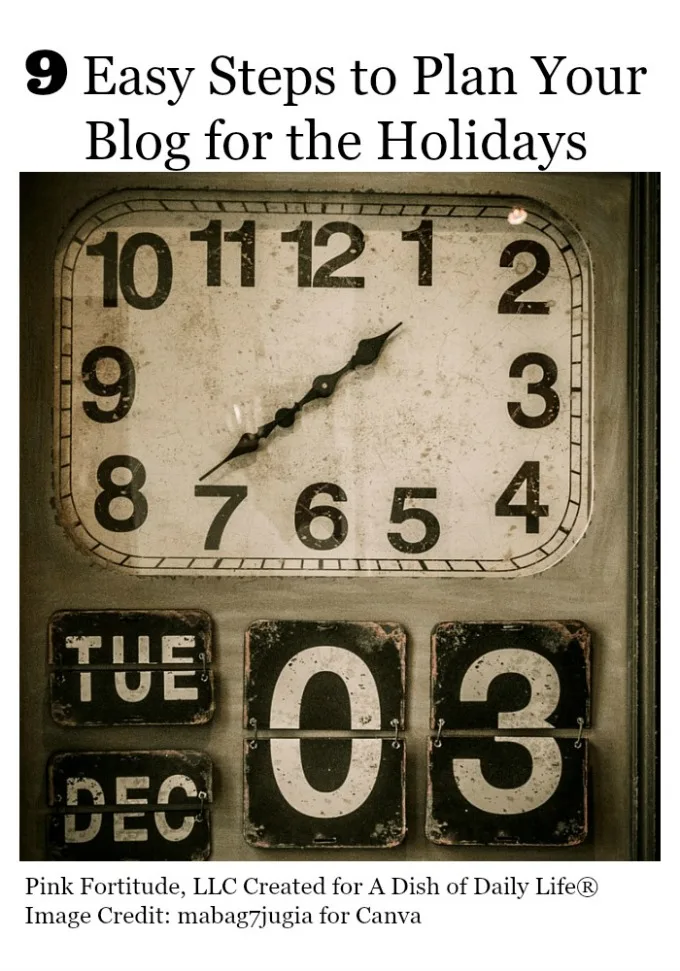 The second that Halloween is over, the blogosphere will be lit up like a Christmas tree. Figuratively and literally! Don't stress out and don't try and keep up with the blogger next to you. Here are 9 tips to help you plan your blog through the busiest time of year.
9 Tips to Help You Get Your Blog Through the Busiest Time of the Year
1. Look at your calendar in the big picture. Not only for your blog, but for your life. What are your activities? What's going on? If you look at the big picture and then break it down into week by week, it's easier to manage.
2. What blog posts can you write about that coincide with those activities? Do you participate in a cookie exchange every year? Plan to share your family's favorite recipe.
3. Black Friday and Cyber Monday (the day after Thanksgiving and the following Monday) are two of the biggest days in retail. Plan to work your affiliates either or both of those days, depending on your readership and what they would enjoy seeing from you. You don't have to wait until their sales are announced, go ahead and draft the blog post with placeholders for the affiliate links and pictures. Then, when they announce their sales, all you have to do is copy and paste the code and you are all set to go – no scrambling!
4. Gift guides are very popular, and a great way to use your affiliates to create some income. Even though a lot of bloggers post gift guides, you don't want to miss out on the opportunity for affiliate income. How will yours be different? How will you make yours stand out?
5. Plan your break. If you take a week or two or three off from blogging at the end of year, let your readers know and prepare for it.
6. Hit up Pinterest and see what is trending. When you are stuck for ideas, Pinterest is great to help you brainstorm! Look back through your own boards, your group boards, and search through Pinterest for some new holiday ideas.
7. Look back through your old posts. Can you recycle any of them? Can you create roundups of anything you have done in the past?
8. Plan for something extra. There will always be an invitation to participate in a "something" that you weren't planning on, whether it's a holiday link party or blog hop or house tour. It's always good to have some content in your back pocket in case of a blog emergency!
9. Finally, remember the reason for the season. Whatever holiday you celebrate, remember that this time of year is to reflect on your religion, your family, and peace on earth.
Connect and Share
What about you? How do you handle planning for the busiest time of year?
Holly Bertone, PMP is an author, blogger, and breast cancer survivor and advocate. She is the President and CEO of Pink Fortitude, LLC and Editor in Chief at the inspirational blog The Coconut Head's Survival Guide. Holly holds a Masters Degree from Johns Hopkins University, a Bachelor's Degree from Elizabethtown College, and is a Project Management Professional (PMP).
Holly is an Ambassador for the Tigerlily Foundation,was accepted into the National Cancer Survivor's Day Speakers Bureau, and was named a 2014 Woman of the Year by the National Association of Professional Women. She is passionate about reaching out to breast cancer survivors, and also volunteers for organizations supporting our military veterans. In her free time, she loves to garden, hit flea markets, antique stores and yard sales, and drink a cup of coffee on her back porch. Holly is married to a retired Green Beret, is a stepmother, and lives in Alexandria, VA.