Disclosure: This post was sponsored by Single Edition Media on behalf of KitchenAid®.
Looking for the perfect gift for a coffee connoisseur? You'll want to check out this Craft Coffee Brewer Gift Guide from KitchenAid®!
How is your holiday shopping going?
I'll be honest…I'm not even close to being done. Part of the reason I haven't finished is because is there is nothing better than finding the perfect gift for someone and seeing "that look" in their eyes when they open it. I'm still searching for a few of those perfect gifts!
If you truly enjoy a good cup of coffee, I'm about to share with you a collection of innovative products that the most discerning of coffee drinkers and design-conscious gift recipients are going to absolutely love. If you have a coffee connoisseur on your list, you should definitely take a look at these distinctive craft coffee brewers from KitchenAid®.
The KitchenAid® Craft Coffee Gift Guide
Unlike a drip coffee maker, the KitchenAid® Pour Over Coffee Brewer precisely heats and pulses the flow of water, steeping rather than flooding the brew basket. This allows the coffee grounds to "bloom," resulting in a full flavored cup of coffee. They've also given the Custom Pour Over Brewer the convenience of a traditional coffee maker with easy one touch settings, 24 hour programmability, and the ability to brew multiple cups of pour-over style coffee at the same time!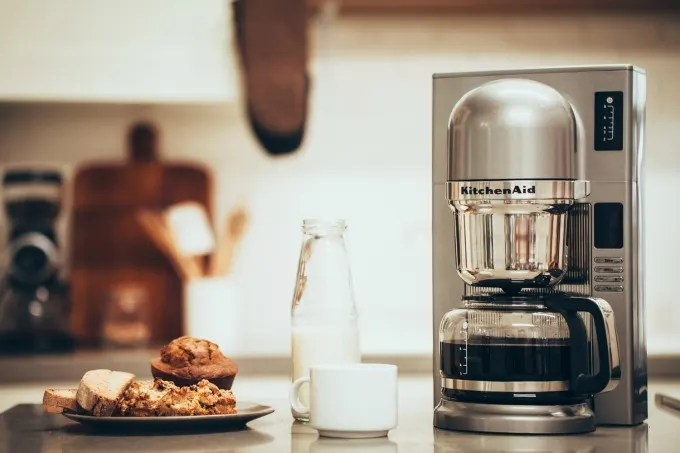 With the innovative design of the KitchenAid® Siphon Brewer, the coffee connoisseur can actually watch this unique brewing process. With siphon brewing, vapor pressure pushes the water up through the siphon tube, then vacuum suction and gravity draw the coffee back down. This process creates a medium-bodied, velvety cup of coffee that showcases the distinctive flavors of your coffee beans.
Now you can achieve that perfect French Press brew at home with the Precision Press Coffee Maker! KitchenAid® has designed a French Press that gives you control over the brewing process with an integrated timer and scale, allowing you to measure brewing time as well as the ratio of coffee grounds to water. The result is a rich, full bodied cup of French Press coffee.
The precise grind size is key to the desired flavor. With that in mind, KitchenAid® designed the Burr Grinder, with 15 grind settings ranging from the very fine expresso to a course grind for French Press. Grind sizes are easy to adjust with the grind control dial. The grinding process itself is low RPM process, keeping heat to a minimum, so the coffee beans are never compromised by heat. With its precise and consistent grinds, the Burr Grinder is a top choice among baristas and coffee houses!
Enter to win a KitchenAid® Precision Press!
KitchenAid® is very generously giving a Precision Press to one of my lucky readers…good luck!