This Classic Party Margaritas recipe is perfect when you are serving a group of people and want a simple, delicious, no-fuss margarita that everyone will love.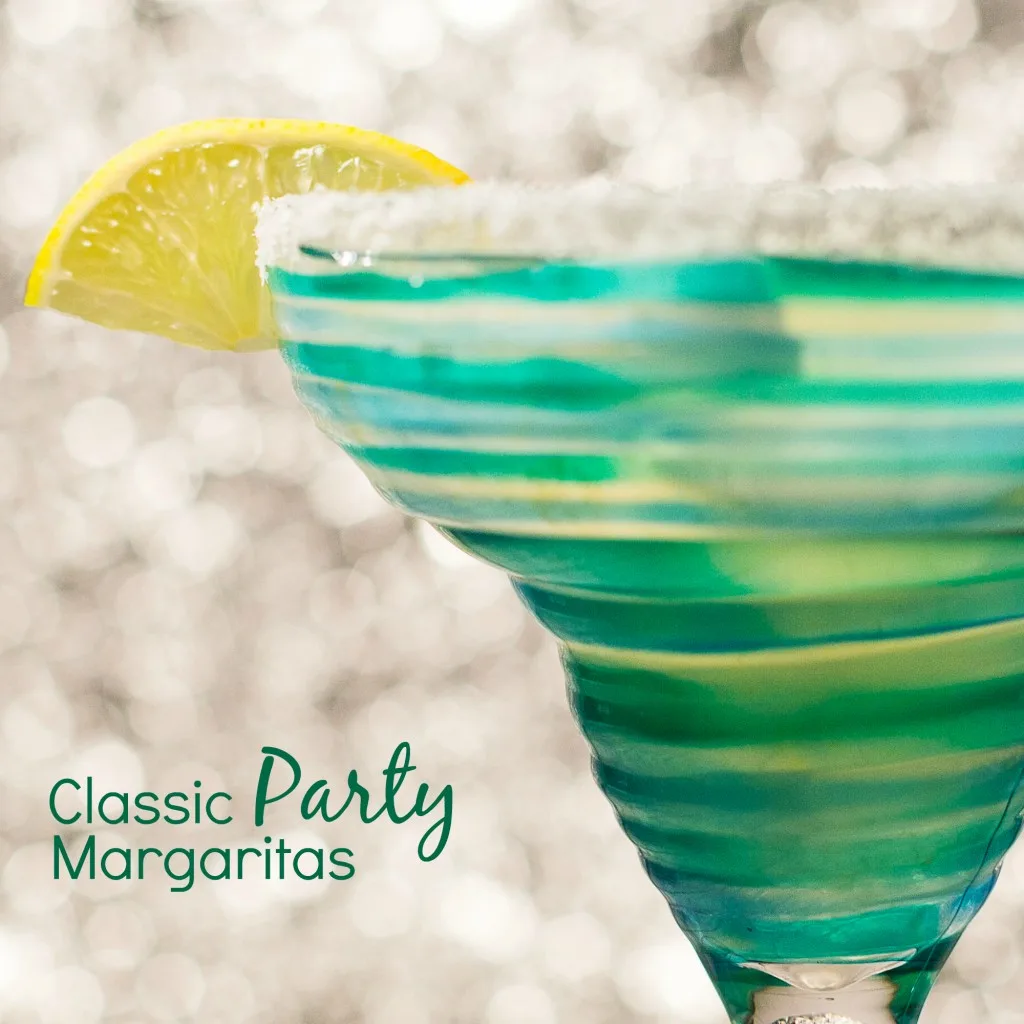 Hi everyone, it's Steph from "So, I've been thinking…" and I'm excited to share my big batch margarita recipe that is perfect for parties with you today!
Classic Party Margaritas
There are tons of margarita recipe ideas around. Every restaurant has their specialty, many companies have mixes and yet making them at home is oftentimes hit or miss. It seems like a simple drink – tequila and limes – but it's easy to end up with a mediocre cocktail. Today I'm going to show you how to "fix the mix" and make a great margarita at home that everyone will love. I call this my Classic Party Margarita – I use delicious ingredients in a big batch recipe so you can invite all your friends and enjoy your cocktail right from the start – great tasting margaritas without any hassle.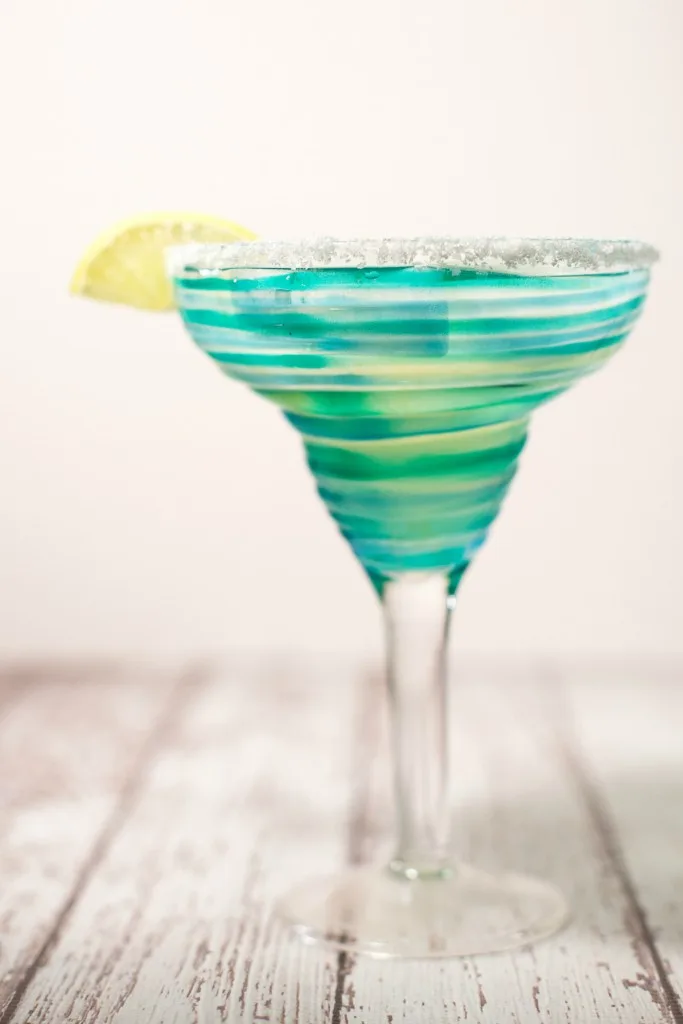 There is a difference between a "high-end" margarita and a "party margarita" – simply put, if you are having a bunch of people and plan to have the margaritas flowing all night, you don't need a super expensive or high-end tequila. The sugary mixes cover much of the flavor and after one or two drinks no one is appreciating the quality of the liquor anyway. For this recipe I suggest decent tequila, not the most expensive you can buy.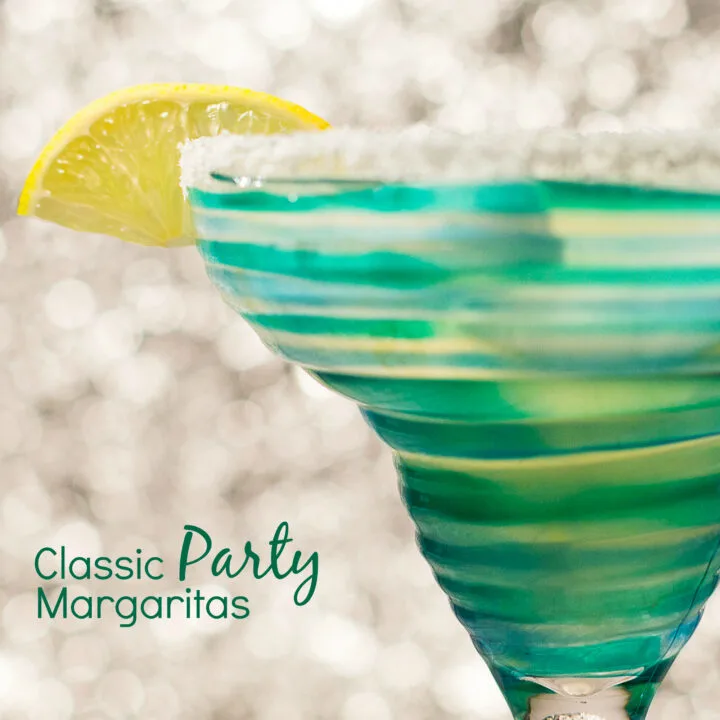 Classic Party Margaritas
Ingredients
1 750ml bottle of mid-range tequila (for example: Jose Cuervo or Sauza)
1 375ml bottle of triple sec
2 750ml bottles of margarita mix (Jose Cuervo makes one, so does Kirkland from Costco)
1 375ml bottle of fresh orange juice
3 or 4 limes for garnish (2 limes thinly sliced, 2 limes cut into small wedges)
approx. 1c kosher salt
Instructions
Directions
In a large pitcher or container with a spigot add the tequila, triple sec, orange juice and margarita mix
Stir well
Add lime slices
Refrigerate if possible, do not add ice to the mixture
Prepare glasses
Put kosher salt on a paper plate
Take a lime wedge and rub on outside rim of the glass
Immediately place glass rim in the salt
Shake to remove excess salt
* I salt about half the glasses since not everyone likes salt on their margaritas
To serve
Fill prepared glass with ice
Pour margarita over ice
Garnish with lime wedge
Having a big pitcher/container of drinks allows guests to refill their glasses conveniently. If you want people to be able to re-salt their glasses consider having lots of fresh glasses available (no one wants to share salt from a previously licked rim!! Yuck!) I find it's easiest if I just get rid of the salt after the first round. It isn't missed.
Notes
* The basic proportions are 1 part tequila, 1/2 part triple sec, 1/2 part orange juice, 2 parts mix, and you can adjust based on the number of people you are serving. For example a "part" could be one cup (for example 1 cup tequila, 1/2 cup triple sec, etc) or it could be one 750ml bottle as listed above. The directions below are for the amounts listed above and will yield approximately 3L of margaritas. If you want a lighter version make the mixture with 3 parts mix...you won't taste the tequila as much and you will lessen the alcohol content of the drink.