Hosting a dinner party this holiday season? I've put together an easy show-stopping elegant dinner party menu for you that will definitely impress your friends and family!
This post was created for the Hood Cream Influencer Program. All opinions are my own. Thank you for supporting the organizations and brands that make A Dish of Daily Life possible!
For our family, the holidays really revolve around food. We spend a great deal of time planning our menus, deciding who is cooking what, and even discussing what we're going to do with the leftovers.
When my father-in-law was still alive, he planned the menu and cooked the entire meal. He always made my daughter's favorite au gratin potatoes for holiday meals, and lamb was often on the menu for the boys. He usually also planned another main dish like turkey or ham for me. The rest of us would get smaller tasks. I was often asked to make the salad dressing. My sister-in-law would usually make dessert. But the bulk of the meal was always made by him, with the rest of us serving as sous-chefs at some point throughout the day.
I actually credit my father-in-law and my husband's family's gatherings at the holidays for my interest in cooking. I didn't cook a lot growing up, and my experience with cooking in college was limited to spaghetti pie (don't laugh). My roommates and I had about three recipes we rotated through. When I married my husband, my cooking skill was fairly lacking. But we built our house on property next to my in-laws, and we frequented their house for dinner early on in our marriage. Their cooking rivaled any good restaurant, and I would often find myself comparing a restaurant's quality to my in-laws cooking. Most of the time my in-laws won.
The exposure to good cooking also rubbed off on my children. My oldest son, now in his first apartment, is constantly calling me for his grandfather's recipes and has become a frequent visitor to my blog. My daughter is an excellent baker. And my youngest son also knows his way around the kitchen pretty well. All of my children spent at least a little time helping their grandfather in the kitchen, and I think he'd be pleased to know that his passion for cooking rubbed off on his grandchildren. Cooking is definitely a skill that will serve them well in life.
It's interesting how a person can affect your life in such a big way, isn't it? Because of my father-in-law, I now truly enjoy cooking and entertaining.
So when Hood asked me to put together an elegant dinner party menu for the holidays for some friends, I was happy to oblige. (My friends were happy too.)
My friend Lori helped me decorate. Well, if I'm being honest here, she decorated the table for me while I was finishing up cooking. It was a beautiful fall evening!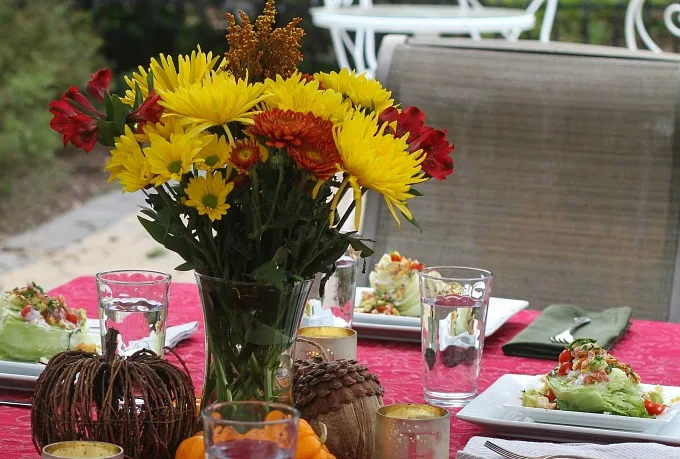 We sat down at the bar to enjoy our appetizers.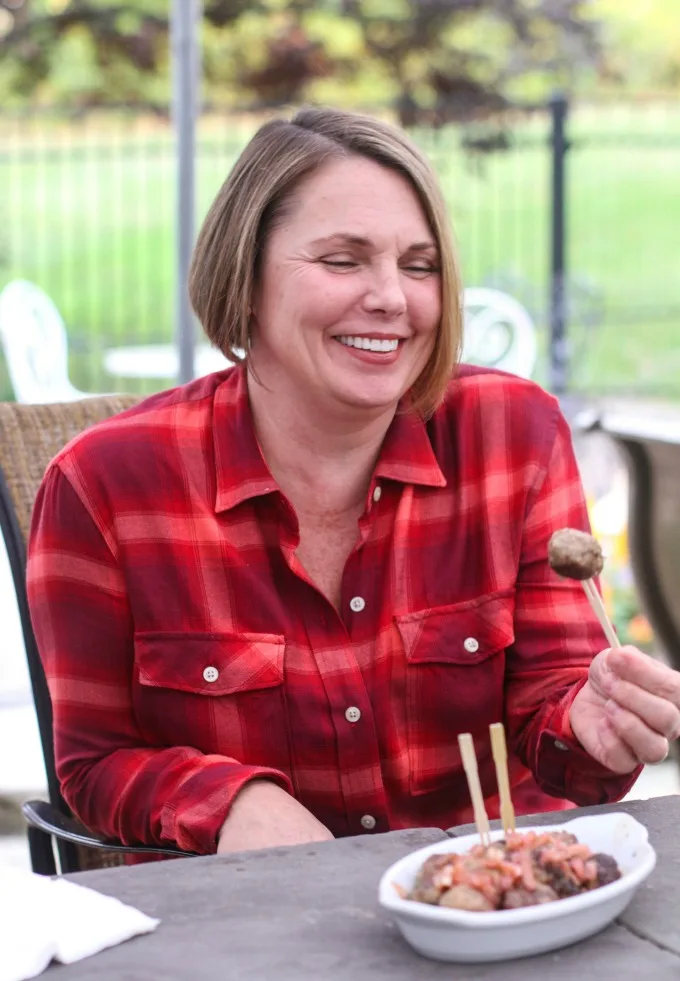 It was smiles all around when I brought out the Wedge Salads!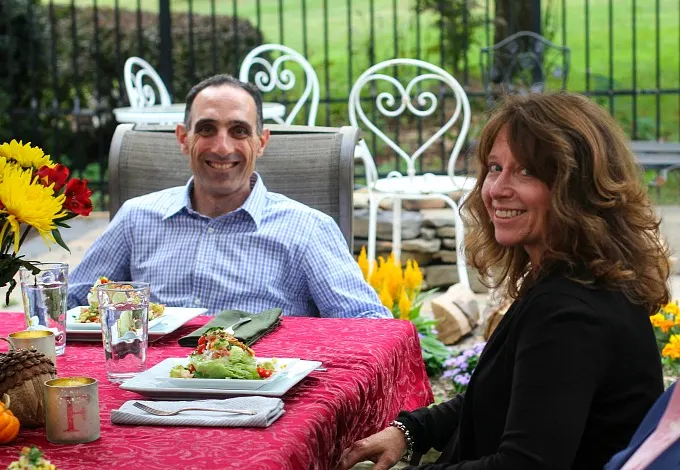 Food blogger in the making? I had to include this one. Our friend Dave always has to be to the joker. Since I was taking pictures, he felt the need to join in the fun.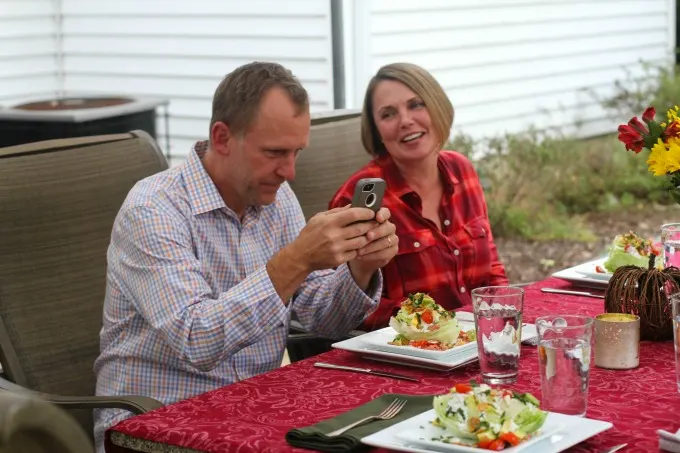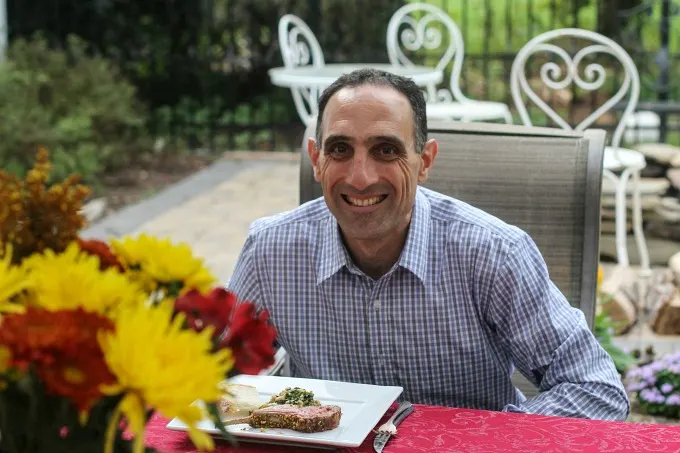 I'm a huge fan of Hood products. Hood is one of the largest branded dairy operators in the United States, and the number-one dairy brand in New England. Chances are you're familiar with their national and regional products and franchise brands, including Crowley Foods, Simply Smart Milk, Heluva Good, LACTAID, BAILEYS Coffee Creamers, HERSHEY'S Milk and Milkshakes, and Blue Diamond Almond Breeze Almond Milks.
You've heard me talk about Hood on the blog numerous times. For me it's all about quality. Hood Cream is a premium, high quality cream that is trusted by both professional chefs and home cooks alike. I know I can depend on Hood for a quality product that always shines through in a recipe, and that's why I cook with it. When you start with the best products, you get the best results! Cream is a staple in our house. It's so versatile…I use it in everything from sauces to soups to desserts.
Today, I'm excited to share with you an elegant dinner party menu. Every recipe I am sharing with you today includes Hood cream. Contrary to what you might think, there is nothing heavy here…only deliciousness! And you will be pleasantly surprised at how easy this menu was to put together. Every single one of these recipes is simple enough for any home cook to make!
You're going to want to check out the Hood cream website for even more delicious recipe ideas, perfect for holiday entertaining, like their Sugar Pumpkin with Sausage Stuffing; cooking tips and tricks from the renowned Chef Chris Coombs; and a coupon as well! Don't miss out! There are so many amazing recipes on their site. I've tried several of them already!
AN ELEGANT DINNER PARTY MENU
SWEDISH MEATBALLS
We started our dinner with this Swedish Meatballs appetizer. I was intrigued by this recipe because of the currants and pickled shallots. I wasn't able to find any fresh currants, but I did try my hand at pickling shallots. For this pickle loving girl, let me just tell you they were an incredible addition. I'm completely addicted. I've now made pickled shallots several times and they go quickly every time. And there are lots of ways to use them besides Swedish Meatballs…try them as a garnish on Carnitas or fish tacos, or add them to sandwiches or salads! I promise you, they will not disappoint!
But let's get back to the Swedish Meatballs. While quite delicious as an appetizer, I have to tell you we made a double batch and had the rest of them for dinner one night. We've actually made these a few times now. Don't limit yourself to using them as an appetizer. They're delicious over egg noodles for dinner too!
I chose to garnish them with parsley rather than dill, for the simple reason that the dill at my local grocery store had seen better days. I salvaged enough for the recipe and garnished with parsley instead. I'm really missing my garden and all my fresh herbs right now!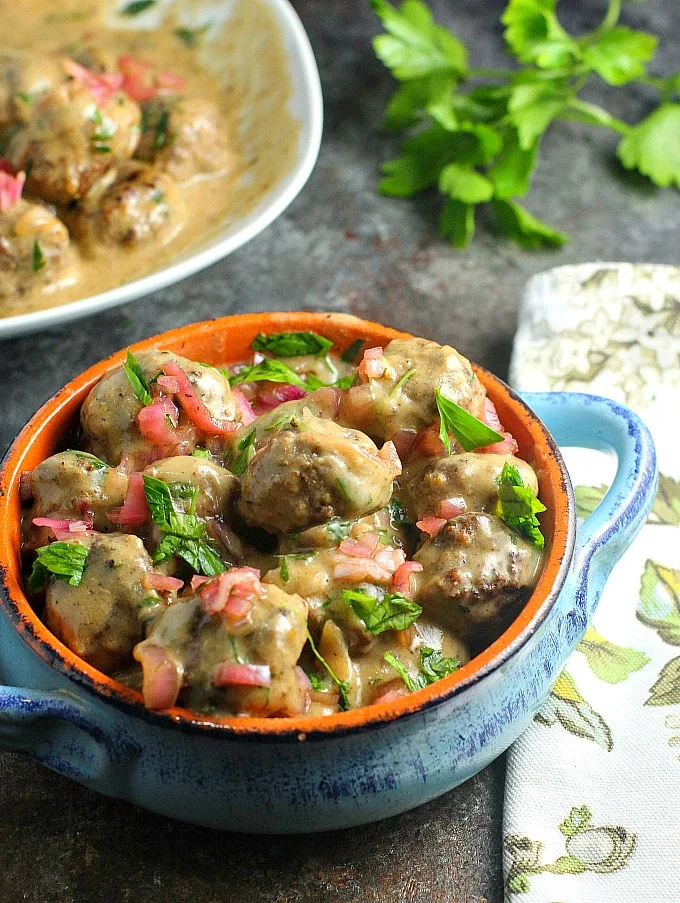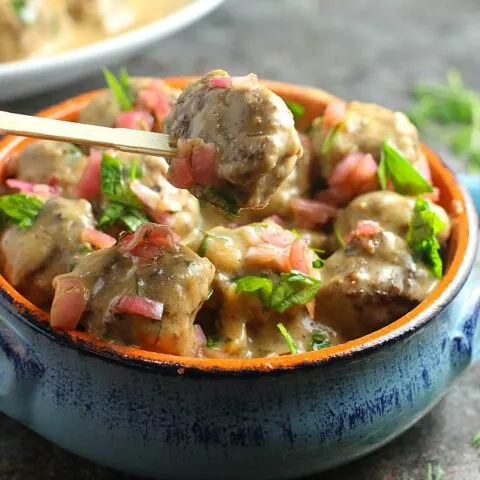 Swedish Meatballs
Ingredients
1/2 lb ground beef
1/2 lb ground pork
1 egg
1/4 cup Panko bread crumbs
1/4 cup and 1/2 cup Hood® Heavy Cream
1 1/2 tsp kosher salt
1/2 tsp black pepper
1/2 tsp ground allspice
1/4 tsp ground nutmeg
1/4 cup onion, finely chopped
2 Tbsp canola oil
2 Tbsp butter
1/4 cup all-purpose flour
2 cups beef broth
2 tsp Worcestershire sauce
1 tsp Dijon mustard
2 Tbsp parsley, chopped
1 Tbsp dill, chopped
Pickled shallots (for garnish, optional)
Fresh red currants (for garnish, optional)
Dill sprigs (for garnish, optional)
Extra chopped parsley (for garnish, optional)
Instructions
In a large bowl, combine egg, panko bread crumbs, 1/4 cup Hood Heavy cream, kosher salt, black peeper, allspice, nutmeg and onion. Let sit for 10 minutes.
Add ground beef and pork and mix by hand until just combined. Form 1" meatballs with all of the meat mix.
Place canola oil in a large sauté pan over medium heat. Add meatballs to the pan one at a time and roll gently, browning on all sides Remove meatballs from the pan and drain fat.
In the same sauté pan, add butter and melt over medium heat. Add flour and stir with a wooden spoon until light blond in color.
Add in half of the beef stock, whisking until smooth. Add second half of the beef stock and 1/2 cup Hood Heavy Cream, continue to whisk until smooth. Add Worcestershire sauce and Dijon mustard.

Continue stirring until mixture comes to a simmer. Add the meatballs and simmer 5 minutes. Add chopped parsley and dill and toss to combine.
Plate meatballs in a large bowl and garnish with with your choice of pickled shallots, fresh red currants, dill and parsley.
Nutrition Information:
Amount Per Serving:
Calories:

321
Total Fat:

27g
Saturated Fat:

12g
Cholesterol:

99mg
Sodium:

386mg
Fiber:

0g
Sugar:

1g
Protein:

13g
WEDGE SALAD WITH BLUE CHEESE DRESSING
Our next course was this Wedge Salad. This was my first time making a Wedge Salad, and it was so much easier than I thought it would be. I can't wait to make it again! Doesn't it look good?!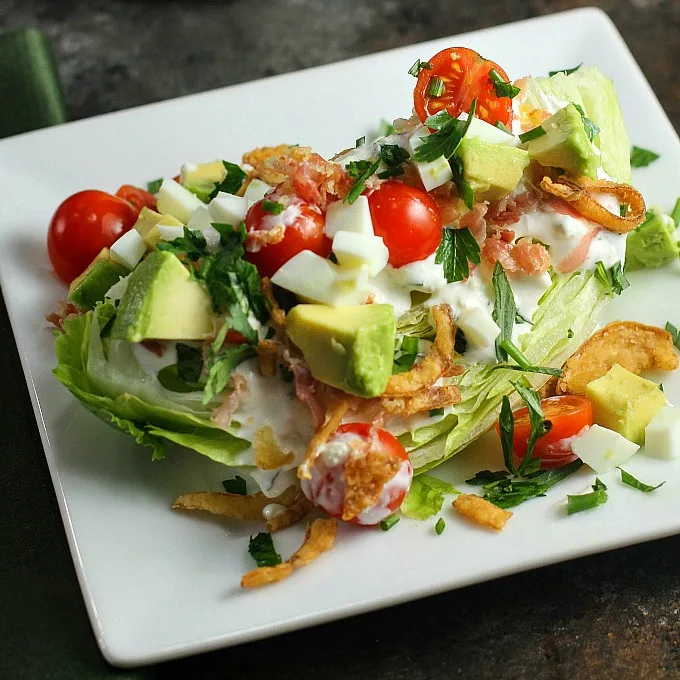 The blue cheese dressing was AH-MAZING! I think it was the best blue cheese dressing I have ever had! It didn't have that thick and heavy feeling, as blue cheese dressing sometimes does. I also loved that the dressing didn't have an overly strong blue cheese taste, because while I love blue cheese, my husband does not. But he thoroughly enjoyed the salad, as did our dinner guests.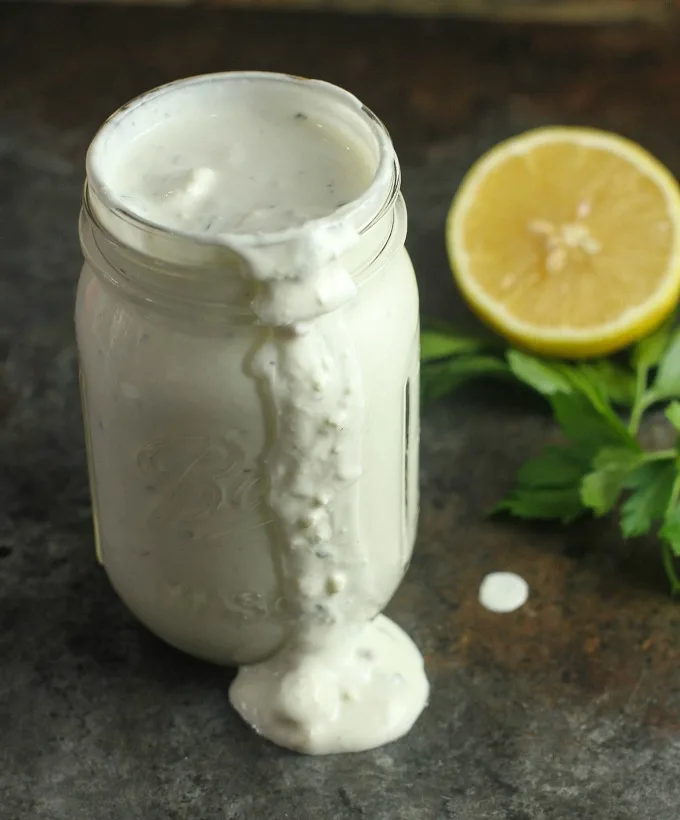 I think people in general tend to think of a Wedge Salad as a salad you order at a restaurant because they think it's a little more difficult to make. But it really is actually very easy, and it has a serious "WOW" factor. You could easily incorporate it into a dinner party menu no matter what time of year!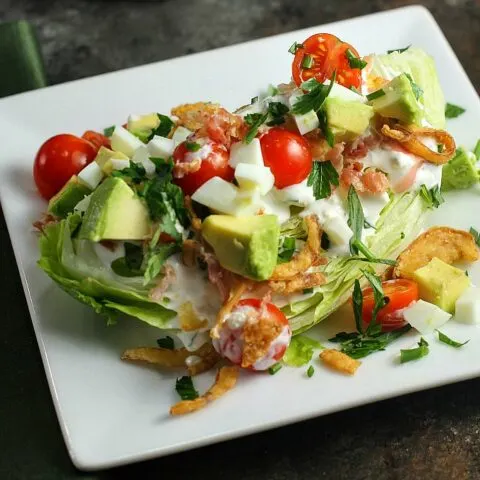 Wedge Salad with Blue Cheese Dressing
This delicious classic Wedge Salad is much easier to make than you would think!
Ingredients
1 head iceberg lettuce, cut into 4 wedges
1 pint cherry tomatoes
1/2 cup pancetta, diced
1 avocado, sliced
2 hardboiled eggs, sliced
1/2 cup pre-made French-fried onions
Fresh herb leaves (tarragon, parsley, chives)
1/2 cup plain Greek yogurt
1/2 cup Hood Sour Cream
1/2 cup Hood Light Cream
2 Tbsp shallots, chopped
1/2 clove garlic, minced
2 Tbsp parsley, chopped
1/3 cup lemon juice
2 tsp kosher salt
1/2 tsp black pepper
1 cup blue cheese, crumbled
Instructions
To cook pancetta, place in pan over medium low heat. Cook until crispy and golden brown, approximately 8-10 minutes.
Lightly whisk together the Greek yogurt, Hood Sour Cream and Hood Light Cream in a medium mixing bowl. Do not over mix. Add all remaining dressing ingredients and stir to combine.
Lay each iceberg lettuce wedge in the center of separate plates. Top lettuce generously with blue cheese dressing. Evenly distribute cherry tomatoes, pancetta, avocado, hardboiled eggs, French-fried onions, and herb leaves over all four wedges of iceberg lettuce.
Nutrition Information:
Amount Per Serving:
Calories:

516
Total Fat:

42g
Saturated Fat:

20g
Cholesterol:

168mg
Sodium:

1119mg
Carbohydrates:

20g
Fiber:

7g
Sugar:

10g
Protein:

19g
HERB & PISTACHIO CRUSTED LAMB RACK WITH ESCAROLE AND WHITE BEANS
If you're looking to impress your dinner guests, add this Herb & Pistachio Crusted Lamb Rack with Escarole and White Beans to your dinner menu. It's definitely a show-stopper.
Earlier I mentioned that my father-in-law often made a ham or turkey with me in mind, and lamb for the boys. I will freely admit that I've never been a huge lamb fan. But when I was dining at Deuxave a year or so back, Chef Coombs served this dish, and it was absolutely amazing. I knew my family and friends would enjoy it.
Pistachios make for a lovely crust. I make a pecan crusted chicken that my family really likes, but I've never tried using pistachios before this recipe. We actually tried the pistachio crusting on chicken as well another night, and it was quite delicious!
The Escarole and White Beans is a lovely side dish that goes nicely with the lamb, but I could also see adding it to a variety of different dinner menus.
This is definitely a wonderful main dish for any holiday meal or special occasion dinner. It got rave reviews from all of our dinner guests.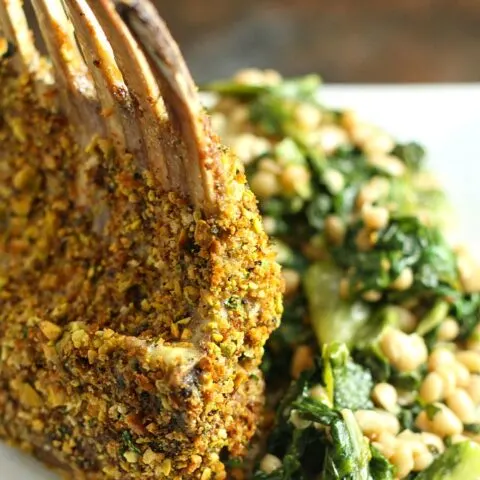 Herb & Pistachio Crusted Lamb Rack with Escarole and White Beans
The delicious crust on this rack of lamb will impress your guests at any dinner party this holiday season. Your friends and family will never guess that the technique to create this dish was so simple!
Ingredients
1 bone-in lamb rack, bones cleaned, 16-20 oz
1 Tbsp kosher salt
1 tsp fresh ground black pepper
1 Tbsp canola oil
2 Tbsp Dijon mustard
1/4 cup Hood Heavy Cream
2 cups panko bread crumbs
2 Tbsp butter
1/2 tsp kosher salt
2 cups ground pistachios
1/2 cup parsley, chopped
1/2 cup mint, chopped
1 Tbsp extra virgin olive oil
1 Tbsp garlic, chopped
1/4 tsp chili flakes
1 tsp fresh thyme, chopped
1 tsp fresh rosemary, chopped
1 pound escarole, washed and chopped
1 can white beans, drained
1/2 cup Hood Heavy Cream
1 Tbsp butter
1 1/2 tsp kosher salt
1 tsp lemon juice
Instructions
Preheat oven to 350 degrees F. Season lamb rack with salt and pepper.
Heat a large sauté pan over high heat with 1 Tbsp of canola oil. When the oil begins to shimmer, add the lamb rack, meat side down. Sear until golden brown on all sides of the meat, rolling the lamb rack as needed. Remove the lamb from the pan.
Place lamb rack, bone side down, on a baking sheet and roast for 10 minutes or until the internal temperature of the rack reaches 135 degrees F. Remove lamb from the oven and let rest for 10 minutes.
In a large sauté pan, melt the butter over medium heat. Add the panko bread crumbs and toss gently. Tossing occasionally, allow the panko bread crumbs to slowly and evenly toast in the butter until golden brown. Season with kosher salt. Remove from heat and toss in a medium mixing bowl with the pistachios, chopped parsley and chopped mint.
Combine Hood Heavy Cream and Dijon mustard. Use a pastry brush to paint the lamb rack evenly with the cream mixture, then roll the lamb rack in the crust mixture, pressing firmly to adhere. Put the crusted lamb rack in the oven again for 5 minutes or until pistachio crumb is lightly toasted. Slice to serve.
For the escarole and white beans, heat the extra virgin olive oil and garlic in a large sauté pan on high heat; carefully watch for the garlic to begin to sizzle. Add the chili flakes, thyme, and rosemary to the oil, then immediately add the escarole. Cook the escarole on high, stirring gently until it begins to wilt. Add the white beans, Hood Heavy Cream, butter and kosher salt. Cook on high heat until reduced to a sauce consistency. Season with lemon juice and serve with rack of lamb.
Nutrition Information:
Amount Per Serving:
Calories:

2393
Total Fat:

198g
Saturated Fat:

80g
Cholesterol:

385mg
Sodium:

1901mg
Carbohydrates:

73g
Fiber:

18g
Sugar:

7g
Protein:

85g
PUMPKIN, PECAN AND CRANBERRY BREAD PUDDING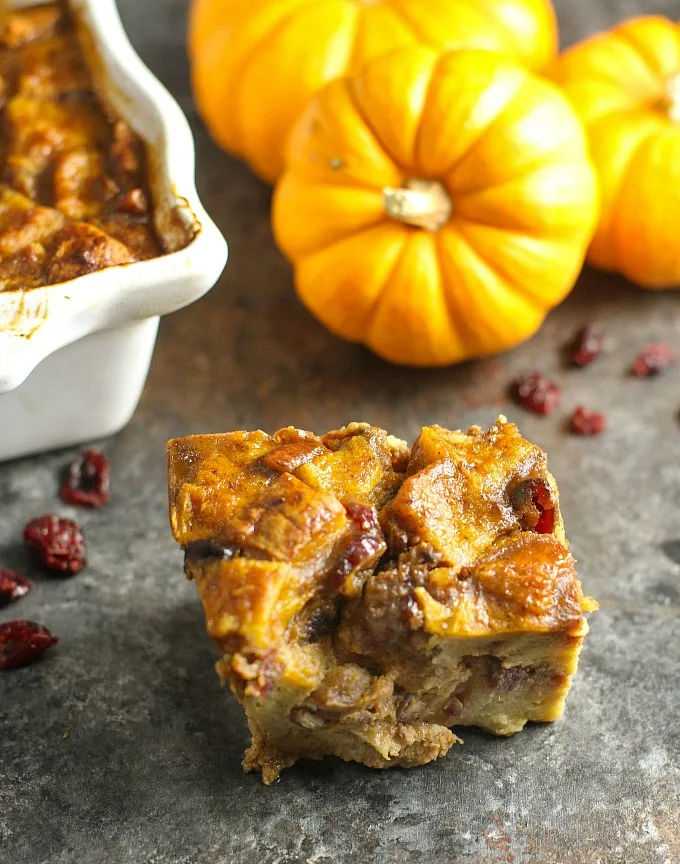 I'm not much of a dessert maker. I do like to eat it, but when I'm hosting I generally like to put someone else in charge of dessert. I love bread pudding though…I have a recipe I've made a few times through the years that I really like. But I saw this Pumpkin, Cranberry and Pecan Bread Pudding in the Hood eCookbook, and I couldn't resist. While I love bread pudding, most of the time my family could take it or leave it.
Not this time!
Not only did we all enjoy it at the dinner, but the leftovers have been steadily disappearing. Turns out my youngest son really likes this bread pudding!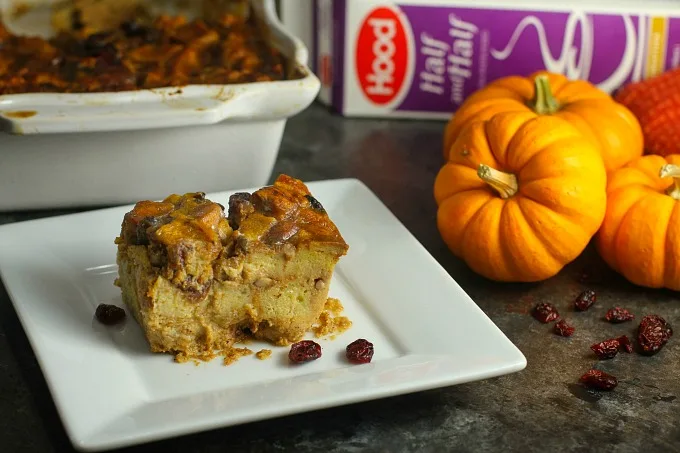 It's especially delicious with a scoop of ice cream on top!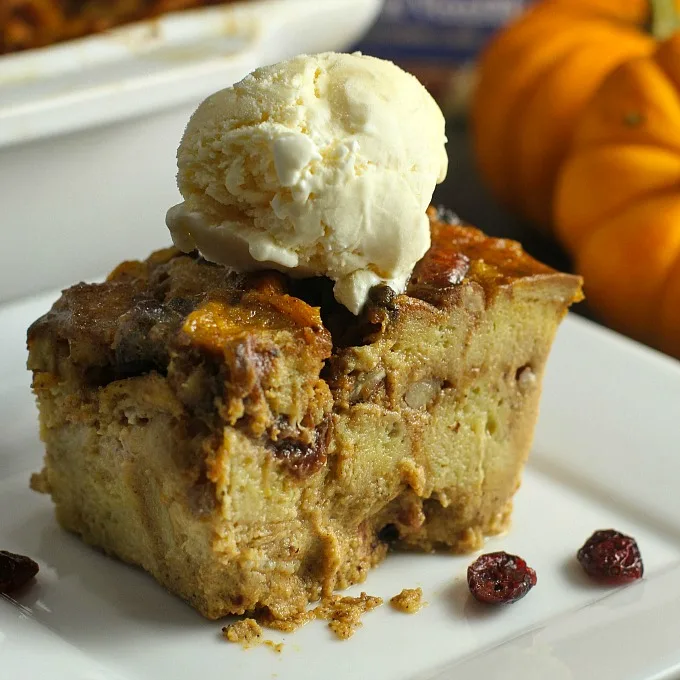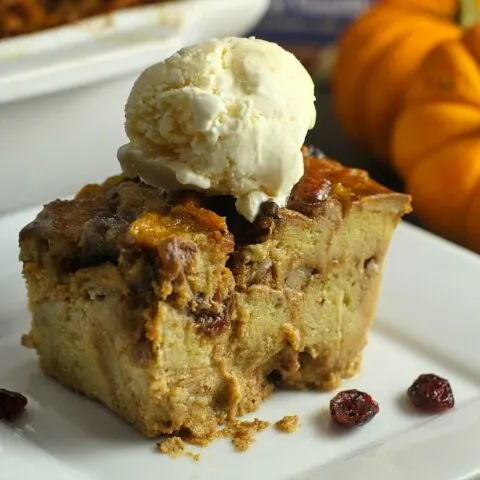 Pumpkin, Pecan and Cranberry Bread Pudding
This Pumpkin, Pecan and Cranberry Bread Pudding is a fun and festive dessert for the holidays!
Ingredients
1 loaf brioche
2 cups pumpkin puree
4 cups Hood Half & Half
1 1/2 tsp ground cinnamon
1/4 tsp ground cloves
1/2 tsp ground allspice
3/4 tsp salt
1/2 tsp freshly ground nutmeg
1 tsp vanilla extract
3/4 cup sugar
1/2 cup packed light brown sugar
8 eggs
1 cup dried cranberries
1 cup toasted and chopped pecans
Instructions
Remove the crust from the loaf of brioche and dice into cubes.
Place the pumpkin puree, Hood Half & Half, spices, vanilla, sugar and eggs in a bowl and whisk to combine. Set aside custard mixture.
Place one-third of the brioche cubes in the bottom of an 11 x 9 pan, top with half of the cranberries and half of the pecans, and continue layering with the bread, fruit, and nuts until it has all been used.
Pour the custard over the bread and lightly press the bread down to ensure that all the top pieces are submerged in the custard. Let the mixture sit refrigerated for 1 hour to fully absorb. Bake at 350 degrees F for 40 to 45 minutes.
Enjoy warm or cold topped with freshly-whipped Hood Cream or vanilla ice cream.
Nutrition Information:
Amount Per Serving:
Calories:

5473
Total Fat:

240g
Saturated Fat:

90g
Cholesterol:

2004mg
Sodium:

4760mg
Carbohydrates:

682g
Fiber:

45g
Sugar:

398g
Protein:

137g
I hope you will try this elegant dinner party menu out this holiday season! Don't forget to visit HoodCream.com for more great recipes, cooking tips and tricks from one of New England's best chefs, and a coupon for Hood Cream! Don't forget to visit them on Facebook, Pinterest, Twitter and Instagram…tell them I sent you!
MORE HOLIDAY APPETIZER RECIPES YOU'LL LOVE