Disclosure: I was given a free Pouchee to test and review. I did not receive any other compensation for this post. All opinions, as always, are my own.
National Clean Out Your Purse Day was May 15th. I missed it by a couple days. But my purse isn't going anywhere. And I figure today is as good of a day to organize it as any!
I don't know about your purse but mine is a complete hodgepodge of stuff thrown in, completely unorganized. The biggest problem is that I switch back and forth between two purses – my everyday purse, and my Epiphanie camera bag/purse, which I use on the weekends because I am always taking pictures at soccer games. My wallet is a wristlet that I can take back and forth as needed, which does help, but the rest of it is so disorganized that I never end up having exactly what I need when I need it when I have to switch bags. When I discovered that there were purse organizers that you could move from purse to purse keeping everything organized and intact, I can't even begin tell you how excited I was.
Pouchee gave me one of their Pouchee purse organizers to review and test. I chose the Brown Outback. Thank you, Pouchee! The Outback is made out of faux leather, it's got lots of sections for all my organizing needs, and most importantly, it fits into both of my purses! It comes in a variety of colors and retails for $27.40 on their website.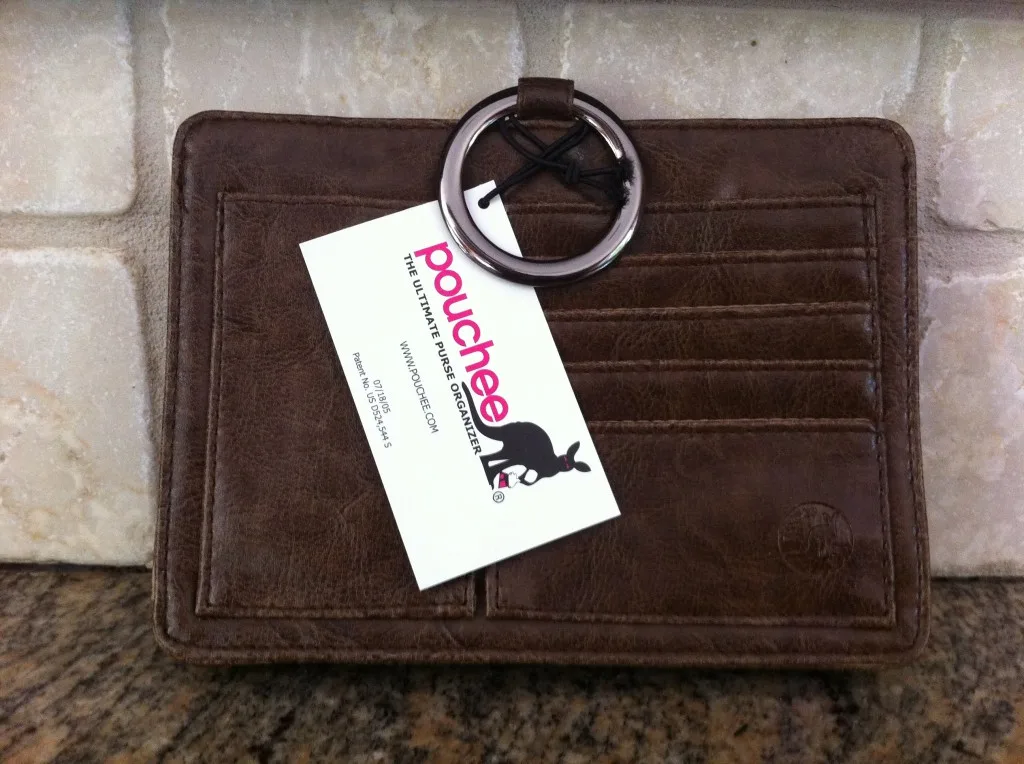 I thought I'd start by taking everything out of my purse. What a mess!
The contents of my purse:
Wallet
Checkbook
Card cubby where I keep all my gift cards
Loose money which I had no idea I had…$50 worth!
Loose gum, some of which was unwrapped (yuck)
Loose change
Receipts
My May Designs notebook I carry around for random ideas that pop into my head
My grocery shopping planning notebook (again, May Designs)
Business cards
2 pens
A memory stick
A catalog for athletic wear
Random papers
An invitation for an event that already took place
Advil
One handwarmer (?)
An old grocery list, probably because I didn't know my grocery planning notebook was in my purse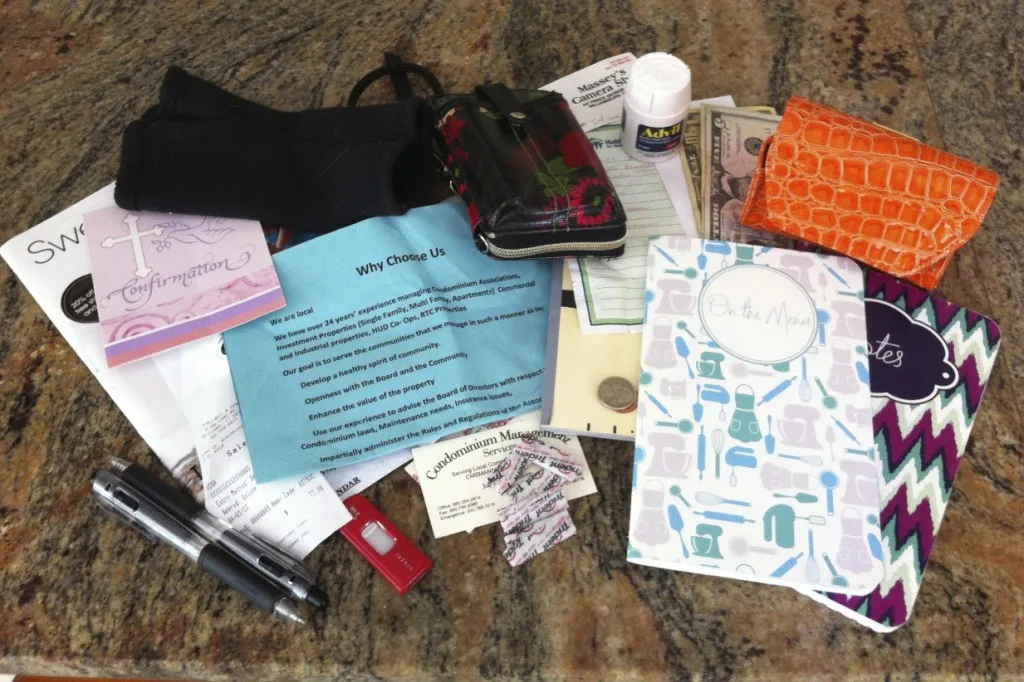 Obviously a lot of it was either junk or unnecessary for me to be carrying around in my purse. I threw most of it out. Not the money I found of course! That was a nice little bonus, unlike the unwrapped gum!
Everything fit really nicely into my new Pouchee. It looks small, but there's a lot of room there! In the front of the purse organizer, there are five slots for easy access to your credit cards. I put my business cards into one of the slots and in the other slots, I placed my Triple A card, health insurance card, my Panera Rewards card (which I use frequently), and a discount card for services around town. I'm not sure if I will keep it like this, or switch over to credit cards. We'll see. In the middle section, there are 3 dividers, and it expands to hold quite a bit. I have 3 pens, my checkbook, my Card Cubby, hand lotion, Advil, and my wallet. There is also zippered pocket, and I'm keeping lipstick and a few other miscellaneous items in there. On the backside, there are two pockets…ideal for sunglasses and my cell phone. The liner is light colored so you can see everything easily. Notice the rings at the top? Those make it really easy to grab and move your Pouchee to another purse when you're ready to make a switch!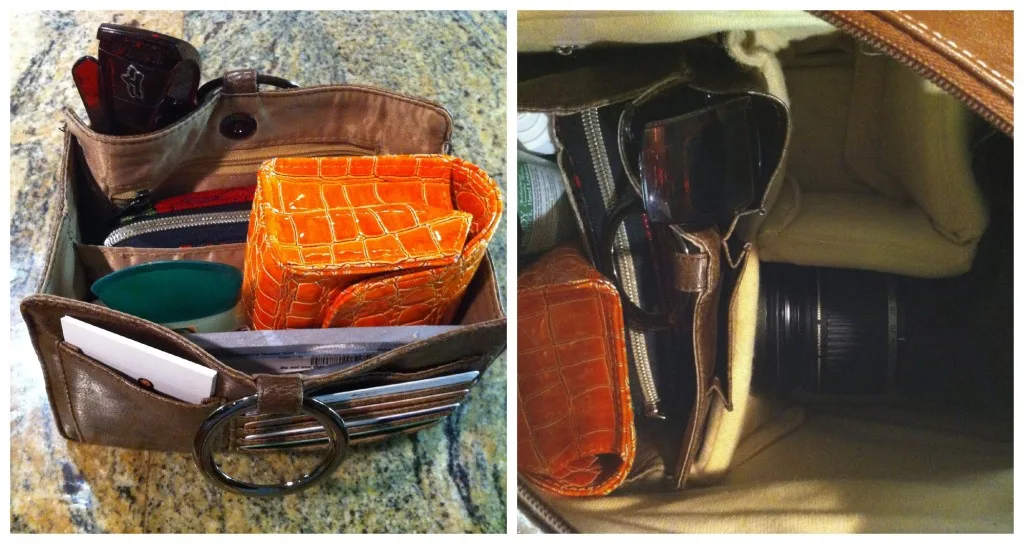 Here's a picture of my Pouchee purse organizer filled and organized, and nestled into a slot in my Epiphanie camera bag. This is definitely going to help me stay organized! I can forsee that I will keep everything neatly organized within the organizer, but the unimportant stuff will probably still get tossed into my purse. But the nice thing is I will know going forward that the items not in my purse organizer are junk and can go straightaway into the trash! This is a system I can handle!
Disclosure: I was given a free Pouchee to test and review. I did not receive any other compensation for this post. All opinions, as always, are my own.