This moist Hood® Golden Eggnog Cake, coated with a delicious eggnog glaze and a sprinkling of holiday sugar, is the perfect way to celebrate the holiday season!
'Tis the season!
The holidays are all about family, friends, and traditions. Most of us have those favorite traditions that bring us joy. For me, those traditions are going with the kids to cut down our Christmas tree, making these Christmas tree topiaries, and big family meals. Our family spends a lot of time together in the kitchen over the holidays. I've mentioned many times the legacy of cooking my late father-in-law left behind. He passed down numerous recipes, but more importantly, he passed down a love for cooking and family time in the kitchen. All of us, including the grandchildren, spent time in his kitchen as sous chefs over the years.
We talk as a group about what we're going to make before our big holiday meal, and we always make extra so we can plan what we're doing with the leftovers. Yes, I said we actually plan for leftovers. We LOVE our leftovers. Food plays a big role in our holiday traditions. We always have some sort of seafood pasta Christmas Eve, and ham and lamb are usually on the menu for Christmas day, along with these cheesy potatoes.
But when I think of holiday food and beverages, eggnog always comes to mind. Hood Eggnog is the perfect way to get into the spirit of the holidays!
I've talked about Hood products on my blog numerous times. Founded in the mid 1800's in Charlestown, Massachusetts, HP Hood is now one of the largest branded dairy operators in the United States, in addition to being the number-one dairy brand in New England. I didn't grow up in New England, but it's been home to me for the past 26 years. I can't remember exactly when I discovered Hood products, but I've been cooking with them as long as I can remember. Their quality is always top notch, and when you start with a great product, you get great results. I'm definitely a fan.
Their rich and creamy Golden Eggnog recipe has been a secret for over 50 years. With its extra creamy milk, sugared yolks and spices, it's always a holiday favorite whether you enjoy it as a drink or use it in your holiday eggnog recipes. It's quite versatile. I'll actually be sharing another recipe with you with this holiday season as well, but it's only available for a limited time so enjoy it while you can!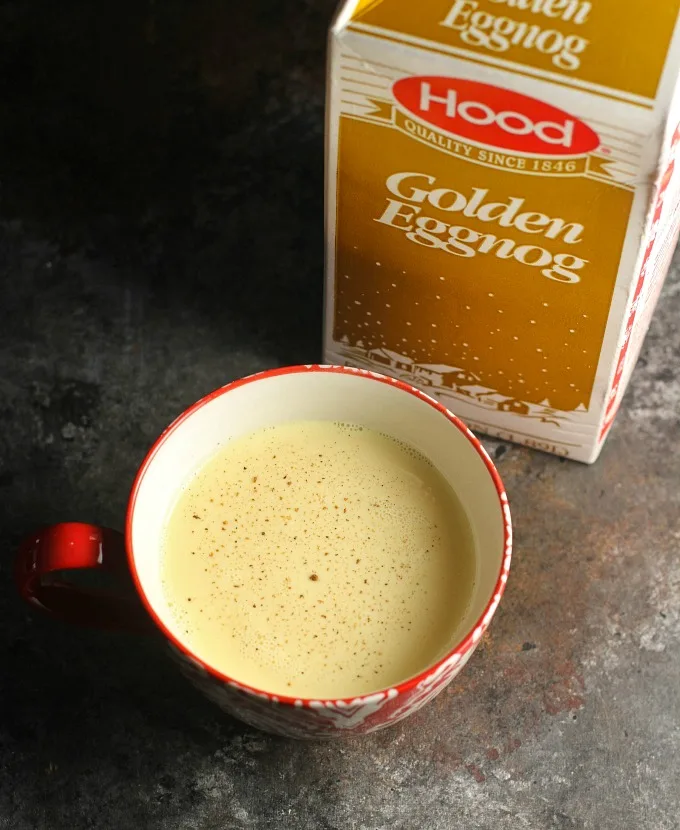 But for now, I'm sharing Hood's Golden Eggnog Cake for you to enjoy! Moist and delicious, with an absolutely scrumptious eggnog glaze, this cake is going to be big favorite for your guests this holiday season— I promise! I've now made it multiple times, and it disappears quickly each time.
HOOD GOLDEN EGGNOG CAKE
Make sure to spray your bundt cake pan with cooking spray and flour it well before adding the batter. This is the key to getting your cake out of the pan easily!
Hood Golden Eggnog cake is very simple to make as well. You'll need a yellow boxed cake mix, canola oil or butter (depending on your cake package directions), large eggs, a little nutmeg and you'll be substituting Hood Golden Eggnog for the water in the directions on the cake mix. Follow your cake mix directions for making the batter.

For the delicious glaze, you'll need to mix together powdered sugar, butter, vanilla and more Hood Golden Eggnog. Pour it over the top and let it drizzle down the sides. Doesn't that look good?!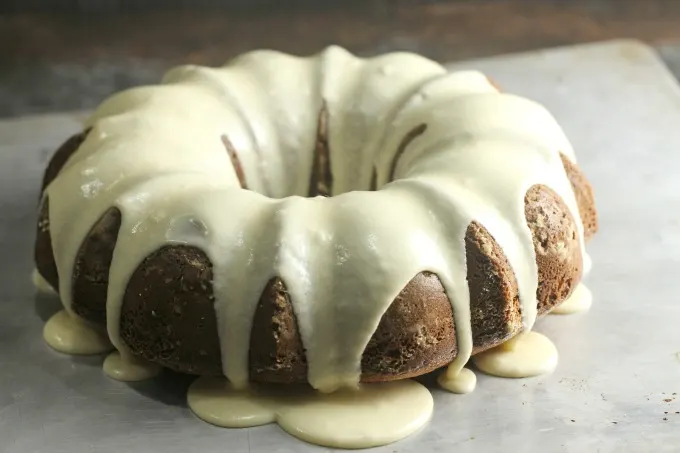 For a festive look, add a sprinkling of holiday sugar in red and green.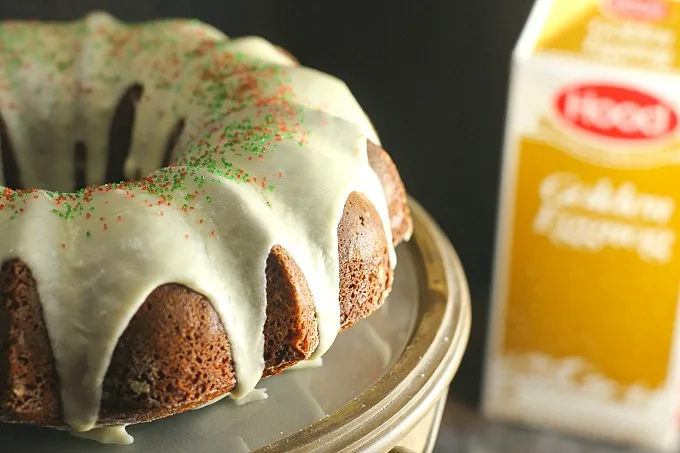 Hood's Golden Eggnog cake did not last long here. I brought one in to work too, and that one didn't last long either.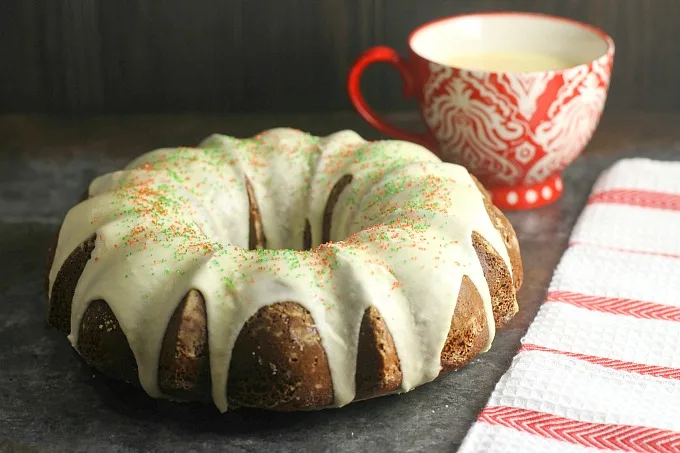 Enjoy a slice (or two)!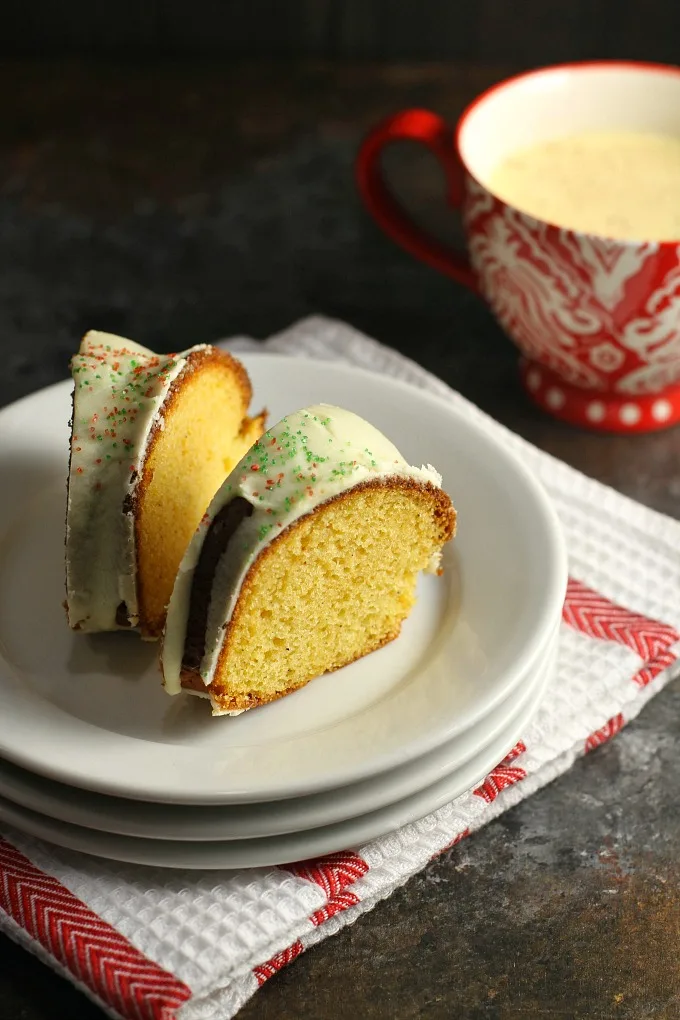 Don't forget about Hood's other great flavors. That Vanilla Eggnog is calling my name!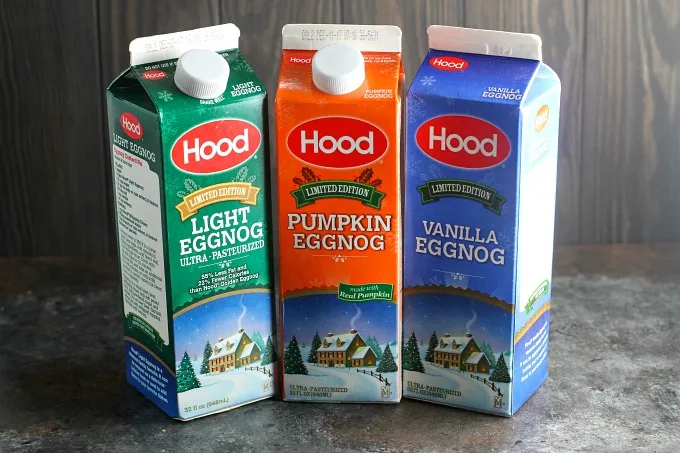 Hood's Golden Eggnog Cake
This moist Golden Eggnog Cake, coated with a delicious eggnog glaze and a sprinkling of holiday sugar, is the perfect way to celebrate the holiday season!
Ingredients
Cake
1 box of yellow cake mix
Canola oil or butter (according to cake mix package directions)
Large eggs (according to cake mix package directions)
1 tsp nutmeg
Hood Golden EggNog, substituted for water (according to package directions)
EggNog Glaze
2 cups powdered sugar
2 Tbsp butter, softened
1 tsp vanilla
4-6 Tbsp Hood Golden EggNog
Decorating
Instructions
Preheat oven to recommended temperature on cake mix package.
Grease and flour a 12-cup Bundt pan.
In a large mixing bowl, combine dry cake mix with oil and eggs as specified on cake mix package directions, nutmeg, and omit the water on the package directions and add the same amount of Hood Golden EggNog in its place.
Mix and bake according to package instructions. When done, turn cake out on a wire cooling rack and cool completely.
To make EggNog glaze, combine powdered sugar, butter, vanilla, and 4 tablespoons of EggNog in a large mixing bowl. Beat on high speed until smooth, adding additional 1 to 2 tablespoons EggNog to achieve desired consistency.
Before serving, drizzle the EggNog glaze on top of the cake. Sprinkle colored sugar on top for a festive look, if desired.
Nutrition Information:
Amount Per Serving:
Calories:

275
Total Fat:

5g
Saturated Fat:

2g
Cholesterol:

9mg
Sodium:

322mg
Fiber:

1g
Sugar:

39g
Protein:

2g