You've taken the plunge and set up a twitter account. But you don't feel like you really "get" Twitter — it moves so fast you don't know if you can even keep up! And how do you know who to follow? How do you get followers? It can be overwhelming! However, if you follow a few simple guidelines, I think you will come to love hanging out on twitter. I know I do!
Here are some simple Twitter Do's and Don'ts that will have you tweeting like a pro (and gaining new followers) in no time!
DO
DO tweet often. Twitter moves fast. Have you ever been at a conference where people were tweeting? The tweets move at lightning speed. Twitter is like being at a cocktail party; the conversation moves quickly. When I say tweet often, that means every day, multiple times. You need to be consistent. Don't worry about tweeting too much. Unless you plan on sitting on twitter all day long, you won't tweet too much. I try to schedule about 8-12 tweets a day, and hop on a couple times a day to engage. There are days I engage more, and days I engage less. But I always have tweets scheduled, which brings us to our next point.
DO use Hootsuite or another scheduling app. Unless you have unlimited free time, you are not going to be able to be on twitter all the time. But if you schedule your tweets, you'll look like you're on there more than you are! You can schedule the same post more than once, but change up your wording. Twitter moves fast, but if someone looks up your feed, you don't want to look like a broken record. We'll be coming back to Hootsuite in another post…it's a timesaver in more ways than one!
DO tweet content relevant to your audience. If you find something interesting, chances are your audience will too. I often tweet out my blog friends' posts, as well as relevant social media and photography posts I come across.
DO be polite. When someone retweets you, or shares your content, say thank you. It's good manners. If you want to, you can keep track of it and thank everyone at the end of the week. I do it as it goes along because it gets too overwhelming for me. On Father's Day, I tweeted some posts that I really liked…here is a tweet back from @LuckyMomofKK thanking me!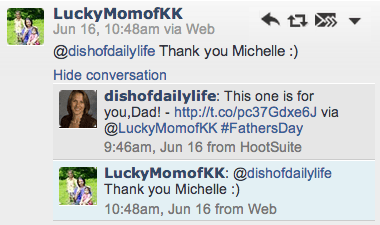 DO engage. Notice how I shared a post I liked, but then wrote a comment about how I'd just like a magic wand to clean my house. @MomsFromScratch replied back, keeping the engagement going.
DO feel free to join the party! I can't remember where I heard this, but twitter is one of those places where you can jump into a conversation, and no one will care. It's a great way to make new friends! Below is an example. I had tweeted a post from @4awritermom that I liked and @aintnorollercoa just hopped right in! Now I have a new twitter friend!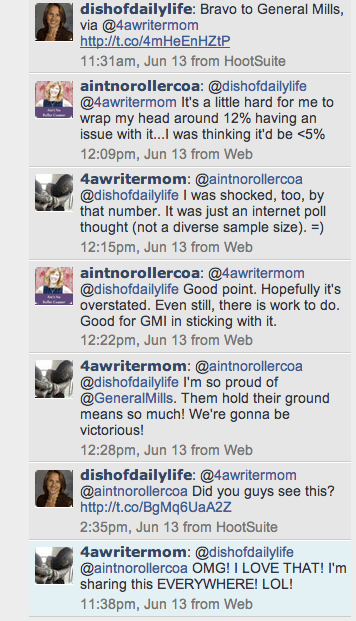 DO use hashtags. A hashtag is a searchable keyword. It's a way of searching content that you are interested in. Hashtags can also help you choose who to follow. If someone frequently hashtags a topic you are interested in, they could be a good person to follow and engage with.



DON'T
DON'T be anonymous. Fill out your profile and add your picture. Don't be one of those egg heads. I very rarely follow anyone without a picture, unless I know them personally. Make your description a good one…tell people why they should follow you. Not in those words of course, but give a good description of who you are. People want to know what you'll add to the conversation.
DON'T tweet about yourself constantly! People will unfollow you very quickly! Of course you can tweet your own content but mix it up a little bit. If you really need help, check out this post: 100 Things to Tweet about on Twitter Besides Yourself.
DON'T be negative. No one wants to listen to someone who's always got an issue with something. It's a sure way to turn your followers off.
What are your favorite twitter tips? Share them with us!
If you liked these tips, you may also like:
5 Easy Tips to Build Strong Social Media Relationships