This kale and blueberry salad is a delightful mixture of kale, blueberries, feta, and sunflower seeds, tossed with a grapefruit vinaigrette…the perfect combination of tart and sweet!
I'm a salad girl. I love my veggies.
But in my opinion, the dressing is usually what makes the salad. I never use store bought dressings. I actually have an entire cabinet devoted to olive oils and vinegars.
But I like a good citrus flavor in my salad dressing too. When I was recently tasked with creating a recipe with grapefruit in it, I ended up making a grapefruit vinaigrette as well. I liked it so much I started to experiment a little to find other salads I could use it with and found it is quite delicious with a kale and blueberry salad.
This salad is packed with nutrition, which is something I think about a lot these days. I believe in moderation, and I'm by no means the healthiest person out there. But I do know what we eat plays a big part in our health. I try to be conscious of what I am eating and serving my family.
Kale and blueberries are both considered superfoods. Both are rich in antioxidants and anti-inflammatory nutrients, and have cancer fighting nutrients.
Sunflower seeds are also an anti-inflammatory. They too can help prevent cancer and can help lower cholesterol as well.
While feta can be high in saturated fat, it also has nutrients that are important to our diets, such as calcium, vitamin B12 and small amounts of iron, folate and vitamin D. Consider using the reduced fat version, which reduces the saturated fat by a third. You don't have to use a lot of feta to enjoy its great taste. Just sprinkle a little on top of your salad!
If you're looking for a vegan version, simply omit the feta and use another sweetener in place of the honey in the vinaigrette.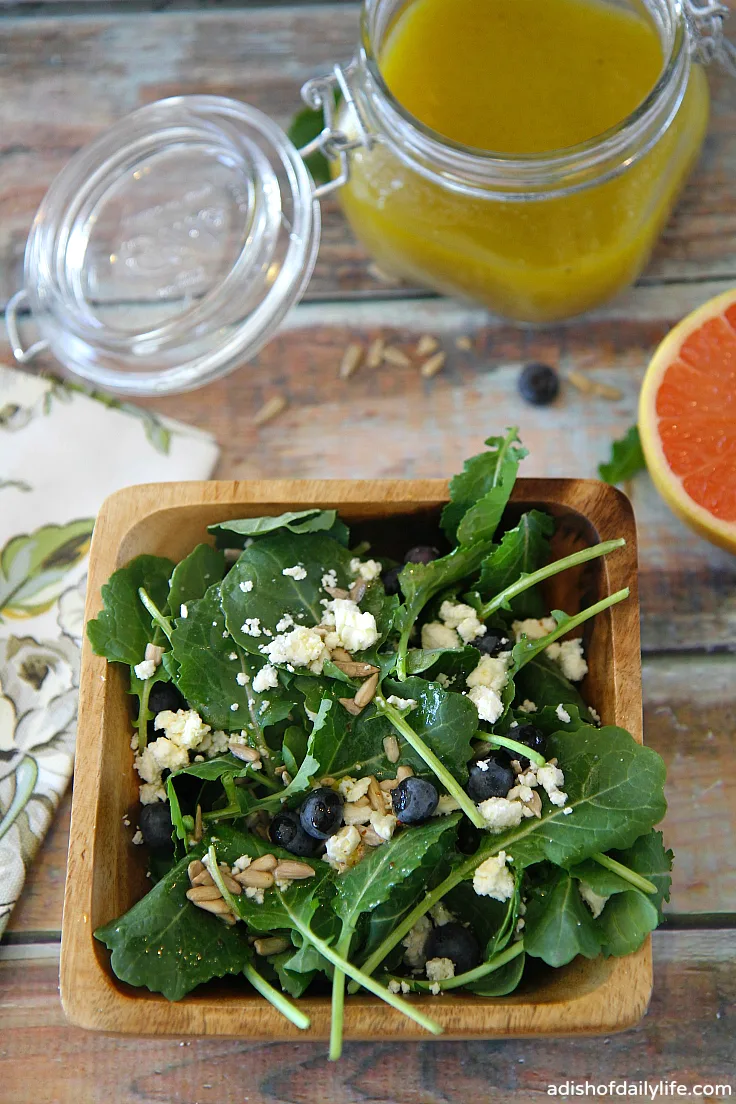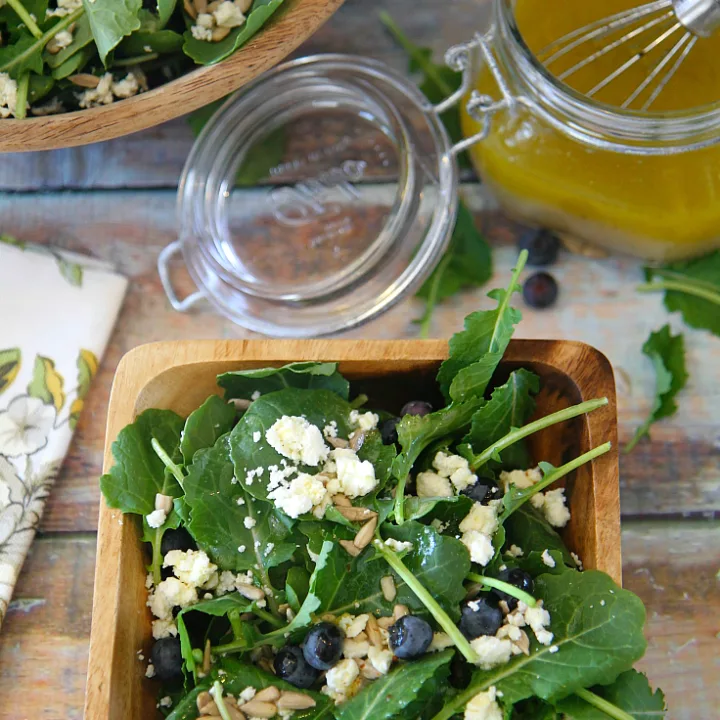 Kale and Blueberry Salad with a Grapefruit Vinaigrette
A delightful salad mixture of kale, blueberries, feta, and sunflower seeds, tossed with a grapefruit vinaigrette...the perfect combination of tart and sweet!
Ingredients
Salad
6 cups of baby kale
2 cups of blueberries
2 oz of feta, crumbled (or simply use a few feta crumbles on each salad)
3 tablespoons of sunflower seeds
Grapefruit Vinaigrette
1 teaspoon of honey
1/2 teaspoon of dijon mustard
1/2 teaspoon of grapefruit zest, minced
5 tablespoons of grapefruit juice
3 tablespoons of olive oil
liberal grinding of sea salt and pepper
Instructions
Dressing
Whisk together honey, dijon, grapefruit juice, and grapefruit zest. Add olive oil. Season to taste with sea salt and pepper.
Salad
Mix together baby kale, blueberries, and crumbled feta.
Drizzle with dressing.
Top with sunflower seeds.
Notes
To make this recipe vegan, simply omit the cheese, and use an alternative sweetener to the honey in the dressing.
This kale and blueberry salad is delicious and nutritious…the best of both worlds! Enjoy!