Full disclosure: This is a sponsored post. I was compensated to review Insightly. However, all opinions of this wonderful organizational tool for businesses are my own!
Do you own your own small business? Have a blog? Having a good CRM and project management system can make a world of difference for your business or blog, by helping you build strong (and loyal) customer relationships and manage projects efficiently! Loyal customers refer new customers. With repeat and new business coming through the door, your business will flourish!
As a blogger, and a small business owner, I've always struggled to find a good way to keep track of everything. I've tried keeping my notes in notebooks and spreadsheets, as well as several online apps. Nothing ever seemed to work all that well for me. For the last six months or so, I've gone back to working with a running to-do list and several spreadsheets, which has definitely not been ideal!
What I really need is something that will connect all the dots…a program that will keep track of my contacts, and link my email history, important dates, tasks and projects. I need a program that will help me become more organized and efficient. Fortunately for me, I've finally found something that meets these needs in Insightly!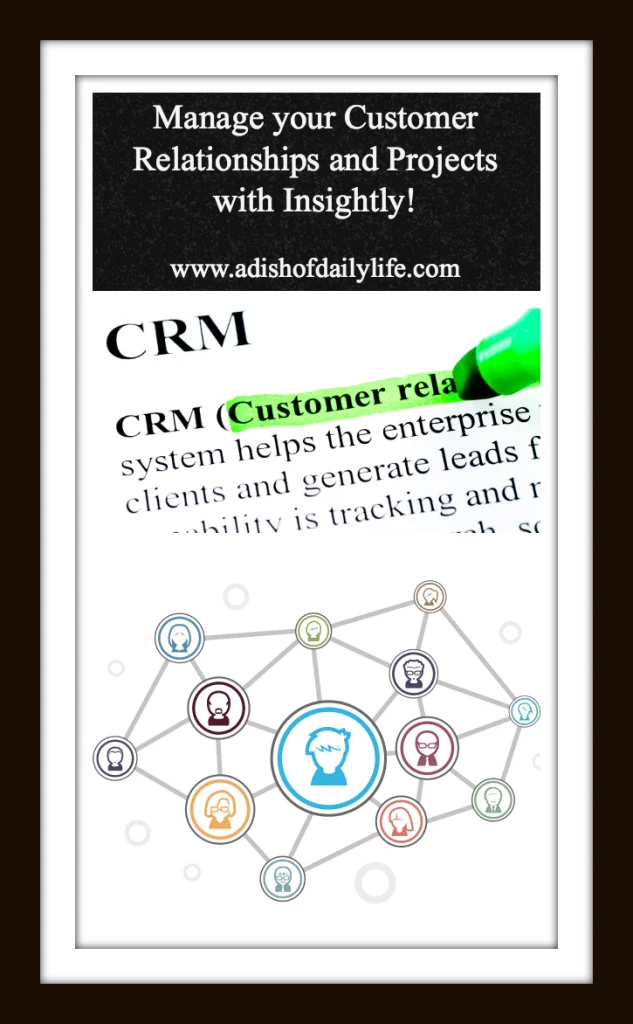 How does Insightly work?
Contact Management
You can import your contacts from a variety of places…gmail, a CSV file, Excel, Outlook, or Act! 9. Insightly will also keep you up to date as you work, adding contacts as emails are saved.
But contact management isn't just about keeping track of the names of your contacts. It's about maintaining relationships and building trust. In order to do that, you need to know your customer. You need to listen to their needs. And you need to take notes! Each contact has a section for history, emails, notes, files, tasks, events, and their social media information. When you add an email to your database, Insightly will actually find the social media profiles associated with that email and add them…a nice touch that gives you another way to connect with your contacts.
However, the notes section can help you take your contact management to a more personal level. This is the place to keep track of the details. Does your contact have a hard to pronounce last name? Write yourself a note to help you remember how to pronounce it properly! Does your contact offer up personal information? Keep track of it here. This is a great place to write down that your contact and his wife just had a baby, or that they have a child about to graduate high school. This is where you add in names of your contact's family members, birthdays or other important events. When you are speaking to your contact, you then have all that information at your fingertips! This helps with relationship building…it shows that you truly care about the relationship.
And of course, equally as important, you can link contacts to tasks, files, events, and more, allowing you to keep all information about each contact organized in a truly efficient way!
Project Management
For my blog, sometimes I just have simple to-do items, with deadlines. There's no larger project involved. I can enter those as tasks and I'll receive email reminders when they are due.
But other times, I might be working on a project. Insightly's Project Management system allows me to manage both simple and complex projects. A simple one that I am working on right now is an update to my blog that I will share with you below. This doesn't require a lot of involvement from outside contacts, but I've noted all of the tasks that I want to accomplish for this project. I also linked individual contacts with tasks where I would need outside expertise. If you were working on a client project, you could attach team members, vendors, or anyone else involved with that task. This can be a huge time saver, as members of your team can see exactly where you're at during the project, provided you have given them access.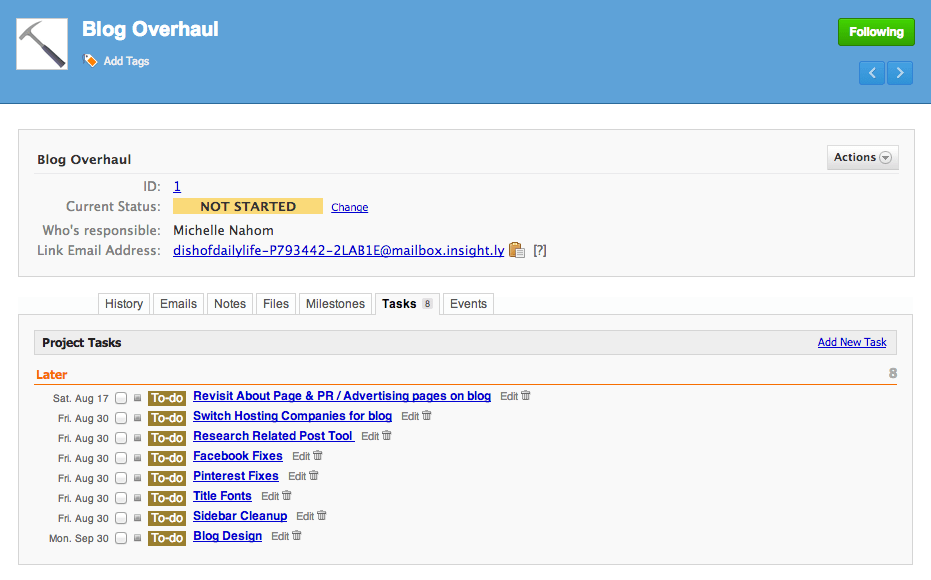 When you're working on a project with a client, staying in touch and keeping the client up to date is critical. With Insightly, it's easy to maintain projects, tasks, and customer communications in one place, linking all aspects of the project together!
I personally always struggle with keeping track of the "back and forth" emails. One of my favorite features is Insightly's email integration system that allows you to keep everything linked together right from the beginning! You have your own personal email with Insightly. Forward all your relevant emails to your Insightly mailbox, and from there, you can link each email to specific contacts, organizations, opportunities or projects. You can also use the email to create a task, project or opportunity as well! Any files that are attached to those emails will also link up. This seamless integration allows you to keep everything organized, which ultimately results in better productivity.
To learn even more about Insightly and all its capabilities, check out the Insightly University! I found this extremely helpful when getting started! If you have questions that aren't covered on their website or videos, there is also an instant chat feature where you can get help as well.
If you have a business partner, team members, or a Virtual Assistant, you can connect them to your Insightly account to include them in the process or just keep them up to speed. You choose what you want to share!
You're probably wondering how much a system like this will cost? If you're a small business with 3 or fewer users, Insightly is completely FREE! No hidden fees. You get 200 MB of storage, and you can have 2500 contacts. If you need a bigger plan with more features, there are other paid options available.
If you have a small business or a blog, I would highly recommend giving Insightly a try! It just may be the solution to your CRM and project management needs!
Could you use some help managing customer relationships and projects? How would you use Insightly?
Full disclosure: This is a sponsored post. I was compensated to review Insightly. However, all opinions of this wonderful organizational tool for businesses are my own!