This authentic tangy Salsa Verde will be a hit on game day or Mexican night! It's a versatile recipe…great with chips, over burritos and enchiladas, and perfect as an accompaniment to just about any Mexican dish!
SALSA VERDE
Have you ever had salsa verde, aka tomatillo salsa? Tomatillos resemble green tomatoes, but you definitely don't want to mistake the two. Both are members of the nightshade family, but green tomatoes are unripe tomatoes, and tomatillos are grown on a different plant, and come covered with papery like husks. Their flavor is quite different as well.
There is only one local farm that grows grew them, but they don't bring them to our farmer's market. When I saw pre-made salsa verde turn up in their farm stand last year, I knew they had to be growing them. So I asked, and sure enough they were. When I asked why they didn't bring them to our farmer's market, they told me that they normally didn't sell well there, but that they do bring them to other area farmer markets. At that point, I asked them if they would bring them for me, and for the rest of the summer they brought them for me every week that they had them.
I made batches upon batches of salsa verde last summer, and froze as much as I could to get me through the winter.
This summer when I emailed the farm that was bringing me tomatillos last summer, I got the bad news that the seeds didn't germinate and so they weren't growing them this year. Can I tell you how disappointed I was?!
They did tell me that once you plant them once, they'll normally keep coming back. We only have a container garden, but I might see if I can carve out a spot next year. That's how much I love salsa verde!
Fortunately for me, this week I found them at the grocery store, but they aren't always there. So the next time I see them, I'm going to get enough to make a few batches to freeze.
[clickToTweet tweet="Have you ever made your own Salsa Verde? Easy to make & so much better than the jarred stuff!" quote="Have you ever made your own Salsa Verde? Easy to make & so much better than the jarred stuff!"]
HOW TO MAKE SALSA VERDE
With tailgate season on the horizon, it's nice to have a few really easy recipes that you can make quickly.
Salsa verde is one of those recipes.
Salsa verde is usually made by boiling or roasting the tomatillos. I've done both, but boiling is a bit easier, because you literally just put all the ingredients into a pot (minus the cilantro and lime), cover them with water, bring it to a boil and cook until the skins on the tomatillos start to bust. Then you drain the tomatillo mixture, and put all of the ingredients into a food processor and process until you have the consistency you want.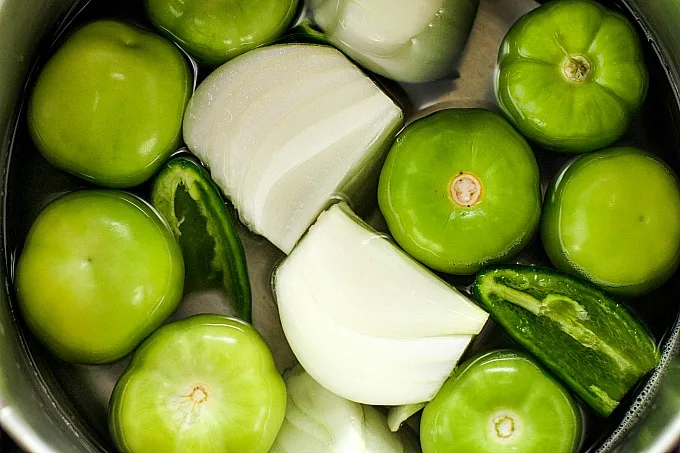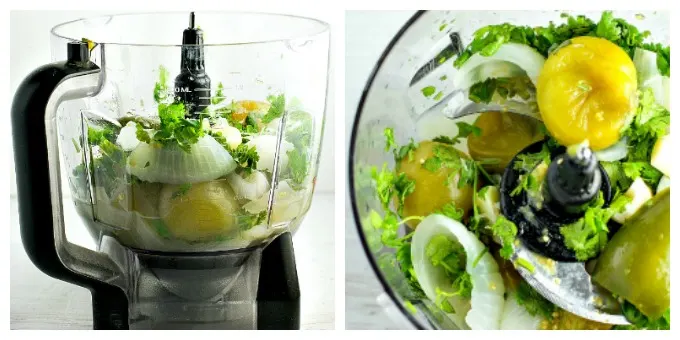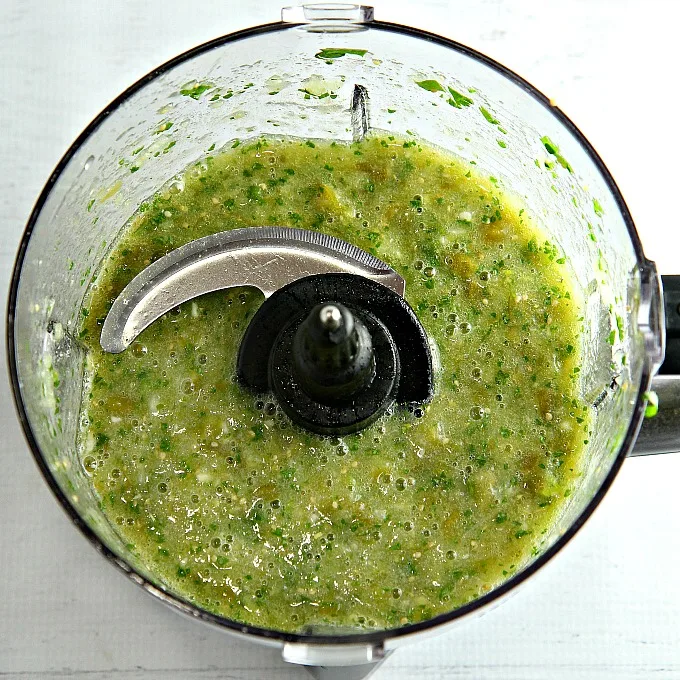 HOW TO USE SALSA VERDE
Chips and salsa are always a tailgating and party staple, but you could dress up your nachos too! Salsa Verde is also a wonderful accompaniment to any Mexican dish. Think about topping your burritos, enchiladas, and carnitas with salsa verde. Don't be surprised if you see a new recipe (or two) from me using it!
Quick story…as I mentioned, last summer I made batch after batch of salsa verde, and we froze everything we didn't use so we could enjoy it throughout the winter months. We do the same with pesto. One wintery weekend when my husband was headed up to our ski condo with our son, in his hurried departure, he grabbed a frozen container of salsa verde instead of pesto, by accident. Imagine his surprise when he went to make pasta! We had a good laugh over that.
OTHER GAME DAY RECIPES YOU MAY ENJOY:
Mexican corn salad…this easy and delicious 15 minute Chili Lime Mexican Corn Salad will be the hit of your party. Perfect for game day or tailgating!
Sweet sriracha meatballs…sweet pairs with spicy in this Sweet Sriracha Meatballs recipe…the perfect addition to any party menu!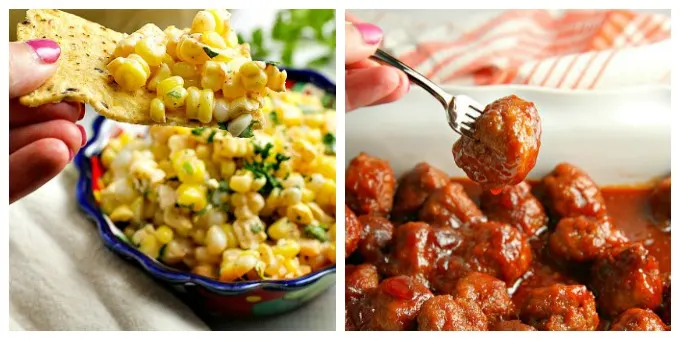 And now, the salsa verde recipe you've been waiting for!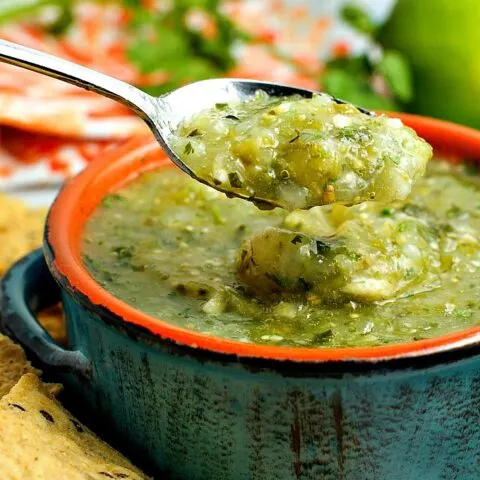 Salsa Verde
Ingredients
8 medium size tomatillos, husked
1 medium white or yellow onion, skin removed, cut in half
2 large garlic cloves
2 jalapeno, seeded and cut in half
1/2 cup cilantro, chopped, some stems okay
juice from 2 limes
salt, for taste
Instructions
Place tomatillos, onion, garlic, and jalapenos in saucepan. Cover with water and bring to a boil. Reduce heat to simmer and cook for about 10 minutes, or until tomatillo skins start to burst.
Drain.
Blend together boiled mixture, cilantro and juice from limes.
Season to taste with salt.
Serve with chips or as an accompaniment to Mexican dishes.
Nutrition Information:
Serving Size:

1
Amount Per Serving:
Calories:

231
Total Fat:

1g
Sodium:

6mg
Carbohydrates:

53g
Sugar:

43g
Protein:

4g