Sesame Noodles with Chicken and Broccoli…an easy and delicious one pot meal that is perfect for a dinner or potlucks! Only 30 minutes start to finish!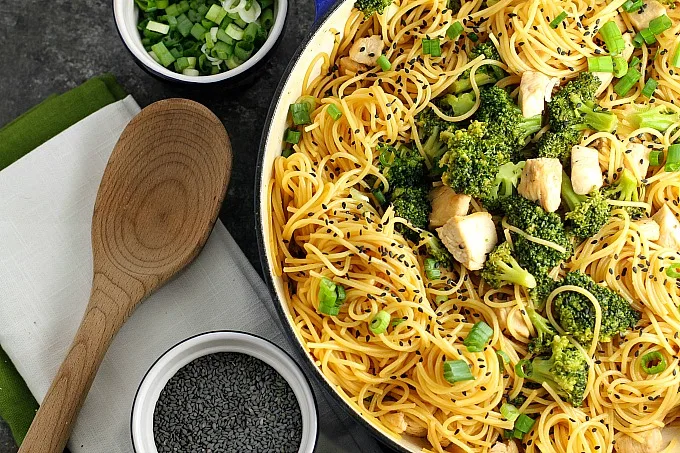 Who among us isn't looking for easy recipes that they can feel good about putting on the dinner table?
I try to cook healthy. That's not to say that I always stay on that path. I'm a firm believer in moderation too. And as far as time goes, I really need easy recipes. Once the kids are off to college and out of the house, I'm sure I'll cook more elaborate recipes. But for now, I just don't have the time.
This Sesame Noodles with Chicken and Broccoli recipe works for me on both counts — healthy and easy.
It's one of the first recipes I've cooked in a long time. Months actually.
What, you say? How can that be? You have a food blog!
I've actually been out of commission for a while. I had neck/spinal surgery at the beginning of December due to a issue that had become serious. Dangerous to my health, even.
It was unexpected, and I only had a few weeks to try to get things ready for an extended absence from work. I had to miss my niece's wedding in New Orleans, which I've been looking forward to all year. Luckily for me, my college roommate was able to come out and take care of me while my family was away.
I'm still recovering, but I'm slowly starting to get back into the swing of things.
I'm learning how to deal with the challenges of my new "normal." I lost 50% of my side to side movement in my neck and because they had to cut through nerves in the back of my head that were too small to repair, the back and sides of my head are now numb. Numb as in, I can pull knots out of my hair and not feel a thing. I guess in a way that could be a plus. It doesn't really bother me until I try to sleep…then it's really annoying. It kind of feels like I have a helmet on my head. I had to sleep sitting up until I discovered My Pillow. Yes, the one on television! I actually wish that I'd gotten one before because I have had neck and back pain for years. Anyway, it has been a lifesaver for me!
The good news is I will eventually be able to run again in a few months, but for now I'm walking a few days a week.
It's definitely been a journey.
I've been very blessed by friends who have helped me both here on the blog and at home. My family and I ate very well while I was recovering. Probably better than we would have if I'd been cooking! I don't think my husband even had to cook for more than a handful of times. I'm really grateful to everyone who took care of us during this difficult time.
You're going to see a few of the dishes that friends made for us on the blog over the next few weeks. This is one of those. One day when I was convalescing on my mother in law's couch, my friend Sue brought us over some Sesame Noodles for lunch. We enjoyed them so much, she shared the recipe with me and I decided to adapt it for dinner for my family when I was able to actually make my way around the kitchen again.
SESAME NOODLES WITH CHICKEN AND BROCCOLI
Sesame Noodles with Chicken and Broccoli is one of the easiest recipes you'll ever make. It's a great recipe for a potluck, because it comes together so quickly. My friend says she brings Sesame Noodles to parties all the time.
But to make a meal out of it, I decided to add chicken and broccoli.
Don't you love the contrast of the black sesame seeds?! You can use the white ones, but the black sesame seeds really make the dish stand out. I couldn't find them in my local grocery store or health food store, so Amazon to the rescue!
Let's get started!
I did this all in one pot. Cut your chicken into bite size chunks. Brown and set aside.
Boil your water, and add your spaghetti. Cook according to package directions for al dente. A couple minutes before the pasta is supposed to be ready, add your broccoli. Drain pasta and broccoli together.
While you're waiting, chop your green onions and whisk together your sesame oil, rice vinegar, soy sauce, light brown sugar and a dash of red pepper flakes.
Pour sesame oil mixture over the pasta and broccoli mixture; add browned chicken, chopped scallions and black sesame seeds.
Refrigerate for a few hours before eating so that the sesame oil mixture is absorbed by the pasta. You can eat it cold or warm it up slightly before eating.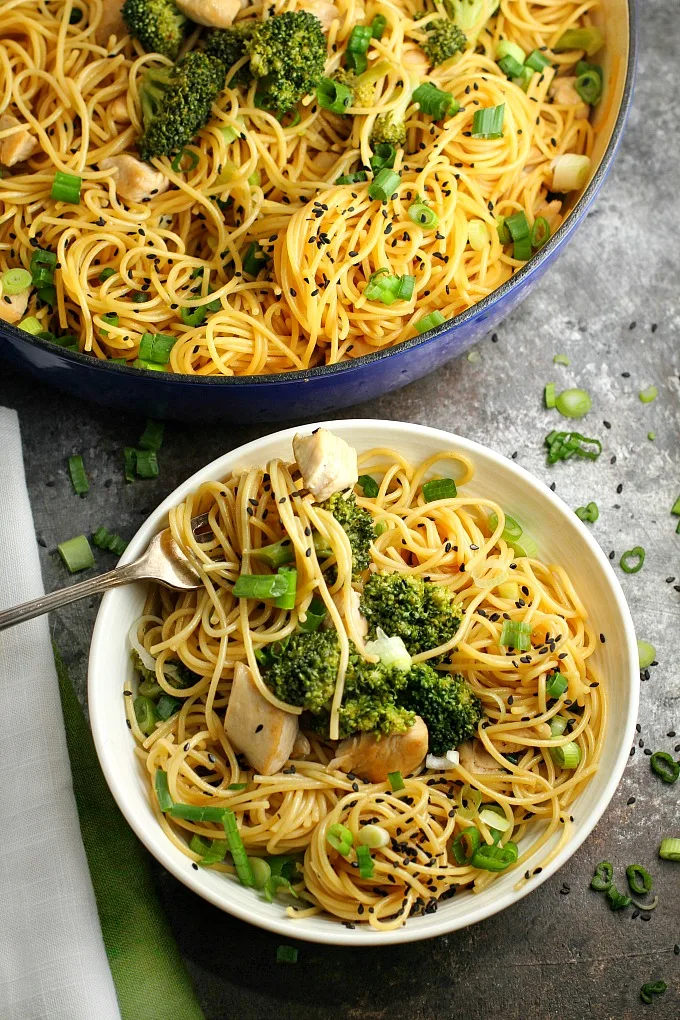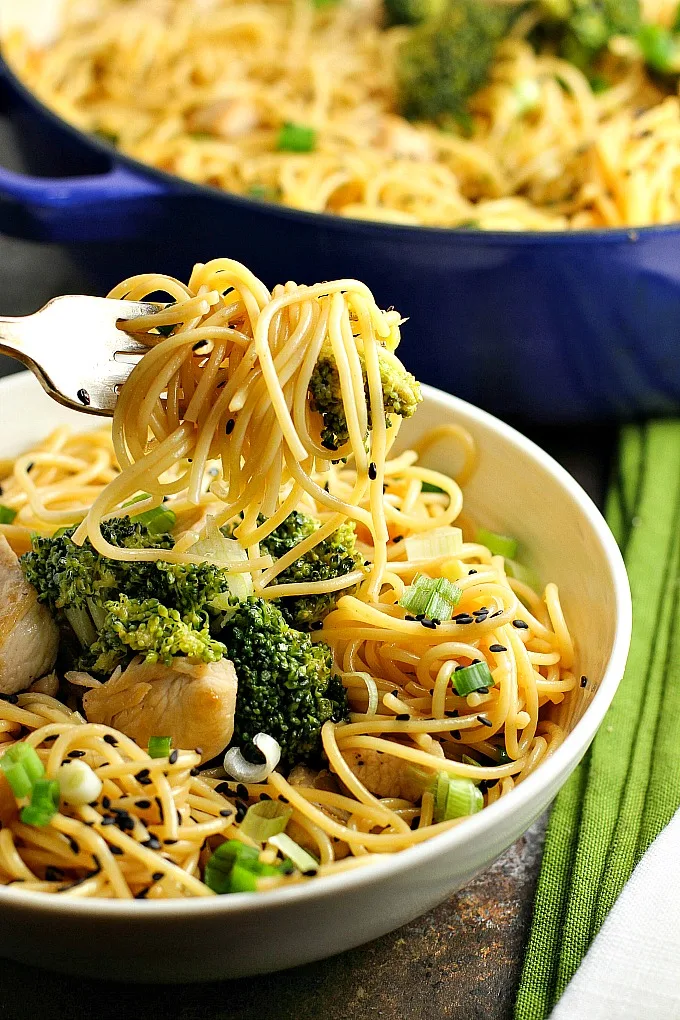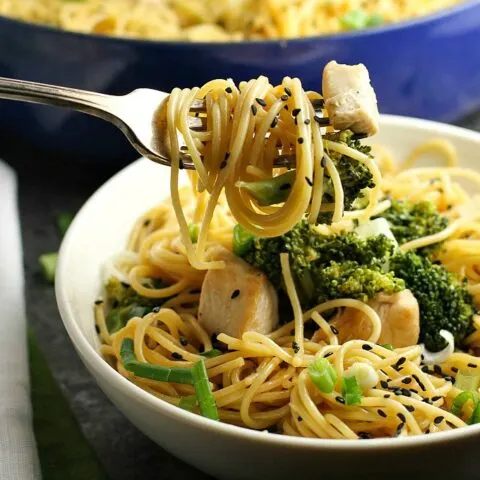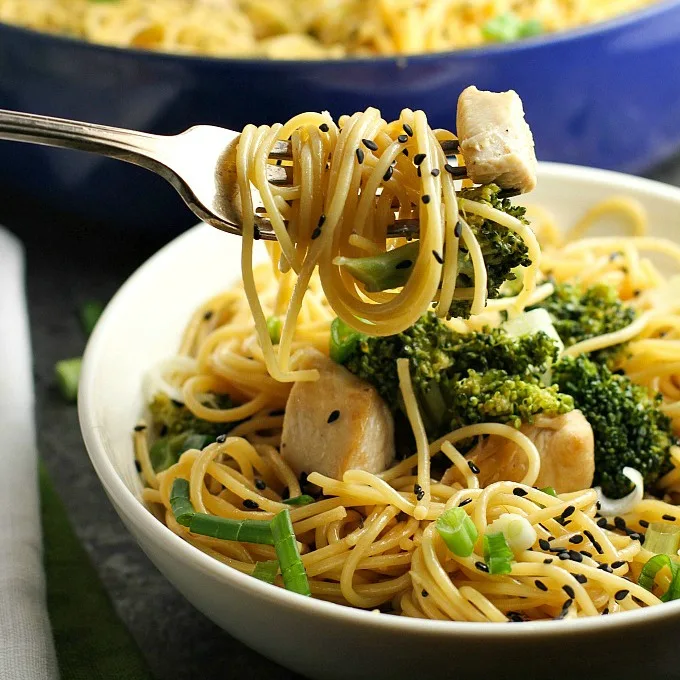 Sesame Noodles with Chicken and Broccoli
Ingredients
1 1/2 lbs of chicken breasts or thighs, chopped into bite size chunks
2 tablespoons olive oil, for browning
1 lb thin spaghetti
4 cups, chopped broccoli
1/3 cup sesame oil
1/3 cup rice vinegar
1/3 cup soy sauce, low sodium
2 tablespoons light brown sugar
dash of red pepper flakes
3-4 green onions, chopped (include green tops)
1 tablespoon black sesame seeds
Instructions
Brown chicken pieces. Set aside,and wipe out pot.
Boil water. Add thin spaghetti and follow directions to cook to al dente.
A couple minutes before pasta is to be drained, add broccoli. Cover pot.
While you are waiting for pasta, whisk together sesame oil, rice vinegar, soy sauce, light brown sugar and red pepper flakes.
Drain pasta and broccoli. Pour sesame oil mixture over the pasta and broccoli; mix to coat pasta.
Add browned chicken, green onions and black sesame seeds; toss.
Refrigerate for several hours to allow pasta to absorb sesame oil mixture.
Reheat slightly or eat cold.
Enjoy!
OTHER RECIPES YOU MAY ENJOY: