This fall Slow Cooker Pork Roast with Apples and Mustard is coated in a savory dry rub and stuffed with apples, then braised all day in the slow cooker with a tangy and sharp mustard and cider sauce.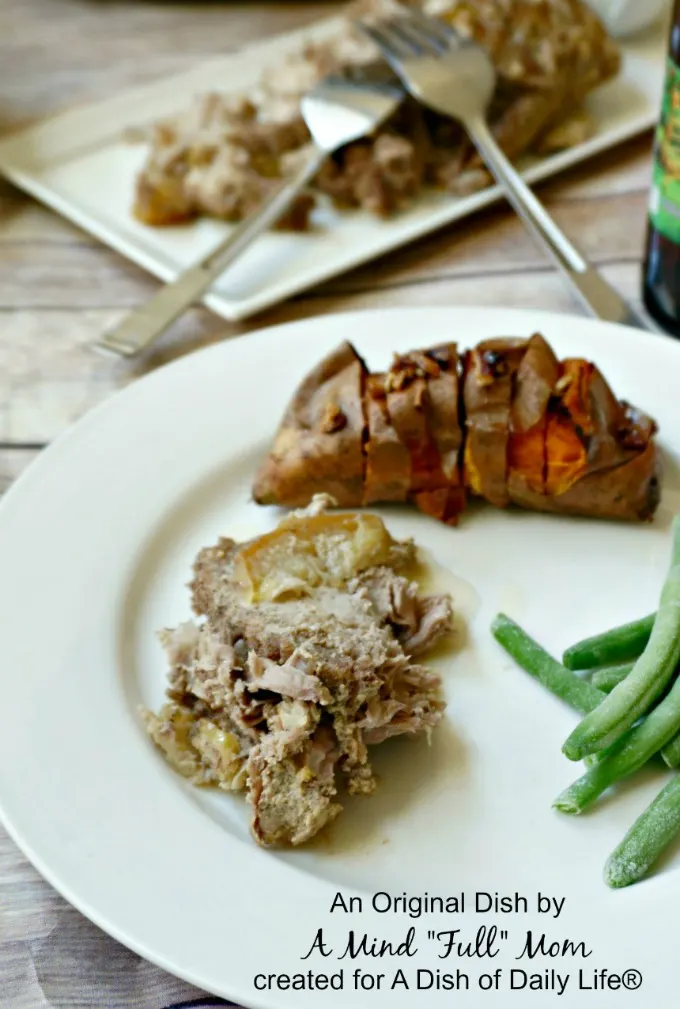 Hello friends at A Dish or Daily Life! It's Kristen here again from A Mind "Full" Mom, here to share a wonderful fall slow cooker recipe!
There is absolutely nothing better than coming home after a fall hike and walking into a house that is filled with the aroma of baked apples and savory spices.
Sound like a dream come true? Well, it does not have to be just a dream. With 5 minutes of prep, you too, can have a savory pork roast with a tangy cider gravy waiting for you at home. Now you just need to find a place and time to hike 🙂 But truly, this meal is so comforting after a long day at work, or a Sunday Supper for your extended family, really whenever you want it.
To me, pork and apples are a match made in Heaven. Add in some mustard and WOW! Simple perfection. There is just something about the sweet and tangy combination that lends so well to pork. I guess that is why it is the meat of choice for BBQs–afterall, BBQ sauce is tangy and sweet as well.
So how can you have a bit of sweet and tangy perfection in no time? Let me tell you how.
Start with a pork loin roast, one bottle of hard apple cider (or non-alcoholic apple cider), dijon mustard, one apple, one onion, and a few dry spices.
Next, make a few slits in the pork loin and stuff with apple slices. Rub meat with dry spices and place in slow cooker Lay remaining apple slices and chunks of onion in slow cooker around pork roast. Mix together apple cider and mustard and pour around pork roast. Set it and forget it!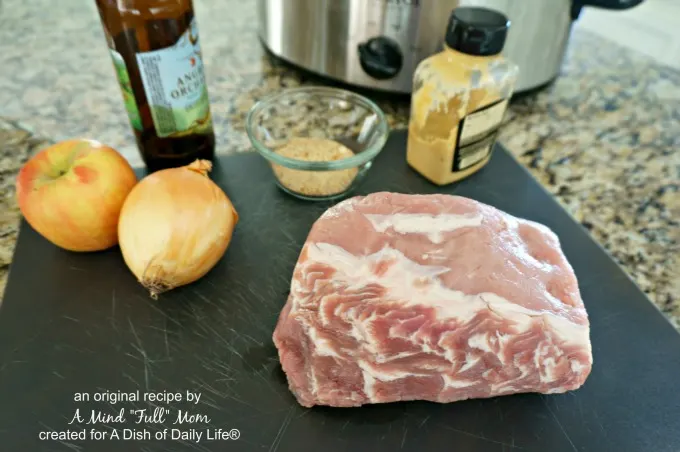 I am telling you, this roast is crazy good. It is hard to believe that a few simple ingredients can make such an amazing meal. The pork is juicy, tender, and filled with flavor. In my opinion, it pairs perfectly with my Hasselbeck Sweet Potatoes. Pork and sweet potatoes, are another great match. But if you want an even easier meal, just cube up some sweet potatoes and cook alongside the pork. It won't be as good as the Hasselback Sweet Potatoes, but still pretty tasty 😉
Ingredients
6 oz fresh blackberries
2 tablespoons maple syrup, divided
1 tablespoon fresh lemon juice
8 slice whole wheat bread
4 slices Swiss cheese
8 oz ham, thinly sliced
1 tablespoon Dijon mustard
4 eggs
1 teaspoon salt
1/4 cup milk
1/4 teaspoon freshly grated nutmeg
1 tablespoon butter
powdered sugar, optional (for dusting)
Instructions
For Blackberry Sauce:
Combine berries, 1 tablespoon maple syrup, and lemon juice in small sauce pan. Bring to a boil and reduce to simmer. Let simmer until berries only begin to slightly break down, only about 5 minutes.
For Sandwiches:
Spread 4 slices of bread with Dijon mustard. Layer the remaining 4 slices of bread with the ham and cheese, dividing ham and cheese evenly. Place slice of bread that has been spread with mustard on top of slice with ham and cheese--making four sandwiches.
Heat butter in large non-stick skillet over medium heat.
Whisk together eggs, milk, salt, nutmeg and remaining maple syrup. Dip each sandwich into egg mixture, flipping to coat on both sides of the sandwich.
Place each sandwich in melted butter in skillet, and pan fry on each side until golden--about 5 minutes per side.
To serve:
Place one sandwich on a serving plate, dust with powdered sugar, if using. And divide the blackberry sauce evenly between the sandwiches.
Slow Cooker meals are truly the best. In fact my all-time viewed recipe is for
Slow Cooker Pork Carnitas with Mexican Slaw
(go ahead, wipe off the drool!!) If you are looking for additional Slow Cooker Ideas, check out my
Slow Cooker Page
on my blog or my
Pinterest Board
devoted to crock-pot meals.