This Sweet Potato Salad with a Southwest Vinaigrette is one of our favorites for summer. The combination of sweet potatoes, black beans, crunchy pumpkin seeds, and juicy pomegranate seeds makes a wonderful side dish recipe for potlucks or even dinner. It would make a great vegetarian lunch too!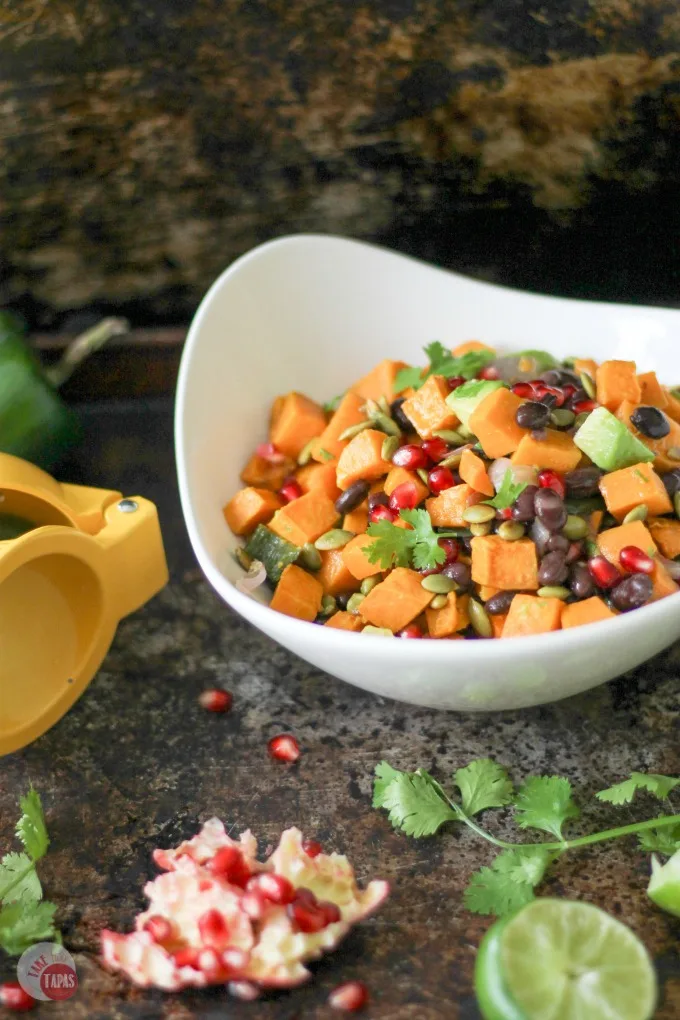 Sweet Potato Salad with Southwest Vinaigrette
Glad to see you again A Dish of Daily Life readers! My name is Jennifer, and I create appetizers and tapas-portioned recipes over at TakeTwoTapas.com. Today, I am showing you a recipe that go over big at your next party! Perfect for summer with a light vinaigrette, and good for your waistline too! Serve it as a side dish or a salad course and it goes great with something from the grill!
Everyone knows that when summer comes around, it's time to start planning our BBQs. Grilling out, various salads, frozen treats for dessert! Potato salad is always a great go-to for any outdoor, or indoor, summer party, but who wants to deal with the mayonnaise? I know I don't want to have to worry about that so how about a salad that doesn't use it? Sweet Potato Salad is a great option because you use a vinaigrette instead. Dressed in just fresh lime juice, olive oil, and honey, it is sweet, tart, and has a south of the border twist with some cumin added in.
I was recently invited to a BBQ and needed to find something to bring that goes well with smoked pork and the other various appetizers and sides that everyone else was bringing. Standing in the produce section, I was trying to think of something with sweet potatoes. For the past few months now, I have been on a kick to eat more sweet potatoes because of the fiber. Brooks, my hubby, says "how about potato salad?" A sweet potato salad? Great!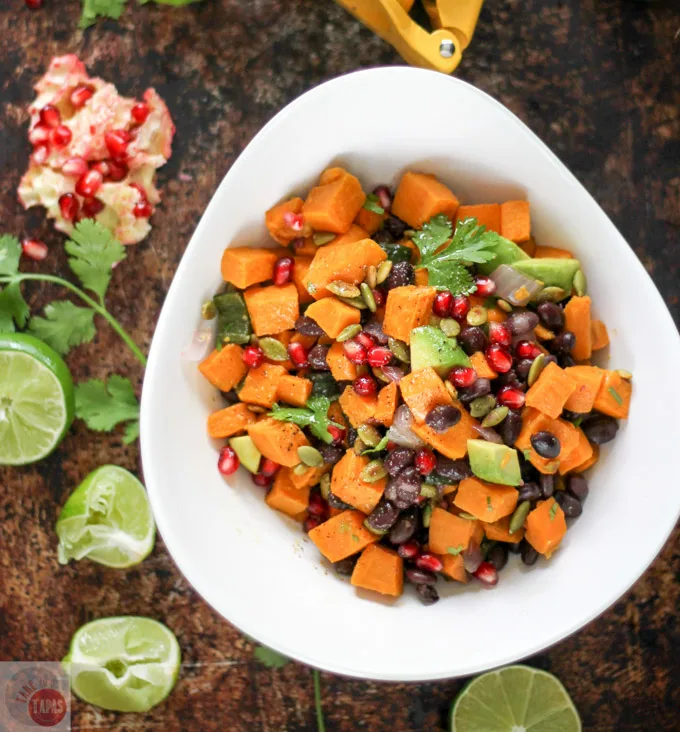 We have a friend that likes potato salad but doesn't like the crunchy stuff like onion and celery. I thought to myself that if I roasted the potatoes and the onions, they would be soft but still add flavor. Black beans are a great addition, and not crunchy!
That first version was just that. Sweet potatoes, black beans, onions, a bunch of cilantro, and a few squeeze of lime. The sweet potato salad was a hit! Plus without the mayo in it, it was able to hang out on the picnic table for a while as people grazed.
After this initial offering, I decided that I needed to beef it up a bit. Unlike my friend Mike, I really like crunchies in my potato salad. I usually have celery and raw onion in my potato salad but I didn't think that those would go well with the sweet potatoes. What does go well with sweet potatoes? Toasted pumpkin seeds, creamy avocado, juicy pomegranate arils, smoky and spicy poblano peppers. Maybe I should use all of these…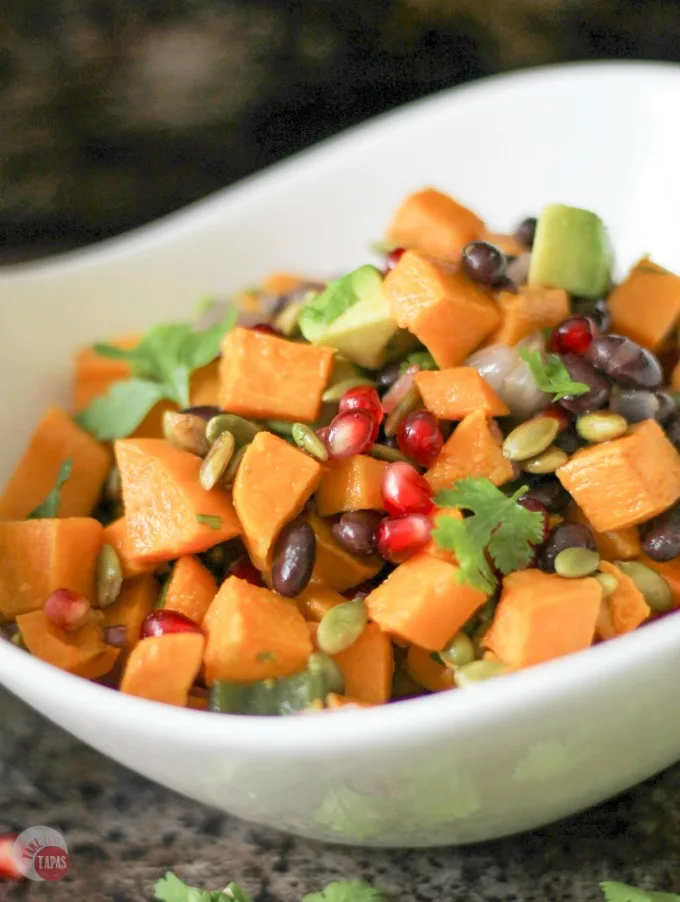 After I tossed all of these together, I needed a kicked up dressing for it. No MAYO. Fresh lime juice was a must, olive oil for binding it together, honey to sweeten it a bit, and some cumin for a kick. Rounded out with some salt and pepper, it is the best dressing to toss with this salad.
This salad can be made a few days ahead of time if you are short on time the day of the BBQ. Just keep the dressing separate until ready to serve.
This sweet potato salad is not just for BBQs but for a weeknight dinner too. You can serve it as a salad course, a side dish, or you can add in some chicken if you want to make it a full meal. You don't have to add the chicken to make it a meal if you are doing a "meatless" meal as the avocado and black beans have plenty of protein by themselves. Want a bit of cheese? Feta or Queso fresco cheese add a great layer of flavor, just be careful when serving outside or leaving it out of the fridge for any length of time.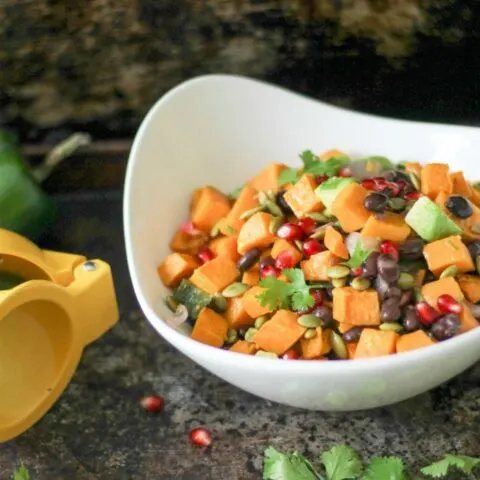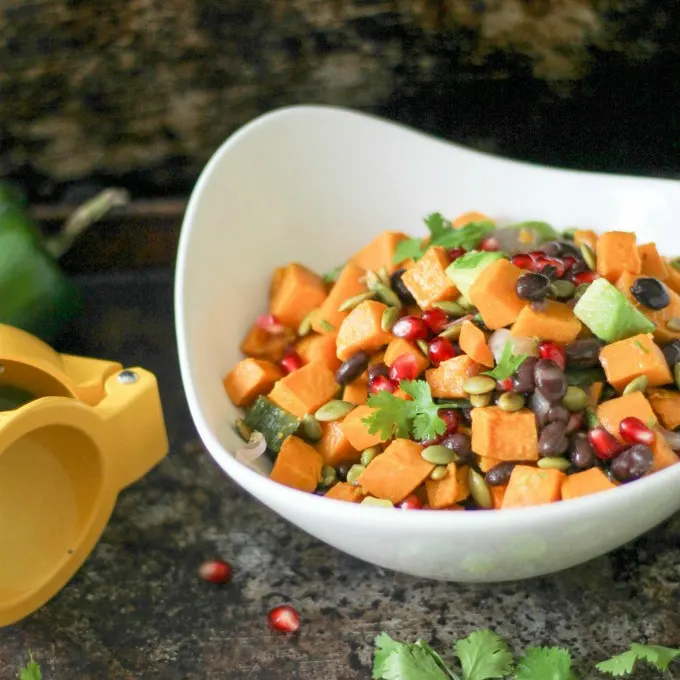 Southwest Sweet Potato Salad with Vinaigrette
Ingredients
3 medium sweet potatoes, peeled and diced small - 6 cups
1 poblano pepper, seeded and chopped
1/2 cup red onion, diced
2 tablespoons olive oil
one 15oz can black beans, drained and rinsed
2 tablespoons chopped cilantro
1 avocado, peeled and diced
1/4 cup pumpkin seeds, toasted
1/2 cup pomegranate seeds (arils)
Vinaigrette:
3 tablespoons fresh lime juice (3 limes)
1 tablespoon honey
2 tablespoons olive oil
1/2 teaspoon salt
1/2 teaspoon pepper
1/2 teaspoon cumin
Instructions
Preheat oven to 375F.
Toss the red onion, sweet potatoes, and poblano in the olive oil.
Spread on a foil-lined baking sheet.
Roast the sweet potato, red onion, and poblano pepper in the oven at 375 for 30 minutes or until fork tender.
Remove from oven to cool, about 15 minutes.
While the potatoes are cooling, make your vinaigrette.
In a separate bowl, mix together the lime juice, honey, olive oil, cumin, salt, and pepper.
Stir to combine.
Reserve for later.
After the potatoes, onion, and poblano has cooled, add them to a large bowl and add black beans, avocado, cilantro, pomegranate seeds, cilantro, and pumpkin seeds.
Toss to combine but be careful since the potatoes are soft.
Pour over the vinaigrette and toss lightly to coat.
Serve chilled or room temperature.
Enjoy!!