Welcome to My Favorite Posts SHOW OFF Weekend Blog Party! I recently won their June Group Giveaway which included a $20 Starbucks gift card, free ad space and a co-host slot, so here I am joining in the fun!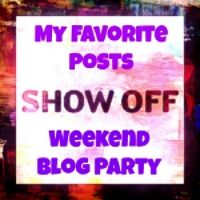 If you're ready to party, here's a few guidelines to follow:
Link up your favorite posts. Family friendly please!
Follow your host at The Wondering Brain
Leave a comment if you'd like them to follow you too. (My buttons are all at the top of my page, by my header!)
Visit at least 5 other bloggers from the link party
If you'd like them to follow you back, show them some blogger love
It's not a party unless you mingle, so get out there and make some new blog friends! We'd love it if you displayed this badge on your sidebar to encourage others to join the party!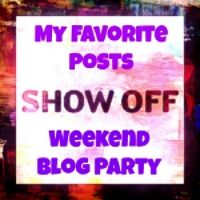 Here's a few giveaways you might be interested in:
There's still time to enter the
SHEBUSA
giveaway. Win a beautiful ostrich bracelet! Also, get a 15% discount on any SHEBUSA purchase using the promo code: THEWON
,
If you are interested in co-hosting The SHOW OFF Weekend Blog Party next month, email Jessica at
[email protected]
. It is $4.00 to reserve your spot for a month and you'll also get a 50% discount on ad space! She also offers a button swap. You would choose the 100 x 100 ad and enter the promo code: swap. It will give you priority link to My Favorite Posts SHOW OFF Weekend Blog Party every week as a swapper. Click
here
to submit your button.
Time to Party!
Powered by Linky Tools
Click here to enter your link and view this Linky Tools list…