"I don't run to add days to my life, I run to add life to my days."
― Ronald Rook
I love this quote. I've been running most of my life. At this point, it's simply part of my being. I seldom train for anything…I run completely for the enjoyment of it.
Have you ever run with a dog? Dogs run with reckless abandon, as if their run is the very best thing to ever happen to them, every single time they go! If you have a dog that you run with, you know what it's like when you put your running shoes on. Their excitement can barely be contained! Our dogs can definitely teach us a lesson in learning how to live each moment to its fullest!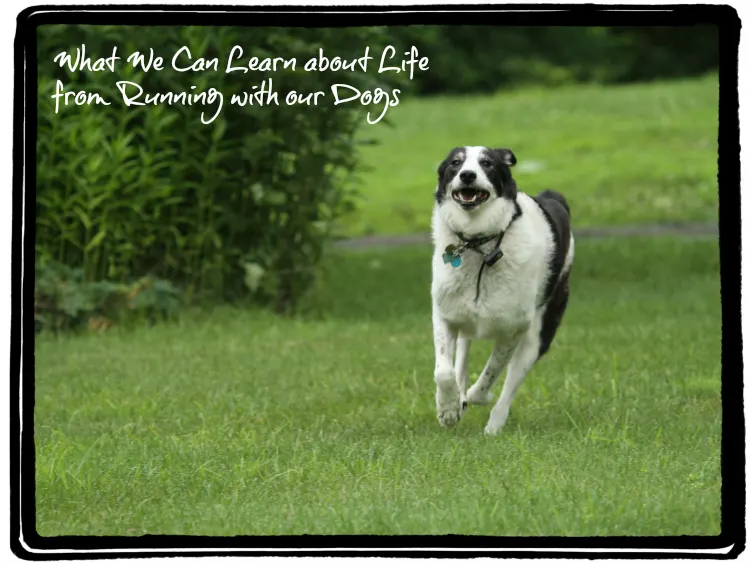 This was the scene in our house the other morning.
I started to put my running shoes on…Murphy started to get excited. It's like watching a little kid who wants something really badly. He was practically doing a dance in the front hallway.
"Are you taking me?" "You're going to take me, right?" "Don't forget me, I'm right here!" "I want to go, I want to go, I want to go!"
Then one of the other dogs started heading towards the door. Saint tends to take things more in stride. She wanted to go too, but she always takes a more mellow approach. "Ok, she's taking us, whew." "Open that door, let's go now."
At this point, I was practically laughing, because I don't even have my shoes completely on yet, and I have one dog sitting by the door and the other one jumping around all over the place. So I said to them "Do you want to go for a run?"
At the word RUN, the third dog Clara (who can't hear ANYTHING unless it has to do with food…she can hear a Cheerio dropping to the ground from the other side of the house) came sprinting up the stairs from the basement, indignant…"I can't believe you were going to leave me here!" "I'm going too!"
And so off we went, the three dogs and I. Luckily for me, we have a wooded trail that opens up into grass fields right across from our house. There is no way I could run with three dogs on leashes. They usually run with my husband, or with both of us. But my husband took the boys and a couple friends to a paintball event this weekend, so it was just me. All of our dogs are good off leash and come when called, but I always bring leashes with me just in case. We rarely run into anyone and when we do, it's someone else out with their dogs. Our dogs love other dogs, and all the dogs that we see are familiar to them at this point, so it's like a big dog playdate when we see someone.
This morning, we didn't see anyone though, other than a turtle who didn't look like he wanted to play. The two older dogs ignored Mr. Turtle, who was pretty far from the nearest pond. But Murphy jumped around the poor thing, not quite sure what the social etiquette should be to make proper friends. In the end, he decided that the standard dog greeting would work just fine, and sniffed the turtle's rear end before we moved on with our run.
I really do love running with my dogs. Besides the fact that it's great bonding time doing something that we both love, I love seeing their excitement. We could get back from a run, and I could put my running shoes on again an hour later, and they'd be excited to go again. Never mind that we already went…to them RUN TIME is FUN TIME! We could all learn a little about living life to the fullest from our dogs. When they do something, they do it with gusto. They enjoy every moment of it, like it's the last time they'll ever do whatever it is they're doing. And that's the way we should live life. We SHOULD live every moment to its fullest and treat every day like a treasure. Life is precious, and none of us know what tomorrow will bring. Take a lesson from your dog…and enjoy today, and every other day, like it's the best time of your life!
Linking up!