Disclosure: This post was inspired and sponsored by Domain.ME, the provider of the personal domains that end in .ME, and Name.com, a registrar that provides services like custom website design. They aim to promote thought leadership to the tech world. However, all thoughts and opinions in this post are my own.
Are you a college student? A budding entrepreneur? Would you like to be seen as a leader in your industry? Looking for growth opportunities in your chosen career? If you answered yes to any of these questions, it's time to start thinking about your personal brand as well as a personal website.
To some of us, this might sound a little farfetched. After all, most of us don't have personal websites…we just have social media accounts. If you're wondering why this is so important, stay with me here.
What is Personal Branding?
Your personal brand is an interactive online resume. Creating a personal brand allows you to control the identity you project to the world. Your personal brand gives you a way to share your own unique voice and what makes you special. When creating your personal brand, you're going to want to really sit down and think about what you want it to look like. It's not going to be an overnight decision. And it's very likely that you will evolve over time as well.
Think about how you want to be perceived.
When I first started my blog, my personal brand was very different from what it is now. I originally started out as a "Mom blogger" and eventually transitioned into a food and lifestyle blogger. Had I taken into consideration my circumstances, I would have reconsidered the "Mom blogger" idea early on. There is nothing wrong with being a "Mom Blogger" per se, but kids grow up, and when I started blogging, I already had two teenagers. At this point, I am three years in, and my oldest son has left for college, and my two younger kids are in high school. I decided to rebrand myself last year, and I am glad I did. In addition to moving my content in a different direction, I also have a new logo that fits my personal brand better.
Choose a name wisely.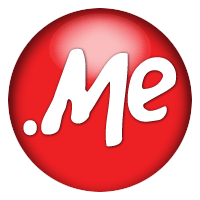 From a blogging persepective, make sure you choose a name you can grow with. Fortunately during my rebrand, I didn't need to change my name.
Nowadays there are so many more options to personalize your name even further. You're definitely going to want to check out Domain.ME. They truly understand the importance of building a personal brand, and they're a wealth of information for anyone getting started creating their own brand. A .ME domain can give you an edge in your personal branding with an online identity that stands out from the crowd. .ME domains can be used for your blog, online portfolio, and even for social media aliases, as well as your business. They're popular for new startups because .ME has such a personal feel to it, and it's memorable as well. It's important to note, there is no need to worry about SEO either, which is obviously an important factor for any business or blog. Rest assured, there is no penalty for using a .ME domain. SEO benefits are the same as they are for .COM, .NET or any other domain.
Why do I need a Personal Website?
It's important to own your own data.
We all have online identities and social media accounts. But everything you post on a social media network belongs to THAT network…not you. Your information can disappear in the blink of an eye. You have little control over what that network does with it. Your information is being mined and sold. Most of us try to ignore that fact, but every time you see an ad, it's been especially selected just for you.
Additionally, when you're applying for a job, filling out a college application, or doing anything where people want to know about you, most likely the person on the other end is going to Google you. If you don't have a personal website, they're going to find bits and pieces of social media that don't present a full picture. With a personal website, you own your data, and have control over your online image, which is a tremendous asset in this day and age. Having a personal website allows you to project the image that YOU want to project.
It gives you a competitive advantage.
Having a personal website is a strategic asset. Whether you're a college student looking for that first job, you're seeking a step up in your career, or you're starting a new business, having a personal website that you can direct people to can be an a way to stand out against the competition. Your writing style and logo will give your brand a distinctive feel. Your content will provide a unique insight into what you have to offer.
Most recruiters review potential hires online, and what they find affects their hiring decisions. Someone who has positioned themselves as a leader or person of interest in their field definitely has an advantage.
As a blogger, my personal website and branding determines my credibility. When I am looking to work with a specific brand, or I'm talking to a potential social media client, their perception of my personal branding is going to affect the outcome. I've branded myself as a food and lifestyle blogger focusing on fast, easy, and mostly healthy recipes. Those who visit my website know what they are going to get when they stop by. It affects the types of brands I choose to work with as well, because I want to stay true to my audience and promote only those things that I would naturally promote from my personal brand perspective.
It gives you the ability to create connections.
A personal website gives you the opportunity to pursue your passions and share them with like minded individuals. As a food blogger, I connect with people who love to cook, people that love to eat, and brands that I admire. It makes sitting down and going to work each day fun. That experience is going to be the same no matter what your passion. You're connecting on a very personal level with people who have the same interests and passions as yourself.
Where do I start?
I mentioned above the importance of choosing your name wisely. Stand out from the crowd with a .ME domain, and give yourself a strategic edge.
Once you have chosen a name, you'll need to register it, and then build your website. That's where Name.com comes in. Name.com is a registrar, and also offers web hosting, email, premium and expired domain names, and SSL certificates and a website builder. Building a website can be a daunting task unless you have coding or design experience. But Name.com makes it easy.
Create your own personal website now using the .ME domain and the website builder available through Name.com. They're offering you this great limited time offer for one month starting on 10/16/15 to help you get started! What are you waiting for?!

*This limited offer will be available for one-month starting on 10/16/15.