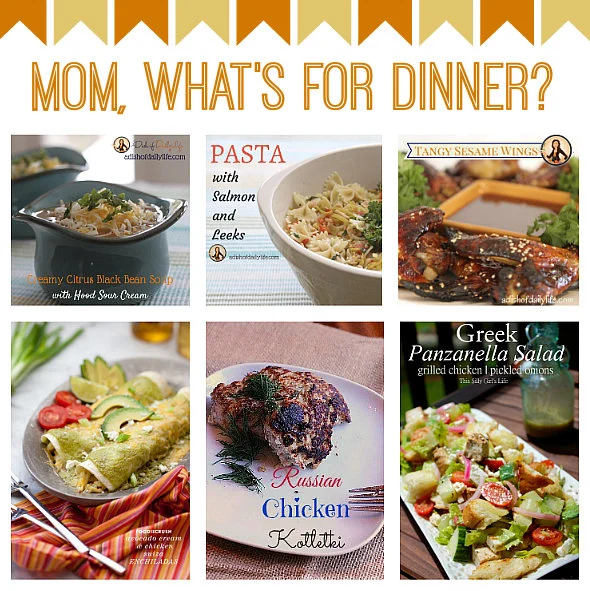 Our family loves to eat.
My husband's father is Lebanese, so our kids have grown up with dishes like hummus, baba ghanoush, tabouli, kibbe, spinach pies, and grape leaves.
Once my oldest son brought in hummus for an ethnic food day in elementary school. None of the kids would even try it…one of them even told him it "looked like throw up," to his surprise. I think back then he thought everyone ate like us.
Perhaps due to their early introduction to so many foods, and possibly a lot of luck, our kids are great eaters, willing to try most new things, although we once had a school assignment where we accidentally tried a toxic fruit. We still laugh about that one. Mom Fail.
For this Tuesday Ten, I am going to share some of our family favorite recipes! I won't be sharing the Arabic ones, because none of them are written down.
But I've picked out a few others, including some faves from three of my favorite food blogs, with their permission of course. You should definitely check them out…I stalk their sites.
If you see something you like, please link over to the original post to pin. Otherwise, when you go to look it up, you'll end back here and have another step to get to the actual recipe.
10 Family Favorite Dinner Recipes (in no particular order)
This is really an appetizer, but we may or may not have also eaten them for dinner. Ok, we have. These Tangy Sesame Wings always go fast. They're easy to make…the key is to marinate them long enough. You could make them with drumsticks if you can't get past the wings for dinner part.
Creamy Citrus Black Bean Soup is definitely a family favorite…the perfect comfort food for a chilly evening! I make this one a lot. It's easy, and I usually have every ingredient in the house. Big plus!
This Greek Panzanella Salad from This Silly Girl's Life is SO amazing. I am a salad dressing snob (I make all of our salad dressings from scratch…it's really easy), and I just love Dana's Greek dressing. And those homemade croutons? You'll never eat store bought again. But the real star of the show? The pickled onions! You all KNOW how much I love pickles. These are addicting! Even for those who are not pickle fiends.
Avocado cream and chicken suiza enchiladas from Heidi at Foodie Crush get a big thumbs up from everyone in this house. I have made these several times, and they're always a hit. A helpful hint…when using the blender make sure it's put together properly. Once I didn't, and let's just say there was avocado cream everywhere! I may or may not have said a bad word very loudly when that happened.
I just recently discovered Girl and the Kitchen's food blog, and I think I have pinned most of Mila's recipes already. I've also made a few dishes, and not one has disappointed. I have already made the Chicken Kotletki twice. It's easy to make, and inexpensive too! Monday night I made a double batch so I could freeze some for later. I thought we were going to have leftovers for lunch, but then someone came along and ate all 7 that were left over. They didn't even leave me one. 🙁
Pasta with Salmon and Leeks is another easy recipe…hmmm…are we seeing a trend here? Twenty minutes to put together…if you're in a rush, this is a good one to make!
And here's just a few more that we really like:
Lobster Bisque from Giddu's Kitchen (more of a special occasion meal)
Chunky Shrimp Bisque from the Deen Brothers
Slow Cooker Chicken Gyros from Six Sisters Stuff
Beef with Broccoli from Rainy Day Gal
Stay tuned in the coming weeks for more recipes…I have some new ones ready to go on the blog but I haven't completely written them up yet!
I'm linking up with Rabia at The Lieber Family and Lisa at The Golden Spoons for the Tuesday Ten and a Perfect Day.