Disclosure: This is a sponsored opportunity with Foodie.com. Although I was compensated for this post, all opinions are my own.
Check out Time for a Cookout

by Michelle Nahom at Foodie.com
We tend to do most of our entertaining in the summer by our pool. During the school year, we rarely have a spare weekend, thanks to a hectic sports schedule with the kids. But once summer arrives, it's time to kick back and relax.
Most of our pool parties / summer barbeques are planned on the fly, but we do have a couple that we plan ahead. One of those events is an annual "cousins' pool party," with family from my side. My father grew up in New York City, and most of his relatives still live on the East coast. Although I actually grew up and went to college out West, I met a New Englander while I was there, married him, and have lived on the East coast for over twenty years. So now I see all my cousins on my father's side several times a year, and our cousins' pool party has given our children, who are all relatively close in age, the opportunity to get to know each other better as well!
Regardless of whether we plan our cookout ahead or throw it together last minute, the food is always ultra important. No plain old hamburgers and hotdogs for us! We like to have lots of sides, and ribs are always a part of our summer barbeques as well. But I couldn't resist adding Grilled Sesame Chicken Kebabs and Sriracha-Buttered Shrimp to my collection…they just looked so delicious!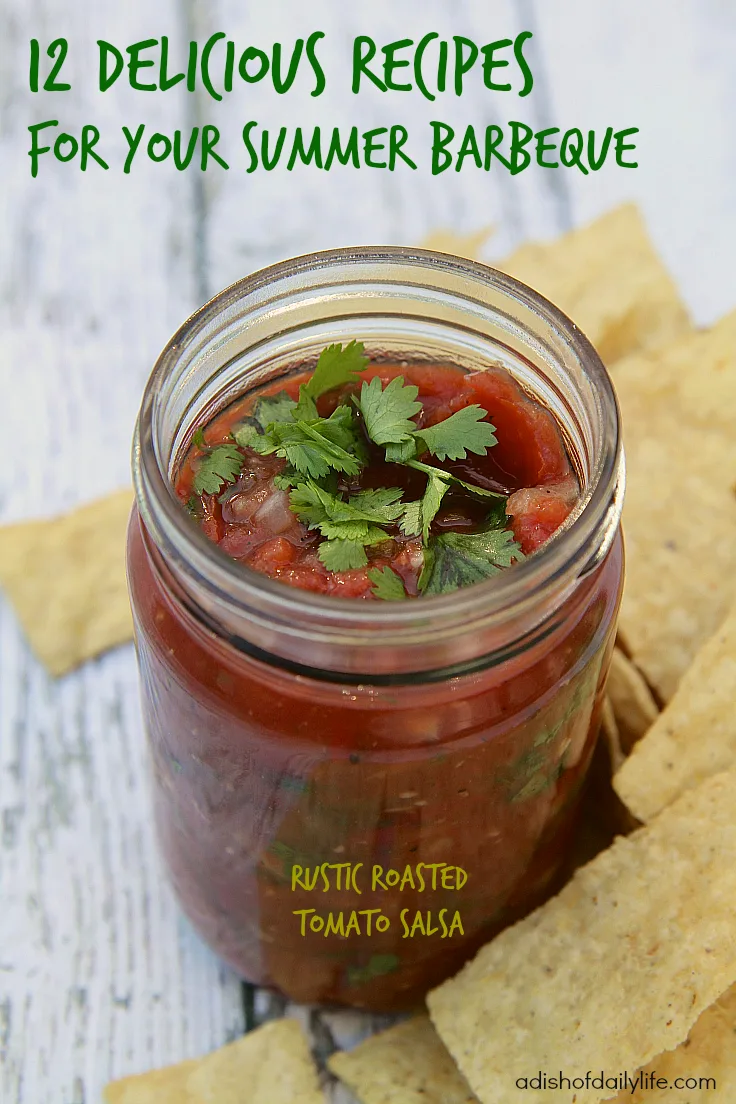 I do like to try new recipes I am planning to use ahead of time, and I had a free moment this weekend, so I decided to try out the Rustic Roasted Tomato Salsa. Homemade salsa is so much better than the jarred variety at the grocery store, and we are constantly trying new recipes. This one was good, and quite easy to make. It definitely has a little kick to it, so you should be aware of that. You could tone it done a little with less jalapeno if you wanted. One thing I liked is that it uses a can of fire roasted tomatoes, which is a great time saver if you are going to be making a lot of different dishes for your cookout. Check out the recipe above in the collection I've put together for you!
I've also included some tried and true family favorites in my collection. My guacamole always gets rave reviews from family and friends, as does my Tomato, Basil and Feta Salad. There is nothing like summer tomatoes, and this salad is like a flavor explosion.
[Tweet "12 delicious recipes for your next summer barbeque via @dishofdailylife and @foodie #BBQrecipes"]
We still have a few more weeks before school is out. But I have to say, I am definitely ready for the summer barbeque season to start now!
What do you like to serve at a summer barbeque? Click on the collection above…which of the recipes will you try?
Disclosure: This is a sponsored opportunity with Foodie.com. Although I was compensated for this post, all opinions are my own.