We have seven pets, 4 cats and 3 dogs. Most people think we're a little nuts, but we really just have a lot of love to go around.
Six of our current pets were rescues, adopted from shelters. Over the years, my husband and I have adopted ten shelter pets in all, and we've taken in one stray cat as well. Shelter pets (or those taken in as strays) tend to be extremely loyal and grateful…they know they have been given a second chance for a home. They just want someone to love them. In return, they will shower you with love and affection.
Before you ever visit another pet store, I hope you will consider these reasons to adopt a shelter pet instead.
Four Reasons to Adopt a Shelter Pet
You're saving lives.
Each year, approximately 2.7 million animals are euthanized. Our local shelter is no-kill, but they can only take so many. When you take a pet home, they can then help another animal who needs the space.
Of course, the more people that support animal shelters, the fewer that are supporting the mass breeding facilities or "puppy mills!" Some people will say that they are helping an animal no matter where it comes from, but the fact remains when you buy an animal at a pet store, you are putting money in the pockets of those who run the mass breeding facilities, which allows them to continue business as usual.
Although we adopted our dog Clara from our local shelter, she didn't start out in this area. She was transported here from somewhere down South. I don't know if her time was up and she somehow got lucky to be transferred here, or if shelters were simply too overcrowded there and there was room here. Either way, I'm glad she ended up in our local shelter, where we could find her. We call her our Southern belle. She's a smart and loving girl who loves to play in the snow and swim in ponds. She will swim laps forever…once she's in the water, it's hard to get her out!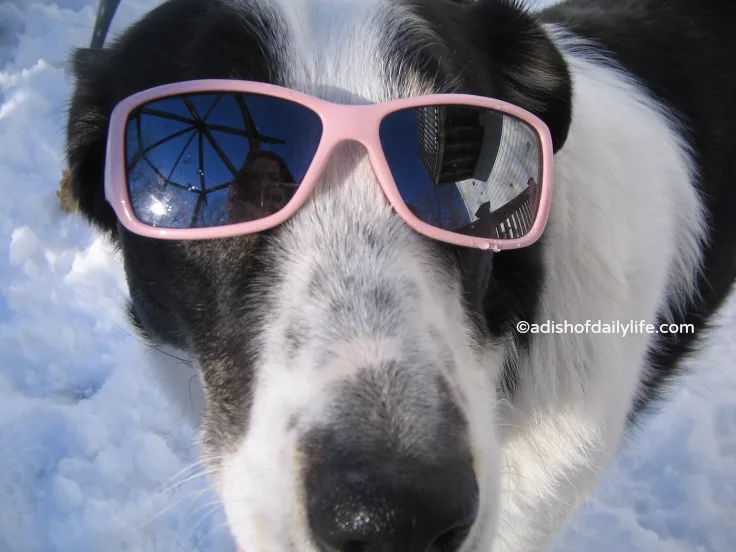 You'll save money.
Adoption fees for a shelter pet are far less expensive than purchasing a dog from a breeder. Plus the animals come with their vaccinations and are spayed or neutered, which is a big expense that will be covered by the shelter. When you leave with your new pet, the shelter does everything they can to make sure they are giving you a healthy animal.
Additionally, mixed breeds are also usually healthier in general, and have more stable temperments.
Our handsome tom, Gunner, was found left behind in a UHaul. Unlike the other animals we have adopted over the years, he was actually quite sick when we adopted him. But we knew we wanted him to join our family, so we were waiting for him to get better before we brought him home. He was segregated in the sick animal room, and although they were treating him, he simply was not improving. Finally the decision was made that he would probably have a better chance of getting better quicker if he was removed from the environment he was in. I was concerned about our other animals, but we kept him separated from the others, and he actually spent several days at the vet's office after we took him. I don't know how it normally works, but our shelter did end up covering those bills. And you'd never know now how sick he was then!
House-training is easier.
Since most of the time these animals have already had homes, they're usually house-trained. You might have to do a little re-training with a shelter pet, but we never had a problem!
[Tweet "Give a #ShelterPet a second chance at life, via @dishofdailylife! #AdoptDontShop"]
And the biggest reason…you're giving an animal a second chance at life!
Most animals that end up in shelters aren't there because they did anything wrong. They're there because their owners moved into housing where they couldn't have pets. Or because someone in the household developed allergies, or they could no longer afford to have a pet.There are all sorts of reasons people give up their pets. One of our dogs actually came to us because a friend's daughter developed severe allergies to her. And then of course, there are situations where the pet is separated from a family during a natural disaster (think Hurricane Sandy), and they are never reunited.
With a shelter pet, you usually don't know their background. Sometimes you get a glimmer into their past though, as I mentioned with some of our animals above as well.
This beautiful long haired kitty came from a hoarding situation. She is extremely resourceful and gets along well with everyone, probably because she lived with so many other cats. Her best friend though, is one of our dogs.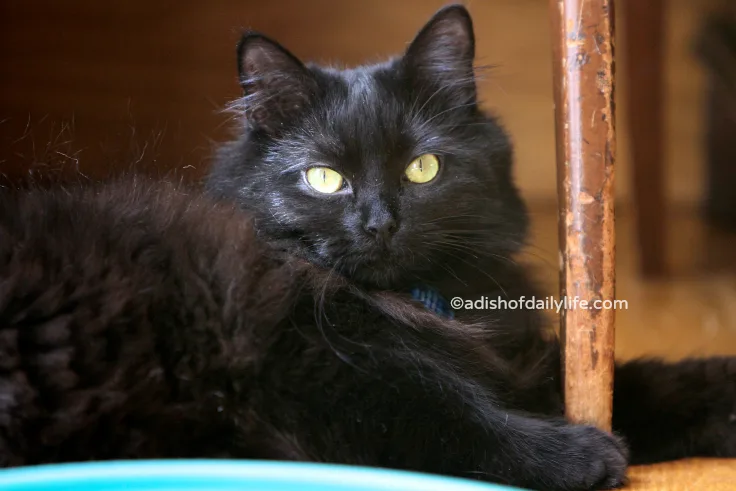 These sweet sisters were born in a shelter. Can you imagine living your entire life in a cage?
One of our dogs, Jerry, was found tied up to a post outside the shelter along with his pal. His pal got a home fairly quickly, but Jerry did not. The story that I am going to tell you is about Jerry and Lily, both of whom are pictured here (although you can only see Jerry's hind end). This picture is ancient…it's from back when our oldest was little enough to be carried around in a front pack. Both dogs have since passed away, but had good long happy lives (at least with us).
Years ago when my husband and I were renting and building a house at the same time, we knew we wanted two dogs. But we couldn't have them in our rental. So, every weekend, we'd volunteer at the shelter and walk dogs. We fell in love with two of them, Jerry and Jenny. We walked them, and a number of other dogs for months. About a month before our house was ready, Jenny got a home. I was devastated. My husband was very attached to Jerry (a hyperactive lab mix), and was panicked that he could lose him. We explained the situation to the folks at the shelter, and asked them if they'd consider putting a hold on Jerry…we promised we'd definitely take him as soon as our house was done. Given the fact that we'd been walking these dogs for months and they knew how serious we were, they agreed.
The following weekend, when we came to walk, there were two dogs in the large corner cage, Jerry and Lily. Now Lily was a Doberman/ German shepherd mix that we did walk occasionally, but she made us nervous. She'd been abused, she was a guard dog in her previous life, and she wasn't the friendliest dog around. In fact, when you walked by her cage, she'd jump up and bark and growl…she was scary.
And like Jerry, she'd been there a really long time. She wasn't really the most adoptable dog, and that's putting it nicely. We didn't know what to do. We didn't want to seem ungrateful for the fact that they were holding Jerry for us, and they knew we were taking two. Then there was the fact that the two dogs had been bunking together for the past week in the same cage…could we even say no? Their line of reasoning is they knew we were taking two dogs, the two dogs liked each other, and they thought Lily had bonded with us on the walks we did take her on. In the end, we took her home with Jerry.
She turned out to be an awesome dog. Once out of the shelter atmosphere, she was a completely different dog. She never once barked or growled at us again. She was smart as a whip, I always felt safe when she was around, and the love she gave us once she was in her forever home…well, let's just say, she knew she had gotten a second chance, and she showed it.
If you're considering adding a pet to your family, I hope you'll consider taking a visit to a local shelter. You just may fall in love with a shelter pet…a dog or a cat who is desperate for a second chance at life!

If you enjoyed this post, you may also enjoy: