I will admit it. I am not much of a baker.
I enjoy cooking a lot more than I enjoy baking.
I've had more baking mishaps than successes. I've burned a lot of cookies. I multi-task too much and forget about them.
Many years ago, when I was inviting to a cookie exchange, I made my mother in law's kiss cookies, because they're easy, and I figured I couldn't screw them up.
It was a disaster of epic proportions.
I may have told you about it before, but I forgot the sugar in one batch, and the eggs in the next. By the time I realized what I had done, the cookies were in the oven. You can't really fix that once they are cooking. I was ready to throw in the towel. Actually I did. My husband took pity on me and made the third batch for me. I never attended another cookie exchange.
I don't have the same problem with cooking on the stove. I'm actually a pretty good cook, and I enjoy it.
So now that I have told you about one of my baking fiascos, I am going to share a cookie recipe. You might be wondering why on earth you would want to try it. And I wouldn't blame you. But one thing I generally do well with in terms of baking is bar cookies…that is, if I don't forget any ingredients! As far as burning goes, you have a little more more margin for error in the bake time with bar cookies. I haven't burned a batch yet.
These chocolate chip granola bar cookies went quick. The kids all gave them a thumbs up…even my daughter, who IS a good baker. Plus, they use Hippie Chick Granola, which is my favorite. (You could use other granola though.)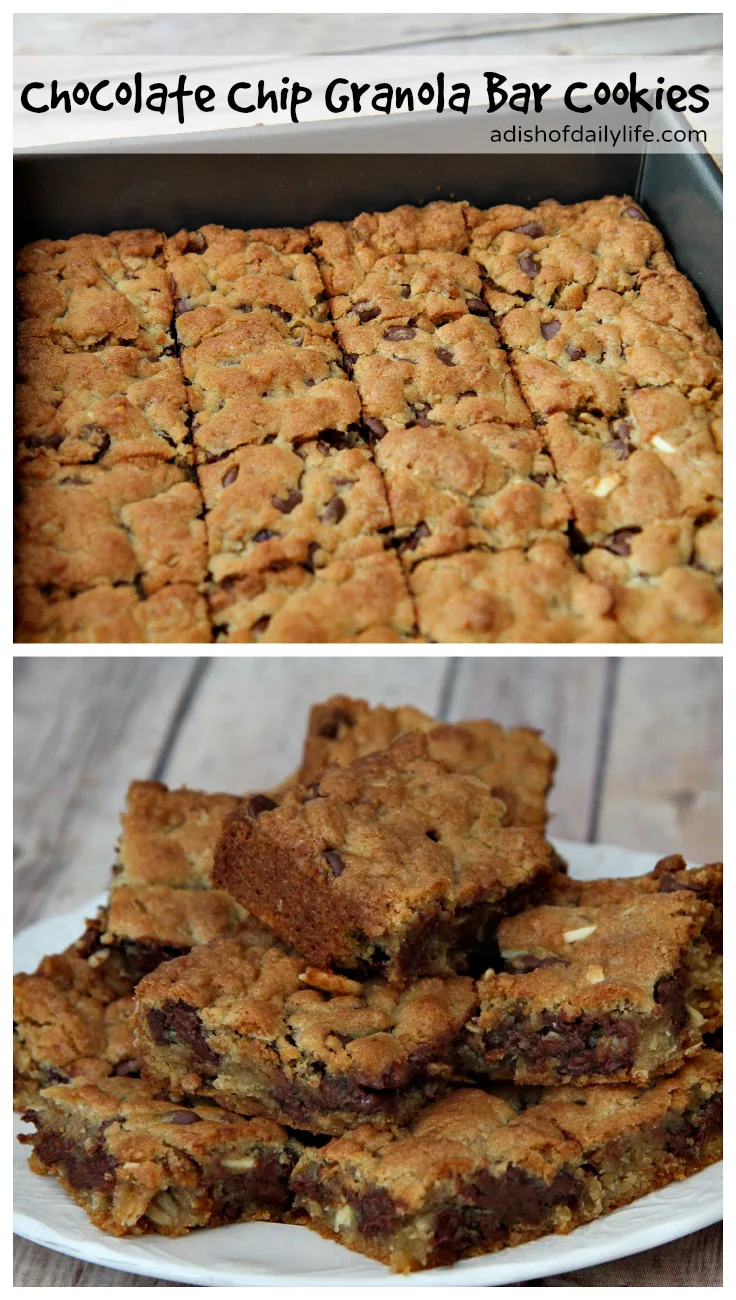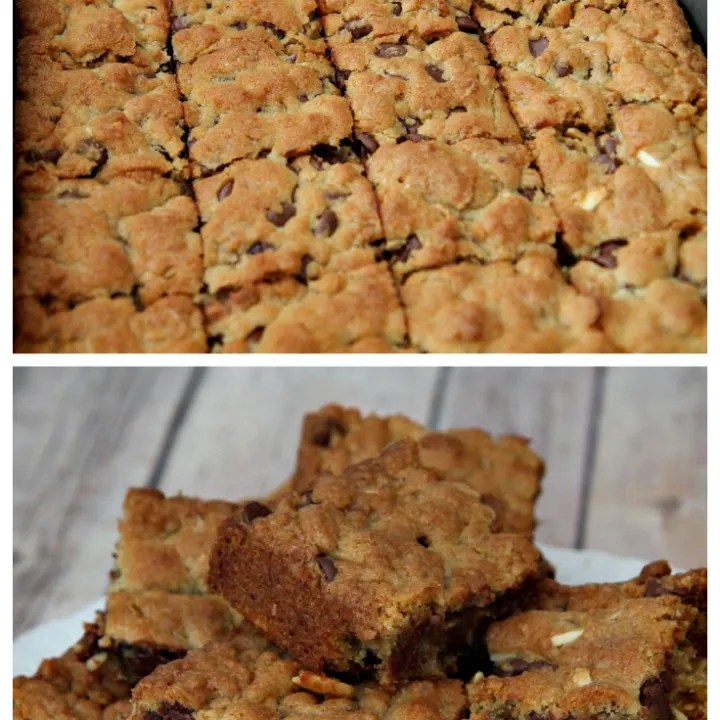 Chocolate Chip Granola Bar Cookies
Easy to make delicious cookie bars!
Ingredients
1 1/4 cup flour
1/2 teaspoon baking soda
1/2 teaspoon salt
1 stick (1/2 cup) butter, softened
1/3 cup light brown sugar, packed
1/3 cup white granulated sugar
1/2 teaspoon vanilla
1 egg
1 cup of granola, crushed into smaller pieces.
1 cup semi sweet chocolate chips
Instructions
Preheat oven to 375 degrees.
Mix together flour, baking soda, and salt.
Separately, mix together butter, sugars, vanilla and egg.
Add the flour mixture slowly. You can use a mixer. I actually used a fork and hand mixed it the rest of the way.
Blend in granola and chocolate chips.
Press into square baking pan, cook at 375 degrees for approximately 14 minutes.
Let cool before cutting.
Do you ever make bar cookies? Have you ever made cookies with granola?