Disclosure: I'm thrilled to be working with Hood® Cream once again, as I cook with their products weekly! I received product samples as well as compensation for my participation in their blogger program.
One lovely perk of working with HP Hood® is being able to attend the Immersion Dinner they put on at Chef Chris Coomb's Deuxave. Deuxave is a French-American restaurant located on Commonwealth Avenue in Boston's historic Back Bay, where you can expect an amazing dining experience.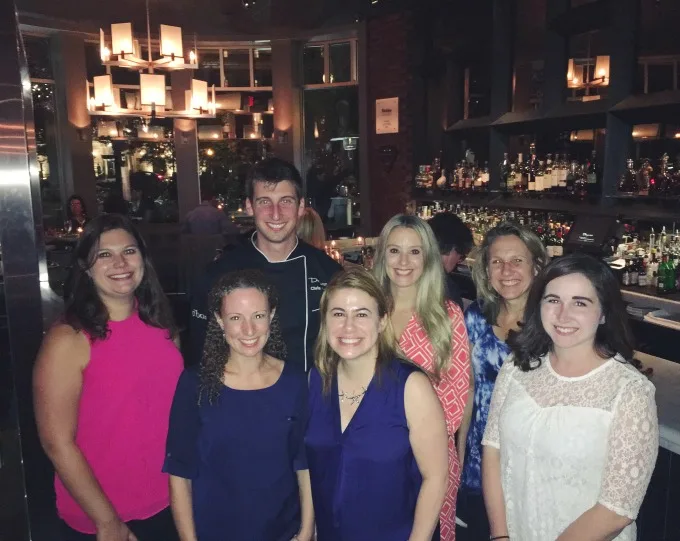 Hood® and Deuxave Executive Chef and Owner Chris Coombs teamed up to create this "Soiree for the Season" Tasting Menu for our Hood Cream Immersion Dinner. Like last year, the menu did not disappoint! If this is even possible, the menu that we were served this year was even more amazing than the one last year. And if you read my review of last year's dinner, you will remember me telling you it was one of the best meals I have ever had.
Not only was the dinner itself fantastic, but Chef Coombs is so down to earth and personable. He spent his time between the kitchen and our table, coming out to talk with us about each dish as it was served. Each course on the tasting menu was created with local and seasonal foods, and featured a Hood Cream as well.
Many people think cooking with cream is heavy, but honestly, not one of the dishes served was heavy. In fact, if I hadn't known ahead of time that there would be cream in each one, I might not have guessed it on my own. As Chef Coombs explained, done right, cooking with cream does not have to be heavy and filling.
I do have to tell you a funny story though before I tell you about the actual Immersion dinner. I'm a little embarrassed, but I'm going to tell you anyway. Boston is 3 hours from me, and on the day of the dinner, I was rushing around trying to get everything done in a half of a day. So in my rush to get ready, I tried on two different pairs of black heels with my pants. You know where this is going now, don't you? I actually wore two different shoes to dinner. Talk about embarrassing! One was a wedge, and one was a sandal. I left the house like that. And didn't even notice until I got home! I have no idea if anyone else noticed, because if they did, they were kind enough not to embarrass me. But I had a good laugh at myself when I got home. Apparently there is a first time for everything. Hopefully it was also the last.
Hood Cream 2016 Blogger Immersion Dinner
"Soiree for the Season" Tasting Menu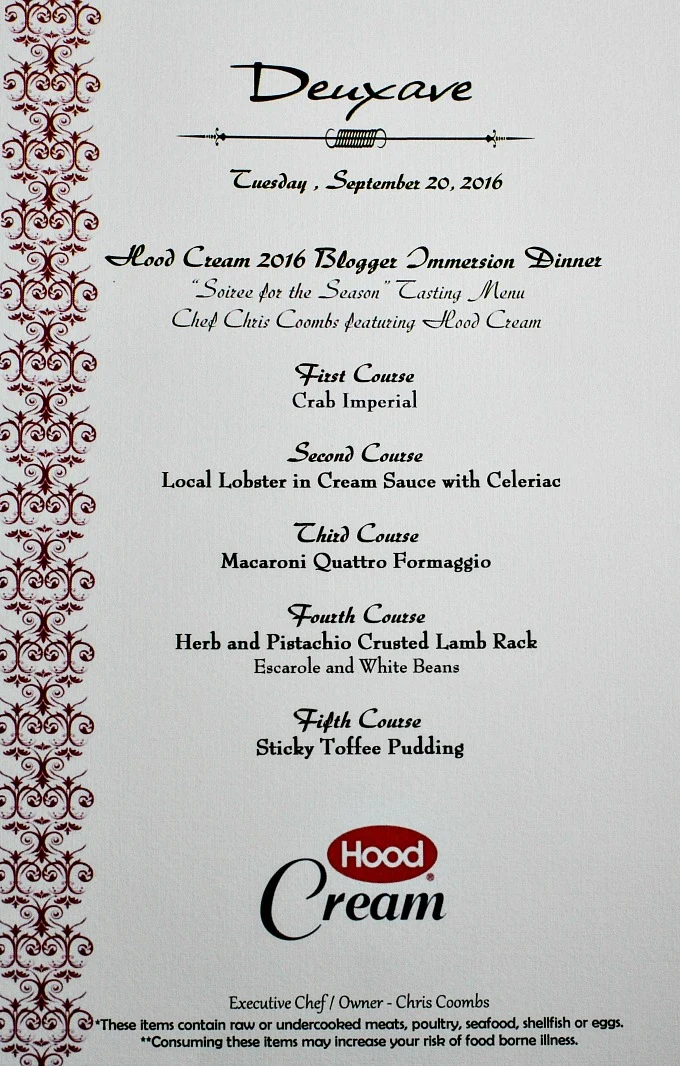 What an amazing food experience! Every single course was absolutely incredible. I'm somewhat partial to seafood though, so I will say my favorites were the Crab Imperial and the local Lobster in Cream Sauce with Celeriac. But I'd like to try all of them for my family.
Unfortunately, my pictures didn't do the food justice so I'm going to share Hood's pictures with you. I haven't mastered restaurant lighting. We actually had a discussion during the dinner about that very topic. Chef Coombs was lamenting about the fact that the lighting ambiance doesn't necessarily make for the best food pictures, and we all know how much people love to Instagram their food! He has been trying to figure out a way to keep the same ambiance in the restaurant, while also giving guests the option of the lighting they need for better Instagram photos. That's a difficult task for any restaurant, but I wouldn't be surprised if he comes up with something. I could tell he felt it was important.
But getting back to the meal, looking at these dishes, many of us would think there is no way we could re-create them at home. After all, Chef Coombs is a renowned chef. But that is what is so great about his down to earth style and partnership with Hood. Together they have created the Hood Cream eCookbook, which includes all of the dishes that we sampled at Deuxave as well as many other great dishes to take you through the holiday season and beyond! You will find that every single one of them is doable for the home chef.
I made a number of the recipes included in the eCookbook from last year, and while I love to cook, and like to think I am pretty good at it, I'm not a professional by any means. And personally, I like to keep it simple. I have a busy family life, and prefer recipes that don't take a lot of time to put together (but taste like they do). Those are the types of recipes you will find on my blog. The recipes you will find shared in the eCookbook are like that as well.
Crab Imperial
While I loved every dish in the tasting, as I mentioned above, my favorite was a toss up between the Crab Imperial and the Local Lobster in Cream Sauce with Celeriac. The Crab Imperial looked daunting to me as far as making it myself, but Chef Coombs assured us it was quite easy. I'm looking forward to trying this out as an appetizer for one of our upcoming holiday dinners!
Local Lobster in Cream Sauce with Celeriac
Can you see why I had a hard time choosing a favorite?! Lobster is one of my favorites, and I love a good sauce as well. I cannot wait to try making this. I'll be picking up some celeriac at the farmer's market in anticipation!
Macaroni Quattro Formaggio
This truly is a comfort food dish! Who doesn't look a great homemade macaroni and cheese?! I'm excited to see the recipe because Chef Coombs also mentioned that the sauce was gluten free.
Herb and Pistachio Crusted Lamb Rack with Escarole and White Beans
I know my family is going to love this recipe. Lamb is not one of my favorites, but what did it for me on this dish was the herb and pistachio crust. It was so good! And I loved the way the escarole and white beans were prepared…I have to say I am really looking forward to trying this recipe out! My photo from the tasting simply does not do this amazing dish justice!
Sticky Toffee Pudding
The Sticky Toffee Pudding was so rich and decadent! It would be the perfect ending to a holiday dinner or any special occasion. I'm not a big dessert person, but this one is a must try!
Hood®
If you live in New England, you're probably familiar with Hood®, as they have regional distribution on their milk and cream products. Hood was founded in 1846 by Harvey Perley Hood, in Charlestown, Massachusetts, the oldest neighborhood in Boston. Today they're one of the largest branded dairy operators in the United States, with 14 manufacturing plants.
I've been cooking with Hood Cream for as long as I can remember. They're a quality product in terms of taste, and I've never had them separate. All creams are not equal. Once my husband brought home a different brand, and it separated during the cooking. He knows now if he's doing the shopping, Hood Cream is what goes in the cart. Professional chefs across New England choose Hood for its superior quality, performance and taste. It's nice to have that same quality ingredient available to the rest of us as well!
Don't forget to check out the Hood eCookbook! And in the meantime, follow Hood® on Facebook and Twitter, and check out their blog for recipes and cooking tips!