Recently, a North Carolina mom was temporarily banned from Facebook for posting a picture of her 2 year old daughter's exposed bottom, in a photo attempting to recreate an old Coppertone ad. Facebook flagged the photo, claiming it violated their policies.
My initial thought was "Really?" Parents have been taking pictures like this of their little ones since cameras became mainstream! In general, it seems like these kind of photos are pretty much harmless. For the record, I don't agree with the decision to flag the photo as inappropriate.
However, I do think it opens things up for discussion. Have we taken things too far when we flag something like this? Do we share too much online? Here's a few of my own thoughts on why we might want to think twice before sharing online.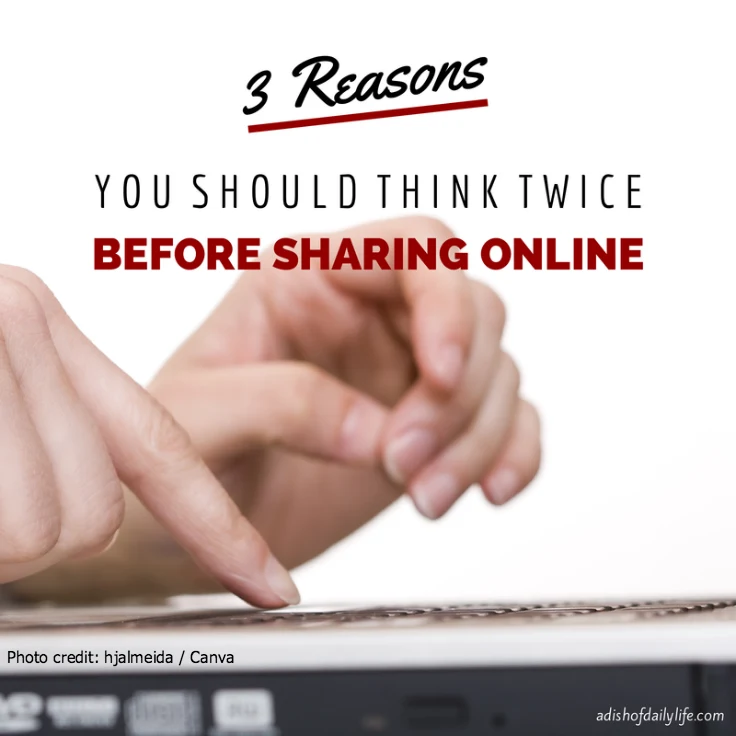 [Tweet "Online sharing…just because you can DOESN'T mean you should! Do we share too much? @dishofdailylife"]
Kids grow up.
I started blogging when my kids were teens and tweens. Facebook didn't even exist when my kids were really little, so I never even had the opportunity to post those kind of pictures. Would I have? I don't know. What I do know is that as kids get older, they become particular about what they're willing to let their parents post. An occasional sports or family vacation picture seems to be okay. But my kids don't want me sharing proud moments about accomplishments or grades. I'm very limited by what they are willing to let me share.
At some point that little girl from the story above is going to be a teenager. Someday she'll be applying to colleges and entering the workforce. Is she going to be thrilled that a photo of her with her bathing suit bottom being pulled down is out there on the internet? Probably not.
The creepiness factor.
Sadly, I feel like I have to bring this up. There are psychos out there that get off on photos like that. It may seem very innocent to the vast majority of us, but there are some sick people out there. I'm not saying the mom shouldn't have taken the picture. She could have easily just enjoyed it among her own family, or at the very least, adjusted her privacy settings to a very limited number of people. The rest of us didn't need to see it. It's not relevant to us, and it should be kept out of the hands of those who enjoy pictures like that in a creepier way.
Online is forever.
Sometimes I feel like we live our lives in a fishbowl, with social media and technology what it is today. The great thing about social sharing online is that we now have a way of easily sharing with family and friends…the not-so-great thing is that we are sharing intimate details of our lives with virtual strangers who really don't need to know them, on public forums, where it remains accessible forever.
Once it's online, it will be there forever. Even sharing privately isn't completely safe. People download photos, and they take screenshots. So even if you share something privately, or delete it after the fact, there's still a good chance it's going to be floating around out there somewhere.
What are your feelings on this topic? How much do you share online? Do you think we as a society share too much? Have you ever regretted sharing something after the fact?
If you liked this post, you may also like:
CyberSafety: Keeping Teens Safe Online
Linking up with:
Weekend Retreat Link Party
Pin It Party