Disclosure: This post contains affiliate links.
Garlic Scapes Pesto…serve this vegetarian farmer's market favorite over pasta or chicken, spread on sandwiches or paninis, or even as an appetizer dip for bread! It freezes well too.
Garlic Scapes Pesto
I never even knew pesto existed until I married my husband.
Clearly I was living under a rock.
My husband's mother and his late father are both amazing cooks. They introduced me to so many of my favorite foods, pesto being one of them.
The nice thing about pesto is it is a versatile dish. We use it on pasta, in paninis, over chicken…so many different ways!
You can make it with a number of different herbs, and a variety of nuts too…pine nuts, walnuts, and almonds are what we typically use. During the early part of the growing season, we also substitute garlic scapes for garlic.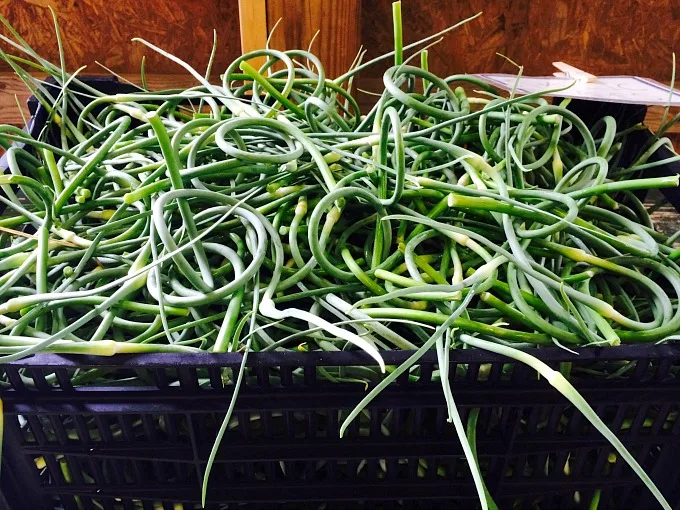 Garlic scapes are the curly green stalks that grow on garlic plants. In early summer, they're cut from the plant to allow the garlic bulb to completely develop. If they're left on, they divert strength away from the bulb's growth.
Luckily for us that this is the case, because they are really quite tasty!
You can chop them and use them in salads, as a topping the way you would use scallions, or sauté them with any dish in which you would normally use garlic. I just started grilling them, and they are really good that way too!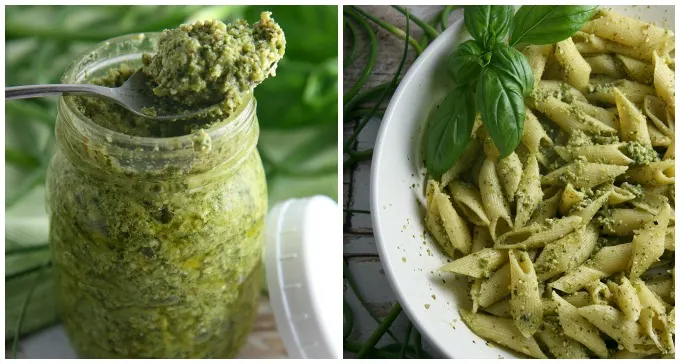 Although you can use different herbs for pesto, the most traditional one used is basil.
We get basil from our CSA at a local farm, but every year we also supplement with our own basil plants. You can never have too much basil!
We don't have a good spot for a garden, but we do have pots on our back deck. This way we are able to make pesto all summer long, and we freeze it so we can enjoy it in the winter too.
Just a note on freezing pesto…there are some that say you shouldn't include the cheese when freezing. We always do, and there has never been an issue. I find it much easier than adding the cheese afterwards.
I've been freezing my pesto in Ball Jars, which are freezer safe, and using their plastic lids. I use these smaller Ball jars for smaller servings, like what we would use for a chicken dish or paninis.
The Ball jar above is what I would store my normal freezer size, and I use the same plastic storage lids. I add a very thin coating of olive oil to the top before I freeze the jar.
Garlic Scapes Pesto is very easy to make. If you have a food processor, you can have it ready to go in minutes!
You're going to remove the whips on the garlic scapes and discard those, and chop the remaining garlic scape into smaller pieces before adding them to the food processor. Process them first before adding any other ingredients, because you want to break those pieces down.
Then you're going to add the almonds and basil and continue to process.
Once you're satisfied with the consistency (and keep in mind between the almonds and the garlic scapes, this is not going to be as smooth as traditional pesto would be), then go ahead and add your olive oil and lemon juice in a steady stream while continuing to blend.
Lastly, you'll add your parmesan and give it a pulse or two or three, just to mix it all together.
Season to taste with salt and pepper and you are ready to go!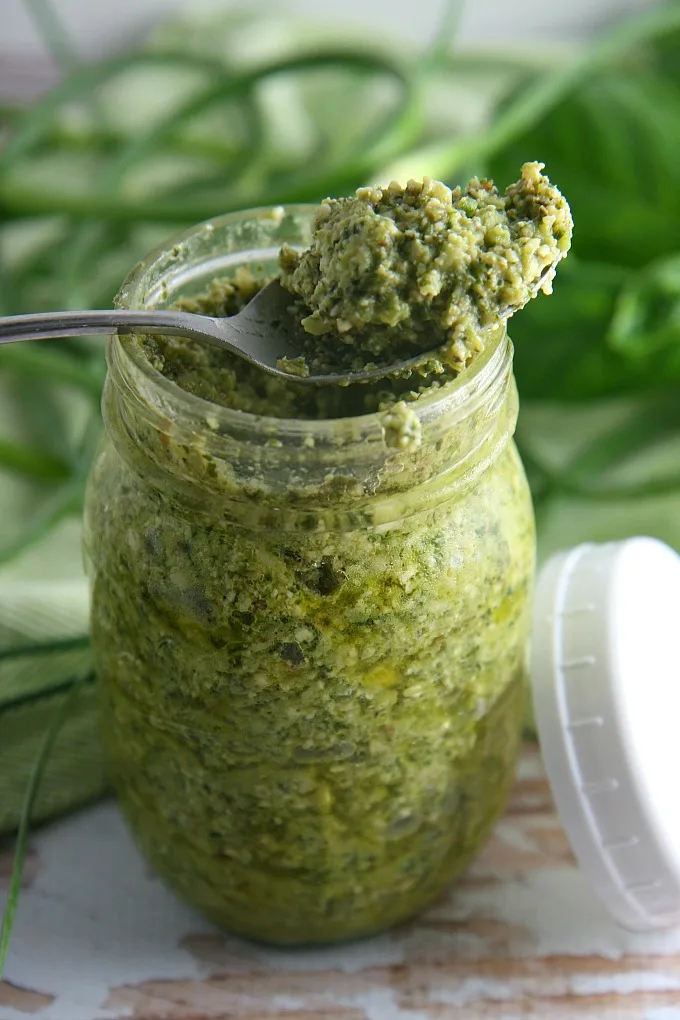 You should have enough for at least two pounds of pasta from this recipe (and probably a little extra beyond that).
It makes a nice dip for bread as well. Just saying…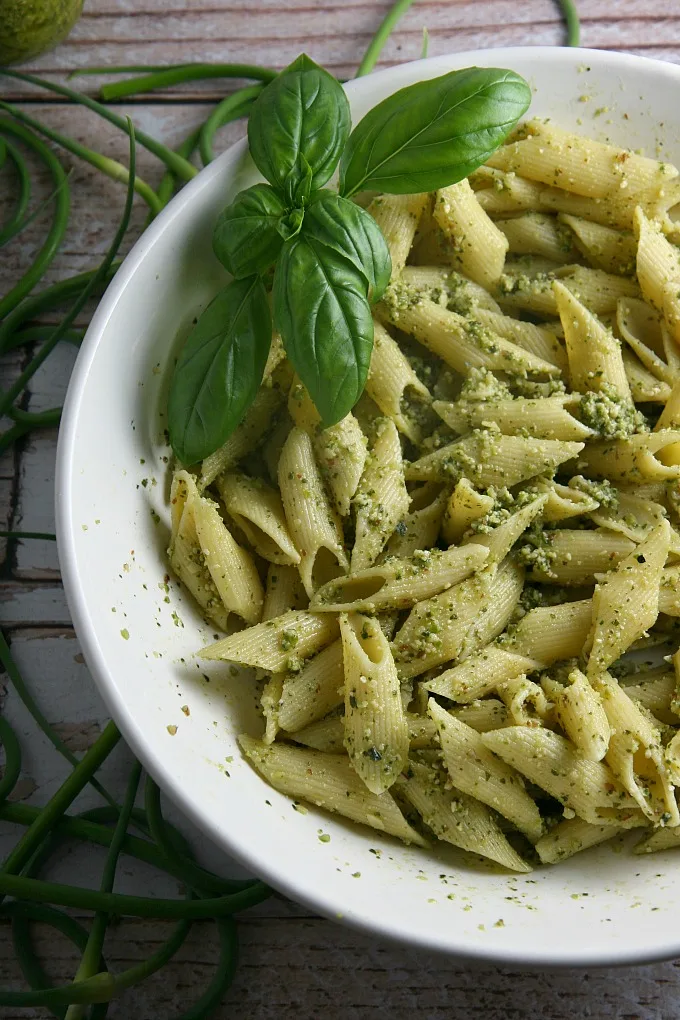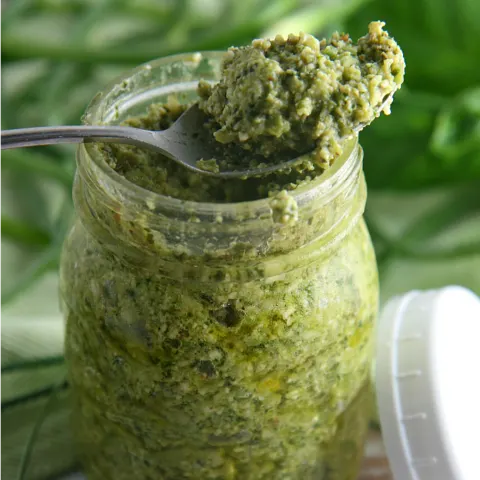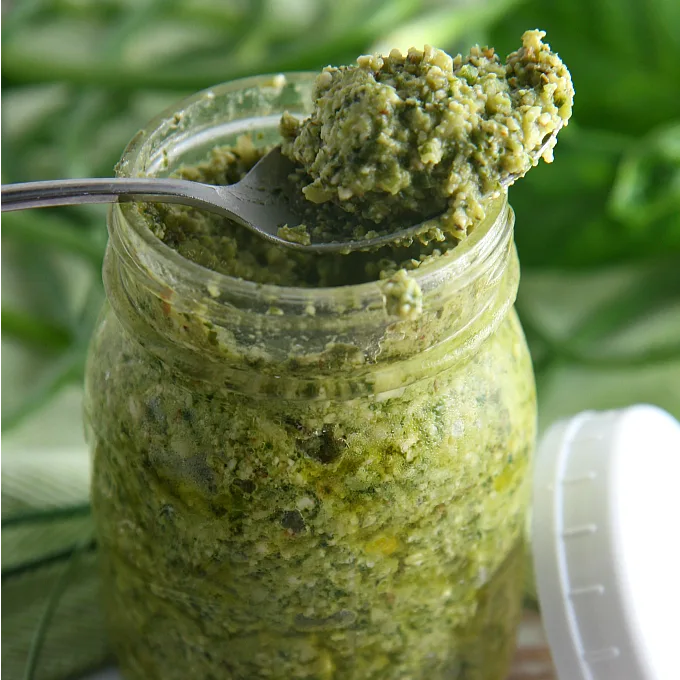 Garlic Scape Pesto
Enjoy Garlic Scapes Pesto...a farmer's market favorite, over pasta or chicken, spread on sandwiches or paninis, or even as an appetizer dip for bread!
Ingredients
2 cups basil, packed
1 cup garlic scapes, whip removed, chopped
1 cup slivered almonds
3/4 cup of extra virgin olive oil
Juice from one lemon
1 cup Parmesan cheese
Salt and pepper to taste.
Instructions
Process garlic scapes in food processor.
After they are broken down, add in the slivered almond and basil and continue to process.
Add olive oil and lemon juice in a steady stream, as you continue to blend.
Add parmesan and pulse a couple times to process.
Season to taste with salt and pepper.

Have you ever tried garlic scapes?