Disclosure: This post was sponsored by The Brooklyn Creamery. All opinions, however, are my own.
Today I'm excited to be sharing a new product with you.
I cook with cream fairly often, and as you have probably already figured out, I like to cook on the healthy side (mostly anyway). So when I heard about this new, all natural fresh dairy cream that is gluten free, kosher, uses rBST Free Milk and no artificial ingredients, has no added salts or sugars, and no carbs, I have to admit I was curious. These are the kind of things that are important to me when I am cooking for my family.
The Brooklyn Creamery has introduced two new dairy creams, Single Cream and Double Cream, similar to British Style "Double Cream." Their creams have a rich, creamy, spoonable texture, which set it apart from the liquid creams that we are more used to. The thickness is similar to sour cream or crème fraîche, but without that tangy taste.
Additionally, these creams are NOT ULTRA PASTURIZED the way typical heavy creams are, which keeps more nutrients in the cream as well as giving it a thicker, richer taste!
The Difference between Single and Double Cream
In case you're wondering what the difference is between the single and double cream, it's in the fat content.
Double cream has a 42% milk fat content, which is half the fat of butter. At 21%, single cream has half the milk fat of the double cream. With less fat, it's also not quite as thick as the double cream.
How to Use Single and Double Cream
You can use single and double cream in the same ways that you would use regular cream. They add nice texture, and you can use them to thicken dips, soups and sauces.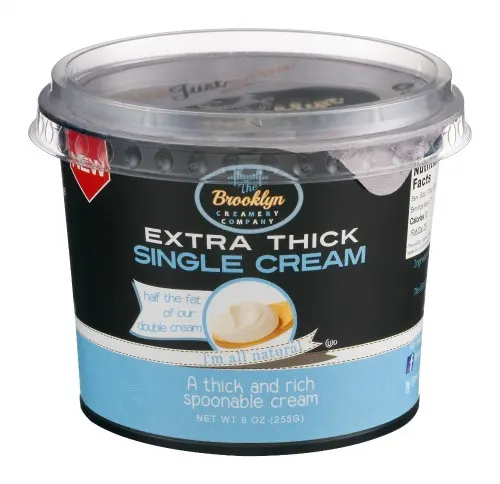 Being a little thinner, single cream could be used as a coffee creamer, and you could even flavor it by adding an extract for flavor.
Do you add milk or cream to your scrambled eggs? Add single cream for an even creamier texture!
I'm thinking the next time I make my Butternut Squash and Sweet Potato Soup (see the recipe below), I might swirl in a little single cream to make it just a bit creamier!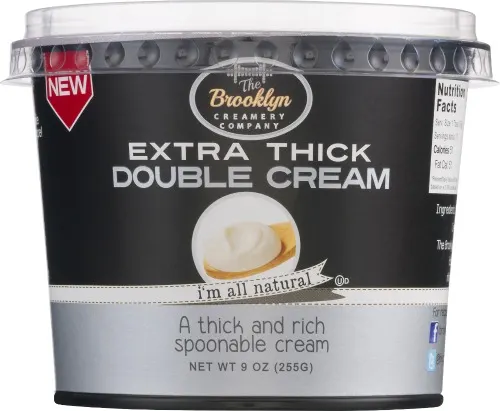 I can see me using the Double Cream even more with my cooking. That rich creamy goodness is very tempting to me.
The possibilities are endless! You can whip the double cream until it thickens, and then let it sit overnight to turn it into a yummy spread that could be used in place of butter. Add chives or chopped fresh veggies, and your morning bagel just became even more delicious!
The Brooklyn Creamery also suggests that you can make your own flavored whip cream. Add vanilla, peppermint, crushed Oreos…or even, dare I suggest it, my favorite, thin mint style cookies! Just thinking about the possibilities is getting the dessert wheels turning in my mind. And imagine what you can do for hot chocolate in the winter!
I'm going to be sharing a recipe with you very soon. It was my very first recipe attempt with the double cream, and it was so good, I can promise you it won't be the last.
Here's a sneak peek of some of my ingredients…I'll be sharing my recipe in the next couple of weeks!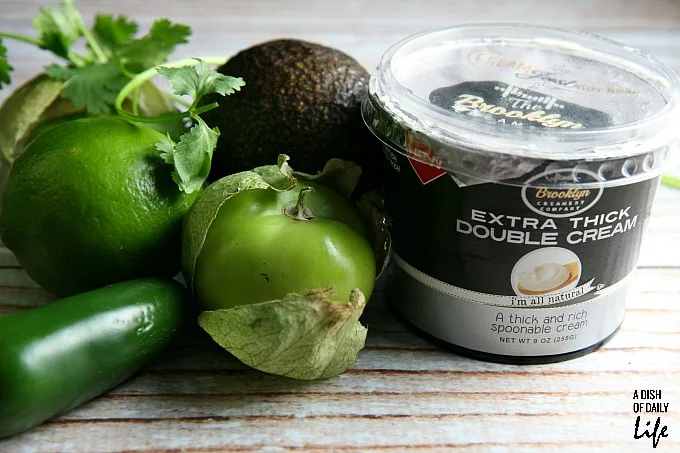 The Brooklyn Creamery will be doing some live demos on ways to use these new creams…click HERE for a store near you. I'll be attending one next weekend myself. I have so many ideas myself already, but I am sure I will find some additional recipe inspiration there as well!
These creams are so versatile, you are going to love playing around with them in the kitchen! Here's coupon to get you started!
Have you tried Brooklyn Creamery's Single or Double Cream? What would you make?