Disclosure: This post is sponsored. Although I was compensated, all opinions are my own.
About 1 out of 10 children ages 4 through 17 have been diagnosed with ADHD (Attention Deficit / Hyperactivity Disorder).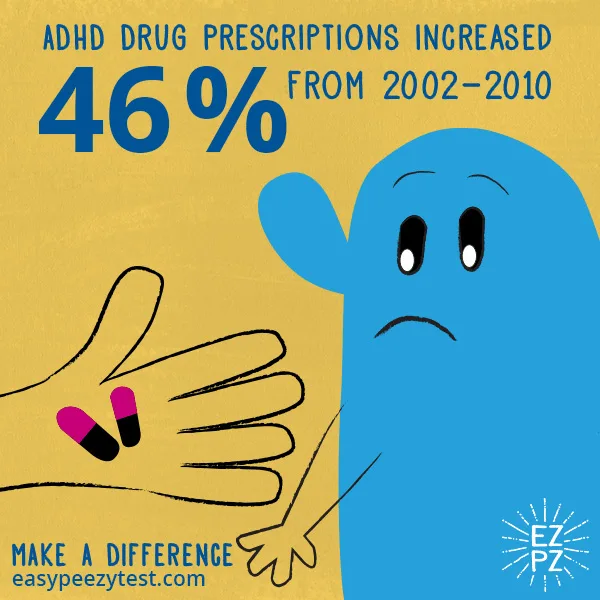 That seems like a big number. The increase in drug prescriptions is a little scary to me.
My oldest son probably could have been diagnosed with ADHD many times, had we taken him to a doctor. He could never sit still in the classroom when he was younger. At least one of his teachers mentioned ADHD to us.
If the topic was something he was interested in, he could concentrate just fine. If not, well, that was more of a challenge. He had several teachers who simply let him stand in the back of the classroom at his desk, rather than sit. That seemed to help. My husband said he was very much the same way when he was young, so we took a wait and see approach.
Now, a senior in high school, he's thriving in a smaller environment with fewer distractions and more individualized attention. The chairs in the classroom are on wheels; students can move while they're working. I often wonder if our classrooms in public schools were more like his classroom in private school if it would make it easier for kids to learn. He has no problem concentrating these days, and now I'm glad we never had him tested, and possibly put on medication.
I've always been weary of putting my children on medication except when absolutely necessary. I'm sure many parents struggle with this.
What if I told you there was a disorder called OSA, Pediatric Obstructive Sleep Apnea, that looks like ADHD? And that up to 50% of kids diagnosed with ADHD might actually have OSA, in addition to or rather than ADHD?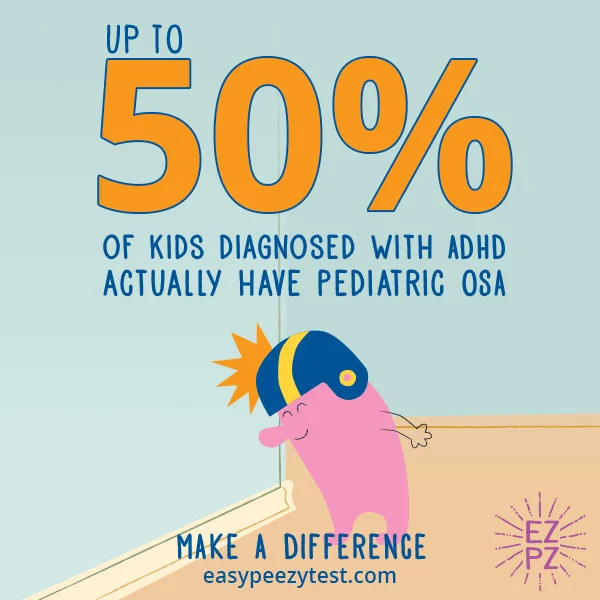 Snoring can be an indicator that a child has OSA.
When a child has OSA, he may stop breathing numerous times during a night.
Typically this disorder has gone undiagnosed, because it requires an expensive overnight stay in the the hospital. And let's not forget, an overnight stay in the hospital can be a bit scary for kids.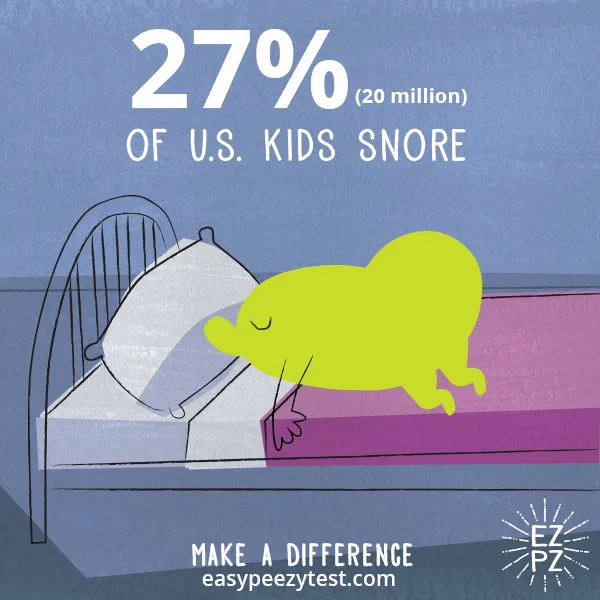 If a child isn't getting a good night's rest because he stops breathing numerous times during the night, would it surprise you that he couldn't concentrate at school? Would it surprise you if his behavior reflected a lack of sleep? Of course not.
Lack of sleep causes these same sort of symptoms in adults.
It's also important to note, if OSA is left undiagnosed, it can cause all sorts of health issues down the road.
Before you put your child on medication, wouldn't you want to know? Of course you would.
So, how can you help?
NuSomnea has come up with an inexpensive test that is easier and more accurate than the traditional sleep test, the Easy Peezy Pee Test. The Easy Peezy Pee Test had a 96.5% success rate in a large clinical study. This test can help keep kids who don't have ADHD off of unnecessary medications!
But before they can make the test available to doctors, and kids, they have to complete another round of testing. To raise the funds necessary for this next round of testing, they have launched an Indigogo campaign.
You can help with a donation (every little bit helps) or by helping them spread the word.
[Tweet "ADHD or Pediatric Obstructive Sleep Apnea? Similar symptoms, but different treatment! Learn more here!"]
Visit the EZPZ website or visit them on Facebook or Twitter for even more information.
Disclosure: This post is sponsored. Although I was compensated, all opinions are my own.