This post was first published on January 28, 2013, and recently updated.
I love to cook, but I'm a "wing it" person. I seldom measure and usually cook "to taste." I almost never follow a recipe exactly. I always make small changes, whether it's because I am missing an ingredient or because I just decide to try something a little different. With cooking, this serves me well. Most of the time my family ends up liking the final dish.
With baking, I'm a disaster. You really have to follow the recipe when you bake. Most of the time I either burn what I am baking (yes, I know we have a timer, but I can't seem to remember to use it) or I leave out key ingredients…like the time I was going to a holiday cookie exchange and forgot the sugar in my first batch…and then forgot the eggs in my second batch! My husband took pity on me and made my cookies. I no longer go to cookie exchanges, and all baking is now done by either my husband or daughter, both of whom are much better bakers than me.
That said, now that you know my limitations, I want to share with you one of my favorite chicken recipes of all times, Pecan Crusted Chicken with Salad Greens and Honey Mustard Dressing. I'm not sure where the original recipe came from. I am sure my version resembles the one I originally made, but it's definitely been modified and simplified over the years! My daughter likes it so much, she's been taking a variation of it for lunch pretty much every day for the past few years.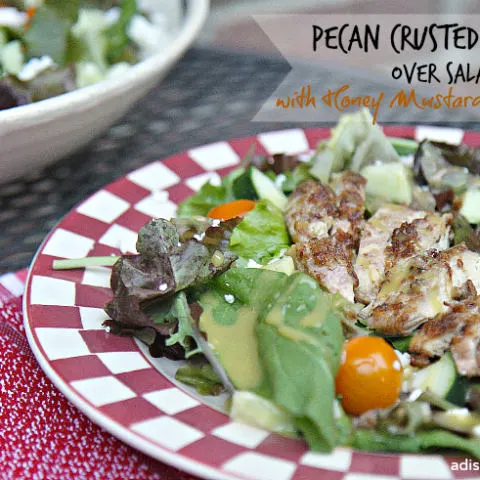 Pecan Crusted Chicken with Salad Greens and Honey Mustard Dressing
Ingredients
2.5 lbs chicken tenders
3/4 cup Italian bread crumbs
3/4 cup crushed pecans
3/4 cup Parmesan cheese
1 large egg
a couple splashes of milk
salt and pepper to taste
Oil of your choice for frying
Honey Mustard Dressing
1/4 cup honey
3 tablespoons dijon mustard
1/4 cup apple cider vinegar
1/2 cup extra virgin olive oil
squeeze of a lemon
Instructions
Crush your pecans in a mini Cuisinart.
Mix your bread crumbs, crushed pecans and parmesan cheese together.
Whisk together the egg and a couple splashes of milk.
Add a little salt and pepper to the egg mixture and the bread crumb mixture.
Dip the chicken tenders in the egg mixture, then roll in the bread crumb mixture.
Fry in oil of your choice until browned. I usually take my chicken off before its cooked all the way through, and bake on 375-400 degrees till finished cooking. You could certainly finish the cooking process on the stovetop though if you wanted.
Remove from heat and drain on paper towels to remove excess oil.
Once cooled, top salad greens with chicken and honey mustard dressing.
For the Honey Mustard Dressing
Whisk together the honey and dijon mustard first.
Add the apple cider vinegar, extra virgin olive oil and a squeeze of a lemon.
Then whisk together again.
For my salad, I usually use a baby romaine blend, and add chopped or shredded carrots, cucumber, chopped peppers, feta cheese, and tomatoes if they're in season. Goat cheese is a great substitution for the feta.
This crusted chicken salad recipe has been a favorite of family and friends for years, and is really easy to make. I hope you enjoy it as much as we do!