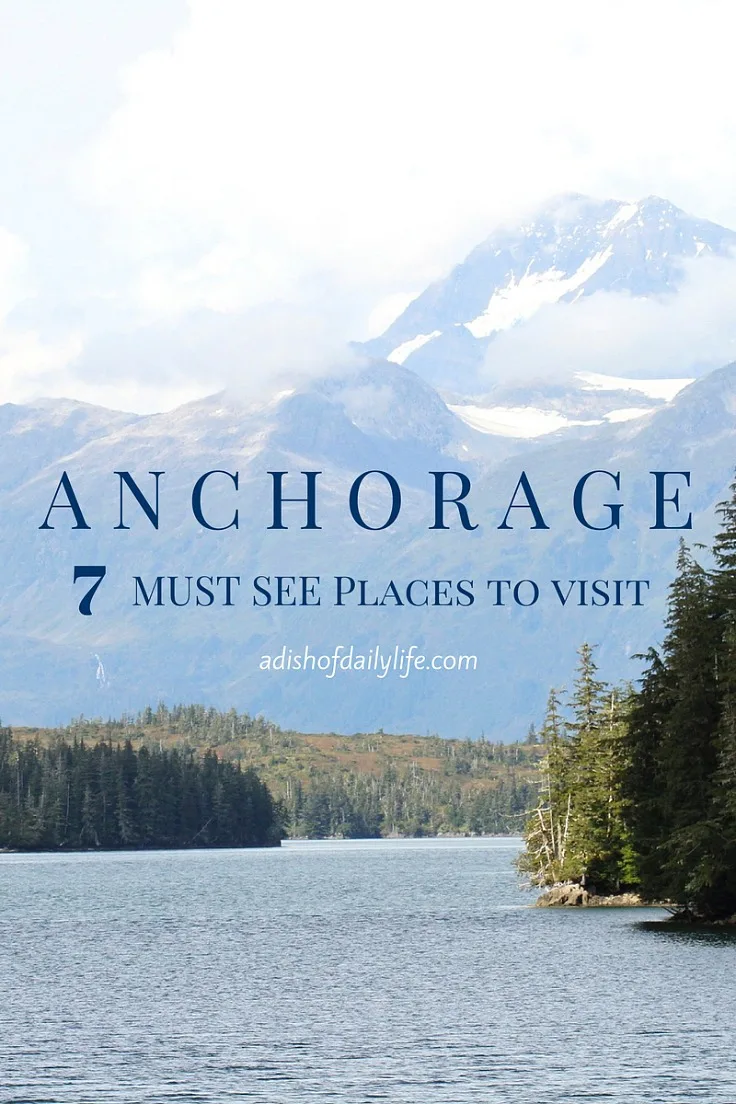 As you may know from my post last week, my husband and I were recently in Alaska to see his brother's David's Air Force promotion ceremony to Brig. General.
My husband's brother and his wife, Kim, have been living in Anchorage for over a year, so we were lucky to have hosts who had lots of great suggestions of things to do and see that were reasonably close by. If we had been there for longer, we definitely would have made plans to do more…but there is plenty of amazing must see places to visit around Anchorage!
7 Must See Places to Visit Around Anchorage
Hiking
Exit Glacier, Kenai Fjords National Park
The drive to Kenai Fjords National Park was a little over 2 hours and well worth it. This is a hike you will never forget! We climbed to the Harding Icefields that form the Exit Glacier. We hiked the trail to the top, which is 8.2 miles roundtrip. We were told ahead of time the hike would take 6-8 hours to complete, so starting out we weren't sure if we were going to do the shorter hike, or just climb to where we could see the start of the Icefields. Although the view at the start of the Icefields was gorgeous, we decided to go to the top.
However, we weren't exactly prepared on this beautiful sunny day, with one bottle of water between the three of us. Isn't that in Hiking 101? We had bear spray and a bear bell, but definitely not enough water. We ran out of water near the top of the trail. Considering going up is always harder than coming down, we probably would have been fine, but some AmeriCorps workers that we met at the emergency shack at the top kindly refilled our water bottle for us with water they had filtered.
After climbing well above the tree line, we were rewarded with a stunning view of ice and snow for as far as we could see. The hike took us 5 hours in all, including a nice picture taking break at the peak.
The view from about halfway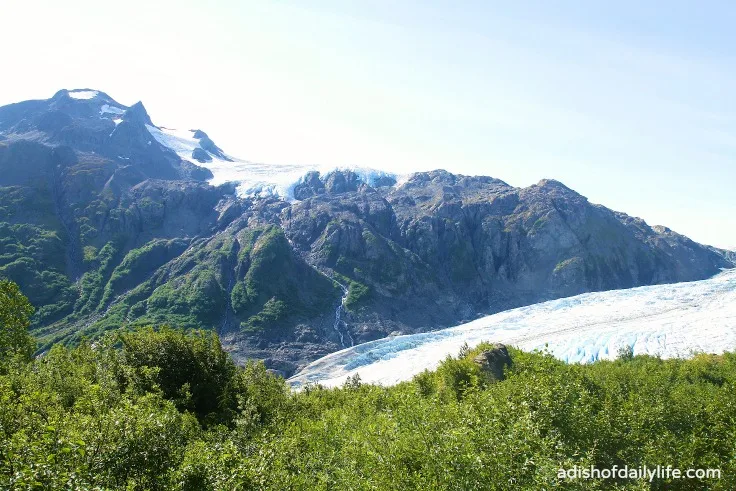 Mike and I at the top…we don't look too exhausted, do we?
The top of the trail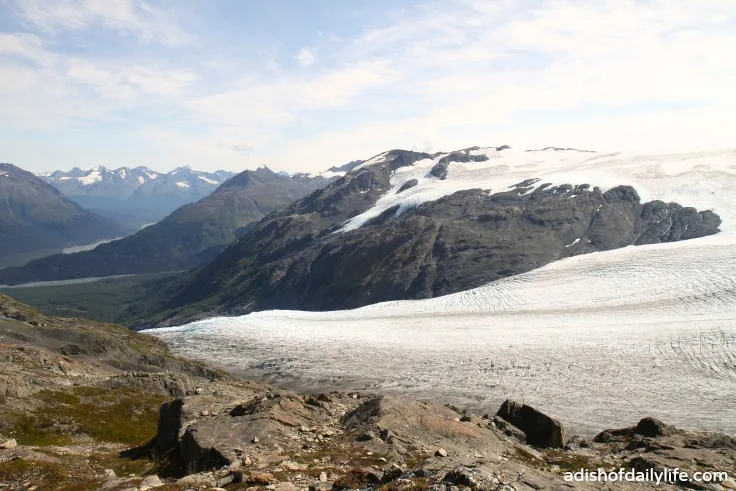 Ice as far as we could see!
[Tweet "Harding Icefield Trail at @KenaiFjordsNPS…best hike EVER! Spectacular!"]
Arctic Valley to South Fork Trail
Arctic Valley is home to the Anchorage Ski Club. A beautiful 6 mile hike, the trails were surrounded by blueberry pickers everywhere. We even stopped a couple times for a yummy treat ourselves. The trails were steep in spots, but after our hike at Kenai Fjords, this hike seemed almost easy. Along the way, we were able to see Sleeping Lady off in the distance, and at the top, we had a beautiful view of Eagle River and two lakes.
View at the top
Our hiking partners, my brother and sister in law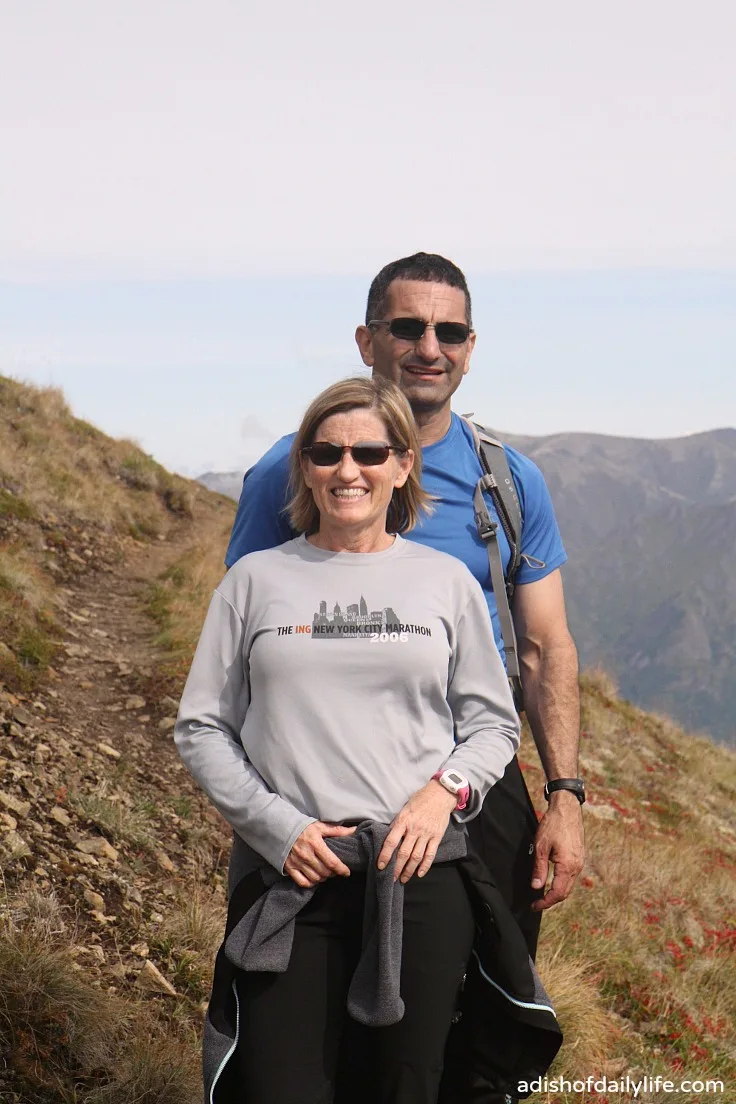 There were blueberries all over the mountain!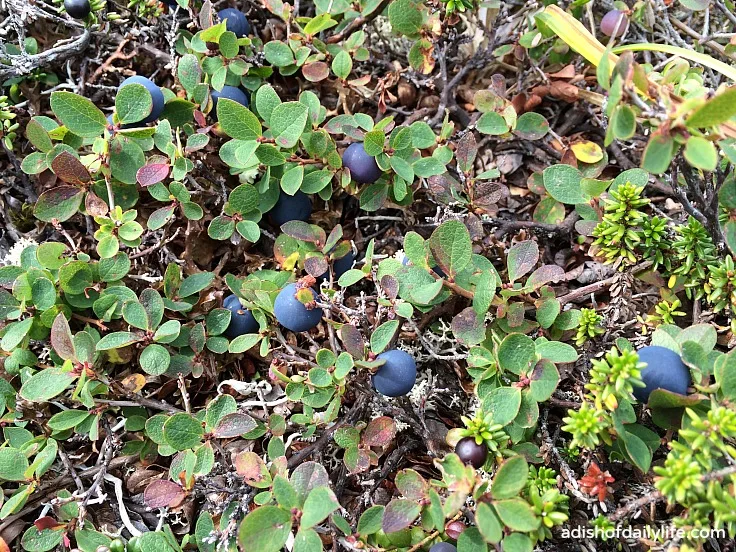 Kincaid Park
In a last ditch effort to see a moose on our last day in Alaska, we went to Kincaid Park in Anchorage since we had extra time before our flight home, and bcause we had heard that there was a large moose population there. There is 1400 acres of trails, used for hiking and biking in the summer, and cross country skiing in the winter. We had a lovely hike…but alas, no moose.
We did run into a nice woman and her two dogs as we were leaving, and she asked if we'd seen any wildlife. When we replied that we hadn't, she told us that she spoke to a wide eyed group of tourists when she was there the day before who had been hoping to see moose but had just seen a bear instead!
However, as we were driving back towards the airport, we saw a moose running down Raspberry Lane on the side of the road! I had no idea how fast they were! I got a picture though!
We saw plenty of trees!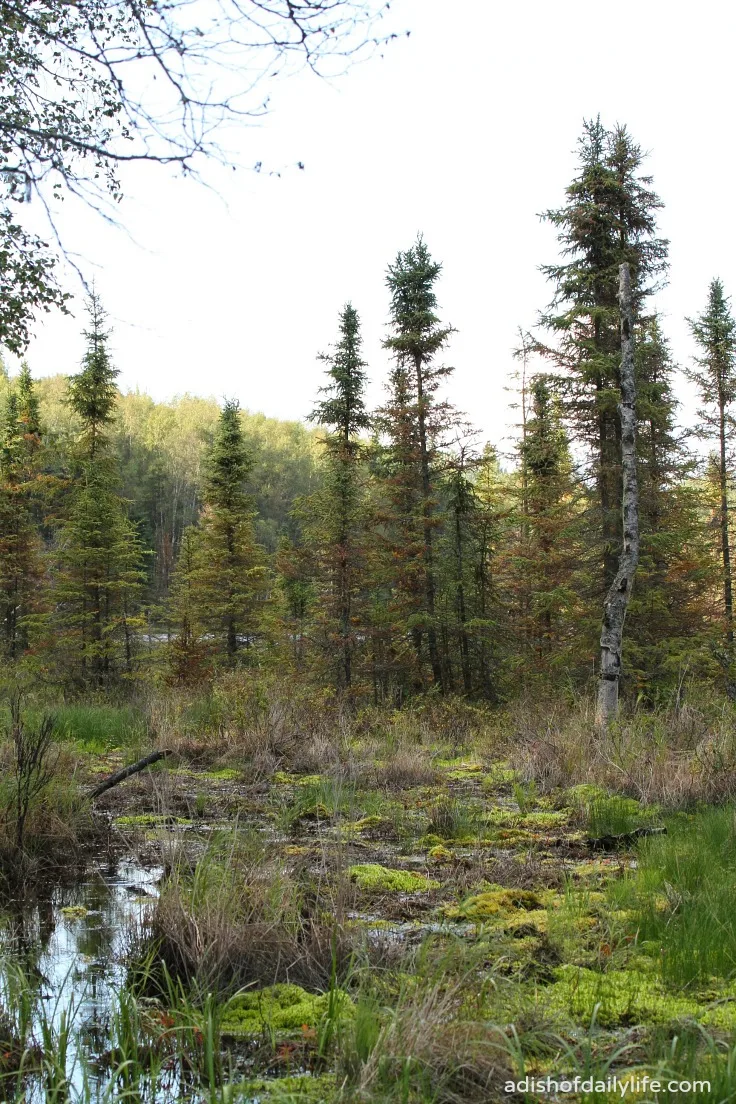 And some fungi as well.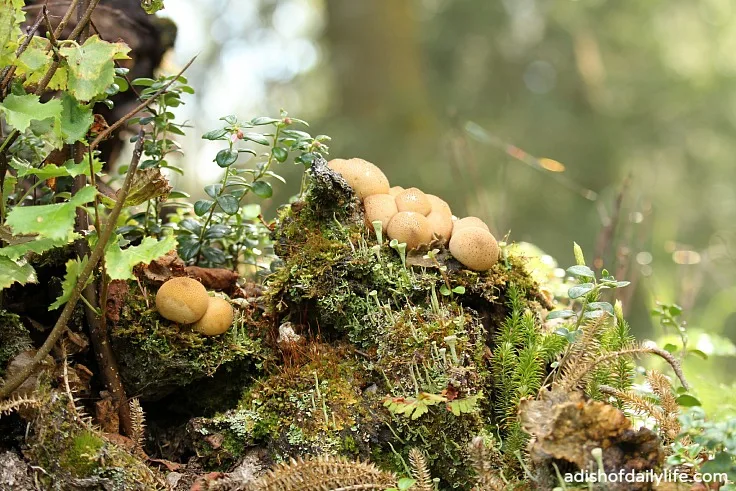 Finally!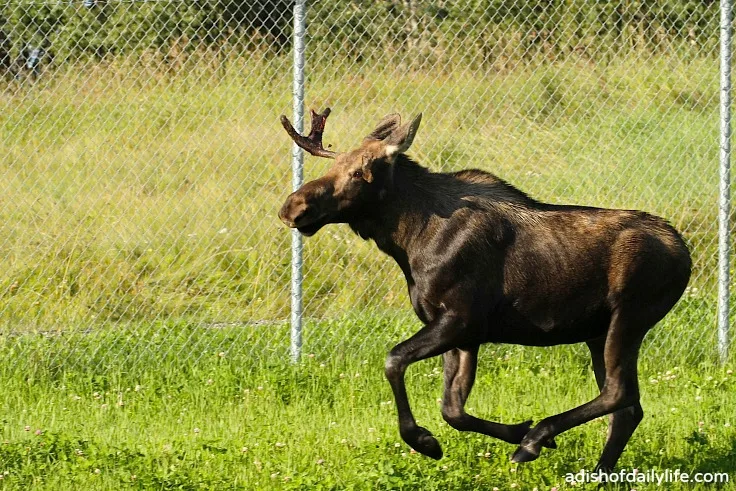 Tours
26 Glacier Cruise
This was another WOW..a definite highlight of our trip. We took the Phillips 26 Glacier Cruise into the Prince William Sound. I have nothing but good things to say about this tour. If you're going to be staying in or near Anchorage, I highly recommend it. It was outstanding…the crew was extremely knowledgeable and approachable, and our stops along the way were long enough for everyone to get a chance to take in the scenery and wildlife.
We had to travel to the deep water port town of Whittier to catch the boat. In order to get there, we had to go through a one way tunnel that was built during WWII…both cars and trains travel on this road, so you have to wait on each side of the tunnel for your turn to go through. I'm not sure how I managed to NOT get a picture of this because it was really very interesting.
The biggest excitement of the cruise was seeing the glacial calving, which is when chunks of ice fall off the glacier and into the water. The icebergs that result can be quite large. The crew pointed out one near us that they said weighed more than the boat we were traveling on…it didn't look that big, but apparently most of the iceberg is actually underneath the water.
We also saw some incredible wildlife pretty close up…no whales, but we did see sea lions, sea otters and bald eagles.
One of the interesting things we learned was that sea otters can weigh up to 80 lbs. They look pretty small in the water, don't they? Another surprising fact is that they eat about 1/4 of their body weight daily! Apparently they also have a thing for tools. They like to eat the same things we do…shrimp, clams, mussels, crab…so they generally use a rock to crack open shells. Once they have a rock they like, they'll keep it with them and tuck it under their armpits. But sometimes they fixate on other items…our guide told us about a sea otter that held onto a camera that was dropped overboard, and another one who had a Coke bottle. They were adorable to watch.
[Tweet "Headed to #Anchorage? Don't miss the @26glacier cruise! via @dishofdailylife"]
Boats docked in the town of Whittier…I just love the look of the reflections in the water!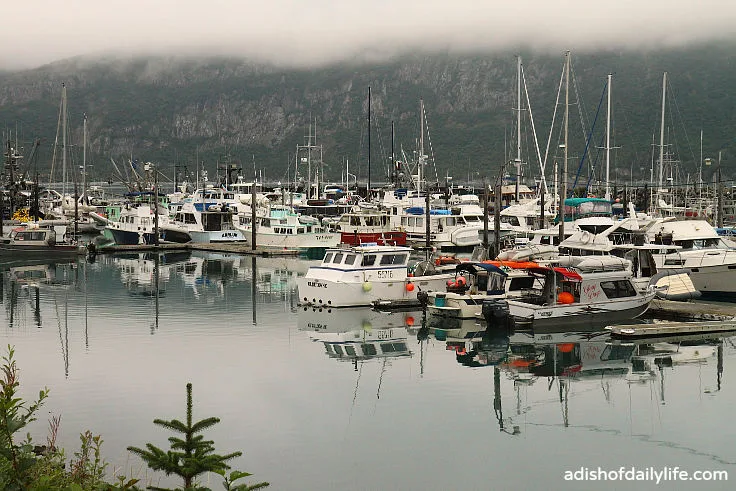 The boat we took for our cruise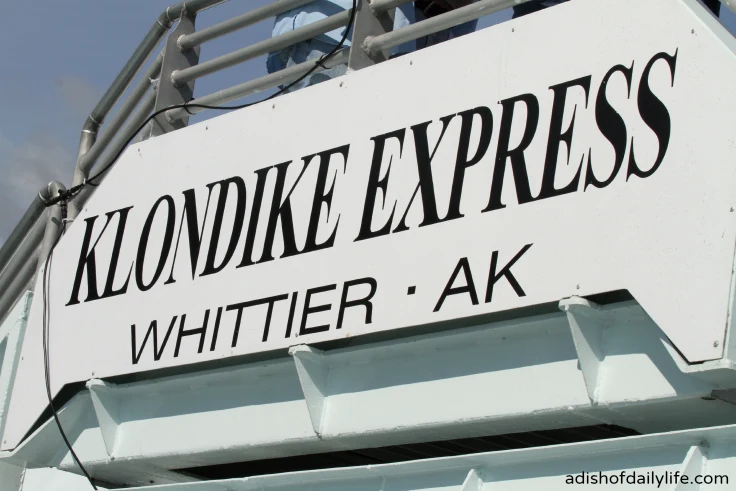 A bald eagle…such a majestic bird!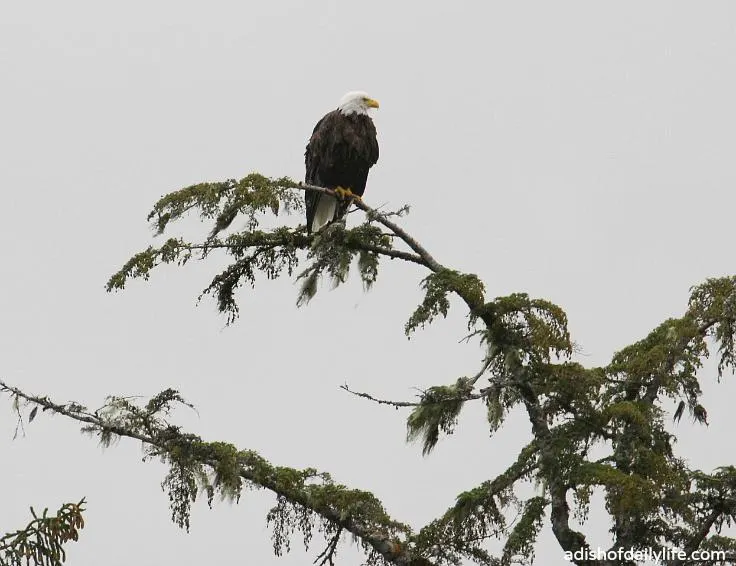 Sea Lions hanging out on some rocks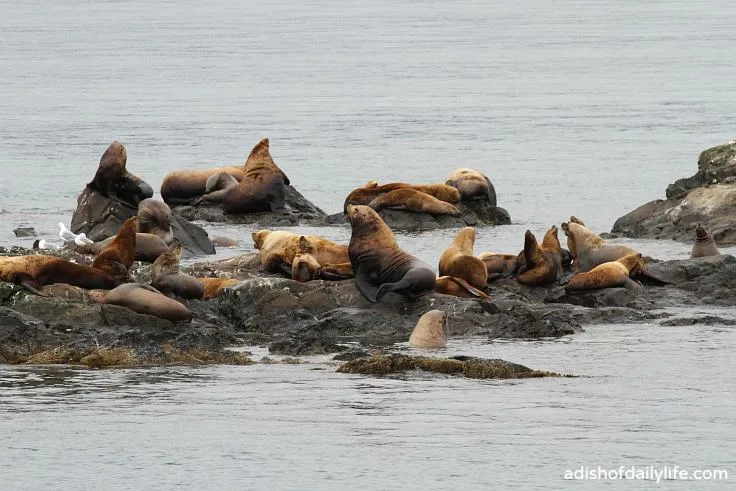 The sea otters seemed like they were posing for us…so cute!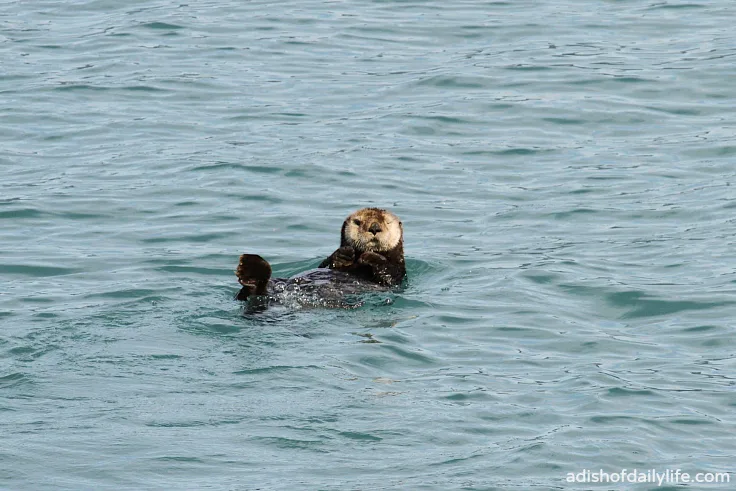 View of the glaciers from the boat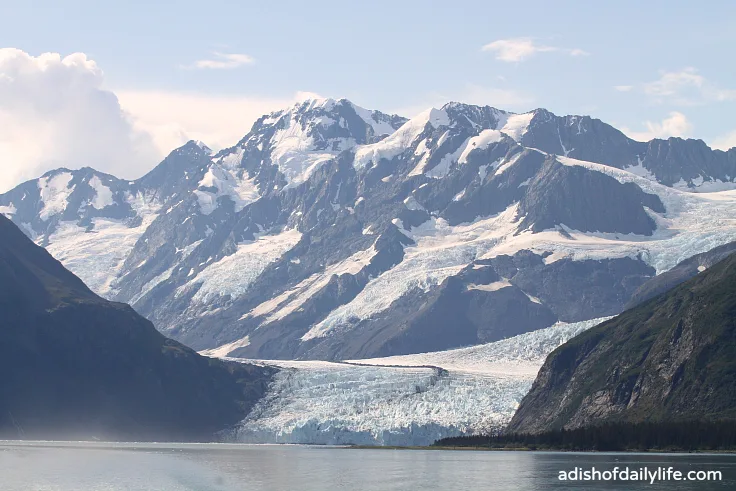 Glacial calving
[Tweet "Headed to #Anchorage? Don't miss the @26glacier cruise!"]
Other Sights
Alaska Wildlife Conservation Center
I really wanted to see wildlife in Alaska. My sister in law has pictures of moose sleeping in their yard. There are bear sightings all the time…on the day we went on the glacier cruise, my brother in law saw one on his way to work and showed me the picture on his phone. Throughout the time we were there, there were sightings of bear and moose all over the base, and we drove all over looking for them. Of course if you're looking for something, you're not going to find it. We did see a porcupine on steriods. I'm joking of course, but it really was the size of a medium size dog. We saw Beluga whales from the highway on our way to the Alaska Wildlife Conservation Center. And of course, as you already know, we saw sea lions and sea otters and a bald eagle, but at this point, I hadn't seen any bears or moose.
So to see wild animals, we went to the Alaska Wildlife Conservation Center. I am so glad we went…it was definitely worth seeing. Every year, the AWCC takes in injured and orphaned animals from the wild. They rehabilitate them and those that cannot be re-released into the wild either find a permanent home at AWCC or are eventually moved to another facility that AWCC works with in the lower 48 states or worldwide.
The animals' stories are heart wrenching.
There was Adonis the Bald Eagle who was shot and had to have a wing amputated, and sister lynxes who suffered burns and were orphaned as kittens after a forest fire.
There was Hugo, a Grizzly Bear, who arrived badly injured after tangling with a porcupine. Because she was a cub when she was injured, she never learned the hunting skills she needed, so she has a permanent home with AWCC. Two other brown bear cubs, Joe Boxer and Patron, were orphaned at a young age, when their mother was shot and killed. They too have a permanent home at the AWCC, where there is an 18 acre brown bear enclosure.
We saw many other animals as well, but one of the things that I found particularly interesting is their efforts to re-introduce the Wood Bison to Alaska wild. The Wood Bison disappeared in Alaska 100 years ago, but with the help of Canada, the AWCC is working on a recovery program.
When we tried to take pictures of the Wood Bison, the adults lined up against the fence, shielding their young from us. My sister in law moved to the side to take a picture of one of the babies, and a mama made a quick move to stop her. Very protective, even with a fence separating us!
Beluga Whales swimming near shore along the highway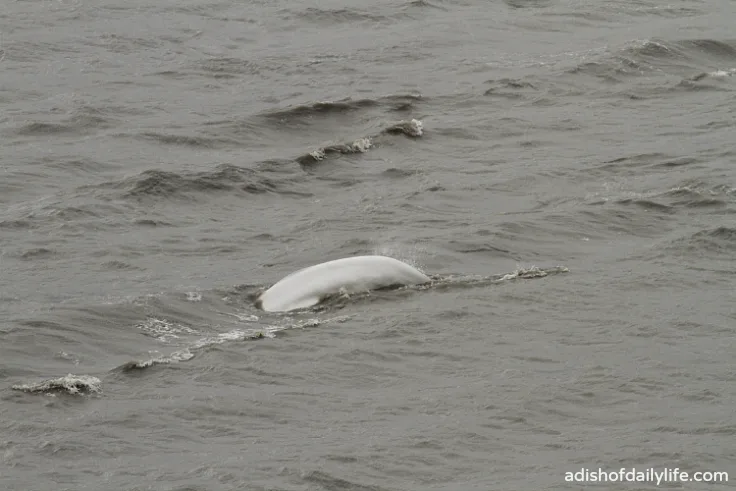 This bear was laying so still on the log I wasn't sure if he was real until he blinked!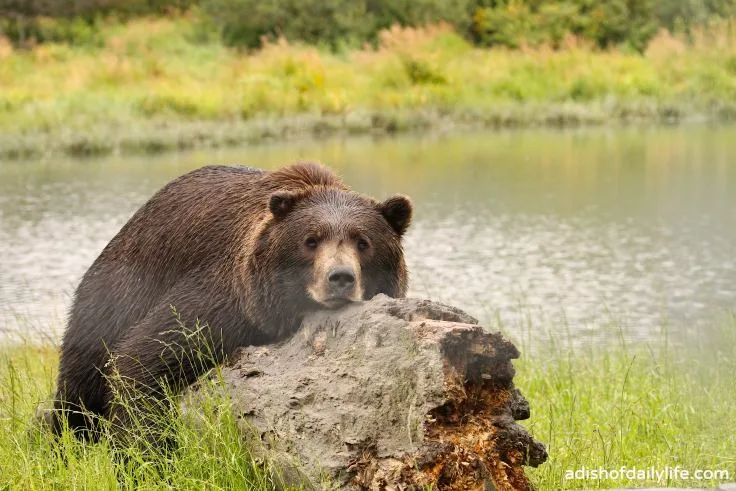 Wood Bison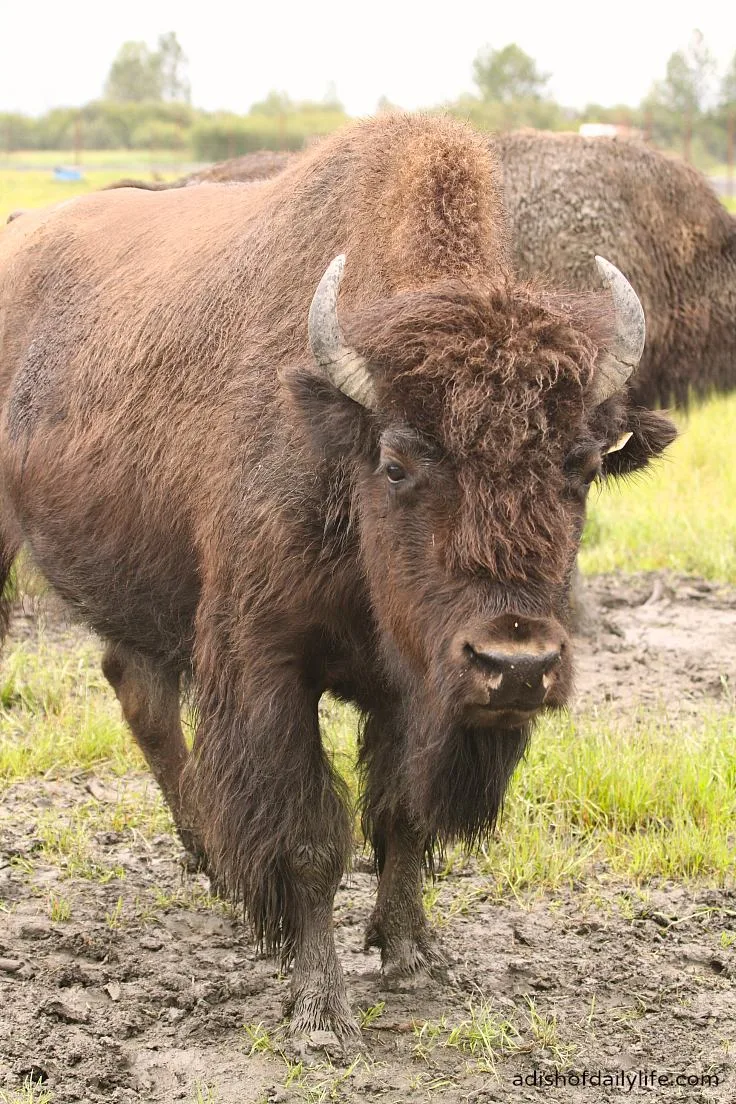 One of the cute babies we saw!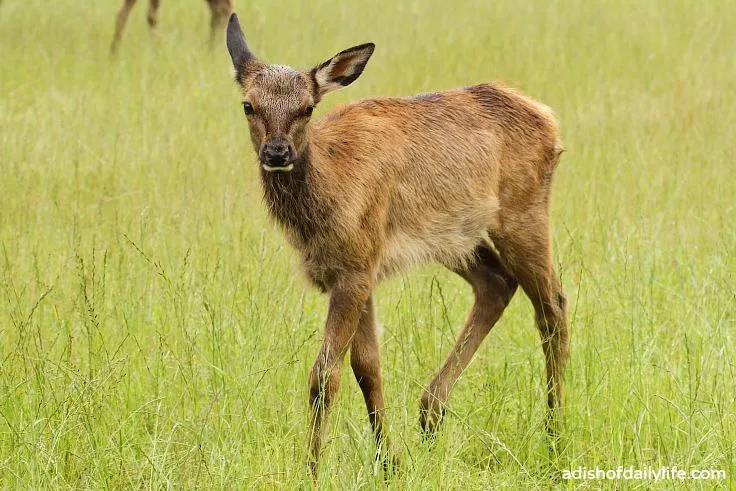 [Tweet "Planning a trip to #Anchorage? The @akwildlife is a must see!"]
The Alyeska Resort and Seven Glaciers Restaurant
After visiting the AWCC, we headed up to the Alyeska Resort. It was raining, so Kim and I had made plans to get massages at the spa at the Alyeska Hotel, while the guys went hiking. The hotel is a year round resort with spectacular views every way you turn. In the winter, it's a ski resort. I would love to take my kids skiing there! The average snowfall is 650 inches…incredible! Just to give you perspective, I looked up the average snowfall in Wilmington, Vermont, which is near Mt. Snow, where my family skies. The average snowfall there is 128.5 inches!
Afterwards our massages, we went to dinner at the Seven Glaciers Restaurant, which is on top of the mountain. You take a scenic tram up, and the view is magnificent. Unfortunately for us, it was very foggy, so we only got patches of the view here and there, on the way up and at the restaurant. But in the spots where the fog lifted, the view was absolutely amazing.
The food was pretty amazing too. I don't normally take pictures of my food in restaurants, but I had to here. I had the scallop bisque to start, and the Seasonal Alaskan Salmon with English pea puree…everything was so delicious! My husband's sisters who weren't there sent the four of us a bottle of champagne to celebrate David's promotion, Kim's birthday and Mike's and my anniversary. What a great surprise that was!
The scenic tram up to Seven Glaciers Restaurant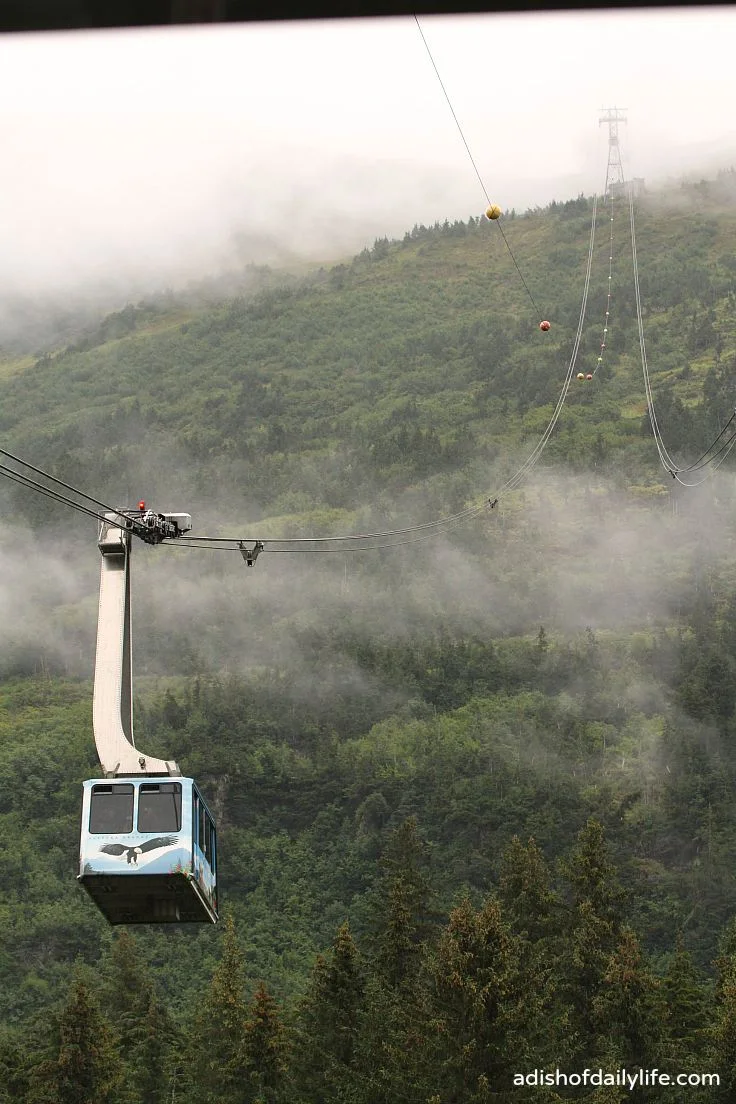 Cheers!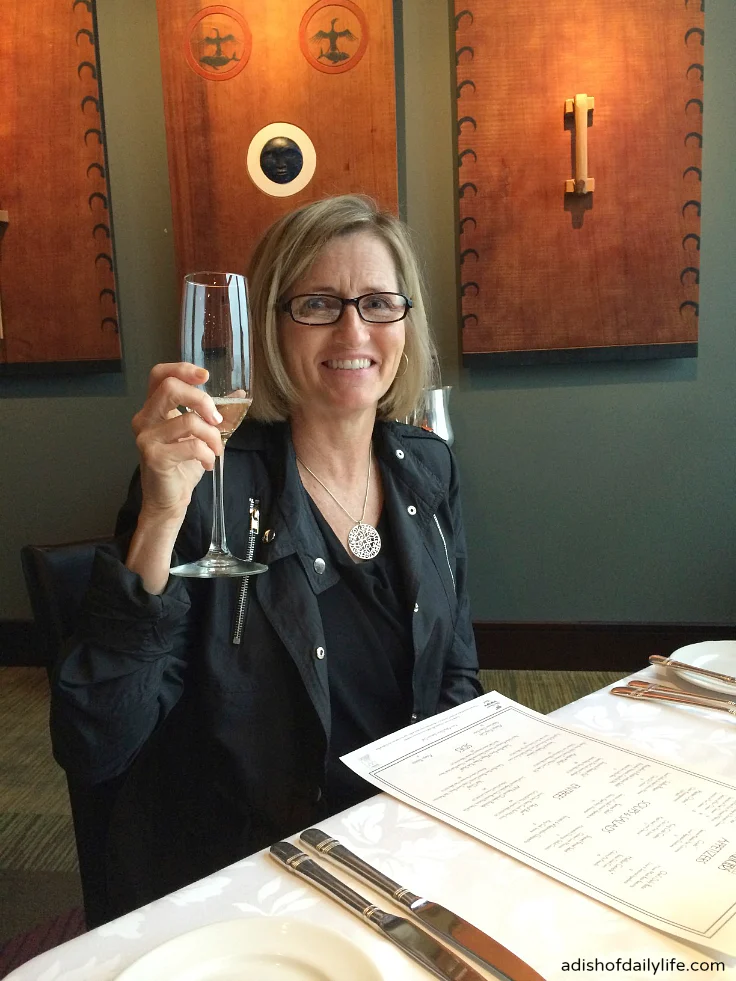 My delicious dinner

The tram ride back down in the dark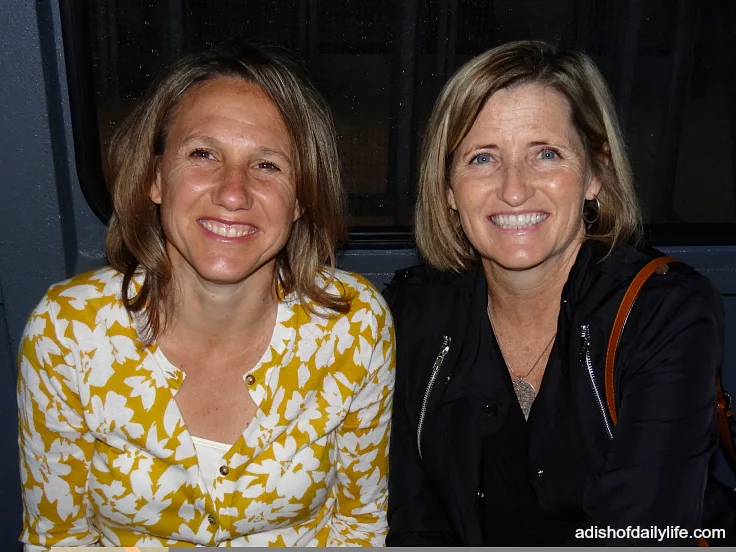 [Tweet "Spectacular views everywhere @ the @resortalyeska! #SevenGlaciers is a don't miss dinner experience!"]
Downtown Anchorage
There was lots to enjoy about downtown Anchorage too. We loved the restaurant The Red Chair Cafe, so much we went there twice in less than a week…I highly recommend the Fire Roasted Poblano Pepper breakfast and the Navajo Taco Salad! The Fat Ptarmigan pizza place was also wonderful…their Hot Coppa was one of the best pizzas I have ever had.
There were all sorts of cute stores, beautiful flowers and fun art…normally we're not the type to like to walk around town and shop, but we really enjoyed downtown Anchorage.
Totem Pole in Downtown Anchorage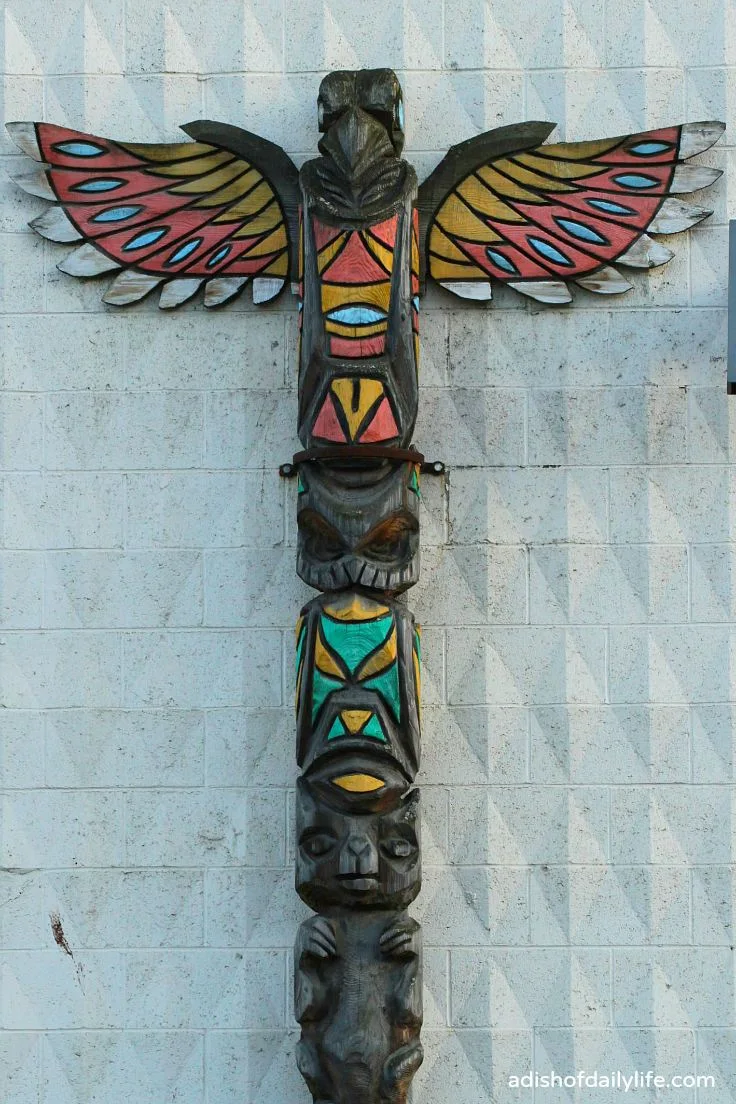 Moose art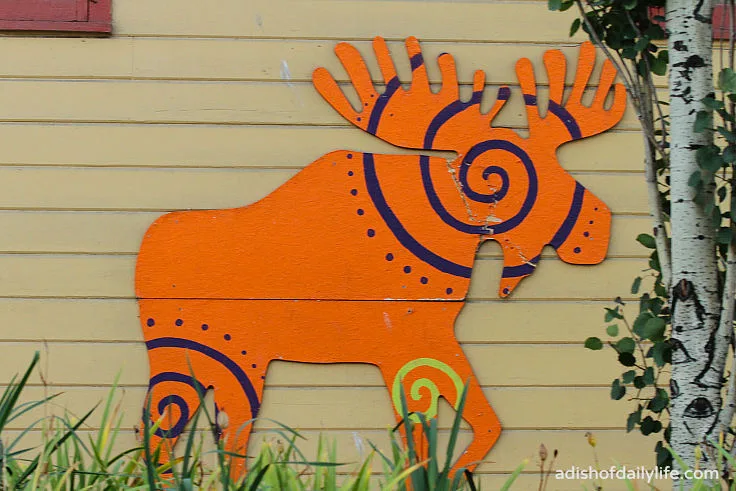 [Tweet "Alaska. A trip of a lifetime! Check out @dishofdailylife's "must-see" list! #Alaska #Travel"]
Our trip to Alaska was a trip of a lifetime. The views were stunning, the people were incredibly friendly, and there was so much to do and see. But there is only so many things you can do in a short trip…and Alaska is a huge state! I truly hope that we can go back someday for another visit. But I feel so lucky to have been…it was one of the most amazing places I have ever visited!