Get ready for a flavor explosion of deliciousness with this Avocado Mango Salsa recipe! This crowd pleaser is great as a party appetizer served with chips, or served as an accompaniment to seafood or chicken.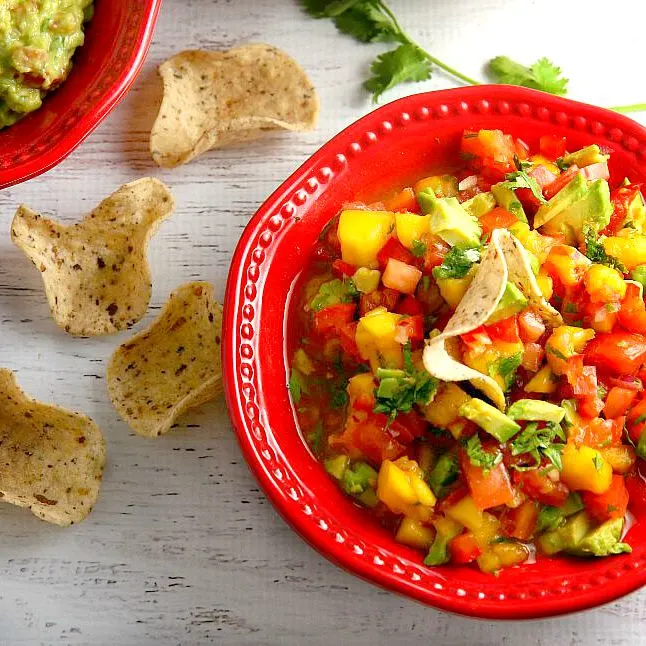 We're pretty much addicted to mangoes in our house these days.
It all started a month or so back when I was playing around and created this yummy Mango Chipotle Shrimp* recipe. It's become a big family favorite!
Since then, mangoes have become a staple in our house, officially added to our grocery list every week, like cilantro and avocados. The kids love snacking on them. We're making smoothies with them. And we're eating A LOT of mango salsa.
If you have never made avocado mango salsa before, you're in for a real treat.
This salsa is a flavor explosion of deliciousness. Be prepared for it to disappear quickly!
Avocado Mango Salsa
The great thing about this avocado mango salsa recipe is how versatile it is. It's great as an appetizer with chips and delicious with shrimp and chicken. (I will be sharing another recipe soon using the salsa that I think you are going to love as well!)
Plus it is SO easy to make. Basically it's just a lot of chopping.
And…if you need to know how to cut a mango, I think you'll find this tutorial helpful.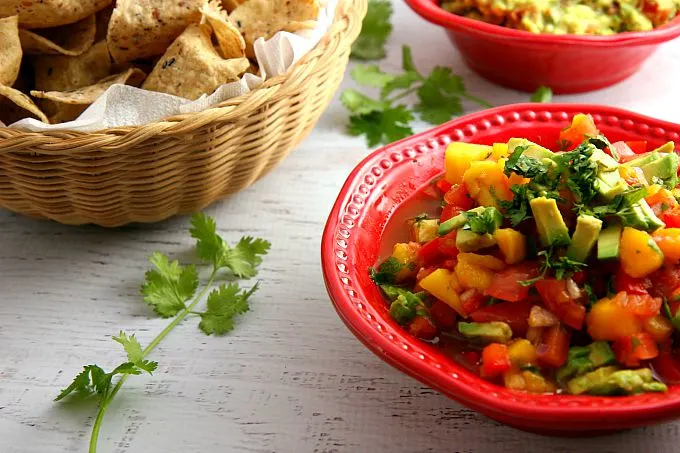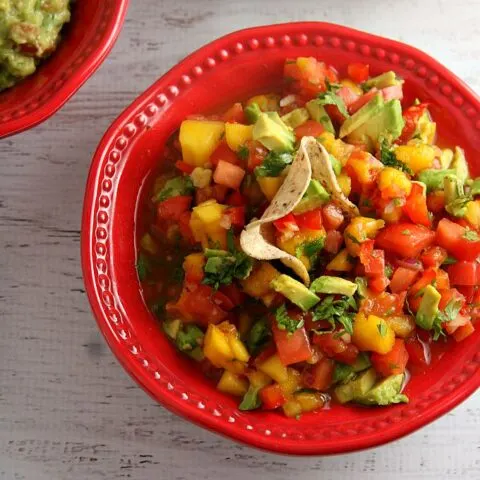 Avocado Mango Salsa
Ingredients
2 cups mango, chopped
1 cup tomatoes, chopped
1 cup red pepper, chopped
1 avocado, chopped
1/4 cup red onion, chopped
2 tablespoons lime juice
2 tablespoons cilantro, chopped
3 tablespoons chipotle peppers in adobo sauce, peppers chopped
3 teaspoons honey
Instructions
In separate bowl, mix chopped red onion and lime juice. Let it sit while you are making the rest of the salsa. The lime will take a little of the bite out of the onion.
Whisk together the chopped chipotle peppers and adobo sauce with the honey.
Mix mango, tomatoes, red pepper, chopped onion, and chipotle pepper sauce mixture to bowl. Mix well.
Add in chopped cilantro and mix again.
Add chopped avocado right before serving.
Notes
If you'd like to make this vegan, use another sweetener in place of the honey.
Enjoy!

*This Avocado Mango Salsa recipe differs slightly from the one I created for the Mango Chipotle shrimp.