You can't have a summer BBQ without Baked Beans from Scratch! This easy-to-make comfort food side dish is slow cooked in a tangy sweet and savory sauce…so much tastier than the canned version!
BAKED BEANS FROM SCRATCH
It's officially summer BBQ season! My favorite part of any cookout (with the exception of these kicked up Hearty Backyard Burgers and these Avocado Chicken Burgers) is the side dishes.
Baked Beans from scratch are one of my favorites. I don't love baked beans out of a can. I've taken the shortcut route and "doctored" them up before, and they're fine in a pinch, but you can't beat baked beans from scratch for taste. (In my humble opinion) The one thing they have going against them though is the time factor.
Making baked beans from scratch takes time. You have to soak the beans overnight, and then you've got a good four hours of cooking ahead of you before they're ready. They're a simple dish…you'll spend less than a half hour actively doing something for the recipe. But you do have to plan ahead because they need an hour on the stove and three in the oven.
WHAT KIND OF BEANS SHOULD YOU USE?
I usually use Great Northern beans when I make baked beans from scratch, but I have used navy beans as well. I tend to have Northern beans on hand more often for some reason. I've also heard of people using kidney beans, but I've never done that.
PREPPING YOUR BEANS
Make sure you rinse and pick through the dry beans before you get started, because occasionally you'll find a small pebble in there, which would NOT be fun to bite into! Once you've done that, you can put them in your Dutch oven or pot, cover them with a couple of inches of water, and soak them overnight. If you forget, you can always quick-soak your beans too.
Once you are ready to start cooking, drain the beans and then cover them with fresh water. Bring the beans and water to a boil, then cover them and let them simmer for an hour on low.
If you're using a Dutch oven, then you can make the whole dish in one pot because it can go into the oven as well (fewer dishes, less cleanup!). If you don't have one, go ahead and use a pot and then transfer the beans to a casserole dish for the baking part.
While we're on the subject of Dutch ovens, I just want to give a shout out to Le Creuset. I absolutely adore their cookware….their enameled cast iron is a dream to cook with. The cast iron distributes heat evenly, while the enamel finish makes clean up extremely easy. Looking at my pictures you might think that my Dutch oven looked like a mess on the sides, but I can assure you it took me no more than a few minutes to clean it. And my baked beans come out perfect in their cookware every time!

WHILE YOUR BEANS ARE COOKING
Cook a few slices of bacon partway and then drain them on paper towels while your beans are cooking. Leave behind a few tablespoons of bacon grease and sauté some chopped onion and jalapeño in it. Drain the onion and jalapeño mixture on paper towels as well.
Skip the bacon if you prefer to make a vegetarian version, and you can use a little olive oil or vegetable oil to sauté the onions and jalapeño.
After your beans have cooked for an hour, drain them, reserving the starchy bean liquid. Combine the drained beans, onion and jalapeño mixture, brown sugar, maple syrup, liquid smoke, dry mustard and one cup of the bean liquid. Stir your beans to combine (but do not over mix!), cover them and let them cook for two hours or so.
After two hours of cooking, you're going to add in the ketchup, cider vinegar and chopped bacon. Tomatoes and vinegar are more acidic, and adding them towards the end allows the complex tangy sweet and savory undertones to develop properly. You can also add more of the bean liquid if you feel you need it.
You're going to have to stir the beans again to mix in the ketchup and vinegar. Try to keep a light touch. The skins of the beans are very tender, and they tend to break up when you over mix. You're probably going to look at my photos and say to yourself "uh-oh, it looks like Michelle over mixed her beans!" And you would be right! I am definitely guilty of it from time to time. They'll still taste just as good, but they won't look as nice.
OTHER POPULAR SIDE DISHES TO ADD TO YOUR SUMMER BBQ MENU: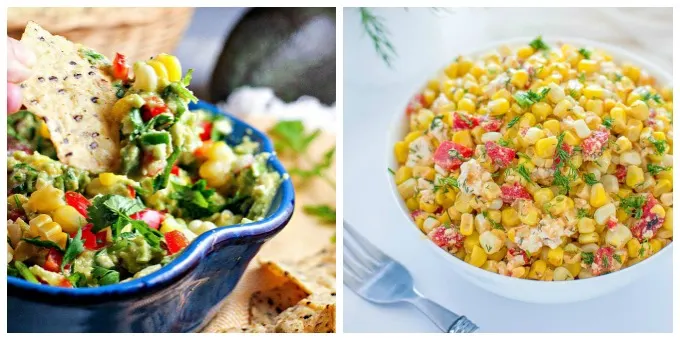 Fiesta Guacamole...this healthy appetizer has PARTY written all over it!
Colorful and easy Corn and Feta Salad is perfect for as an appetizer or even as a salsa with grilled chicken or fish.
Turn your favorite Mexican street corn into a salad! This delicious Chili Lime Mexican Corn Salad only takes 15 minutes to make!
This Creamy Deviled Egg Layered Pasta Salad is perfect for any potluck get together with its delicious combination of deviled eggs and pasta salad.
With all these great recipes, you'll be ready to host your next BBQ!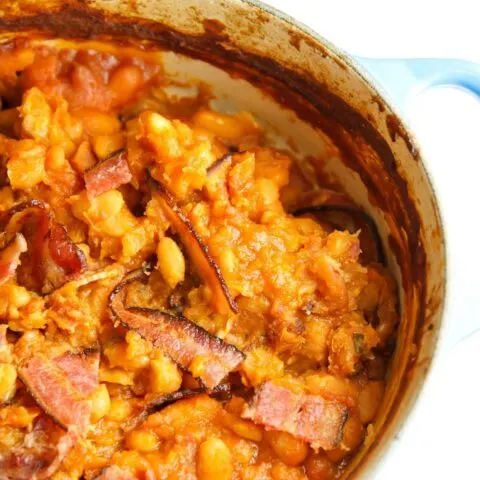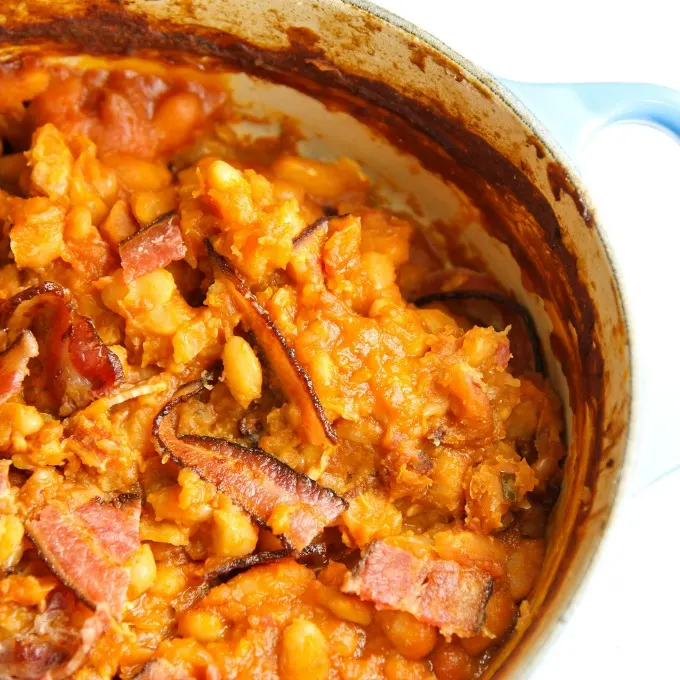 Homemade Baked Beans
Cook Time:
4 hours
10 minutes
Total Time:
12 hours
10 minutes
You can't have a summer BBQ without Baked Beans from scratch! This easy-to-make comfort food side dish is slow cooked in a tangy sweet and savory sauce...so much tastier than the canned version! Everyone loves this recipe!
Ingredients
1 lb dry great northern beans
4 slices thick cut bacon, cooked partway, then coarsely chopped
1 medium yellow onion, chopped
1 jalapeno pepper, seeded and chopped
1/2 cup brown sugar
2 teaspoon dry mustard
1/2 cup maple syrup
1 teaspoon liquid smoke
3/4 cup ketchup
1/4 cup cider vinegar
Instructions
Sort through and rinse beans and remove any rocks.
Cover with water and soak overnight.
Drain beans; cover with fresh water.
Bring to a boil; cover and simmer for about an hour.
While beans are cooking, fry your bacon partway; remove to drain on paper towels.
Leave a couple tablespoons of bacon grease in the pan, and saute your chopped onion and jalapeno until onion is translucent (a couple minutes). Allow the onion and jalapeno drain on paper towels as well.
After an hour of cooking the beans, drain, reserving cooking liquid.
Towards the end of the cooking process, preheat your oven to 300 degrees.
In a Dutch oven, combine onions, jalapeno, brown sugar, dry mustard, maple syrup, and liquid smoke plus one cup of reserved bean liquid with beans. Stir to combine; cover, and cook for 2 hours.
When there is about an hour of cooking left, add ketchup, cider vinegar, and coarsely chopped bacon to beans. If it appears that the beans need more liquid, go ahead and add more of the reserved bean liquid as needed.
Cook for another hour. Test beans to make sure they are done; cook a little longer if necessary.
This first appeared on Amanda's Cookin' as the recipe Homemade Baked Beans.