This easy Berrylicious Bar Cookies recipe is a delicious snack recipe, sure to be a new family favorite! They're also a great dessert to bring to potlucks, and with the red and blue berries, they're great for the 4th of July too!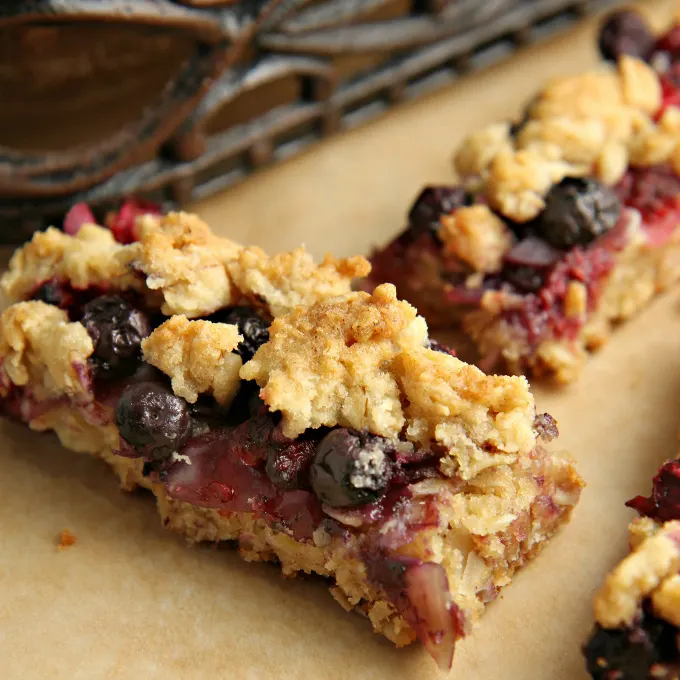 Berrylicious Bar Cookies
If I'm making cookies, I prefer to make bar cookies. I have a bad track record when it comes to baking. I'm one of those distracted cooks that tries to multi-task (and I usually forget to set the timer too), so I've overcooked a lot of cookies in my day…and even burnt a few to a crisp.
Bar cookies, on the other hand, have a little more margin for error. If you leave them in the oven a couple minutes too long, they won't be ruined. If I'm baking, my family is always happier to see I've gone the bar cookies route, because they know they'll get to eat them (versus, say, the outcome being up in the air).
I know I'm making it sound like I am the worst cookie baker ever. I'm really not. I've gotten better over the years at paying attention. But let's face it, if you're one of those people that does ten zillion other things while you're cooking (and it's in our nature, we just can't sit still), then you're going to have some kitchen mishaps along the way. And if the worst of it is burnt cookies…well then, that's not so bad.
Anyhow, that said, I also prefer to make bar cookies because they're easier and they take less time. You only need one baking dish, and you cook them all at once. If you follow my blog, you know I am usually pressed for time, and that I like easy recipes.
For these Berrylicious Bar Cookies, I used a mix of frozen blueberries, blackberries, raspberries and strawberries, but feel free to use any combination of berries you'd like. I also added nuts because I like the flavor and the crunch, but you can skip them if you don't like them or have allergies.
They're definitely kid approved, and they always disappear fast. When I make them (or any kind of bar cookies), I almost always freeze half the batch to save for later…otherwise they're likely to disappear that same day.
If you're looking for an easy 4th of July dessert, my Berrylicious Bar Cookies are perfect with all these delicious red and blue berries! And you could dress them up by cutting them in squares and topping them with a scoop of vanilla ice cream while they are still warm. Just thinking about that idea is making me hungry. I think we'll do that next time!
This is what your dish will look like going into the oven.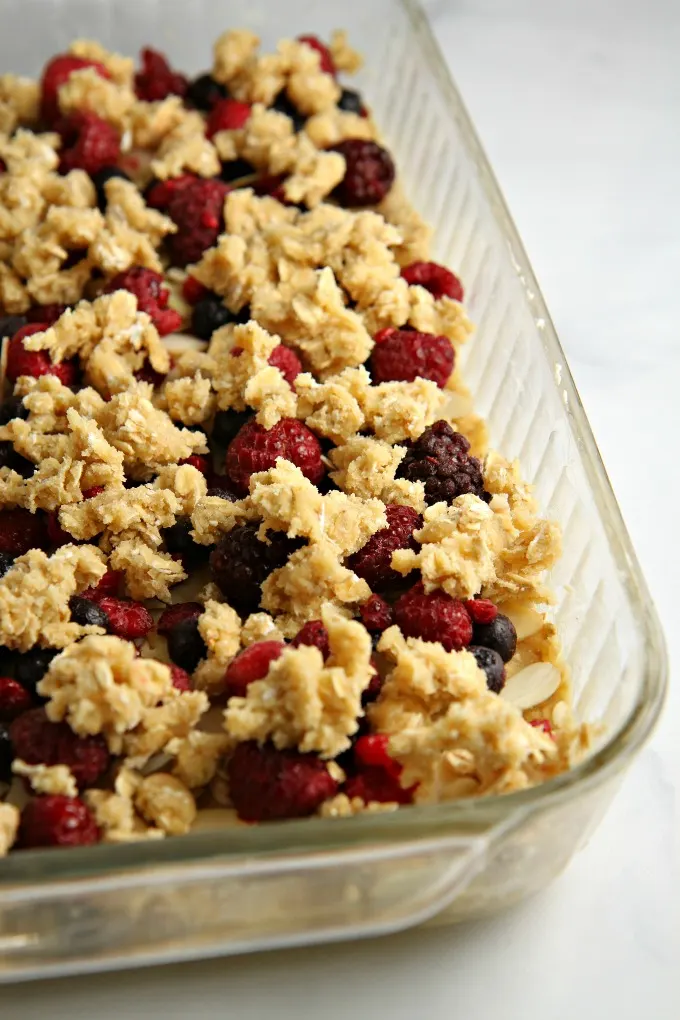 And here it is coming out! YUM!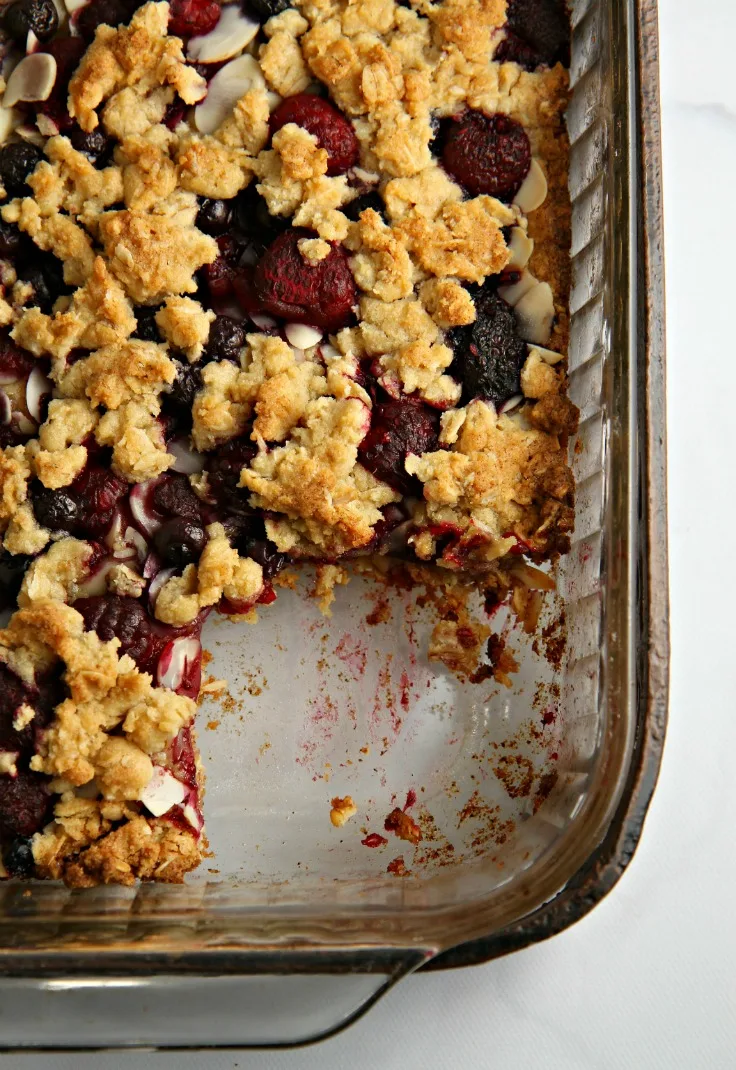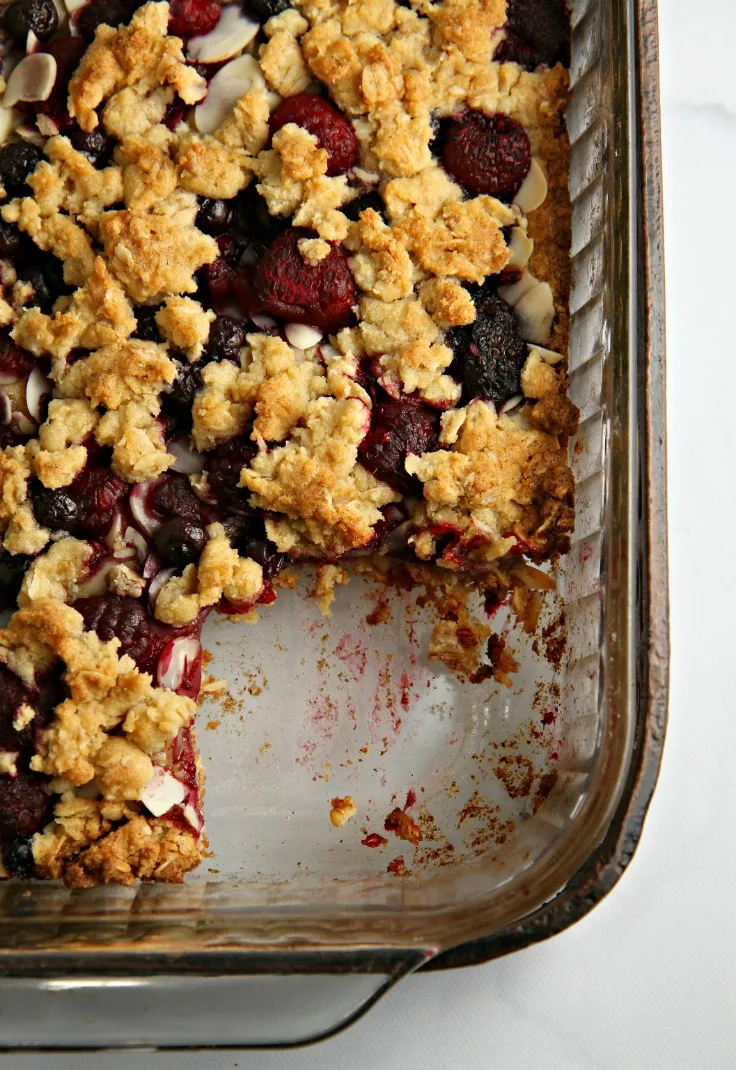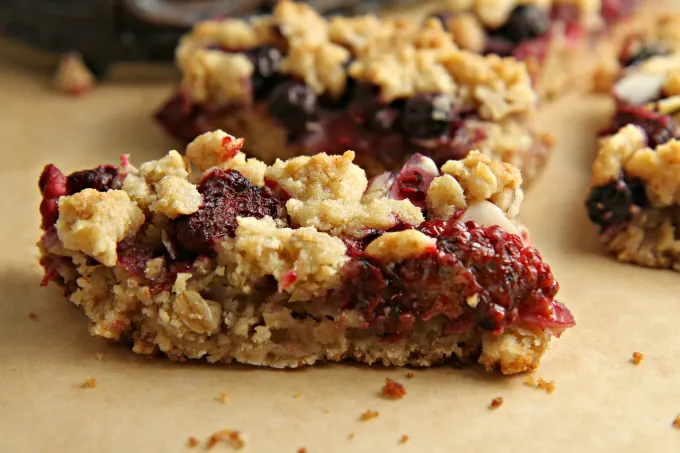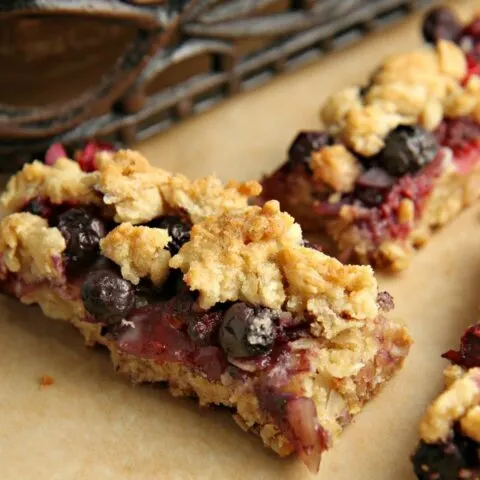 Berrylicious Bars
This easy to make Berrylicious Bar Cookies recipe is a delicious snack recipe, sure to be a new family favorite! Plus they're a great dessert to bring to potlucks, and with the red and blue berries, they are great for the 4th of July too!
Ingredients
2 sticks of butter, softened
2 cups of light brown sugar, packed
2 teaspoons baking powder
1 egg
1 teaspoon vanilla
2 cups all purpose flour
2 cups oats
1/4 cups sliced almonds
2 cups frozen mixed berries
Instructions
Preheat your oven to 350 degrees.
Grease a 13 x 9 inch baking dish with butter.
Using a stand mixer, beat the butter until smooth.
Add the brown sugar and baking powder and continue to beat.
Add egg and vanilla to mixture; beat until combined.
Slowly add the flour to mixture, continuing to beat while adding it.
Remove the bowl from the stand mixture and stir in the oats.
Reserve about a 1/2 cup of dough; press the rest of the dough into your baking dish.
Spread the mixed berries across the top of the dough, then sprinkle in the sliced almonds.
Crumble pieces from the reserved dough across the top of the berries.
Bake for 35 minutes or until you can insert a toothpick cleanly.
Allow to cool before cutting into bars.
This recipe first appeared on Amanda's Cookin' under the name
Berrylicious Cookie Bars
.
Other Bar Cookies recipes you may enjoy: