Mouthwatering good…this is the best brownies recipe ever! Rich chocolate paired with pecans, coconut and extra chocolate chips makes for an incredible flavor. You might want to hide a few…they're guaranteed to disappear quickly!
Best Brownies Recipe
Brownies are right up at the top of my favorite desserts list.
And these brownies…well, let's just say they are downright AMAZING. I think this is pretty much the best brownies recipe ever. They're that good.
You have to try them! They're rich and chocolately, and the coconut and pecans add a delicious dimension to the flavor. I'm ashamed to admit how quickly these disappeared in our house. I actually froze half the batch, but when I took them out of the freezer a couple weeks later, those disappeared quickly too.
But never mind that. It's the holiday season…indulge a little! If you make these, your friends and family will thank you. I promise.
I got this recipe from the Bonjour Y'all cookbook (reprinted here with permission). Bonjour Y'all is a popular slogan at the Croissants Bistro & Bakery in Myrtle Beach, South Carolina, where European cuisine is served with a Southern home cooking flair.
That may sound like an unlikely pairing, but think about your own cooking and how you may blend different cultures into your own cooking. My husband's grandmother emigrated from Lebanon to Mexico and then the US, and she often blended two cultures in her cooking. Many of her recipes have been passed down to our family, and they're family treasures.
But back to the cookbook…
A few months ago, I received a little sneak peek of this cookbook in the form of an online file. I knew right then and there it would become one of my favorites.
My family loves good food. My husband comes from a family of great cooks. My kids have grown up with my in laws right next door their whole lives, and when we eat over there, we get a restaurant quality meal. When I married my husband, I was not much of a cook. I could follow instructions in a cookbook, but that's about it. I've come a long ways in the twenty plus years we've been married! But with three teenagers and a busy schedule, I try to keep things relatively simple in terms of my recipes. I don't have time to spend hours in the kitchen, and I'm betting most of my readers don't either.
What I really love about the Bonjour Y'all cookbook is that the recipes are so easy to follow. Any home cook could make these, regardless of skill level. I'm thinking the Bananas Foster French Toast will be going on the menu this holiday season, and I really want to try the Gruyere Puffs as well. Actually, I want to try all of the recipes. The Bonjour Y'all cookbook would make a great gift for your foodie friends. And no, there is no benefit to me telling you this. I just really like this cookbook that much.
Look at how moist and chocolately they are! Don't you just wish one could jump off the computer screen and land in a plate on your table?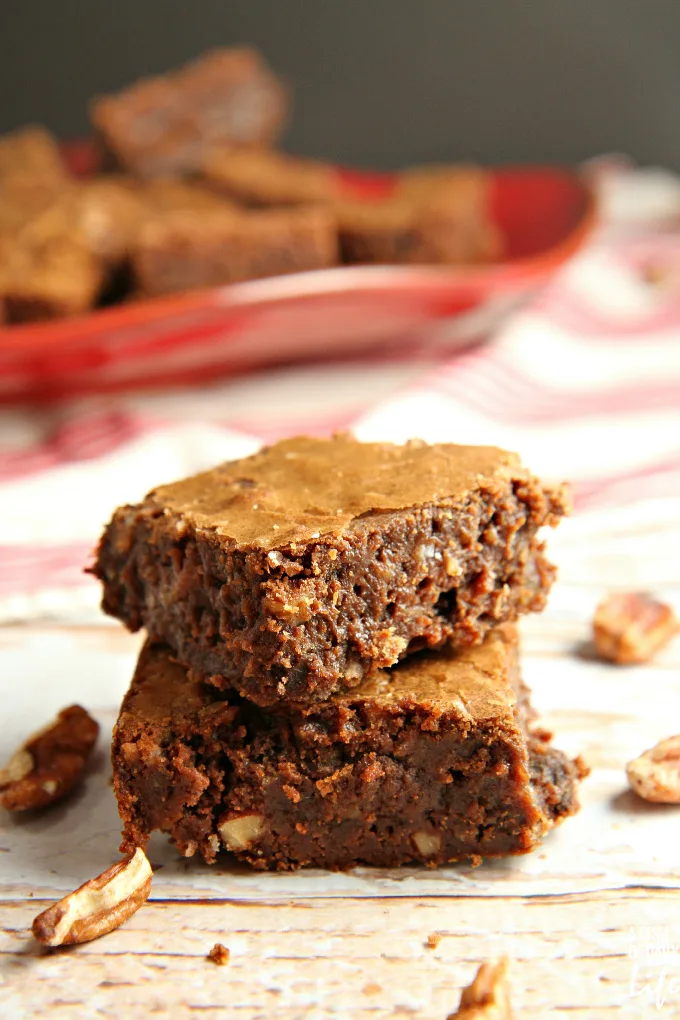 Ready for best brownies recipe ever? In my humble opinion, of course…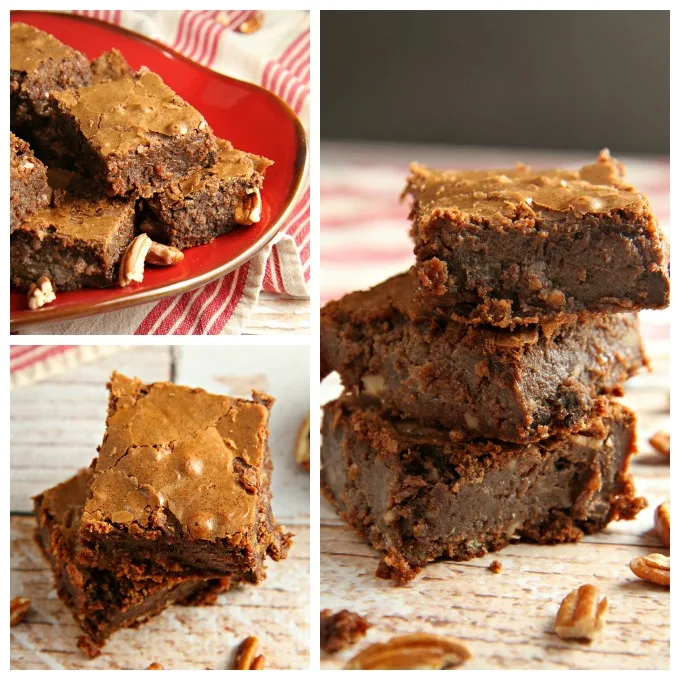 Croissants' Signature Brownies
Mouthwatering good...this is the only brownie recipe you will ever need! Rich chocolate paired with pecans, coconut and extra chocolate chips makes for incredible flavor. You might want to hide a few...they're guaranteed to disappear quickly!
Ingredients
2 cups semi sweet chocolate chips, divided
6 ounces butter
1 1/2 cups sugar
1/2 cup brown sugar
4 eggs, lightly beaten
1/2 cup all-purpose flour
1/2 cup chopped pecans
1/2 cup shredded coconut
Instructions
Preheat oven to 325 degrees F.
Prepare a 9 x 9 inch baking pan by coating with nonstick spray.
Melt 1 1/2 cups of chocolate chips and butter together in microwave in 30 second intervals, being careful not to burn. It took me two 30 second intervals. Mix by hand with whisk. Mix in sugar and brown sugar using a rubber spatula. Add eggs and mix. Add flour and mix.
Fold in pecans, coconut and remaining chocolate chips.
Spread in pan and bake for 35-40 minutes.
Cool and cut into 16 squares.