My husband and I have been secretly hoping that one of our children would be bitten by the cross country bug. We actually met while we were both running cross country and track for the University of Colorado. My husband has continued to compete throughout the years, while I run for enjoyment only now.
All three of our children grew up playing soccer. If you're a regular on my blog, you know we pretty much live and breathe soccer here. But they all ran cross country in middle school too. Our youngest (E) just finished his season; our two oldest are in high school now. All did quite well on the trails. E wanted me to share that last year his sister placed second at the Middle School State Cross Country Championships. (I think he's proud of her. Isn't it nice when your kids are happy about each other's accomplishments? I just love that!) For both of our older children though, the allure of the soccer ball was too strong, and that's what they are playing in high school.
E really had a great time running this season. While he does play soccer in the fall and the spring, he also loves snowboarding and BMX racing. He likes a little more variety in his sports. If you ask him what his favorite sport is, he'll ask you, "which season?" It has been a lot of fun for us to watch E and his teammates race this fall. He's been running neck and neck all season with one of his teammates…the two of them tend to work together in the races. They support rather than compete with one another, which is nice to see.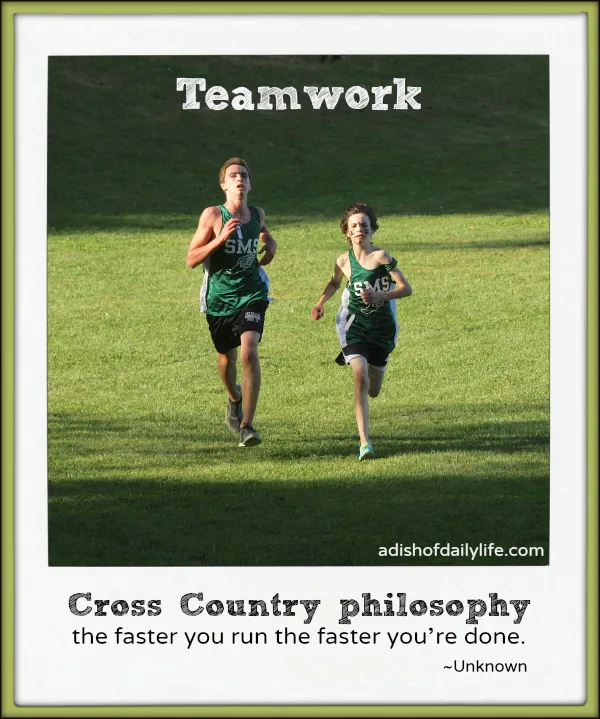 Saturday was the Middle School State Championships. With over 400 runners in the race, E came in 32nd. He listened to his dad's advice and started picking off runners half way through the race. He was determined and focused. We were so proud of him!
We're excited that he thinks he wants to run cross country in high school. Of course it's still another year and a half away, so it's possible he'll change his mind. But I hope he doesn't. Whatever he decides though, we'll be supportive. My husband and I really do both love soccer now, because our kids got us hooked. I think it's important for kids to find something that they really love, whether it's a sport or another activity. But running has been such a big part of our lives, that in the back of our minds, we've always hoped that one of our children would fall in love with the sport too. And I think one finally might have!
Have you ever tried running on the trails? Do you prefer running on the trails or the roads?