Nothing says comfort food like soup in the winter. I make it several times a week. One of my go-to recipes is my Creamy Citrus Black Bean Soup with Hood Sour Cream. Not only is it a tried and true family favorite, but it's also a quick and easy meal!
This soup would not be complete without sour cream…specifically Hood Sour Cream. It's a staple in our house…it's rich and creamy, and has no artificial ingredients or preservatives, which is important to our family. Besides soups, we use it in enchiladas, and as a topping for burritos, tacos, and quesadillas…yes, my family loves Mexican food! And of course we can't forget about dips and dressings. Needless to say we go through a lot of sour cream, and we always have a container (or two) in the fridge.
One of the things I love about this recipe is that it is so quick and easy. I have three teenagers, and all are heavily involved in sports. Our weeknights are jam packed with practices. I need to be able to pull together dinner quickly most nights. Since I always have pretty much everything in this recipe on hand at all times, all I really have to do is chop…it's a one pot meal! Most of the time needed for the recipe is just simmering on the stove. And if I need to save even more time around dinner time, I just chop everything earlier in the day and have it ready to go.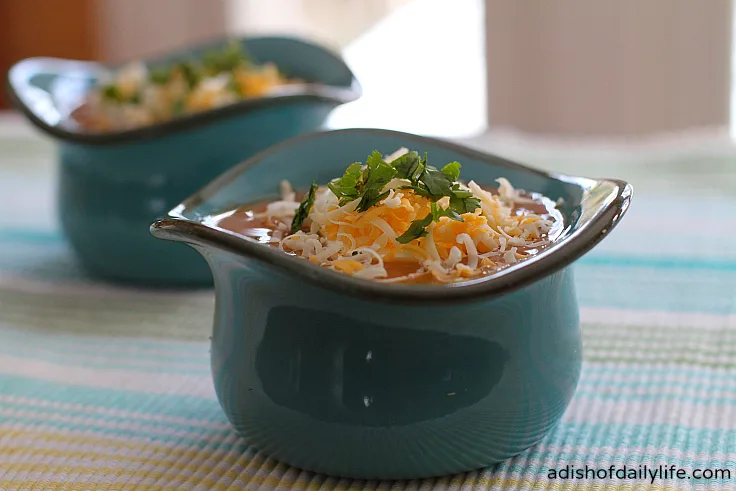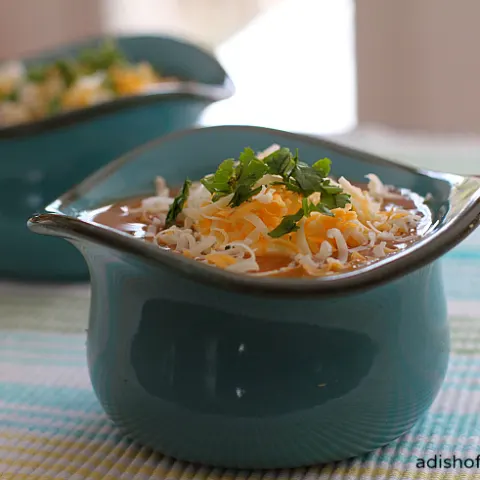 Creamy Citrus Black Bean Soup
Ingredients
1 cup carrots, chopped
1 medium onion, chopped
2 cups peppers, chopped (I used a mix of green, red and yellow peppers)
2 tablespoons olive oil for sautéing
1½ teaspoons cumin seed
1 teaspoon chili powder (I used chipotle chili powder)
1 10 oz can Ro*Tel Tomatoes
4 cans 15.5 oz black beans, drained and rinsed
8 cups broth (vegetable or chicken)
½ lemon, juiced
½ lime, juiced
½ orange, juiced
1 cup Hood Sour Cream + more for topping
Salt and black pepper, to taste
Toppings: Hood Sour cream, extra lime quarters, cilantro, grated cheddar cheese
Instructions
Sauté carrots, onion, and peppers in olive oil until softened.
Add cumin seed and chili powder, and sauté for another minute or so until fragrant.
Add black beans, Rotel tomatoes, and chicken broth. Bring to a boil.
Cover and simmer on low for approximately 30 minutes.
Remove from heat.
Add lemon, lime, and orange juice, Hood sour cream, and puree.
Season with salt, pepper, and more chili powder to taste, if needed.
Add an extra lime quarter to individual soup bowls if you'd like, and top with Hood Sour Cream, grated cheddar cheese and chopped cilantro.
Notes
*This recipe can easily be adapted to be vegetarian.