You can have this delicious Pasta with Salmon and Leeks on the table in less than 30 minutes! It's perfect for families on the go, and budget friendly as well!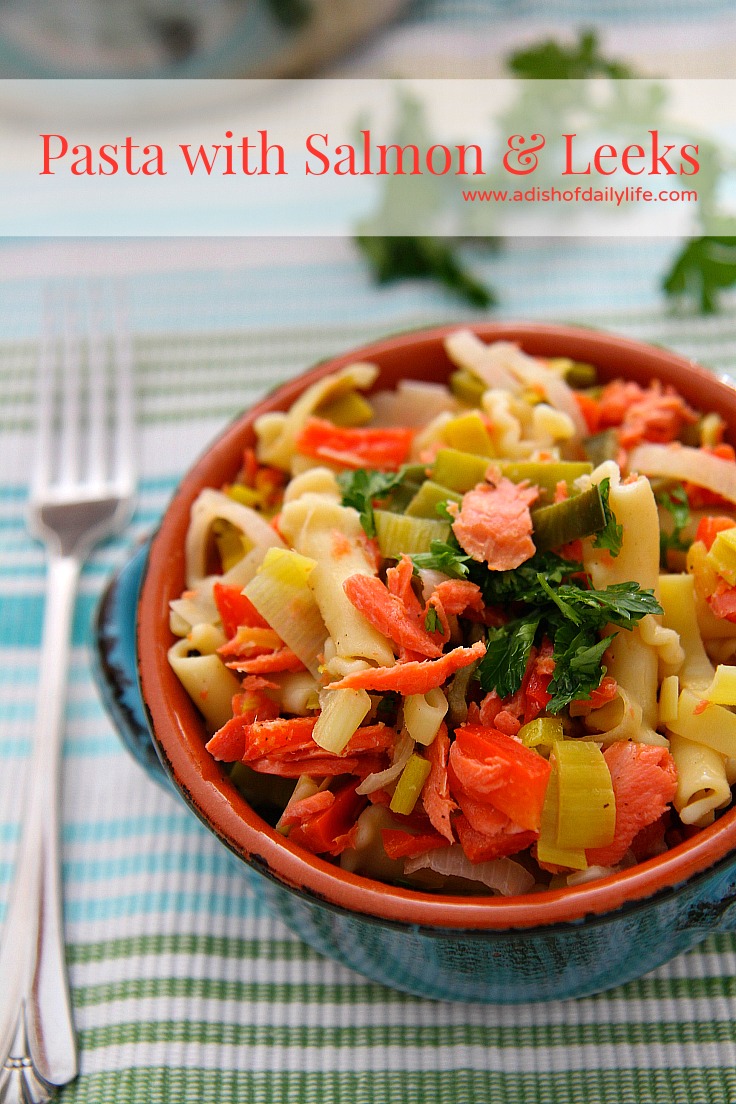 This quick and easy smoked salmon pasta dish is a go-to meal for our family. With our kids' busy sports schedules, I need dinners that I can either make ahead or put together quickly. This delicious Pasta with Salmon and Leeks is one of my favorites, as I can put it together in twenty to twenty five minutes, which I love.
My late father in law was the inspiration for this recipe. He was an amazing cook, and I've been privileged over the years to learn a great deal about cooking from him. I don't have his actual recipe, but he used to make a smoked salmon pasta dish very similar to this, and it was always one that I really liked.
It's a very simple recipe…your main ingredients are smoked salmon, leeks, a red pepper, and of course pasta. I always use Barilla pasta, and for this particular recipe, I use Farfalle or Campanelle. If you like a different pasta shape, you could definitely use it.
I know I mentioned budget friendly as well. Your main ingredients in this recipe are:
Smoked salmon: $7.00 for a 4 oz package
Leeks: $1.99 / bunch
Red pepper: $2.29
Parsley: $0.99 / bunch and we only need about 1/2 for this recipe, so we'll say $0.50
Pasta: $1 a box (I buy in bulk when it goes on sale)
It adds up to be $12.78 for a family of 5. Now obviously there is a cost associated with the other ingredients in the recipe, but I didn't figure them in here because they are things I normally have in the house…leftover wine, olive oil, butter, a sprinkling of parmesan, salt and pepper to taste. So let's guesstimate $16 for the whole meal, give or take. Divide that by 5, and it's $3.20 per person. A pound of pasta will typically feed 4 adults, but our family is 2 adults and 3 kids. There is always enough for all of us, and sometimes leftovers too.
There really aren't cut and dried measurements when it comes to the leeks and pepper. I use whatever comes in the leek bunch at the grocery store…this time around it was three leeks. I use most of the green part of the leek as well as the white. Leeks are a very dirty vegetable though, so make sure you clean them well or you could be eating sand! I only use one pepper and chop it as small as I can because my boys don't like peppers, but you could definitely use a second pepper. I'd probably use a yellow pepper if I used a second one, for color. I love the colors in this pasta.
The whole smoked salmon pasta dish takes about 20 minutes start to finish…25 minutes tops. That's what I call a quick and easy meal!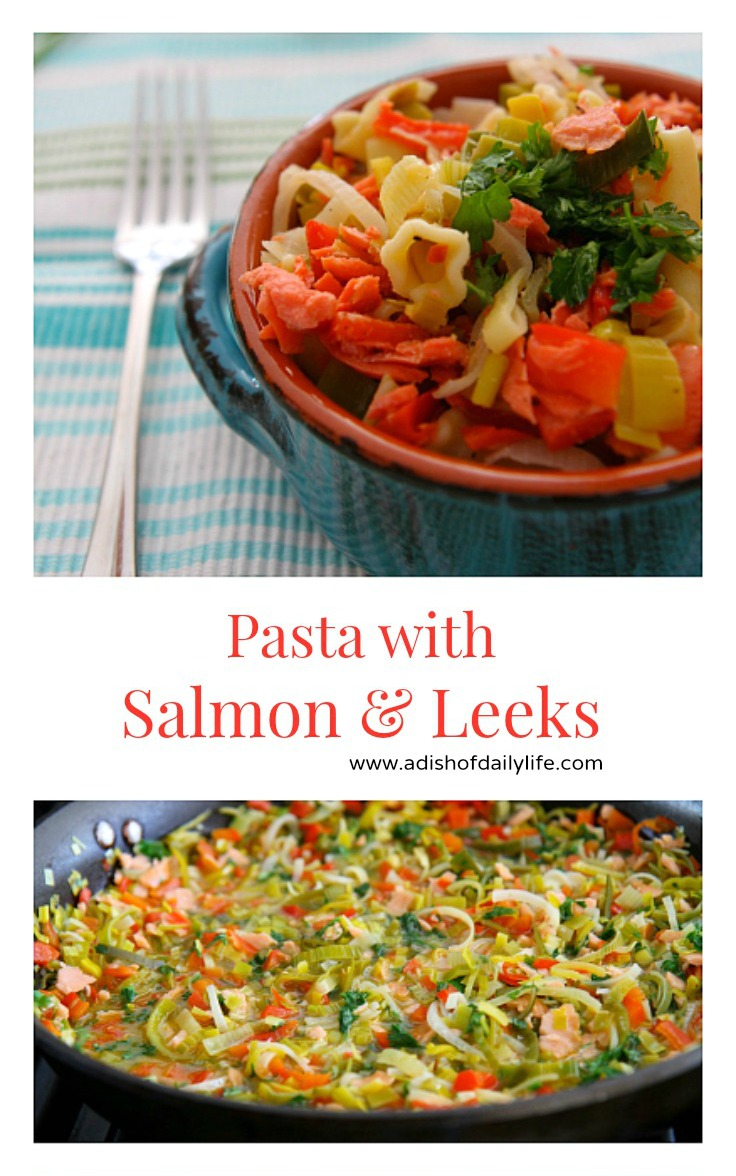 And now for the recipe!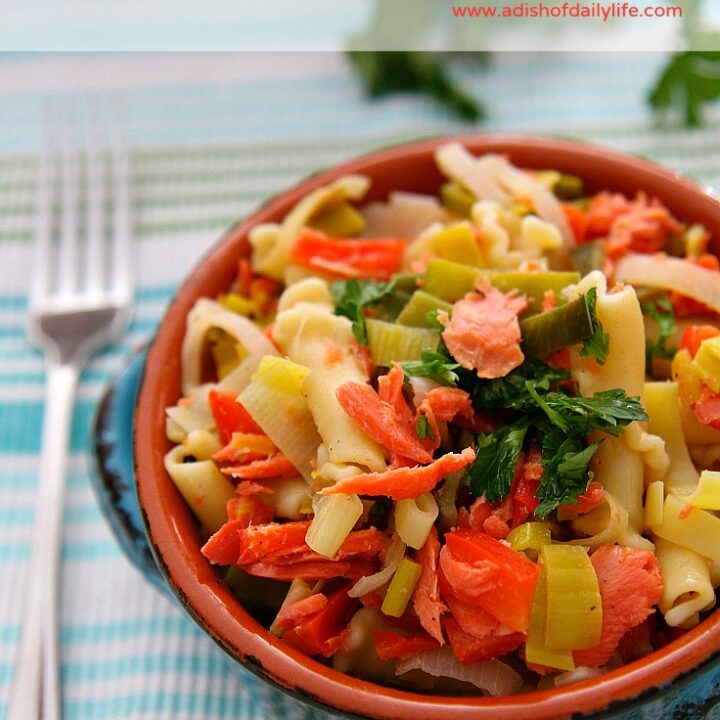 Pasta with Salmon and Leeks: Quick and Easy Meal
Quick and easy dinner recipe for busy weeknights!
Ingredients
3 tablespoons butter
2 tablespoons olive oil
1 red pepper, chopped
3 leeks, chopped
1/2 of a bunch of parsley, minced (save a little for garnish)
2 cups white wine (I used savignon blanc because that is what I had, but it doesn't matter what you use)
4 oz package of smoked salmon, chopped into bits
1 lb Barilla Farfalle pasta
Salt and black pepper to taste
Garnish with parmesan cheese and parsley, if desired.
Instructions
Start water boiling for pasta, and cook pasta as directed, while cooking the pepper, leek and salmon mixture.
Add 2 tablespoons butter and 2 tablespoons olive oil to saucepan; heat on low until butter is melted. (Save 1 tablespoon of butter until later).
Add chopped pepper and leek, cook until softened (about 3-4 minutes), stirring frequently.
Add white wine. Bring to a boil, and then simmer until wine is about halved, about 5-6 minutes.
Add salmon while wine is simmering.
Season with salt and pepper, and add last tablespoon of butter. Mix well until butter has melted.
Mix parsley into salmon, leek and red pepper mixture (minus whatever you plan to use for garnish).
Add pasta to sauce slowly, and mix well.
What's your go-to dinner when you're in a hurry?