Disclosure: This post is sponsored by CVS Pharmacy stores, but all opinions regarding their Healthy Food Choices and Snack Hacks are my own. Thank you for supporting the companies that make A Dish of Daily Life possible!
Feeding my family healthy meals is important to me. I try to do my best. But if I'm being completely honest with myself, I don't succeed all the time.
What is my most common excuse? Time.
We're always on the go here. It's track season, and not only do we have two kids running, but my husband is also one of the assistant coaches at the high school.
Nourishing food is important for athletes — but it shouldn't mean sacrificing taste.
When we make our kids' lunches, we focus on healthy foods. But as we all know, unless kids like what they're eating, they won't eat it…especially when they're not under the watchful eye of Mom and Dad.
You and your kids are going to love these healthy food snacks for lunchtime that I'm sharing with you today!
CVS Pharmacy stores have an exclusive Gold Emblem abound™ line of healthy snacks, all free from artificial preservatives, flavors and colors, which is exactly what I'm looking for when I'm putting together a healthy lunch for my kids. Additionally, this spring you can expect to see more than 250 fresh, refrigerated and non-perishable healthy foods and beverages at CVS, including brands like Amy's Kitchen, Annie's Homegrown, Chobani, Vita CoCo, Bai, Krave Jerky, Rhythm Superfoods, and That's It bars. You'll find a number of options that meet any dietary needs you might have, such as paleo, vegan, and gluten free.
There are so many delicious options!
This new assortment of better-for-you foods will also be in more prominent display sections, including a section near the front checkout space, which every Mom will appreciate! It makes healthy snacking more convenient, especially when you're on the go. I love that if the kids are with me they can grab a KIND bar at checkout, rather than looking for a candy bar.
HEALTHY FOOD CHOICES FOR LUNCHTIME
These healthy food snack choices also means building a healthy lunch box for my kids just got easier.
My daughter likes to bring a salad with her lunch. She usually alternates between a regular salad, my Kale Salad with Apples, Bacon, and Lemon-Shallot Dressing or my Lemony Kale Quinoa Salad.
She also likes to bring some combination of healthy snacks to go along with her salad, which is where CVS healthy food choices comes in. Some of her favorites are: wheat crackers and sliced cheese, cut up carrots and peppers with hummus, apple slices and peanut butter, and dried fruit and nuts.
Here's a few of the healthy food choices from the CVS Healthy Foods brands and the Gold Emblem abound™ line that we love!
The Probiotic Fruit & Nut Trail Mix, Organic Mixed Berry Blend, and Cranberry Orange Almond Crunch make for delicious snacking.
Pair the Kale & Spinach Tortilla Chips with salsa or hummus, or the 8-Grain Wheat Crackers with tuna salad or cheese slices.
Sometimes I send along a baked treat in the lunch box as well, like a slice of this Cranberry Orange Almond Crunch Bread. I'll share the recipe with you here today.
Enjoy!
Cranberry Orange Almond Crunch Bread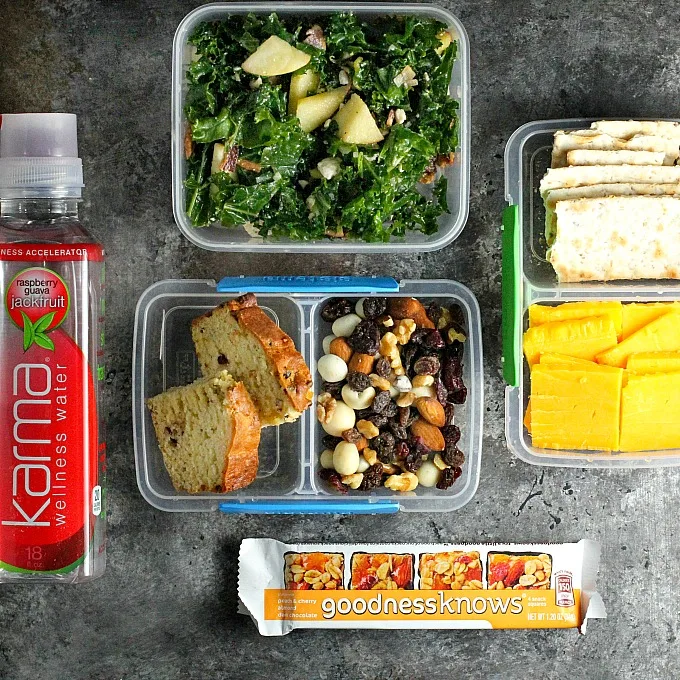 Ingredients
3/4 cup of sugar
6 tablespoons butter
2 eggs
1/4 cup milk
1 1/2 cups flour
1 1/2 teaspoons baking powder
1/4 teaspoon salt
1/2 cup Cranberry Orange Almond Crunch
Instructions
Preheat oven to 350 degrees.
Beat butter and sugar together.
Add the eggs, one at a time, while continuing to beat.
Add milk.
Mix your flour, baking powder, and salt together in a separate bowl.
Add your flour mixture to the butter and sugar, and mix until your flour is moistened.
Fold in the Cranberry Orange Almond Crunch and mix to combine.
Grease your loaf pan.
Bake at 350 degrees for 40 minutes, or until a toothpick can be inserted cleanly.
Let bread sit for 10 minutes before removing from pan.
Nutrition Information:
Amount Per Serving:
Calories:

371
Total Fat:

19g
Carbohydrates:

42g
Protein:

9g
Have you checked out the CVS Pharmacy Stores healthy brands? What are you waiting for?!