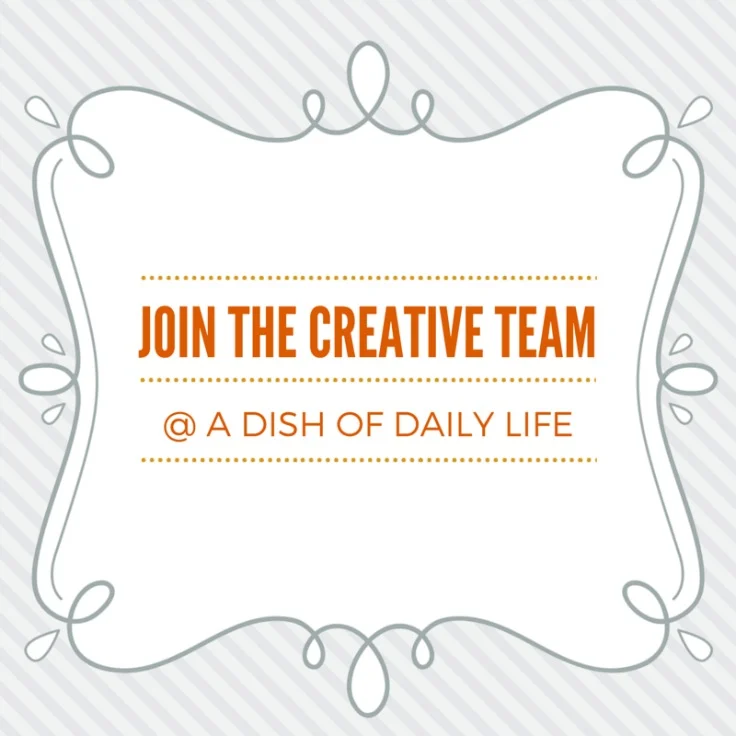 I am excited to announce a call for contributors for my new creative team. I'm looking to bring a new dimension to A Dish of Daily Life and promote my creative team members in the process! My audience is mainly busy moms who are looking for fast and relatively healthy recipes (although there is definitely room for a treat now and then) as well as solutions for everyday issues.
I'm looking for people who:
have creative ideas
like to collaborate
enjoy making new friends
take good photos
can work with deadlines
Topics I'm considering:
recipes (think healthy recipes, budget meals, fast and easy meals, baking, desserts)
DIY
organizing tips
cleaning and other household tips
party ideas
blogging and social media tips
If you have another idea, pitch it to me! I'm not so much looking for the category as I am looking for the right people!
What you are committing to:
One original blog post each month, which is not published anywhere else, to be uploaded at the beginning of the month so it can be scheduled.*
Sharing your post via your social media outlets (I will do the same)
Be an active part of our creative team
Make a 9 month commitment…(through the end of 2015)
*The exception to this will be April, as this will be our first month.
What's in it for you:
New traffic…you'll be showcasing your work to my audience, and I'll be promoting you to my social media channels as well!
SEO…you get quality links on my blog. In addition to your blog, bio and social media links that will appear at the bottom of each post, we will also add 2 links to relevant content back to YOUR blog within the post via my Contextly plugin. (ie: if you shared a dessert, we would link back to 2 other desserts on your blog)*
For each post you contribute, you can give me 3 links to posts from your blog that you would like me to promote for you (I will share on my social media channels, and pin to relevant large group boards that I have access to)
You'll have access to a fabulous exclusive Facebook group used to help grow all of our blogs.
*If you are pitching something different than you write about on your own blog, then we will figure out an alternative way to promote you.
How to apply:
Fill out the form!
New contributors will be notified by 3/20/15, and I will send an agreement with the details here and other specifics (like the size photos needed, etc). The new creative team will be announced on my blog during the first week of April. Depending on the number of applications, I may not be able to reply to everyone! Thank you for taking the time to apply!