Middle Eastern Recipes: Lentils with Rice and Mediterranean style Vegetarian Green Beans are a delicious and healthy meatless meal (budget friendly too!)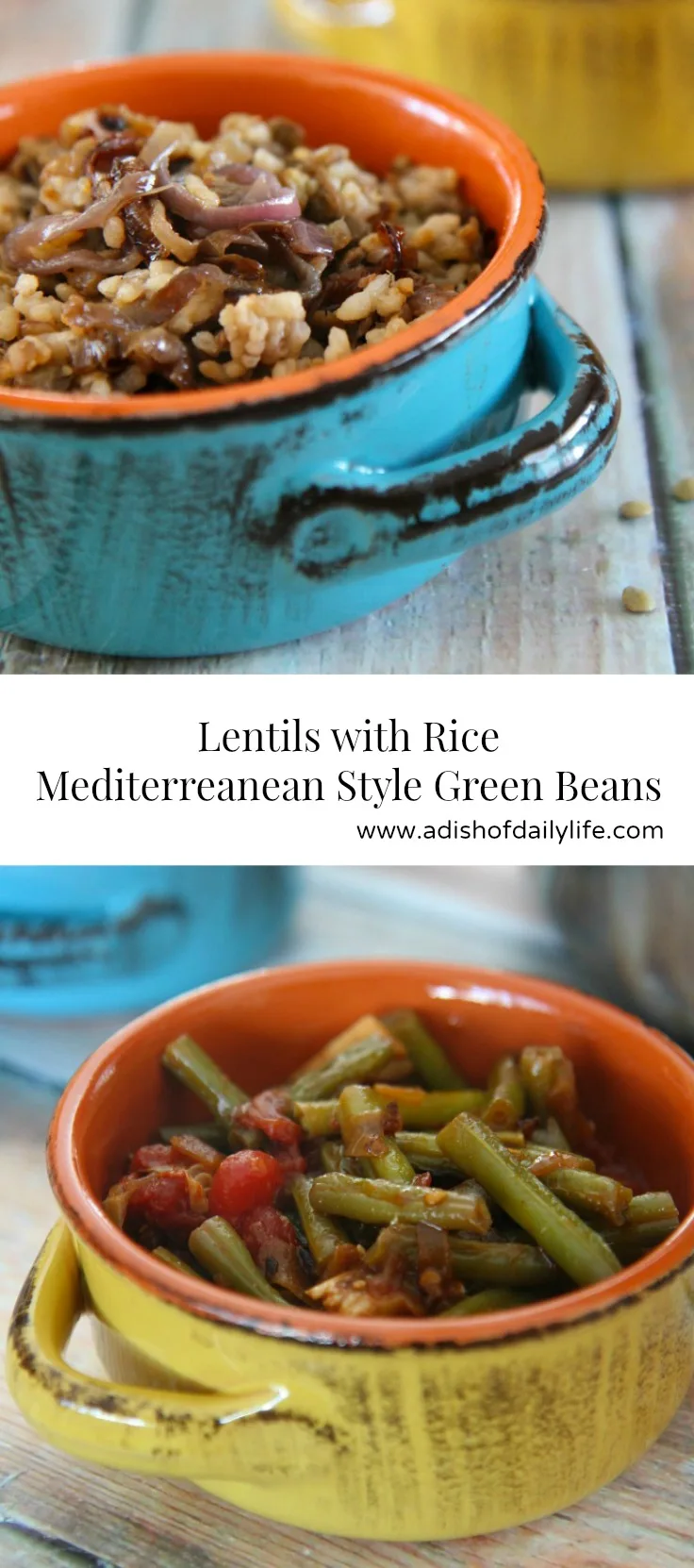 For those of you who are new to my blog, my husband is half Lebanese. His grandmother emigrated to the United States from Lebanon through Mexico. She was an amazing cook and her children (my husband's late father and his aunts) are also quite talented in the kitchen. I consider myself fortunate to have been to introduced to Arabic food by them.
Hadia's cookbook not only has the traditional Lebanese recipes that you expect to find in Arabic restaurants, but also a variety of recipes inspired by her travels around the world. She even includes helpful information on spices commonly used in Middle Eastern recipes, as well as how to properly set a dinner table. For someone who doesn't entertain often (and usually by the pool when she does), it's a nice reference to have on hand.
There are quite a few recipes in Hadia's cookbook that I intend to try. I wanted to try the two I chose because they are both similar to Middle Eastern recipes that I make, and I enjoy trying new variations. I am so glad I did, because I found things about both versions that I loved. These are fantastic recipes! If you haven't tried Arabic food, Hadia's Middle Eastern recipes are an easy and delicious place to start. If you're already a fan, then you're going to LOVE this cookbook!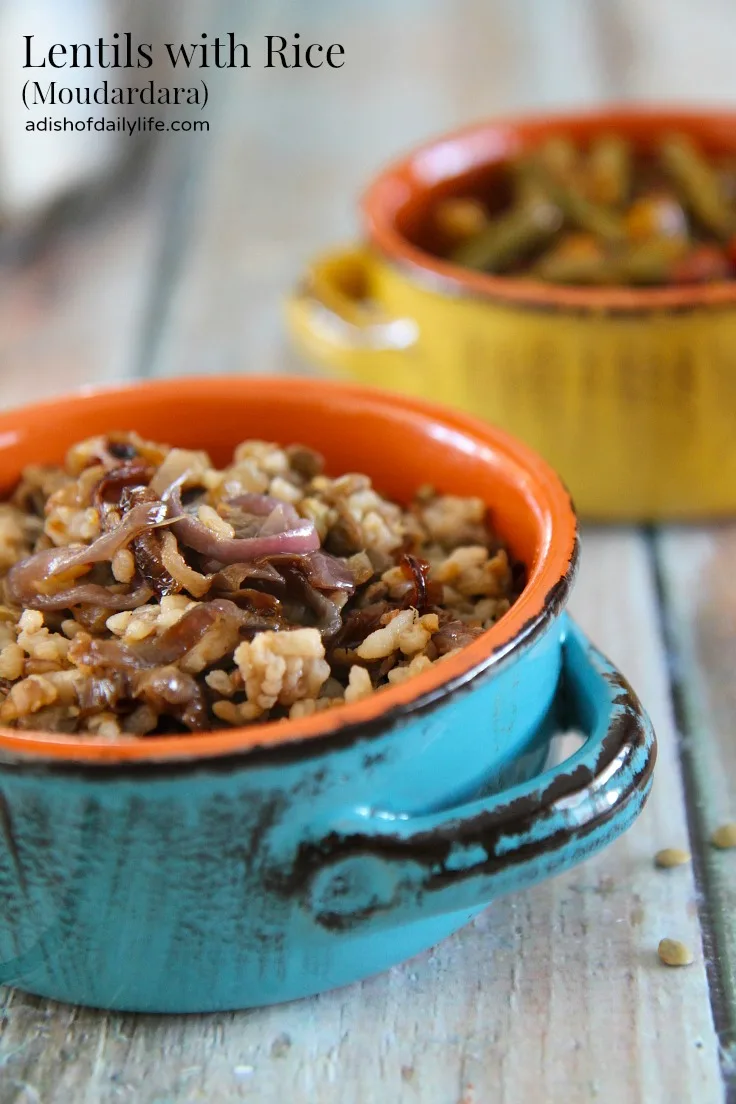 Lentils with Rice Mediterranean style Vegetarian Green Beans
Delicious vegetarian dish, perfect for a Meatless Monday!
Ingredients
1 cup brown lentisl
1 1/4 cups Arborio rice, soaked and drained
3/4 cup canola oil
1 1/2 teaspoons salt
2 lbs 4 oz red onions, julienne
a dash of cumin powder, optional
2 cups of water for the lentils
1 3/4 cups water for cooking rice and lentils together
1 lb 2 oz green beans
3 medium size onions, finely chopped
10 garlic cloves, peeled
6 medium size tomatoes, finely chopped
1 teaspoon salt
Dash of cayenne pepper
1/4 cup olive oil
1/4 cup canola or peanut oil
Instructions
Visually inspect the lentils for any small stones. Rinse and place in pot. Add 2 cups of water to the pot, bring to a boil, cover and let it simmer over low heat for 30 minutes or until lentils are soft.
Transfer lentils to a colander getting rid of the excess water.
To caramelize the onions: In a wide thick-bottomed pan, heat the oil over medium-high heat. Add the sliced onions. Cook for about 15 minutes, stirring every few minutes. Reduce the temperature and continue to cook and scrape until the onions are rich brown in color. Remove the onions with a slotted spoon, and set the oil aside for later use.
Cook the rice, boiled lentils, salt, cumin powder, and 1 3/4 cups of water on medium to high heat.
Add 1/2 the quantity of oil used for caramelizing the onions to the pot of lentils and rice, and slowly stir the mixture.
Cover the pan and cook over very low heat for 25-30 minutes.
Transfer to a serving plate and garnish with the caramelized onions.
Trim the ends of the green beans and cut each one into 2-3 pieces.
Set the pot over medium heat, add the oils, and the onions and sauté to transparent.
Add the green beans to the pot, and stir. Cook until the beans start wilting.
Add the garlic cloves to the pot (you can divide them into halves). Mix with the onions and green beans. Reduce heat to low, cover the pot and simmer for 15 minutes or until the beans are cooked.
Stir the vegetables every few minutes to avoid any sticking to the bottom of the pot and burning.
Add the tomatoes, salt and cayenne pepper to the pot. Cover and let it simmer over low heat for about 10 minutes.
Notes
We used canned tomatoes, and about half the garlic, but the cloves we had were large.