This week I am pairing up for #AskAwayFriday with Lisa from The Golden Spoons, who is one of the other co-authors from The Mother of All Meltdowns.
I haven't met Lisa yet but I am going to in June when I go to BlogU! Speaking of which, is anyone else going? Thinking of going?
Lisa and Rabia from the Lieber Family Blog host the #TuesdayTen linkup, and they give you notice weeks in advance of what the topic is going to be. That doesn't seem to help me much because I am such a "last minute Lucy," but I think normal people would find it helpful to know. Anyway, you should definitely check it out, because it is a really nice group of bloggers, and I do try to participate!
By the way, Lisa and I were last minute partners, so if you see some of the same questions on both of our posts, it's because I stole borrowed them from her. We'll just say it's been a slightly hectic week. We're also going to be linking up with Finish the Sentence Friday because Lisa usually does that and I usually stalk it.
So here's the questions Lisa sent me. When you're finished here, I hope you'll stop by her place as well and see what I asked her.
1. I usually do Finish the Sentence Friday each week. This week the sentence is "My Favorite Decade is . . . . " How would you finish that sentence?
Well I can tell you which one it wasn't! It wasn't the 80's. My high school years were not exactly the glory years. We moved a lot when I was a kid, so I never really felt like I belonged anywhere. And wasn't that the decade of the big hair? Ick. I am NOT showing you a picture.
I am going to go with the two thousands. I was in my thirties then, and it just felt like I was in a good place.
2. We both have 3 children. I know you have two boys & one girl. Mine are all girls and I am amazed by how different they are from each other. Do your kids have similar personalities or are they very different, too?
They are very different in some ways and the same in others.
They are all very competitive and goal driven when they are looking to succeed with something. However, with our daughter, she is focused with everything she does, while the boys have certain things they care about and others not so much.
The boys are more reserved, while our daughter is more outgoing. My oldest is very sentimental and doesn't like change. It drives him crazy when we go away for Christmas. The other two roll with things a little more. I wouldn't call any of them easygoing though.
3. I think it's great that you and your husband have been married for over 20 years! My hubby and I have been married 15. What's one piece of advice you would give to a newlywed couple today?
Don't look up old boyfriends on Facebook when the going gets rough. Nothing good ever comes of that.
Realize that marriage isn't easy. You live with this person day in and day out. You ARE going to drive each other crazy at times. Don't forget what made you fall in love with them in the first place.
4. The only place I have traveled outside of the US was to Paris with my hubby, but it really gave me the travel bug. Have you done much traveling? What is your favorite place you have been and/or somewhere you would like to go in the future?
I have traveled a lot, both in and outside of the US, although mostly in. It's hard to pick just one favorite so I'll pick a few…
I went with my daughter to London for a trip to an international soccer tournament. We saw so many of the sights, and yet, not nearly enough.
Hawaii is one of my favorite places in the world. It's simply paradise. My husband and I have actually been 4 times…twice for the World Xterra Championships (off road triathlon), once for an incentive trip (that time was free!), and once with the kids to visit my brother in law and his family. Where else can you see a sunrise like this one?
I also really loved Curacao. We went with my husband's family years ago. The kids will tell it was their favorite vacation ever. It was so relaxing and laid back, at least once we got there.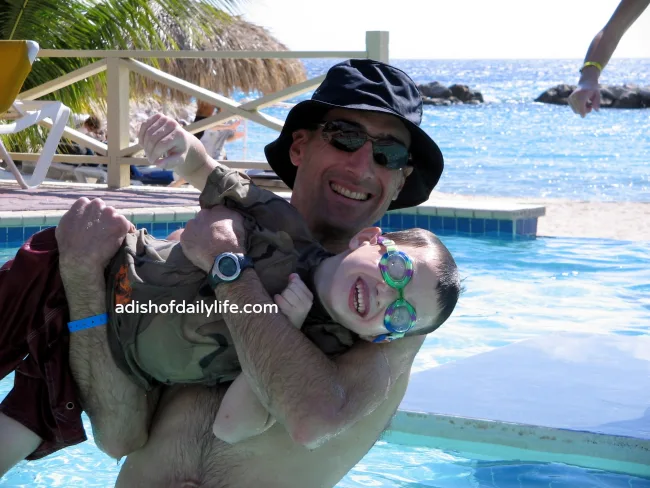 5. What is your biggest pet peeve?
That's a hard one…it depends on the day.
I think I'll go with people who pretend to be your friend and do things behind your back that a friend wouldn't do.
6. Speaking of pets, I know you have several! Personally, I'm a dog person, so tell me a little about your canine fur babies!
I could write a whole book on the ridiculous things they do. Clara occasionally decides she needs a mental health day and takes off for a few hours. I'd love to know what she does. She sneaks off every once in a while during runs with my husband. We run with them off leash in the woods and fields by our house. I think she goes and takes a nap somewhere.
Murphy is the really mischievous one. He knows how to open the garbage and the lazy susan. He takes everything he can get his paws on outside. He took my wallet off the counter a couple weeks ago and took all the credit cards and my drivers license out and left them strewn all over the snow. A lot of times he takes cereal boxes or whatever he can reach from the pantry. And once he went to school, by himself. I am not kidding. I got a call from the Spanish teacher at the prep school we live near. If you want to read the whole story, go here.
7. St. Patrick's Day is on Monday! Do you believe in luck or are you superstitious at all?
No and no. In general, I think we make our own luck with hard work. Yes, I am sure there are instances where luck plays a part. But it really bothers me when people say "Oh you're so lucky" to a successful small business owner. That person worked a ton of hours and gave up a lot of stuff to get where they are…family time, personal time, vacations…
8. Since you are a social media guru, what is your favorite social media platform and why?
I'm flattered that you think so. It's no secret that I love Twitter, mostly because it's all in the moment. I've met so many great people there, including social media clients. That's what I do for a living, besides blogging of course! I've also made some good friends on Twitter. I met Kristen from 4 Hens and a Rooster and Ten to Twenty Parenting, who is now one of my best blog buddies, on there. I love how it's the one place you can jump into a conversation, and no one minds!
I really enjoy Pinterest and Google+ as well; Facebook is probably my least favorite place to be. Right now I am focusing on Instagram and StumbleUpon. I'd be honored if you would follow me there. I'll be happy to follow you back!
9. Social media can be overwhelming (for me at least!). What advice would you give to a new blogger about managing social media and using it to promote your blog?
Focus on growing your presence on one or two social media platforms at a time, because otherwise you'll get overwhelmed! Also, schedule your posts, especially Twitter, to avoid spending all day on social media. No one has time for that!
10. Let's end with something fun. Today (Friday) is National Pi Day – as in 3.14 pi. For fun, my daughter's middle school asked them to bring in a pie to share with their classmates. So, what is your favorite kind of pie (or dessert)?
Savory pies! I know, those aren't dessert. But I like dinner more than I like dessert. Here's a collection of Pie for Dinner recipes I bet you'll like.
This post is part of Ask Away Friday. If you want to join in the fun, or see who else is "asking," head over to visit the hosts and co-hosts of this fun "get to know you" blog link up.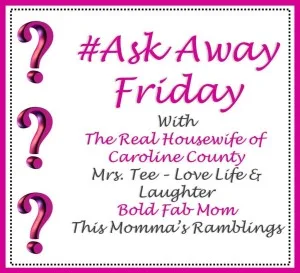 This post is also part of Finish the Sentence Friday. FTSF is hosted by some great blogging ladies…please give them a visit as well!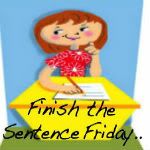 Thanks for stopping by!