I know I've said many times here that Mexican food is a family favorite. We eat a lot of beans and chicken, and I can often repurpose my leftovers into a new meal. Sometimes I'll take leftover black bean soup, cook it down until it's really thick, and use those beans as a base for burritos. Leftover roasted or grilled chicken gets chopped up for burritos, enchiladas, or more recently, flautas.
Flautas and taquitos are very similar, in that they are essentially fried rolled tacos. However, flautas are generally made with flour tortillas and are usually longer and served as a main dish. Taquitos are the shorter version, usually made with corn tortillas and served as an appetizer. To add to the confusion, sometimes flour tortillas are used for taquitos. Other than that, the two terms are really interchangeable. In this case, I used flour tortillas, mainly because my family likes them better, and I baked them for a healthier version.
I've tried chicken flauta recipes, and my family really likes those. I usually serve them with my slow roasted tomato salsa.
But my boys love shrimp and I love chipotles, so I decided to try making my own version too. I paired up this version with my favorite guacamole, although I did serve salsa with it too.
Flautas are really easy to make. Create your mixture of meat or vegetables (I like cheese with mine too), roll it up tight in a tortilla, brush it with a little vegetable oil and bake. That's it! This is a really easy dinner, and would be perfect paired with a side of rice and beans, and a light salad.
In this particular recipe, I was a bit heavy handed with the cheese. I like it that way. But you could certainly tone it down a little. My youngest son is requesting I try them with ground beef next.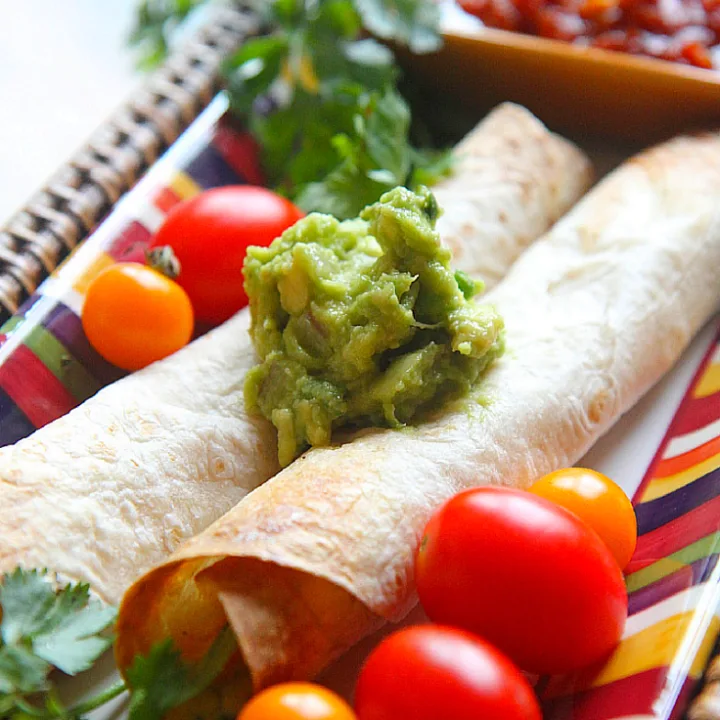 Cheesy Chipotle Shrimp and Corn Flautas
This easy Mexican dinner combines shrimp, corn and cheese with the smoky flavor of chipotle...delicious!
Ingredients
2 lbs shrimp
vegetable oil
4 teaspoons sauce from can of chipotles
1 chipotle pepper from can
2 ears cooked corn, kernels cut off with a knife (could also use frozen)
8 oz cream cheese
2 cups Monterey Jack cheese, shredded
2 cups white cheddar, shredded
handful of cilantro, chopped
24 7" tortillas
parchment paper
Instructions
Peel shrimp, cut into small pieces.
Add a little vegetable oil to a frying pan and heat.
Add shrimp and 4 teaspoons of sauce from can of chipotles.
Cook for about one minute, just until shrimp are beginning to turn pink.
Remove shrimp from heat.
When cool, pat dry.
Mix cream cheese, chipotle pepper, corn, cheese and cilantro together.
Add shrimp once they have cooled down.
Preheat oven to 425 degrees.
Place parchment paper on baking sheets.
Place a few tablespoons of mixture on your tortilla.
Roll as tightly as you can, and place the seam side down to avoid unrolling. Leave a little space in between each flauta.
Brush flautas lightly with vegetable oil.
Cook for about 15 minutes or until golden.
Serve with salsa or guacamole.
Hope you enjoy these as much as my family did!
Have you ever made flautas? What is your favorite Mexican dish?
If you liked this recipe, you might also like: