You're going to love this new twist on tabbouleh! This easy Cherry Couscous Tabbouleh makes a delicious and healthy side dish recipe, and it's easily customized, if you'd like to make it vegan, gluten-free or even turn it into a main dish. The cherries complement the herb and lemon juice combination nicely, and pistachios add the perfect crunch!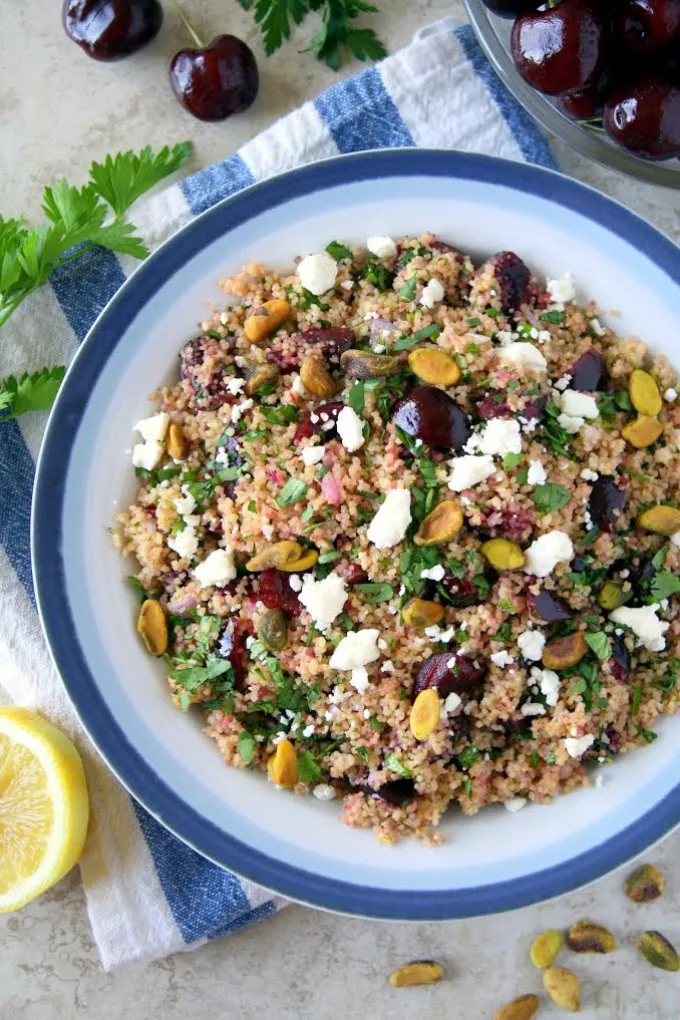 As you may have guessed from the name of my blog, I have a serious sweet tooth, but my recipes go well beyond the dessert realm, as this cherry couscous tabbouleh can attest!
I grew up in northern California, where summers are quite mild. I remember a handful of triple-digit days each summer, but even those weren't generally humid, and the evenings reliably brought cooler air to ease any discomfort. It wasn't until after college, when I moved first to Pennsylvania and then to Michigan, that I truly understood the rest of the country's aversion to turning on the oven in the dog days of summer!
Thankfully, this cherry couscous tabbouleh requires very little heat to prepare, and it's light enough to be appetizing on even the muggiest of days.
CHERRY COUSCOUS TABBOULEH
Traditional tabbouleh usually involves tomatoes, but I opted for cherries instead to give the dish a hint of juicy sweetness. I find that the cherries offer the perfect complement to the pungent, punchy flavor of the herbs and the tang of the lemon juice.
Since I'm a sucker for dishes with lots of texture, like my Cherry Poppy Seed Chicken Salad, I couldn't resist tossing a few pistachios on top for crunch, and as luck would have it, I had a bit of leftover feta in the fridge, so that went on top as well.
The tabbouleh is still perfectly delicious without the pistachios and feta, so no worries if these aren't your cup of tea! Ugh. Too hot to think about tea…
CUSTOMIZE YOUR SALAD (VEGAN, GLUTEN-FREE, OR TURN IT INTO A MAIN DISH)
In addition to being suitable for hot weather, this cherry couscous tabbouleh is healthy, simple to make, and easy to customize.
If you're serving it to people who follow a vegan diet, just leave off the feta; if you want it to be gluten-free, just swap out the couscous and use quinoa instead.
You can even make this into a main dish by adding a few extra ingredients, like chickpeas or shredded chicken!
And if you're interested in more recipes for dinner-worthy salads, be sure to check out this Mango Thai chicken salad and this Mediterranean chopped salad, both of which make frequent appearances in my household.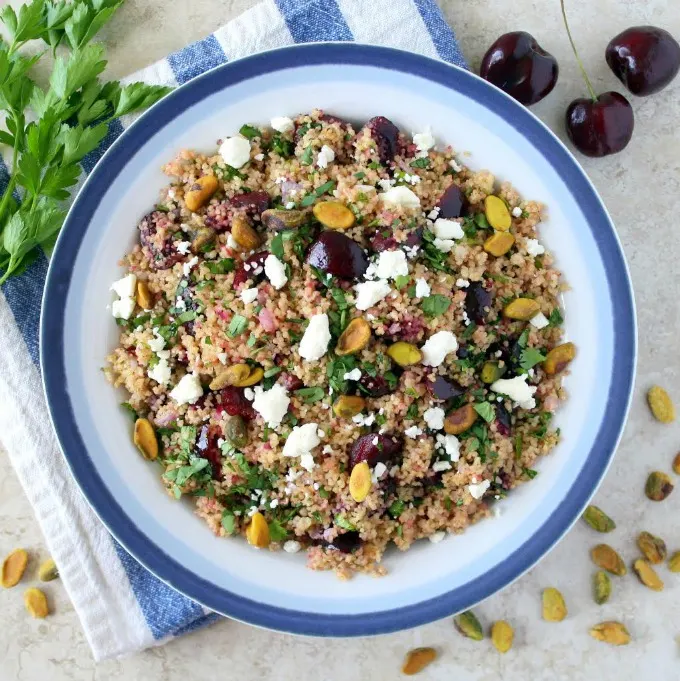 Thanks so much for reading along, and thank you, Michelle, for having me! Have a great day and good luck beating the heat out there.

Yield: 6
Cherry Couscous Tabbouleh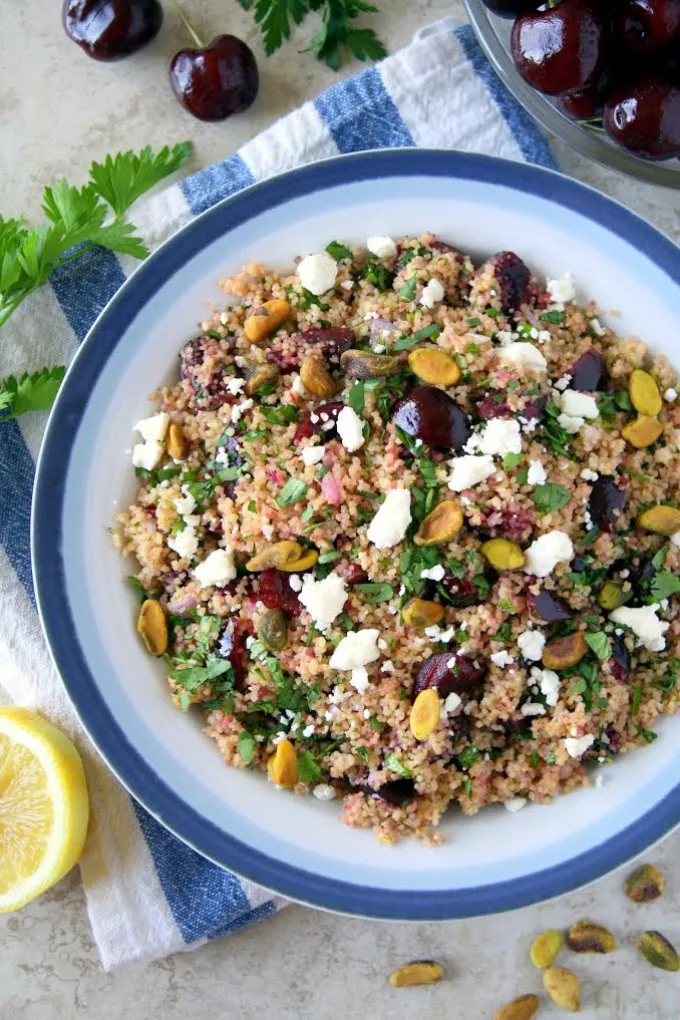 Ingredients
1 cup uncooked couscous
1 cup quartered sweet cherries
1/4 cup finely chopped red onion
1/2 cup finely chopped cilantro
1/3 cup finely chopped parsley
2 tablespoons olive oil
3 tablespoons lemon juice
1/2 teaspoon lemon zest
1/4 cup pistachios (optional)
1/4 cup crumbled feta (optional)
salt and pepper to taste
Instructions
Prepare the couscous according to the directions on the package. If the directions call for oil or butter, feel free to omit that part, since you will be adding oil later.
In a large bowl, combine the cooked couscous, cherries, red onion, cilantro, and parsley.
In a small bowl, whisk together the olive oil, lemon juice, and lemon zest, and then pour the mixture into the couscous. Season with salt and pepper to taste and stir to combine. Refrigerate until ready to serve.
Optional: just before serving the tabbouleh, sprinkle the pistachios and feta on top.
OTHER GREAT SALAD RECIPES YOU MAY ENJOY
SUMMER PASTA SALAD
BALSAMIC BEET SALAD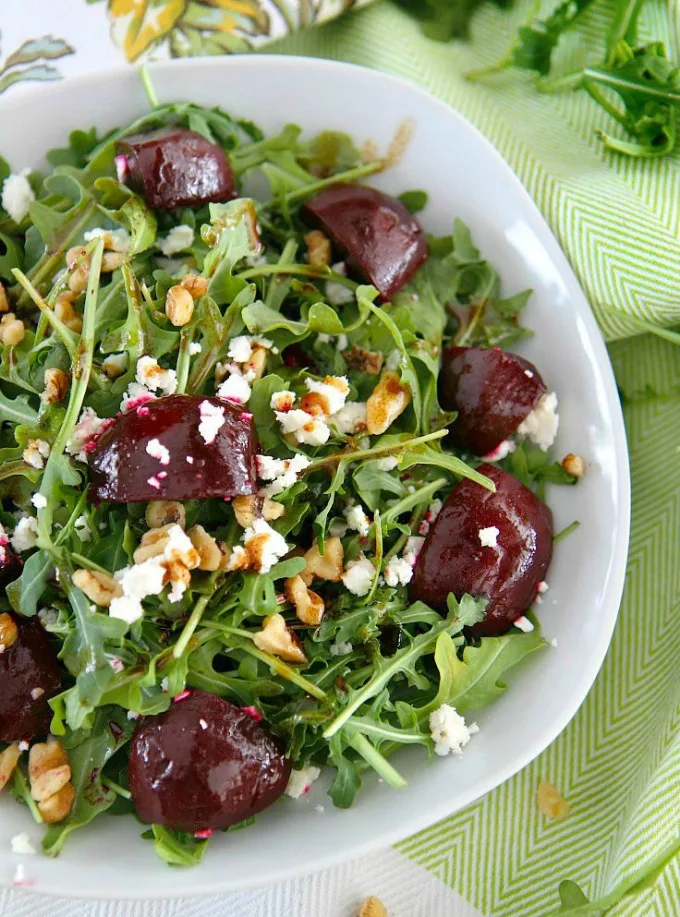 LEMONY KALE QUINOA SALAD