Pasta e Fagioli, a traditional Italian soup, is a comforting dish any time of year. Easy to make, healthy, and delicious, this Italian bean soup recipe makes for a flavor filled bowl every time!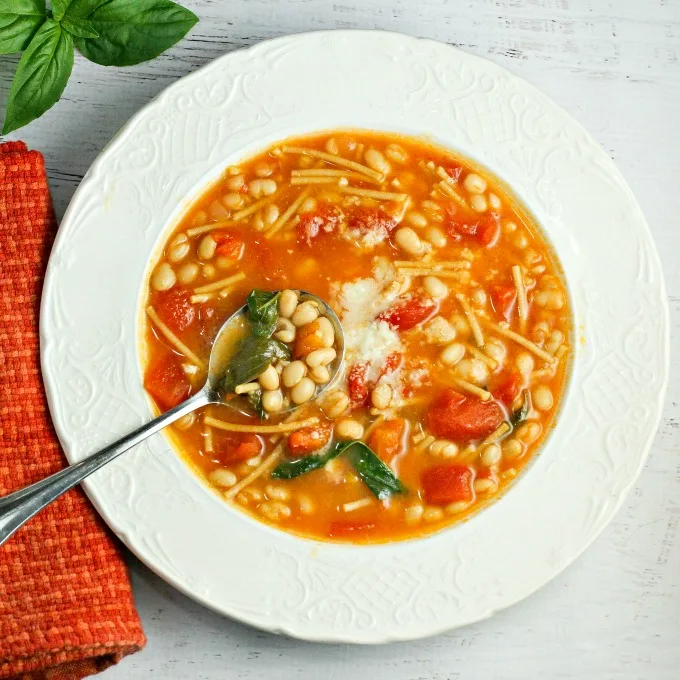 PASTA E FAGIOLI
I was first introduced to Pasta e Fagioli by my boyfriend (now husband) in college. It was definitely one of his go-to meals. Back then we were college students on a budget, and runners trying to eat healthy. Since it was inexpensive to make and healthy, we ate a lot of it.
His version was packed with vegetables and was more like a thick pasta than a soup. I didn't actually know that Pasta a e Fagioli was supposed to be a soup until I met my mother-in-law.
My mother-in-law's parents immigrated to the United States from Italy, and she is a first generation American. My husband's grandmother, Nonni, made the most delicious Pasta e Fagioli! My mother-in-law is equally as talented of a cook. In fact, on both sides of my husband's family, there are long lines of amazing cooks. For the girl who didn't even start cooking until college (if you can call what I did in college cooking), this was quite daunting. I've come a long way, that's for sure!
When I asked my mother-in-law for her recipe years ago, her instructions included no measurements. I've been making this Italian soup now for most of my married life without ever measuring a thing, but for you, I wrote everything down today.
THE ORIGINS OF PASTA E FAGIOLI
Pasta e Fagioli is a classic Italian soup, with its origins in the countryside. It originally started out as a simple peasant dish, made with economical ingredients. The ingredients vary from region to region, but beans and pasta are constants.
Traditionally, white beans are used, and a small variety of pasta like ditalini. But I also like to use broken up spaghetti, and that is what I've used for this recipe. In fact, I actually used whole wheat spaghetti, which I like because it is a great source of iron and fiber, and it holds up really nicely without becoming mushy.
COOKING INSTRUCTIONS
This is probably one of the easiest recipes I make. I place all the ingredients in a pot together, minus the pasta and basil (which gets added towards the end), bring it to a boil, and then let it simmer for a half hour or so. Then I add the pasta and a handful of basil and cook the pasta until it's al dente (9 minutes or so). I remove the celery ribs right before serving, and salt and pepper to taste.
My mother-in-law chops up the celery before adding it in and keeps it as part of the soup. I like the flavor the celery gives to the soup, but my children don't particularly like cooked celery, so I just remove it before serving. That's personal choice though.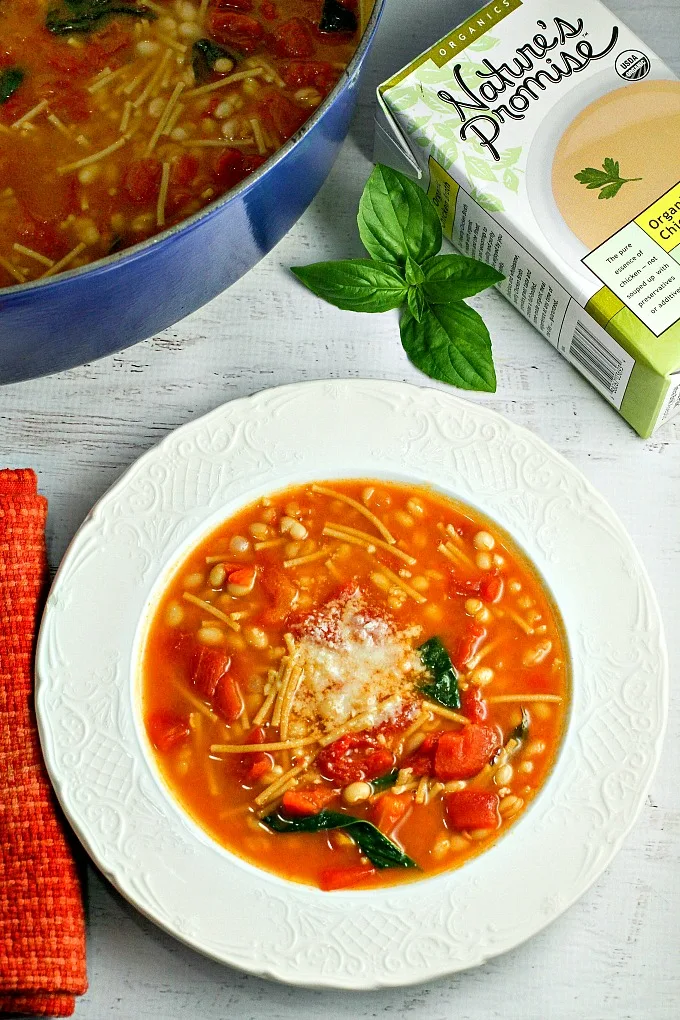 USING HEALTHY INGREDIENTS
Not only is Pasta e Fagioli an easy recipe, but it is also a healthy dish. It's a good source of protein and fiber, especially in this recipe since I use whole wheat spaghetti in place of regular pasta.
My husband and I are runners, and our teenagers all run or play soccer. A healthy diet is crucial to maintaining a certain energy level for sports, as well as building and repairing muscles. That's why, when I'm cooking for my family, I try to make better-for-you food choices.
I like to cook with organic foods, and I prefer to use products free from artificial colors, artificial flavors, and artificial preservatives. Nature's Promise® from Stop & Shop makes that possible. They offer USDA Certified products as well as "Free from" products that only include ingredients they consider necessary. These are truly products you can trust when it comes to eating healthy. They're also affordable, which is extremely helpful when trying to feed a family of five on a budget!
Ready to start cooking?!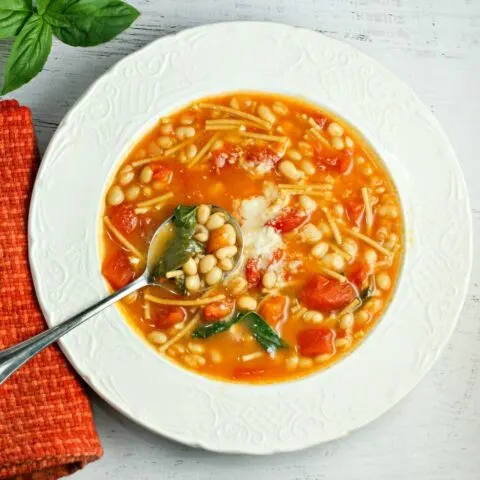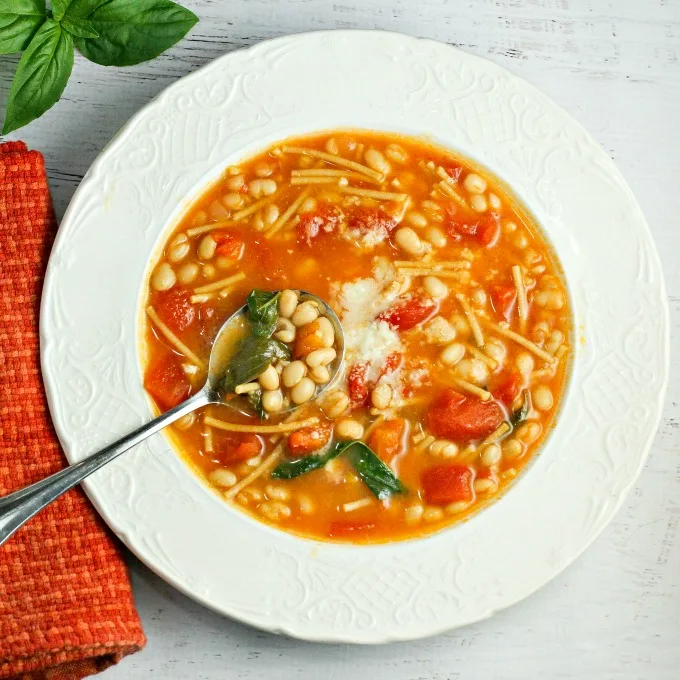 Pasta e Fagioli
Pasta e Fagioli, a traditional Italian soup, is a comforting dish any time of year. Easy to make, healthy, and delicious, this Italian bean soup recipe makes for a flavor filled bowl every time! It's a great source of protein and fiber as well!
Ingredients
3 15.5 oz cans white beans, rinsed (small white, cannellini, or Great Northern)
3 celery ribs
1 28 oz can diced tomatoes
1 clove of garlic, crushed
1 tablespoon olive oil
4 cups water
2 32 oz containers chicken broth
6 oz whole wheat spaghetti, broken into small pieces (about 1/2 box)
handful of basil
salt and pepper to taste
Instructions
Add white beans, celery, diced tomatoes, crushed garlic, olive oil, water and chicken broth to your pot.
Bring to a boil, reduce heat to simmer.
Simmer for about 30 minutes or so.
Add broken spaghetti, and cook for until al dente, about 9-10 min.
Add basil, and salt and pepper to taste. Stir to combine and serve.
Nutrition Information:
Amount Per Serving:
Calories:

46
Total Fat:

4g
Carbohydrates:

2g
Protein:

1g
Enjoy!