Disclosure: This post was sponsored by Hood and the Hood Meal Makeovers series. I was provided with compensation for sharing. All opinions are my own.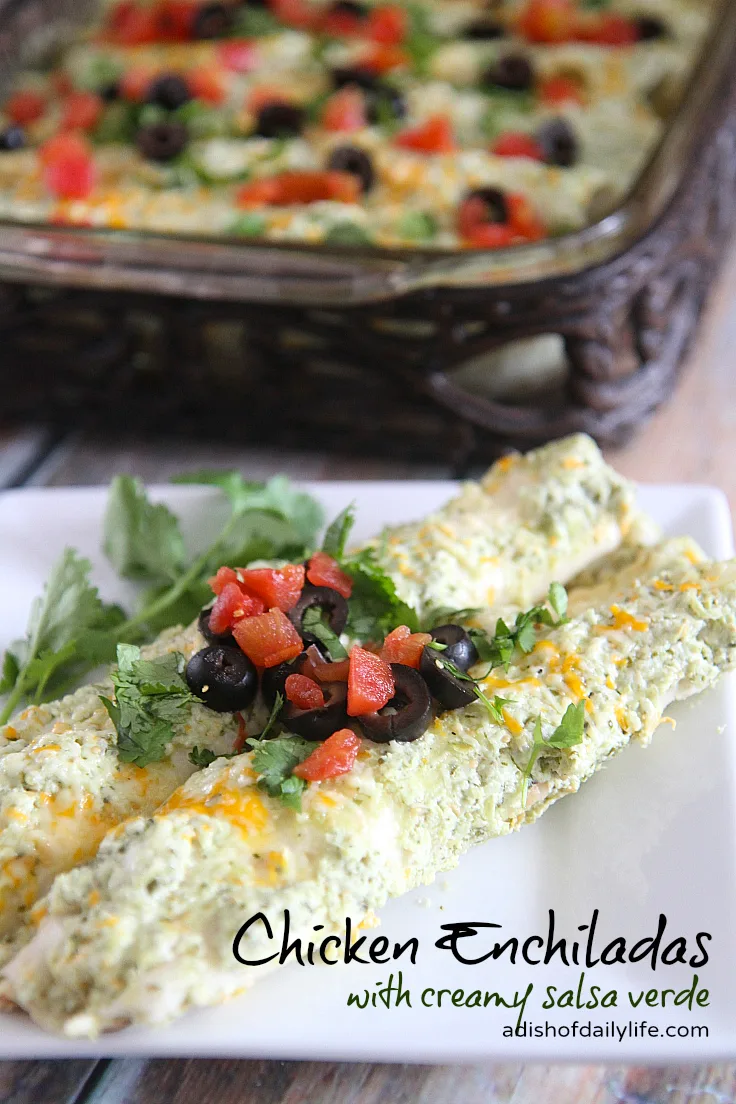 Today I'm going to share my Chicken Enchiladas with creamy salsa verde, a new twist on one of our family favorites, sour cream enchiladas.
You already know we love Mexican food here. A lot of my recipes are inspired by south-of-the-border cuisine.
We also use a lot of Hood sour cream in this house. I consider it a staple…I use it for a lot of my soups and sauces. In fact, earlier this year, I shared a recipe for my Creamy Citrus Black Bean Soup using Hood sour cream. Today I'm going to be using it in my creamy salsa verde sauce.
Yesterday I made raw salsa verde to use for this recipe. If you follow along with my Facebook page, then you know it was quite the exercise in self control while I was cooking. It was so good, it was a challenge not to just dig in with the chips!
We belong to a chicken CSA, so we roasted our chicken to use for this recipe, and this morning it is actually getting double duty as it went into the soup pot with a bunch of veggies for stock. Of course, you could also use a rotisserie chicken in a pinch.
I shredded some chicken for my enchiladas, and added some cream cheese, cheddar, green chiles, and corn to round out the mixture. Then for a kick, I added a little chipotle chili powder.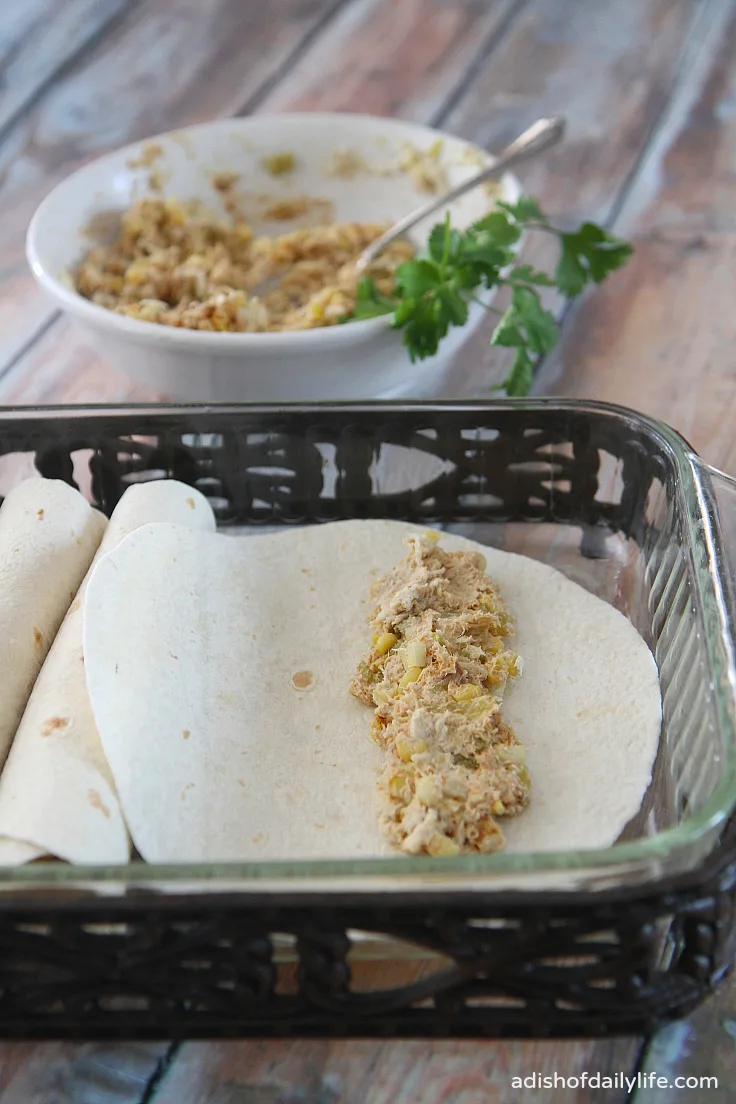 I am so tired of my enchiladas sticking to the bottom of my baker that I tried adding a sheet of parchment paper underneath my rolled enchiladas this time. It worked like a charm. The enchiladas just slid off, and I didn't have to scrub my dish!
As I mentioned, for the sauce I went with a mix of homemade raw salsa verde and sour cream. You could probably substitute jarred salsa verde, but if you can get tomatillos, it only takes a few minutes to make and it tastes so much better. Stir in some sour cream, and you have a nice creamy sauce.
Put your chicken enchiladas with creamy salsa verde in the oven for 15-20 minutes at 375 degrees, and you're done. I topped mine with some chopped cilantro, sliced olives and tomatoes. You could also add some chopped green onions and a little more sour cream!
Really, this is quite an easy recipe. And I got a thumbs up from the family!
[Tweet "Can't wait to try these Chicken Enchiladas w/ creamy salsa verde! #HoodMealMakeover #SourCream"]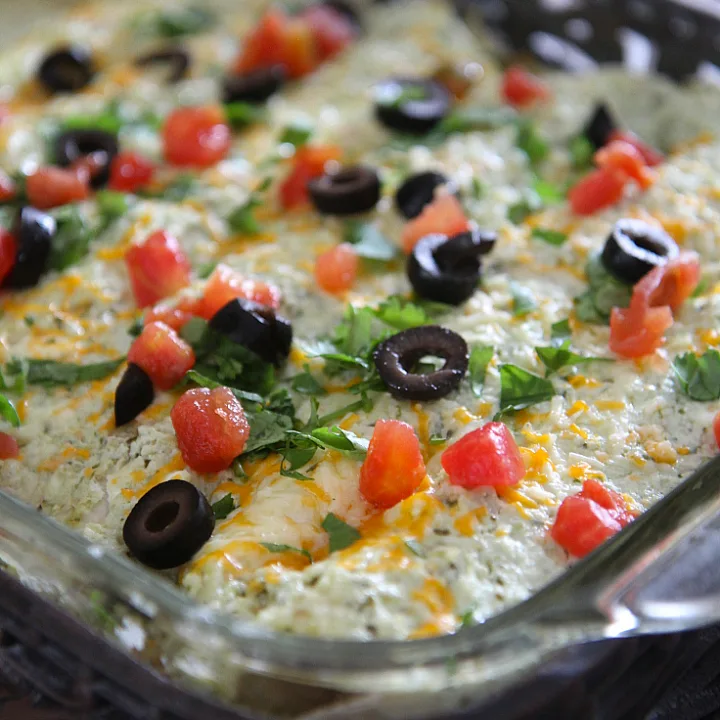 Chicken Enchiladas with Creamy Salsa Verde
Ingredients
10 flour tortillas
2 cups shredded chicken
4 oz cream cheese
1 4 oz can of chopped green chiles
1 cup corn
1 teaspoon dried chipotle pepper
2 cups shredded cheddar cheese
For the sauce
For topping
Extra shredded cheese
sliced black olives
chopped tomatoes
chopped cilantro
extra sour cream
Instructions
Preheat oven to 375 degrees. Line your rectangular glass baker with parchment paper...the enchiladas will slide right off and clean up will be much easier!
For the enchilada mixture, combine the shredded chicken, cream cheese, green chile, corn, chipotle pepper, and 1 cup of the cheese. Mix well. The cream cheese should bind all ingredients together.
Place several tablespoons full on each tortilla and roll tightly.
Line enchiladas up side by side in baker.
Sprinkle the other cup of cheese on top.
For the sauce, combine salsa verde and sour cream. Mix well.
Pour sauce over the top of enchiladas.
Cover with tin foil and place in oven for 15-20 minutes or until bubbly.
With a couple minutes left to go, remove tin foil and sprinkle with a little extra cheese.
After removing from oven, garnish with chopped cilantro, chopped tomatoes, sliced black olives and extra sour cream.