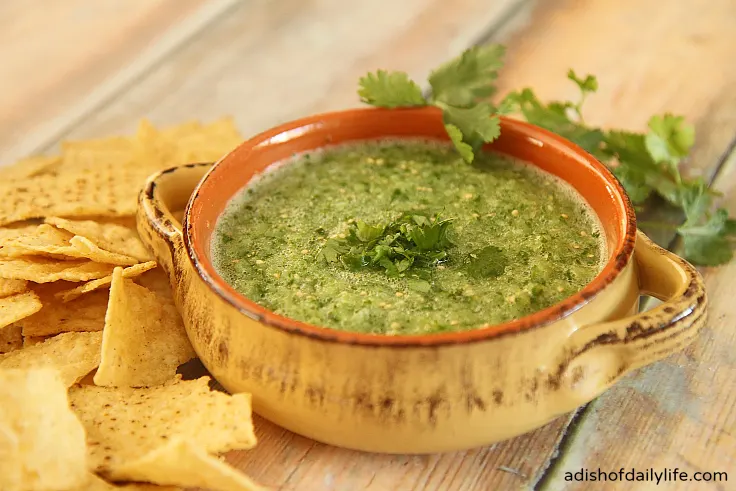 I have a "thing" for Mexican food.
I grew up out West where it was plentiful and really good, and as an East Coaster now, at least where I live, my choices are very limited. We have a great restaurant downtown that serves southwest style food, but other than that, the pickings are pretty slim locally.
However, I do cook Mexican food several times a month. Depending on what I want to make though, it can sometimes be a challenge to find certain ingredients. Like tomatillos, for example. These Mexican husk tomatoes are named aptly, as they have a papery husk, which is removed before cooking. They're a little bigger in size than a cherry tomato and are pale green with an even paler inside, and a tart flavor.
They're not always easy to find. There's a local farm that grows them, but they don't always bring them to the farmer's market because they don't tend to sell as well in our town as they do in other places. There is a local independent grocer that sometimes has them, but not always. That grocer is generally not on my way to anything, so if I go down there only to find out they don't have them that day, it can be disappointing.
But I've lucked out a few times recently. I was able to pick them up once at the farmer's market, and for my last batch of raw salsa verde, I picked them up at that grocery store.
Raw Salsa Verde
When making salsa verde, you have several options…you can boil the tomatillos, roast them, or keep them raw. I was tight on time this afternoon, so I opted to go with the raw salsa verde today, but all versions are delicious, in my opinion.
Now for the recipe…
Raw Salsa Verde
Ingredients
1 lb tomatillos, husked, and chopped in half
Small white or yellow onion, chopped
2 large garlic cloves, minced
1 jalapeno, seeded and chopped
1/2 cup cilantro, chopped, some stems okay
juice from 2 limes
Instructions
Puree all ingredients in blender until smooth.
Stay tuned to see what dish I am going to make with my raw salsa verde…it's great with chips, but we did not eat it that way this time around!
Do you like salsa verde? Have you ever made it?
If you like this recipe, you may also like: