Sausage Broccoli Pasta is a go-to recipe for our family…fast, easy, delicious and it only uses one pot, so clean up is minimal! You can have it on the table in under 30 minutes too!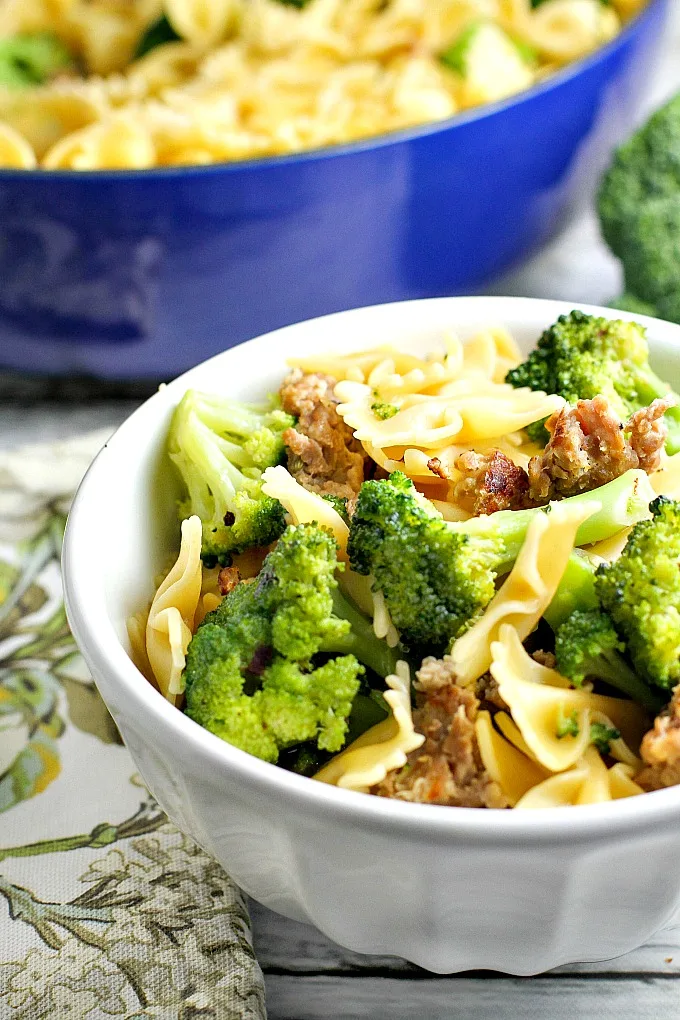 We all have go-to recipes. You know, the ones that are so easy we can make them without even thinking about them.
This One Pot Sausage Broccoli Pasta is my go-to recipe. During the school year, I make it a lot…probably at least twice a month, sometimes more.
Once the sports season starts, things get hectic around here, and there are nights I REALLY need fast and easy. If there is a soccer game or a cross country meet after school and I go watch, I don't get home until 5:30 or 6 pm. At that point, both kids are starving since they've just finished working out.
If I don't want them to start snacking on junk, then I need to get something on the table quickly.
I can have this Sausage Broccoli pasta on the table in under 30 minutes…even if I didn't plan ahead.
I'm just going to outright admit this and tell you I'm notorious for poor planning. Sometimes we do our meal planning on Sunday and start cooking ahead. Those are good weeks. Unfortunately in spite of my best intentions, that does not happen.
I also tend to get so wrapped up in my work during the day that by the time I start thinking about dinner, the kids are practically walking in the door.
This is one of those dinners I never have to be prepared for. Every ingredient in the recipe is a staple for us, so I always have them in the house. But, because I haven't planned ahead, my sausage patties are almost never completely thawed.
I just brown the frozen sausage patties, and they simmer in the chicken broth along with the pasta while the dish is cooking. It always works out fine.
I have another secret to share. I've been making this Sausage Broccoli Pasta as a two pot meal for years. And then one day, I had an a-ha moment. Why was I cooking the pasta in a separate pot? If I use two pots, I have to wash two pots. I don't know why it took me so long to think about turning this into on a one pot meal.
It must be because I love to clean. NOT!
SAUSAGE BROCCOLI PASTA
To make Sausage Broccoli Pasta, start by browning your sausage in a pot.
While the sausage is cooking, cut your broccoli into bite size pieces. Drain the excess oil from the sausage, add the chicken broth and bring it to a boil. Then go ahead and add your pasta. Cook your pasta to al dente.
With a couple minutes before the pasta is done, add the broccoli…you don't want to overcook it.
Then add your parmesan when the dish is done, and you're ready to eat!
If you want, you can add some minced garlic to the sausage towards the end of the browning. If you're looking for a little kick, add some hot pepper flakes. For that matter, you could make it with hot sausage instead of sweet. I've done all of this. But when I am in a hurry, I keep it simple.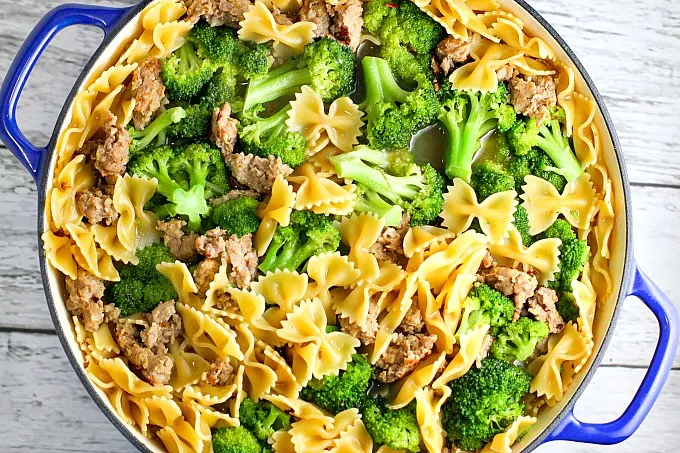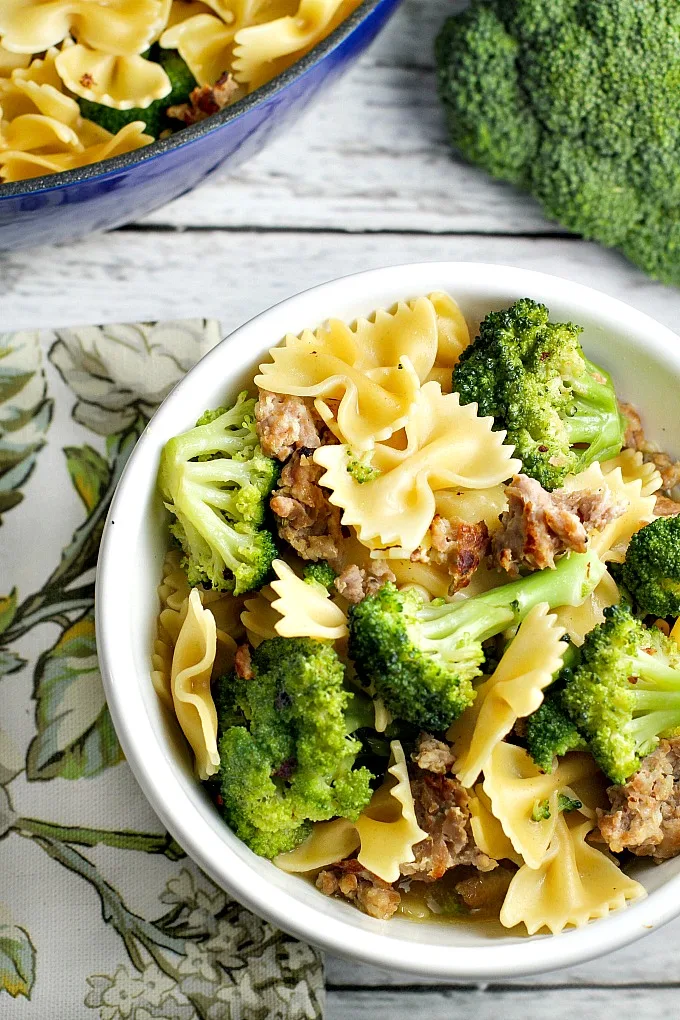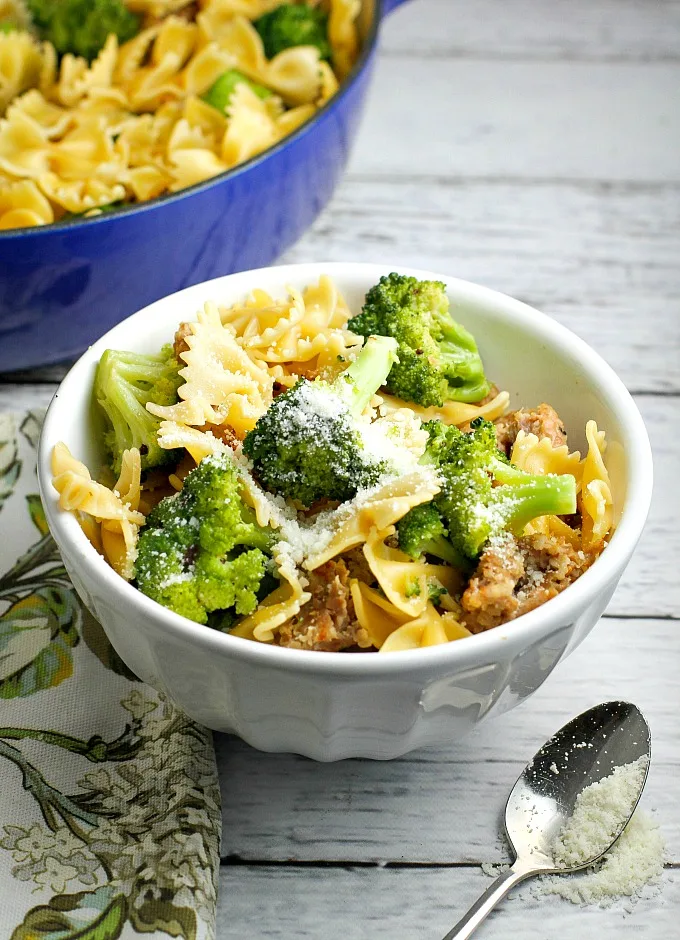 DINNER ON A BUDGET
Another thing that is great about this recipe is it costs less than fifteen dollars to feed our family of five, and we usually have leftovers too!
I am somewhat strategic about my ingredient purchases but even if I wasn't, this one pot meal would still come in well under twenty dollars.
1 lb of sausage patties: $3.50 (I usually buy my sausage patties when they're buy one, get one free)
2 lbs of broccoli: $4.00 (if I can get this at the farmer's market, I do, and it'll cost a little more there)
1 lb of pasta: $1.00 (I wait for pasta to go on sale for $1.00 or $1.25 and stock up then)
2 32-oz containers of organic free range chicken broth: $4.00 (again, I stock up when they are on sale)
Freshly grated parmesan: $2 (if that…I bought a block of parmesan the other day for $6 and I didn't use that much of it…less than 1/3)
That's under $15 for an easy recipe that my family loves.What more can I ask for…easy, inexpensive and no mess!
And now, on to the recipe!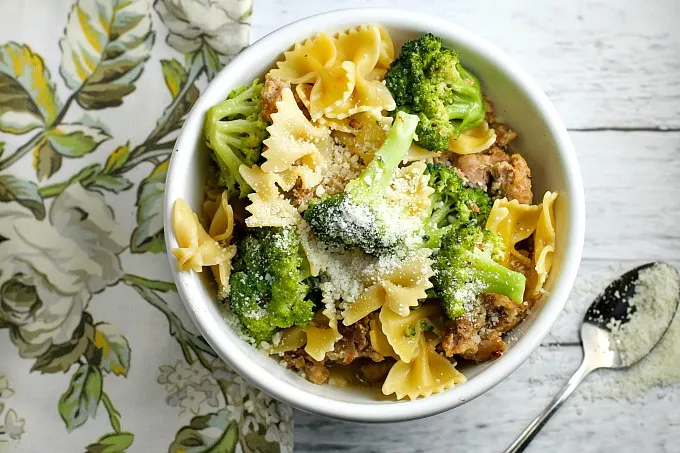 OTHER PASTA RECIPES YOU MAY LIKE
FOR MORE PASTA RECIPES YOU MAY ENJOY, CHECK OUT MY PINTEREST BOARD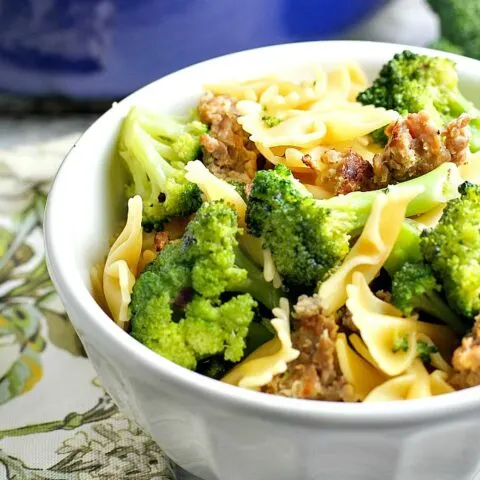 Sausage Broccoli Pasta
Sausage Broccoli Pasta is a go-to recipe for our family...fast, easy, delicious and it only uses one pot, so clean up in minimal! You can have it on the table in under 30 minutes too!
Ingredients
1 lb sweet Italian sausage patties
2 lbs broccoli crowns
2 32-oz containers of chicken broth
1 lb pasta
freshly grated parmesan cheese
salt and pepper to taste
Instructions
Brown your sausage patties in your pot.
Cut broccoli crowns into bite size pieces while sausage is browning.
Drain excess oil from the sausage.
Add your chicken broth, and bring to a boil.
Add the pasta, and cook approximately 10 minutes or until pasta is al dente.
With a couple minutes to go in the cooking, add your broccoli.
Remove from heat and serve.
Add freshly grated parmesan cheese to individual dishes, and salt and pepper to taste if you wish.
Nutrition Information:
Serving Size:

1
Amount Per Serving:
Calories:

62
Total Fat:

1g
Sodium:

60mg
Carbohydrates:

12g
Sugar:

3g
Protein:

5g

The links below are affiliate links, so if you make a purchase, we will receive a small commission which helps us cover the costs of running this website.