Healthy and delicious, these Chicken Lettuce Wraps with Avocado Mango Salsa are an easy dinner that you can have on the table in less than 30 minutes!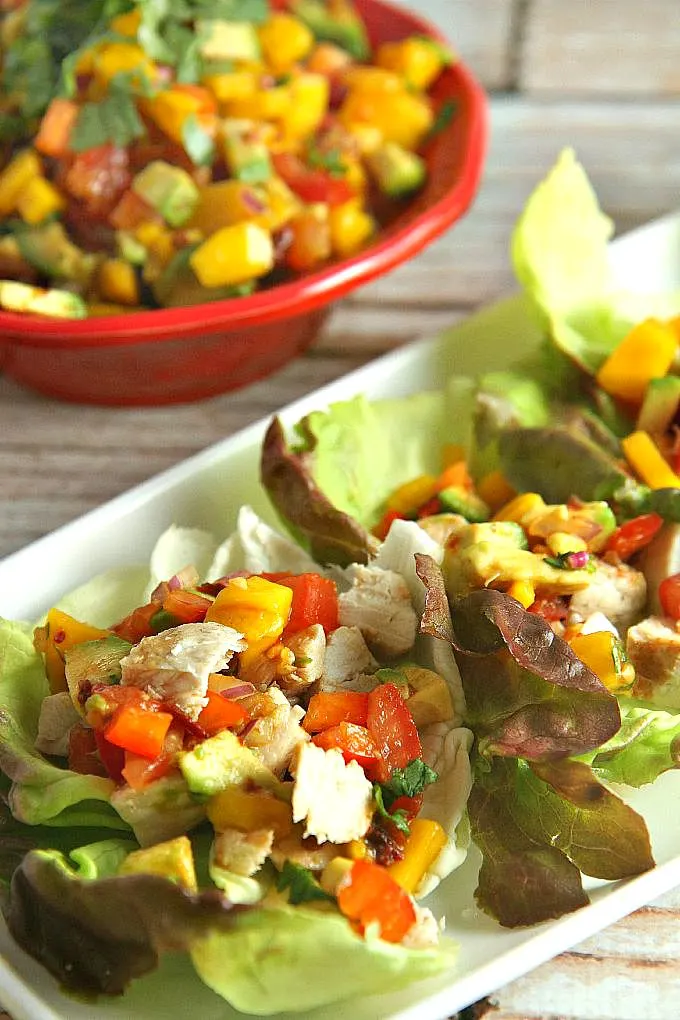 This has been the summer of mangoes.
We've been having a love fest with them all summer.
First there was Mango Chipotle Shrimp.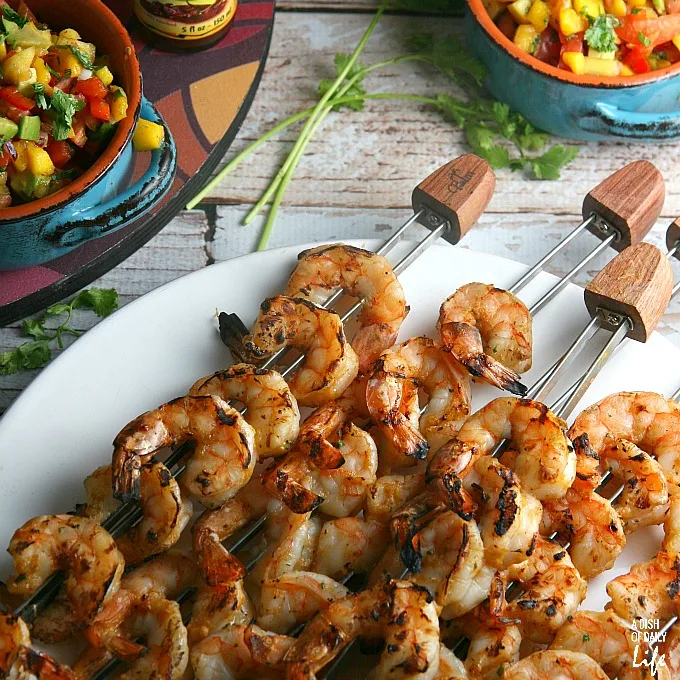 Then the Avocado Mango Salsa.
And then I decided that my Avocado Mango Salsa would be delicious with grilled chicken too.
I was right. (Just ask me.)
We've been eating a lot of it this summer.
Chicken Lettuce Wraps with Avocado Mango Salsa
If you don't want to heat up the kitchen, this is the perfect easy recipe. Not only that, it's healthy too, and tastes great!
Make your Avocado Mango Salsa. Try not to eat it all ahead of time (this is a common problem here).
Grill your chicken. A pound typically feeds 4 people.
While your chicken is grilling, separate and clean your lettuce leaves. I used Bibb lettuce, because that's what our CSA had that week. And, I like Bibb lettuce. I like how the edges look.
Fill your lettuce wraps with chicken and avocado mango salsa. Done. How's that for easy?!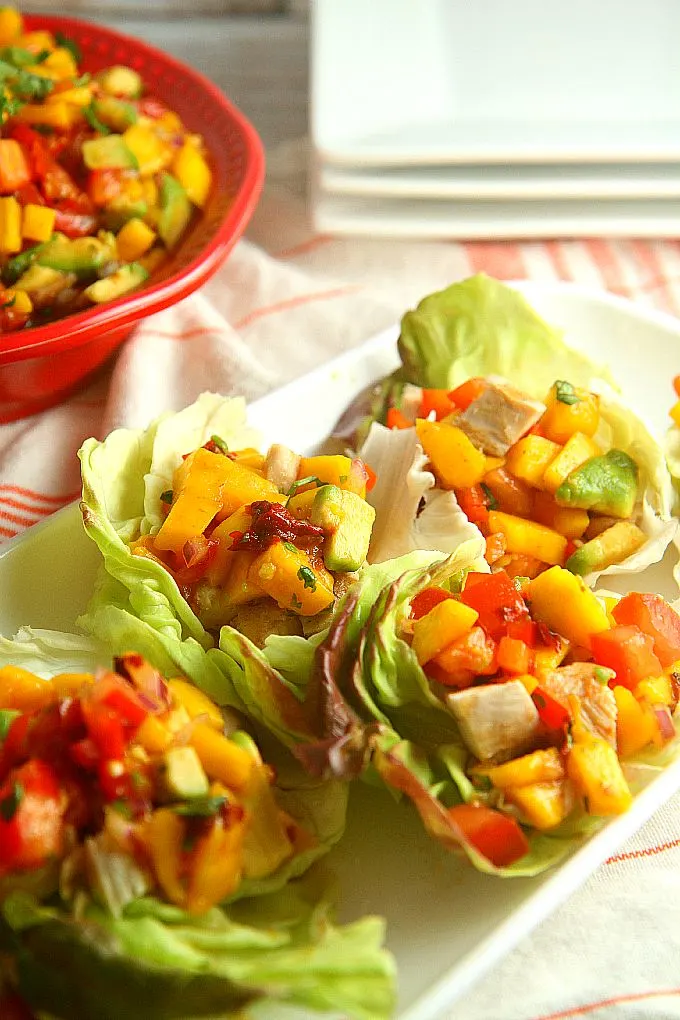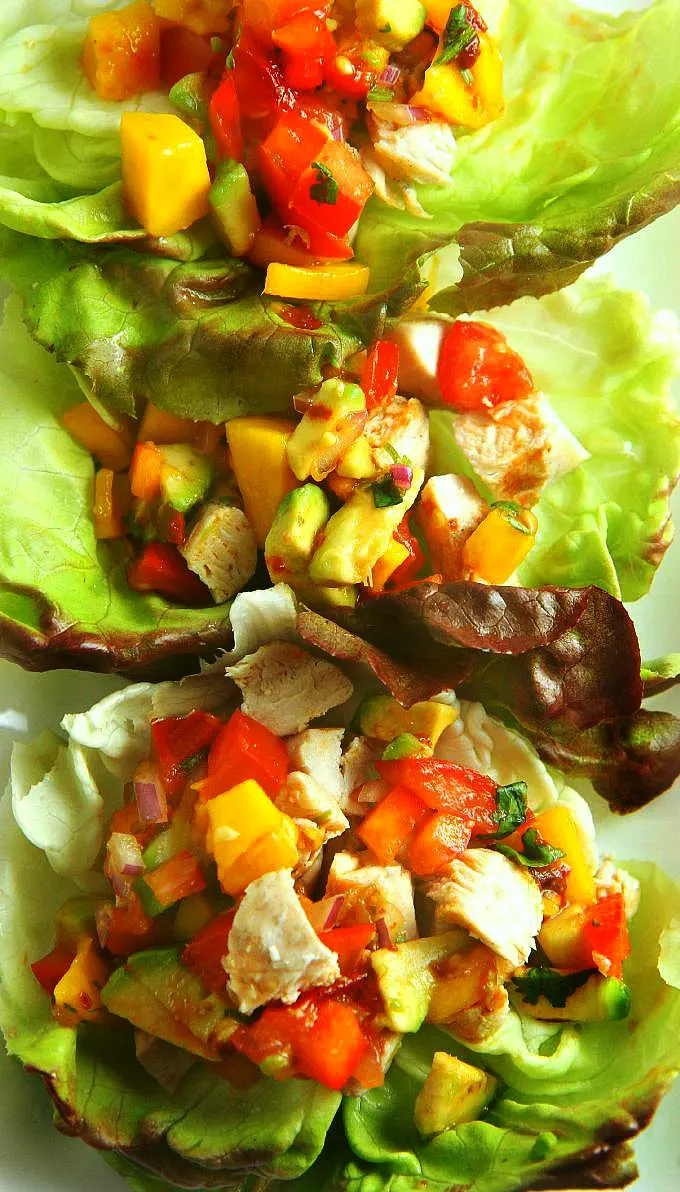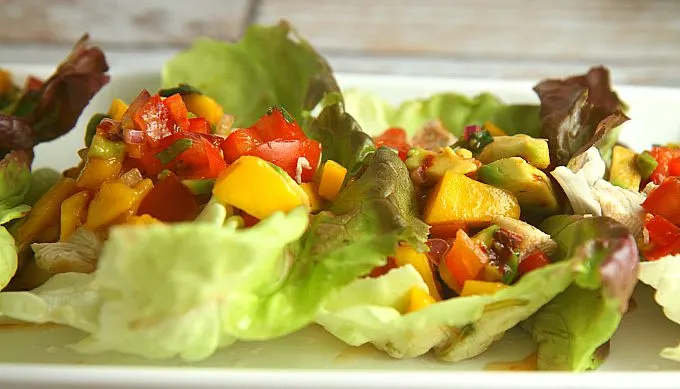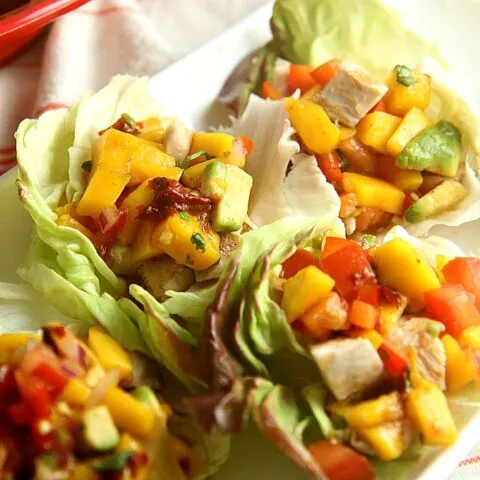 Chicken Lettuce Wraps with Avocado Mango Salsa
Ingredients
1 lb of chicken, grilled
Bibb lettuce, one head, leaves separated and cleaned
Avocado Mango salsa
2 cups mango, chopped
1 cup tomatoes, chopped
1 cup red pepper, chopped
1 avocado, chopped
1/4 cup red onion, chopped
2 tablespoons lime juice
2 tablespoons cilantro, chopped
3 tablespoons chipotle peppers in adobo sauce, peppers chopped*
3 teaspoons honey
Instructions
Make Avocado Mango Salsa; set aside. For directions on how to make the salsa, click HERE.
Grill chicken, cut into chunks.
Clean and divide lettuce leaves while chicken is cooking.
Divide chicken among lettuce leaves; spoon Avocado Mango Salsa over the top.
Notes
*If you are gluten free, check the ingredient list on your chipotle can to make sure it is gluten free. Not all brands are. You can also make your own chipotle peppers.