Corn Salsa with Black Beans is the perfect party appetizer for summer get-togethers…serve it with chips or as a salad side dish! It's easy to make and healthy as well!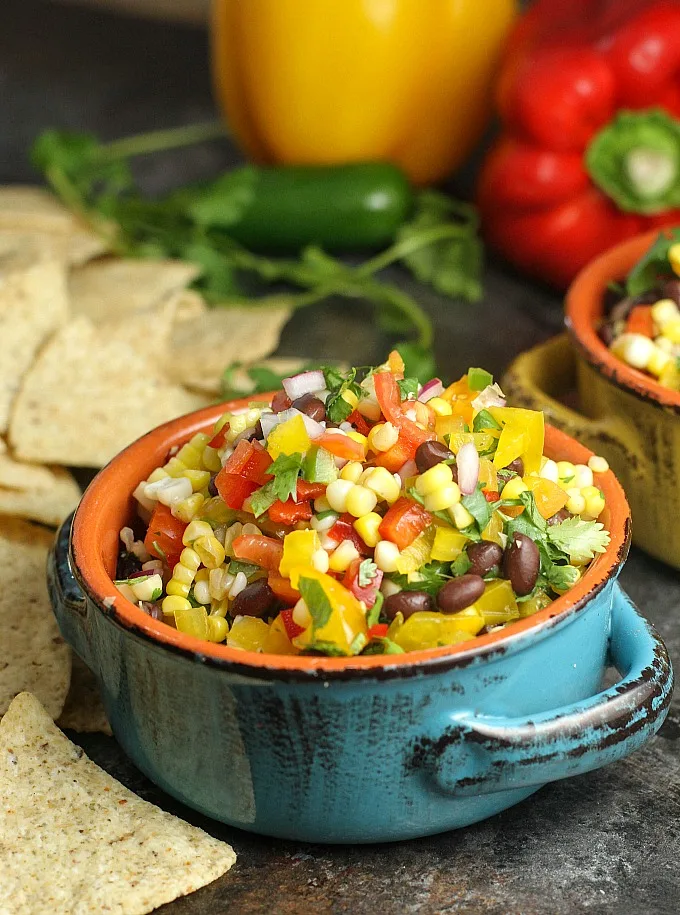 Can I just tell you how much I love summer corn? There is nothing that compares to the sweet flavor of freshly picked corn! Once it starts showing up at the farmer's market, we have fresh corn every week.
Towards the end of the growing season, I buy extra and cut the kernels from the cob once I've cooked them, then freeze them so we can enjoy them over the fall and winter months. But let's not get ahead of ourselves here…I am looking forward to summer right now!
My husband and I enjoy entertaining in the summer time. We have a pool, and my husband has built an outdoor grilling area and bar, and he sets up a huge tent as well, so our backyard has become the perfect spot to enjoy sun and shade and good company.
Of course having people over is a good excuse to make appetizers, which I love. One of my favorites is this Corn Salsa with Black Beans. It's packed with summer vegetables, is completely healthy, and is absolutely delicious! It always goes fast! I usually serve it with chips, but the great thing about it is that it is a chunky salsa so it can double as a side dish salad as well.
Corn Salsa is always on the menu for our pool parties. We are blessed by some very good long time friends. Some we met through our kids' soccer teams, and others we met somewhere else along the way. And somehow some of the soccer friends and "along the way" friends melded into one group of friends. It's nice to have friends that have your back no matter what…friends who like you for who you are. These are those kind of friends.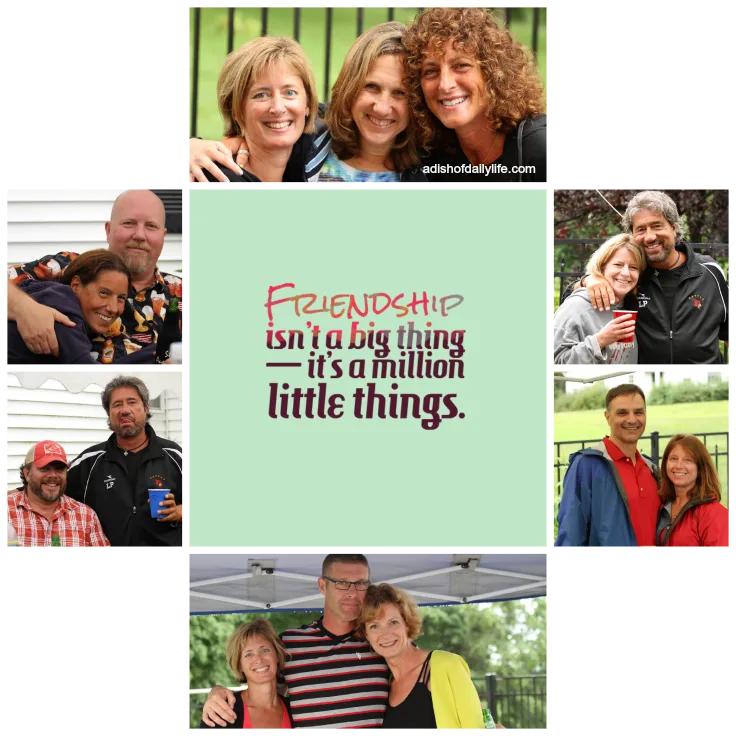 But back to the food! This gathering was relatively small, and we went potluck, so I really only made some appetizers and of course, my husband made his smoked ribs, which are always very popular at our parties. If you like ribs, you should definitely check this recipe out.
Some other appetizer favorites that we like to serve are my Salsa Verde, Mexican Corn Salad (because you can never have too much corn!), and this Summer Pasta Salad or Pepperoni Pizza Pasta Salad!
And let's not forget about cocktails! I have a fabulous collection of Fruity Summer Cocktails and Sangria recipes for summer that you are definitely going to want to check out
CORN SALSA WITH BLACK BEANS
This is a simple recipe to make — it's basically just chopping.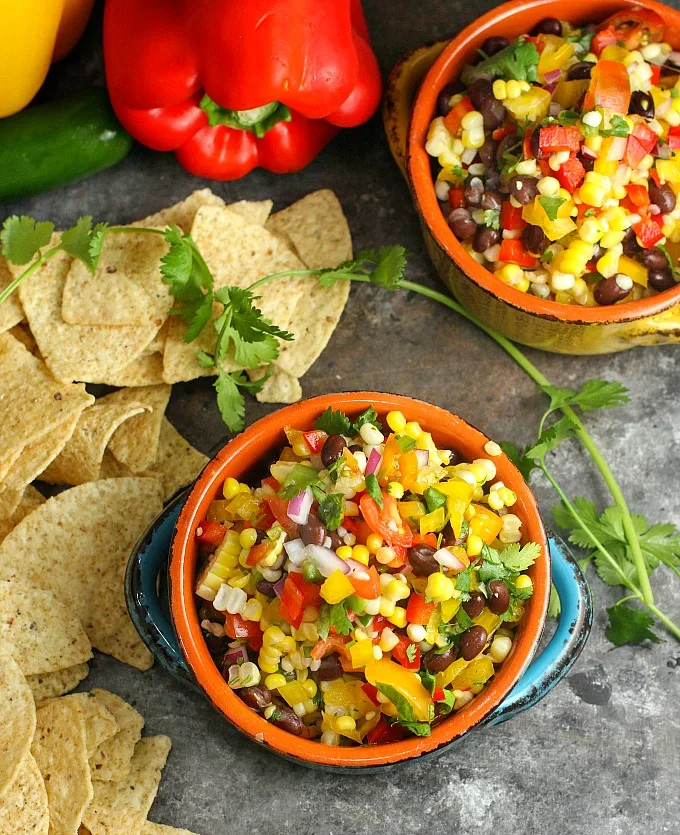 When I am making salsas or guacamoles, I always chop my jalapeno and red onion first, and then add a little bit of apple cider vinegar to it, to take a little of the bite out. I let it sit while I do the rest of the chopping, and it works quite well.
For this Corn Salsa recipe, you'll mix your corn, chopped tomato, red and yellow pepper, black beans and cilantro, add the red onion and jalapeno (as you can see I ended up with a little red pepper in mine too) to the mixture, then add your freshly squeezed lime juice and salt and pepper to taste. DONE!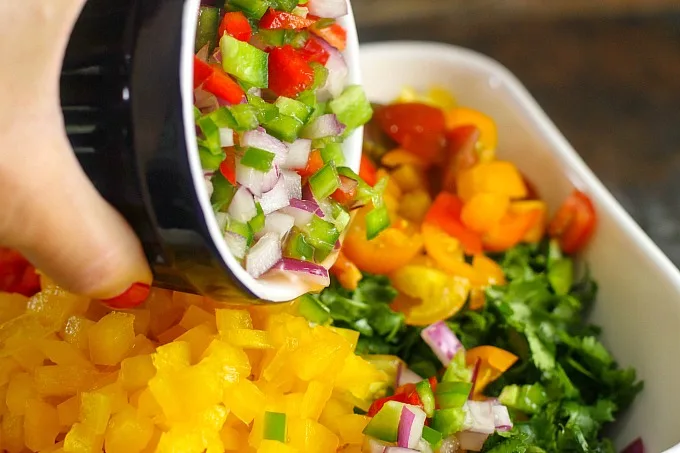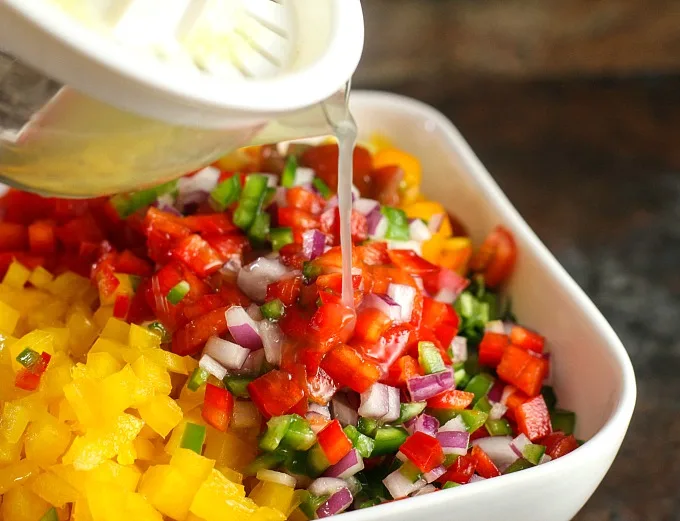 It literally takes only a few minutes to make, and I promise you, your guests are going to love it!
Doesn't it look good?!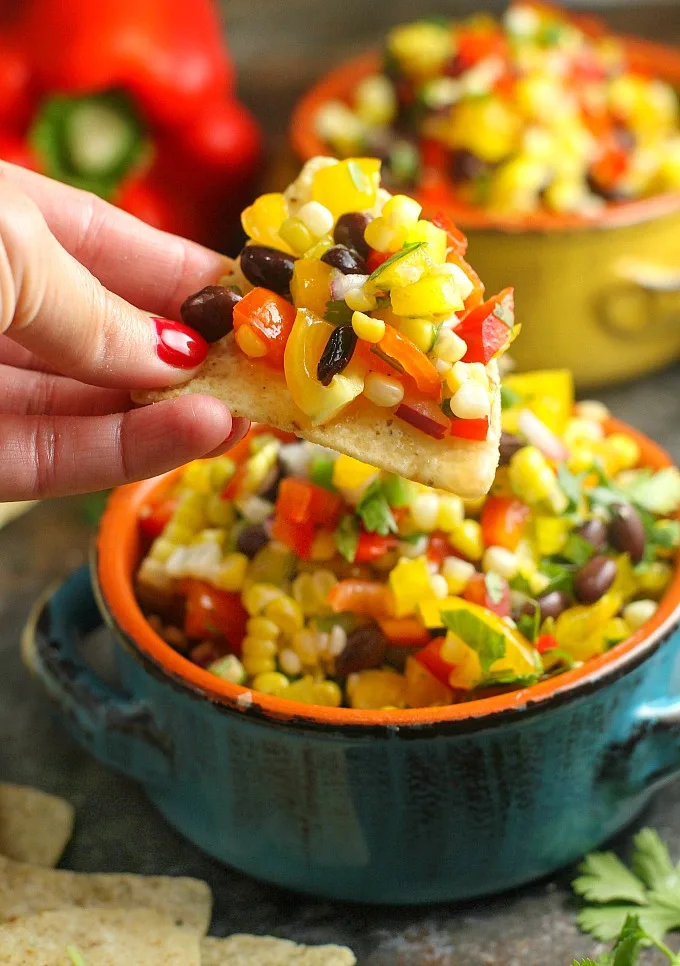 FOR MORE APPETIZERS YOU MAY ENJOY, CHECK OUT MY PINTEREST BOARD
Now for the recipe!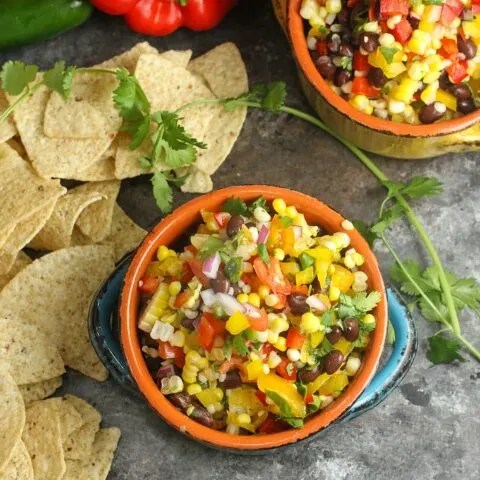 Corn Salsa with Black Beans
Corn Salsa with Black Beans is the perfect party appetizer for summer get-togethers...serve it with chips or as a salad side dish! It's easy to make and healthy too!
Ingredients
6 ears of corn, cooked, kernels removed (roughly 2 1/2 cups)
1 15.5 oz can of black beans, drained and rinsed
1 cup tomatoes, chopped
1 yellow pepper, chopped
1 red pepper, chopped
1 jalapeño, seeds removed, minced
1/4 cup red onion, chopped
3/4 cup cilantro leaves, chopped
1 teaspoon of apple cider vinegar
3 limes, juiced
salt and pepper to taste
Instructions
Cook corn, drain and rinse with cold water to cool.
Drain and rinse black beans.
Chop jalapeño and red onion, combine in a bowl with apple cider vinegar and set aside.
Cut corn from cob, chop peppers, tomatoes and cilantro; combine in a bowl with black beans.
Add jalapeno and red onion to corn mixture.
Pour freshly squeezed lime juice over the top of the mixture; season to taste with salt and pepper.
Serve with chips or as a side salad.
Notes
You can use frozen or canned corn for this recipe. For that reason, I gave you the rough measurement of the corn. I prefer to use fresh, but I have used frozen before. I simply run it under cold water to defrost. If you are more comfortable cooking it, you can parboil quickly, then rinse under cold water to cool it before using it in the salsa. If you are using canned, drain and rinse first.
Nutrition Information:
Serving Size:

1/3 cup per person
Amount Per Serving:
Calories:

426
Total Fat:

5g
Carbohydrates:

101g
Protein:

14g