For those of you who don't know, in addition to being a blogger, I am also a social media consultant. I work with small companies to help them improve their social media visibility and gain traction in the marketplace. In today's world, you need a competitive edge…a way to set yourself apart from similar businesses. Blogging can give you that extra advantage that you need to grow your business.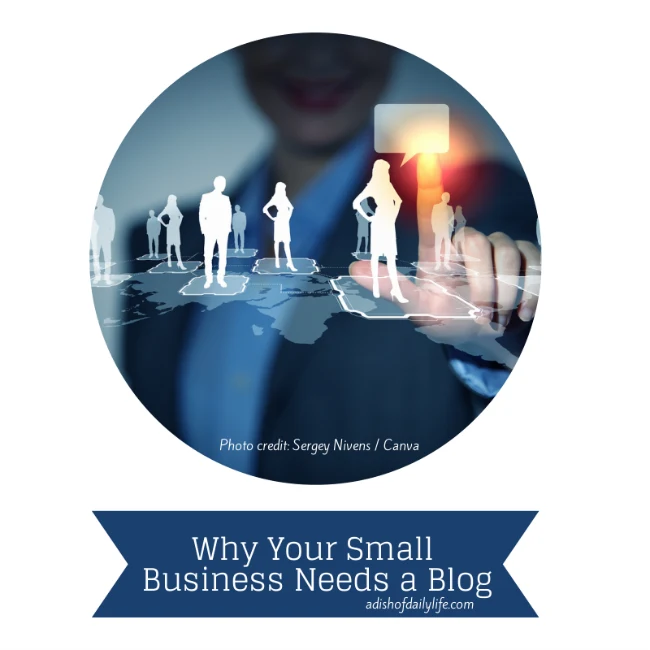 3 Reasons Why Your Small Business Needs a Blog
[Tweet "Your small business NEEDS a blog. Here's why, via @adishofdailylife #InternetMarketing"]
Better SEO (Search Engine Optimization)
Google likes content, especially when it's frequently updated. When you add new content to your website continually (ie: blogging), Google sees that and rewards you with higher placement in search results. Higher placement in search results means more people have the opportunity to see your site.
Hint: Be sure to use the important keywords to your industry in your content.
Relationship Building
Blogging allows for a more personal connection. It gives you a marketing tool with which you can set yourself apart, and a chance to engage with your clients (and potential clients) and build trust. When you share useful information, you're providing value and establishing yourself as an expert. People want to do business with someone they can trust. Think about your own purchasing habits. Do you like to purchase from a trusted source or someone you know very little about? Enough said.
Hint: Make it easy for people to comment on your blog, and respond to them. This is how you build relationships. Plus, no one likes to talk to dead air.
Social Climbing
It's no secret that social media is the gateway to much larger audience. When you create content and share it on social media, you have the potential to reach a lot more people than you would have with just your website. After all, you can't really socially share your website over and over again. You're not adding any value to the conversation that way.
Additionally, if you're providing valuable content on your blog, your readers will want to share as well. This is the power of social. I get excited when I find a valuable resource…I want to tell everyone about it! So make it as easy as possible for them to share by installing social share buttons on your blog so they can do so with a click of a button.
One thing you may want to note: A while Facebook changed their algorithm again. This change affects your business "Page" in that Facebook is showing your posts to fewer and fewer of your followers. The only way to increase that number is to get as much engagement as possible on your page (Facebook will reward you accordingly) or to boost (ie: pay) to show your posts to more people. If you want to increase engagement without spending any money, Facebook Interest Lists are a FREE way to help you boost your likes, comments and shares.
Hint: Don't just share your own content on social media. You'll be seen as a spammer if you do that. Share other articles that you yourself find helpful as well…chances are if you found them interesting, your audience will too. And that will also lend more credence to you as an expert!
[contextly_sidebar id="o82BMsifhwo6ef5qa4xQFpSmaJKrTAUg"]