Welcome back to Foodie Fridays! Whether you are sharing recipes with us, or came by to look for some new ones, we're glad to have you here with us!
If you're new here, we go live on Thursday evening at 9 PM EST and the link party stays open until midnight Tuesday morning.
We pin EVERY recipe that gets linked up, so please feel free to share your favorite recipes from your blog each week! We also try to share as many of your recipes as possible on social media. You may have noticed me sharing a number of them on Twitter and Facebook over the last few weeks!
I wanted to share with you the recipe link that was clicked the most this week. These Blueberry Pie Bars from A Mind "Full" Mom look absolutely amazing! If you missed them the first time around, you should definitely check the recipe out!
Every week we'll also each be sharing our features. I had such a hard time picking this week and I can tell you that there were a bunch more I would have liked to have featured, but I think I caught them all in social media shares at least!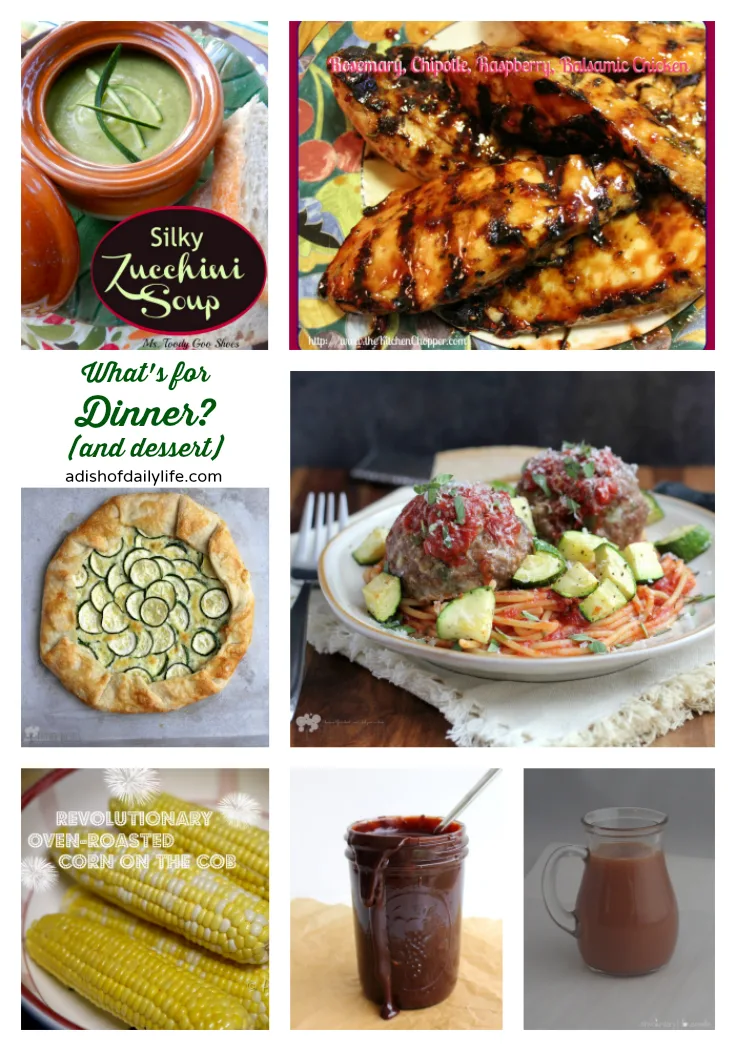 I will admit that I have never been a huge zucchini fan, but I am coming around. Like any other vegetable that I used to dislike (like brussels sprouts), I have found that a lot of times, it's in how you cook it. Since we get a fair amount of zucchini from our CSA, I have been trying new things and finding that I actually do like zucchini. In fact, you can expect a zucchini recipe from me soon!
This Silky Zucchini Soup from Ms. Toody Goo Shoes looked quite good, and I liked that you can eat it hot or cold. Sometimes a hot soup is nice on a rainy summer night, but having the versatility of eating it cold is nice. Plus Amy has a funny story to go along with it!
The Rosemary, Raspberry, Chipotle, Balsamic Chicken from KC the Kitchen Chopper is right up my alley. I am a huge fan of sauces on my meats, and I love all these flavors. Plus this is a nice change from the usual grill menu, and I bet the guests at your barbeques will be clamoring for the recipe!
Back to my zucchini kick…check out Spaghetti, Zucchini, and Meatballs: Cheap Meal of the Week and Zucchini Costata from Erica's Recipes! Don't these look good?! And who isn't looking for a cheap easy meal? I know I am!
Oh Mrs. Tucker shared her Revolutionary Oven-Roasted Corn on the Cob. Honestly, prior to seeing her recipe, I had never even thought to roast corn in the oven! But I roast all sorts of other veggies in there, so I am not sure why. You can bet I'll be trying this!
And of course, there is dessert. There were SO many good desserts on last week's linkup! But the ones I am craving right now are sauces. I don't know too many people that could resist this Nutella Hot Fudge from Chocolate with Grace! How great would that be over vanilla ice cream…or just by the spoonful?!
Miranda with The Involuntary Housewife shared this Salted Caramel Syrup. Ever since I had salted caramel ice cream last week, I have been craving that flavor. And then I saw this! Thank you, Miranda. Another good one to top off a couple scoops of vanilla ice cream. Honestly, I could put both of this and the Nutella Hot Fudge on at the same time and be very happy!
Just a quick note before we get this party started…
Have you seen the Uneekee decorative lazy susan giveaway I have going on? If you are hosting any barbeques this summer, you will want to check this out! Uneekee sells beautiful home decor and interior design products, with unique patterns printed on demand. They have lots of great patterns, but if you don't find what you are looking for, they can also help you with a custom design. As you can see, I've been using my lazy susan for entertaining (great for dips because it rotates around and no one has to reach!), but it is also wonderful for keeping things organized in the kitchen, bedroom or bathroom!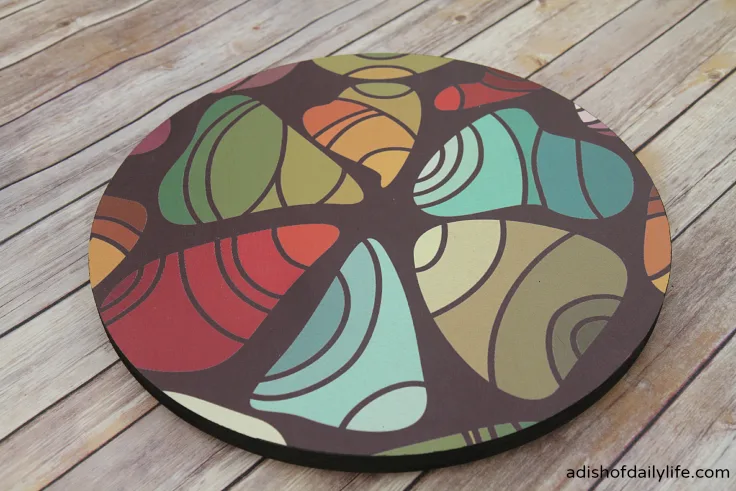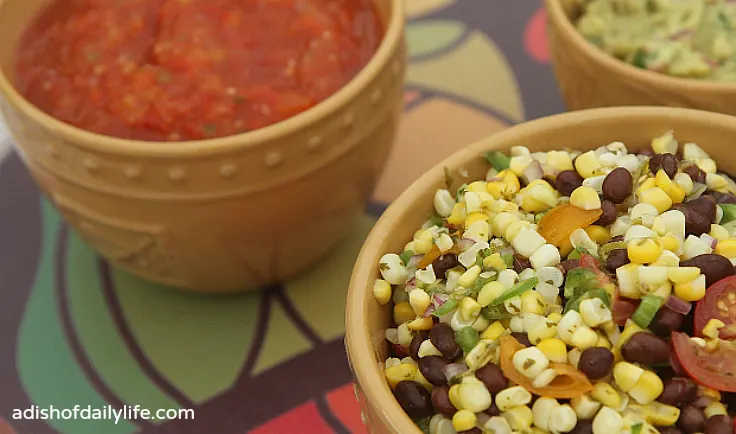 I hope you'll take a moment to enter, and also to stop by and visit Uneekee on Facebook and Twitter as well…I know they'd love to hear from you. Plus you'll get extra entries into the giveaway! Let them know that A Dish of Daily Life sent you!
Ready to join the party?
The rules are simple!
Link up your favorite recipes from your own blog. (Please do not repeat the same posts week after week. We will delete repeat posts.)
Share the party so others can join in the fun. Tweet us! Use the hashtag #FoodieFridays
Visit at least 2-3 links and leave a thoughtful comment. Everyone loves to be appreciated! Let them know you are visiting from #FoodieFridays!
If you'd like to include our button on your sidebar or link party list…or even a link back to us on your individual post you are linking up, we'd greatly appreciate it. But there is no obligation to do so.
We'd love to connect with you on social media, but again, that isn't a requirement of the party. If you'd like to check out our Pinterest boards though, we think you'll find some great pins!
Michelle @ A Dish of Daily Life
Krystal @ Krystal's Kitsch
Mila @ Girl and the Kitchen
Christie @ A Kitchen Hoor's Adventures
and we have a new guest host this week…please give her a warm welcome!
Petro @ The Seaman's Mom
Follow the Foodie Fridays Pinterest Board! Follow A Dish of Daily Life / Michelle Nahom's board Foodie Fridays on Pinterest.
[Tweet "Link up your #recipes at #FoodieFridays via @dishofdailylife. Every link gets pinned! #linkparty"]
[inlinkz_linkup id=426972 mode=1]