I never really liked zucchini all that much growing up. It was on my most hated vegetable list, a close second to my absolute least favorite, brussels sprouts. If either of those two veggies were on the menu, I would dig my heels in and refuse to eat them. My parents on occasion made me sit there until I ate them, and usually I would wait until the dog sauntered over and try to get him to eat them instead. I got caught on a couple occasions, as our dog did not like them either, and the evidence on the floor was just a little bit obvious.
Over the years, I have come to discover that your taste buds mature, and often it's all in how you cook something. I've mentioned my father in law in recipes several times…his cooking changed my outlook completely on brussels sprouts. Those are one of my favorite vegetables now. But my change in attitude on zucchini is due to my cousin's husband, who is a chef. Every summer we have a cousins' pool party and for years, he would bring a huge platter of roasted vegetables, including grilled zucchini. I don't know what his marinade recipe was, but the vegetables were delicious!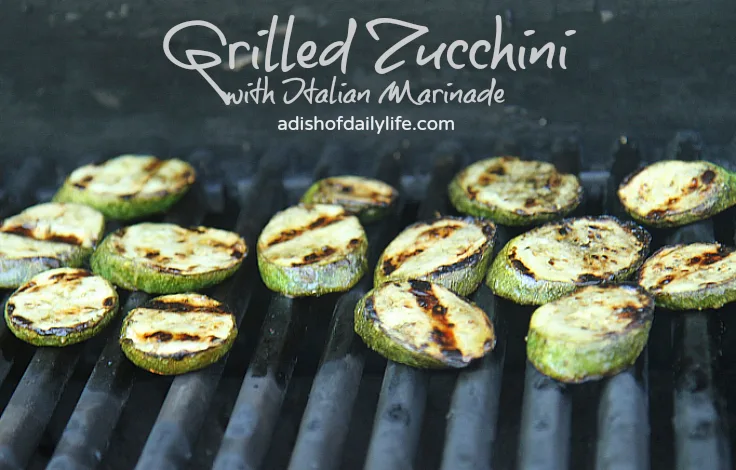 We belong to a CSA, and we frequently get zucchini. Since there is only so much zucchini bread one can make (and I am not the best baker anyway), I started grilling it. Sometimes my husband sautes it with onion, but that really doesn't do it for me. I don't hate it that way like I used to (and maybe it just needs some tweaking), but marinating and grilling…well, THAT makes my taste buds happy!
I actually have all sorts of marinades I use. But this one is nice. I always forget to cut the zucchini long ways though. It drives my husband crazy. He mans the grill, and that's the way he likes it. I'll have to try to remember next time…
[Tweet "Grilled Zucchini with Italian Marinade…easy to make #FarmersMarket recipe, via @dishofdailylife"]
Grilled Zucchini with Italian Marinade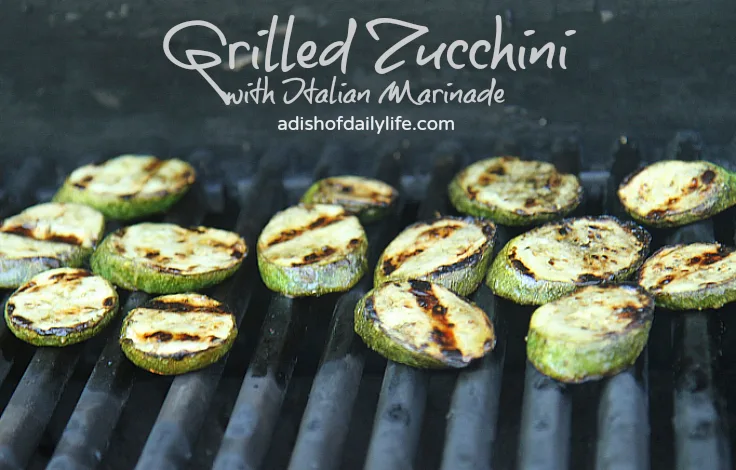 Delicious and easy to make grilled zucchini!
Ingredients
6 zucchini, sliced on a slight angle
3/4 cup olive oil
1/4 cup red wine vinegar
1 tablespoon oregano
1 teaspoon honey
1 clove garlic, crushed
Nutrition Information:
Serving Size:
6
Amount Per Serving:
Calories:

1683.60246565
Do you like grilled zucchini? What's your favorite way to cook it?